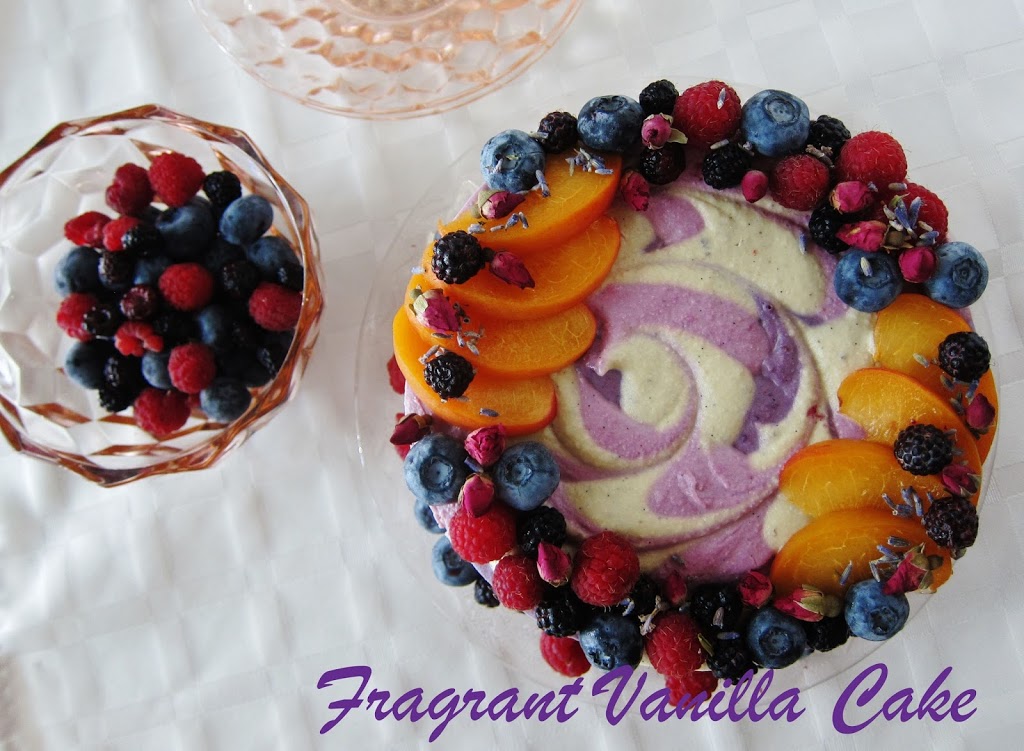 Raw Fruits of Summer Cake
Whenever someone tells me I can not do something, I make it my mission to prove them wrong. When I was in high school, a physical trainer told me I had horrible feet for running and should not run. I later went on to accomplish age records for my state in my early 20s.  I was told nobody would ever read my blog...well, I think I proved that wrong since all of you lovely people are here (and I do appreciate you all).  I decided to go raw last year and I caught a lot of crap for it.  People would tell me it would not last and it would be too hard.  They said I could not possibly be raw during the winter when it is cold and I could not cook food.  Not so, I am still raw and I still love how it makes me feel.
It was one year ago today that I decided to go completely raw.  I can not believe it has been that long, I have learned so much in the process!  I had been experimenting with raw foods for a few months and I decided that I always felt better when eating them so it seemed like a no brainer. I proved those people wrong who said I would fail.  I have learned as much as I could in the process and I still have a lot to learn and a lot of techniques to perfect.  I think my raw cakes have come a long way.
I decided this week that in honor of my rawiversary, I would make a beautiful cake featuring what is freshest this time of the year.  Fruits of Summer Cake.  A raw cheesecake with fresh raspberries from my Mother's friend's garden, fresh apricots and a few floral notes with lavender and rose.
 
It turned out delicious!  I am sure next year I will be looking back and thinking about how much more I learned, but for now this cake was pretty amazing.  So heavenly with the fruits and creamy fillings set atop a crunchy walnut crust.  A reminder to me that I succeeded and nobody can ever tell me I can not do something.
Raw Fruits of Summer Cake
Makes one 6 inch cake
(Visited 63 times, 1 visits today)