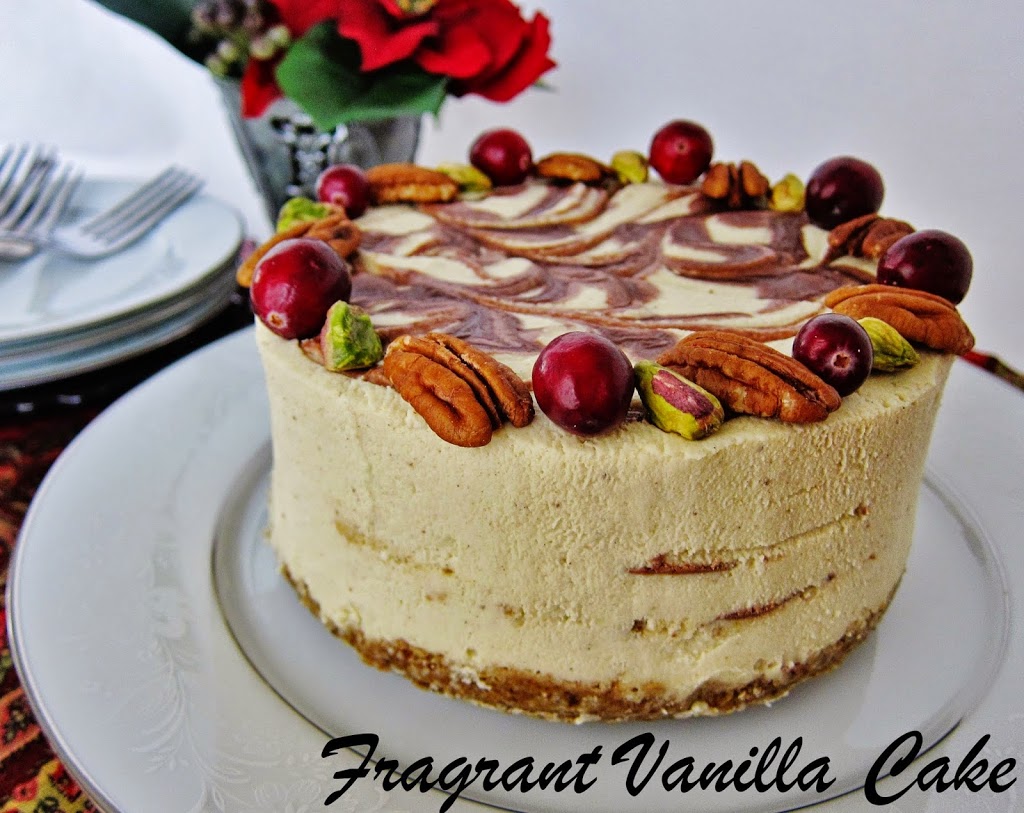 Raw Eggnog Cheesecake with Chocolate Swirl and Gingerbread Crust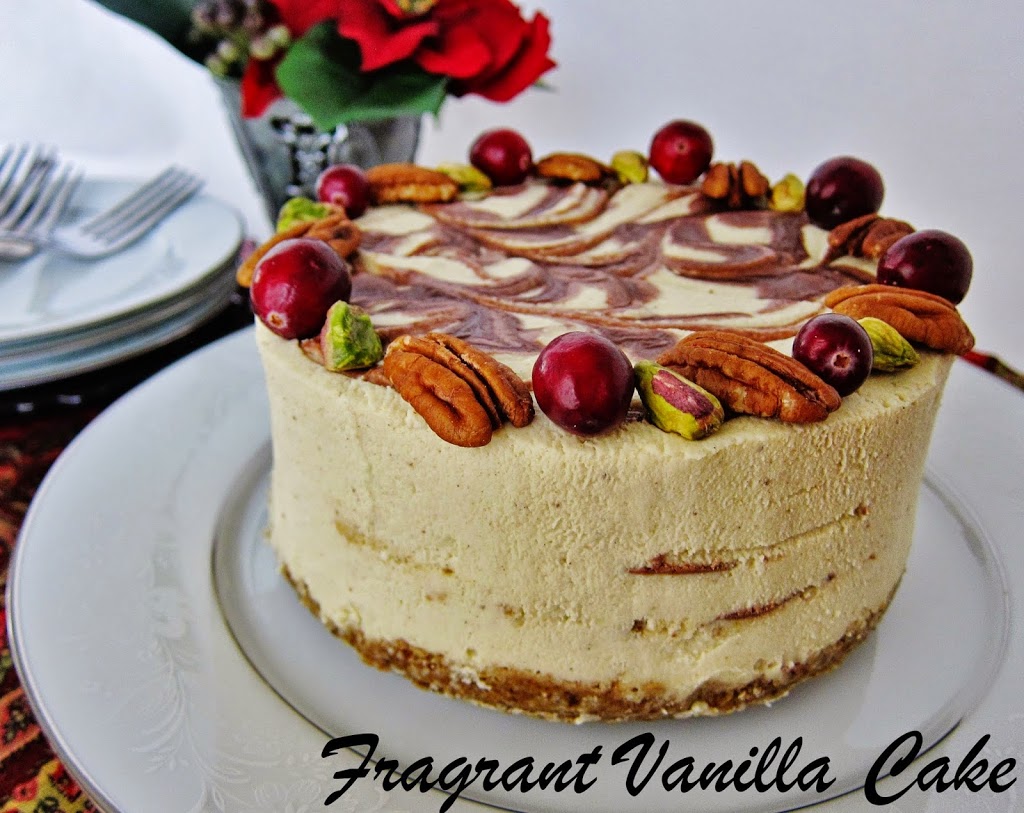 Tis the season for Eggnog, which is exactly why I decided to make an eggnog cheesecake!  What could be better than one of my favorite Holiday drinks combined with my favorite dessert? Raw Guru and Windy City Organics had just sent me some new spreads and nut butters to try, one of which was a chocolate coconut.  I thought it would be marvelous swirled into the cheesecake.  I have never had eggnog and chocolate before so why not try it?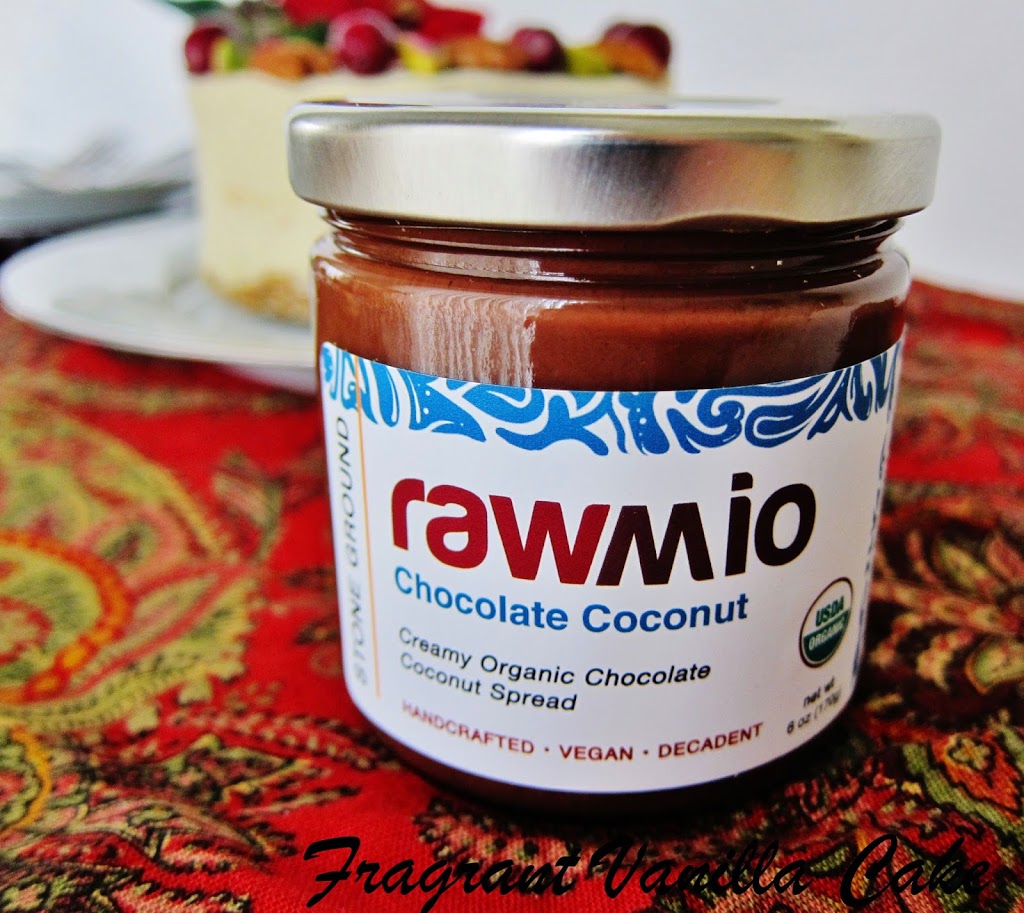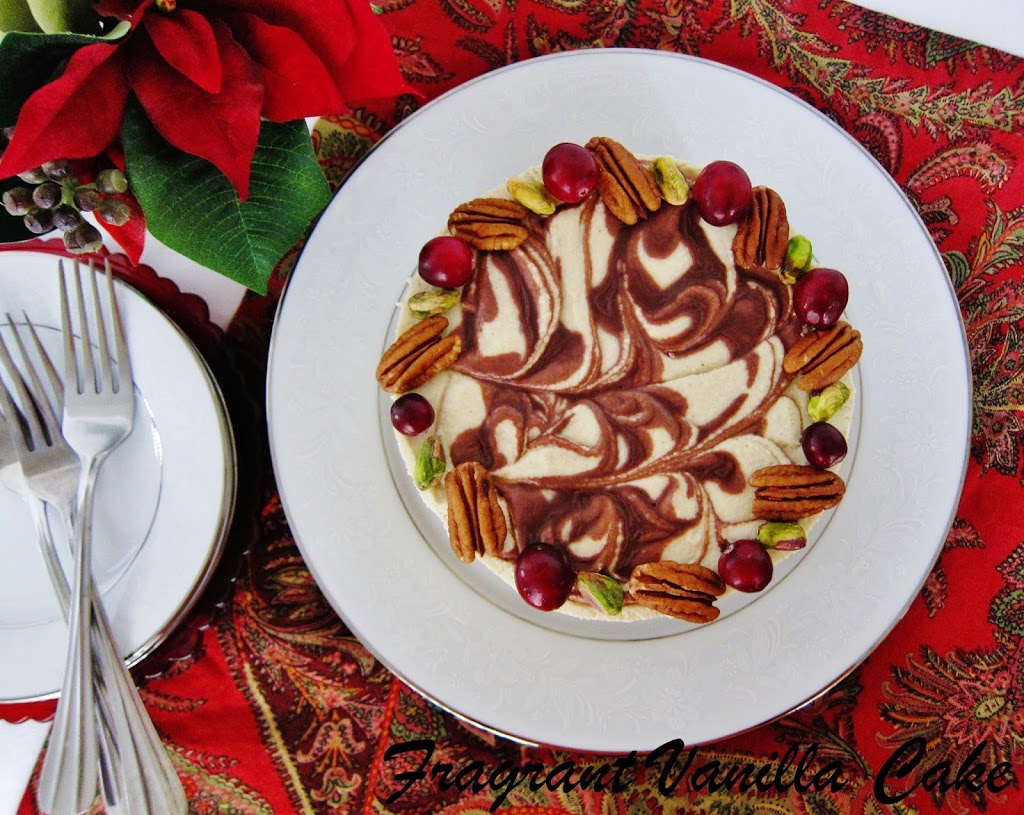 To make the cake even better, I thought why not make a gingerbread crust for it as well and go all out with the Holiday theme.  For the filling, I used something you would not expect in a cheesecake...yellow squash (the type that is similar to zucchini).  It kept it light, but it tasted just as rich and you would not have any idea it was in there had I not told you.  I made the cake taste a little more like eggnog with the addition of nutritional yeast, cinnamon and nutmeg as well as vanilla which I consider an essential ingredient in all my cakes.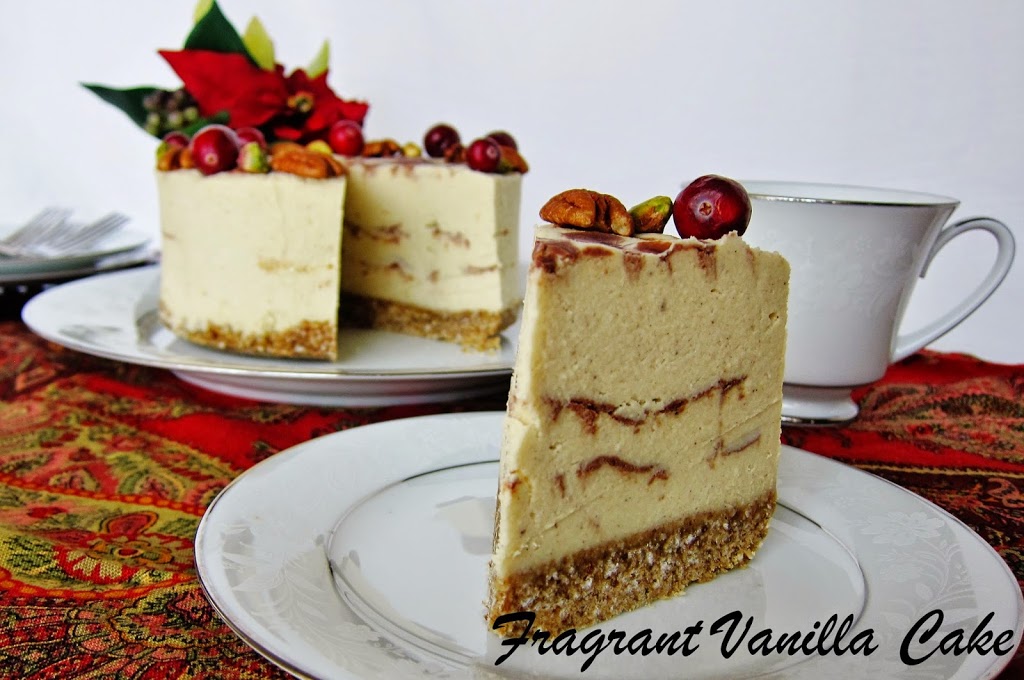 The filling tasted heavenly, even before I assembled and chilled the cake.  Like thick eggnog. The Rawmio Chocolate coconut was marvelous swirled in as well and it paired perfectly with the eggnog and gingerbread flavors!  I think this cake would be perfect as the finale to any Holiday meal, but it was awesome as an early December treat as well because one needs no occasion to eat cake, it is good every day!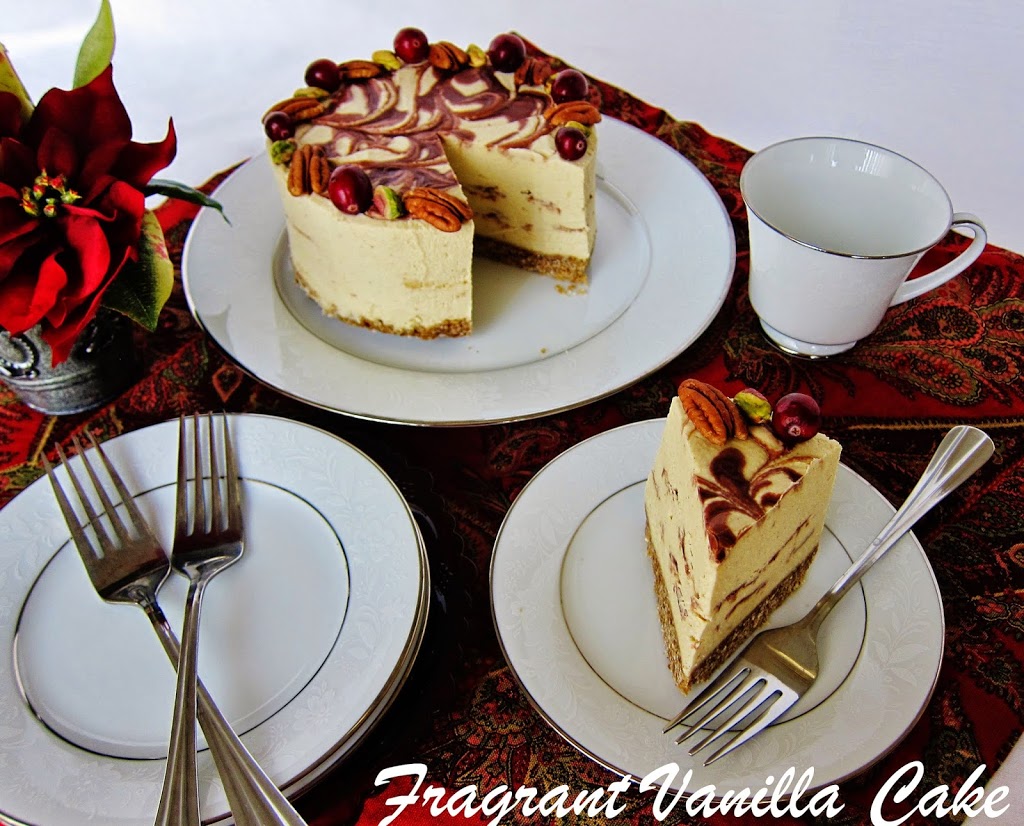 Raw Eggnog Cheesecake with Chocolate Swirl and Gingerbread Crust
Makes one 6 inch cake
3/4 cup dried finely shredded coconut
1/8 teaspoon sea salt
2 tsp cinnamon
1 Tbsp fresh ginger
1/4 tsp nutmeg
1/2 tsp cardamom
10-12 soft medjool dates, pitted and chopped (if they are not soft, soak them in water until they are and drain them well)
Filling:
3 cups young coconut meat*
2 cups diced yellow squash (yellow zucchini)**
1/3 cup coconut water
2/3 cup raw coconut nectar, or maple syrup
1/2  teaspoon sea salt
1 Tbsp nutritional yeast
2 tsp cinnamon
1/2 tsp nutmeg
1 Tbsp pure vanilla extract and seeds from half a vanilla bean
Lightly coat a 6 inch spring form removable bottom pans with coconut oil. To prepare the crust, process flax, coconut, buckwheat and sea salt in a food processor until fine crumbs, then add the dates and process until the mixture holds together when squeezed between your fingers (if not holding together, add more dates). Firmly press crust into the bottom of the prepared pan, and set aside.
To make the filling, in a high speed blender or food processor, combine coconut meat, water, coconut nectar, sea salt, nutritional yeast, nutmeg, cinnamon and vanilla in a food processor and blend until smooth and creamy. With the processor running, add the coconut butter and process for a minute until blended.
To assemble cheesecake, 1/3 of the filling over the crust, then drop some of the chocolate spread over it by the tsp and swirl with a knife to create marbling. Pour half the remaining filling over that, and drop more of the spread by the tsp over that. Then pour the remaining filling over and more of the spread, then swirl with a knife to create marbling. Place in the freezer for about 4 hours to firm up. Garnish the top with cranberries, pistachios and pecans before serving.
(Visited 165 times, 1 visits today)