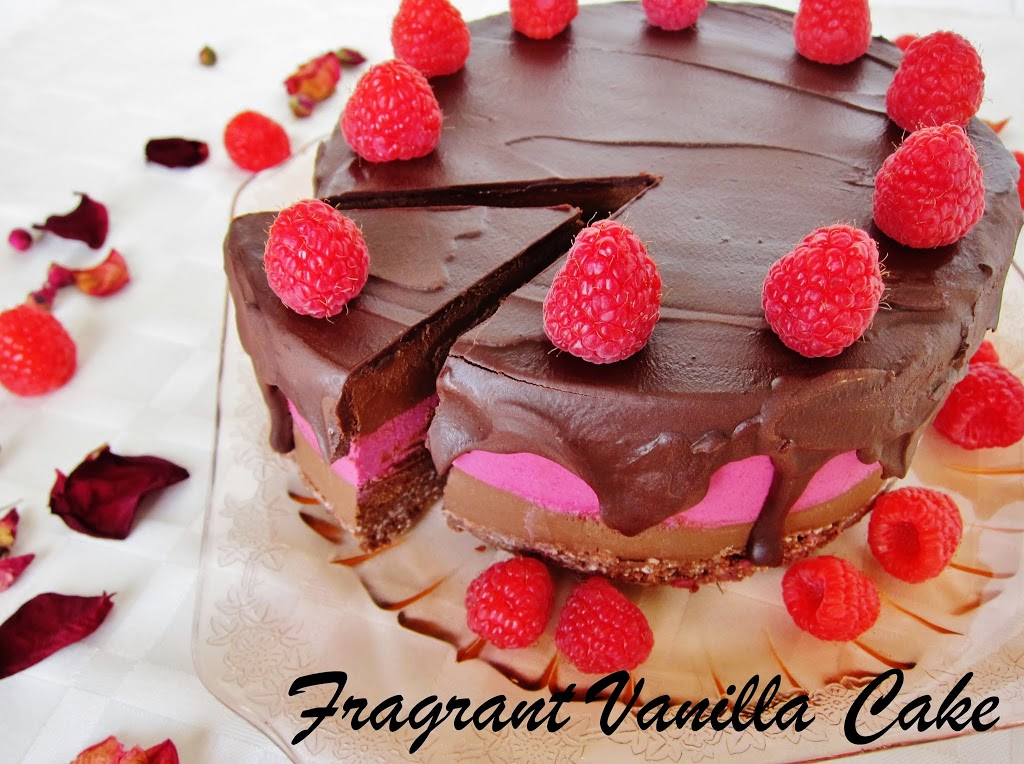 Raw Dark Chocolate Raspberry Truffle Cake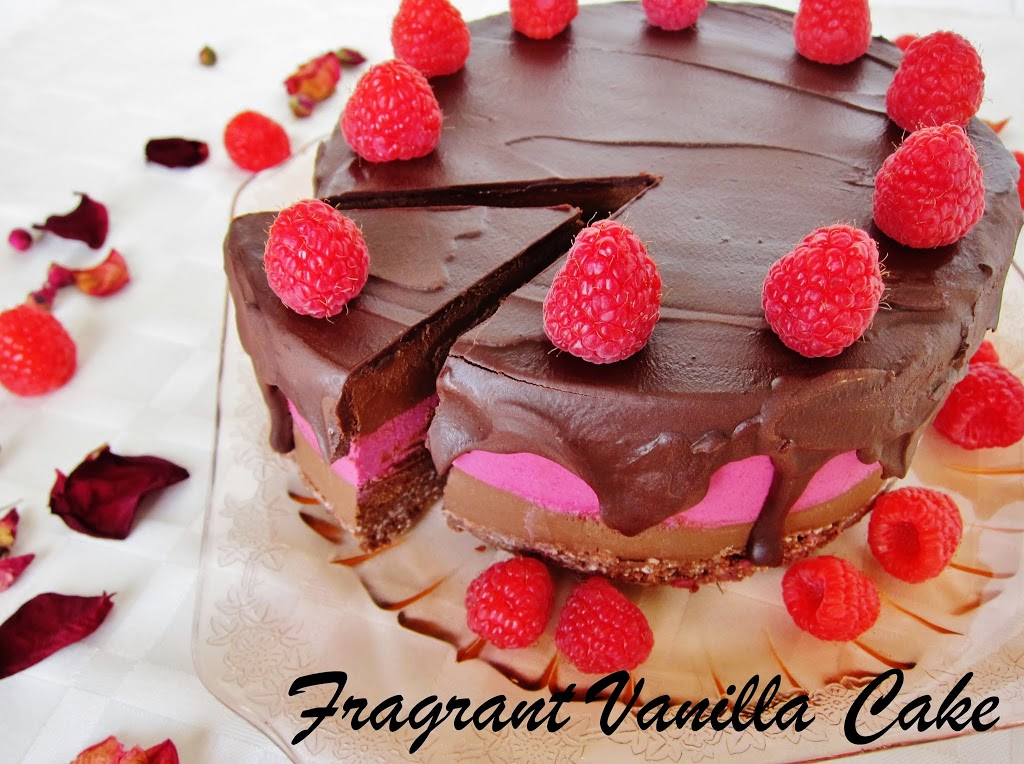 If I were to buy a box of truffles and I had to choose one type, it would have to be raspberry.  Although I love many things paired with chocolate, and many different types of fruits, raspberry is my favorite.  I do not think I will ever tire of the combination either.  I decided I wanted to make a truffle cake last weekend, and I wanted it to have lots of truffle layered goodness, but I wanted it to have more than that, which is where the raspberries came in.  It was my first instinct to add them instead of any other flavor.  I thought about making individual cakes, but if you know me well, you know that something small always turns into something bigger and grander in the dessert department.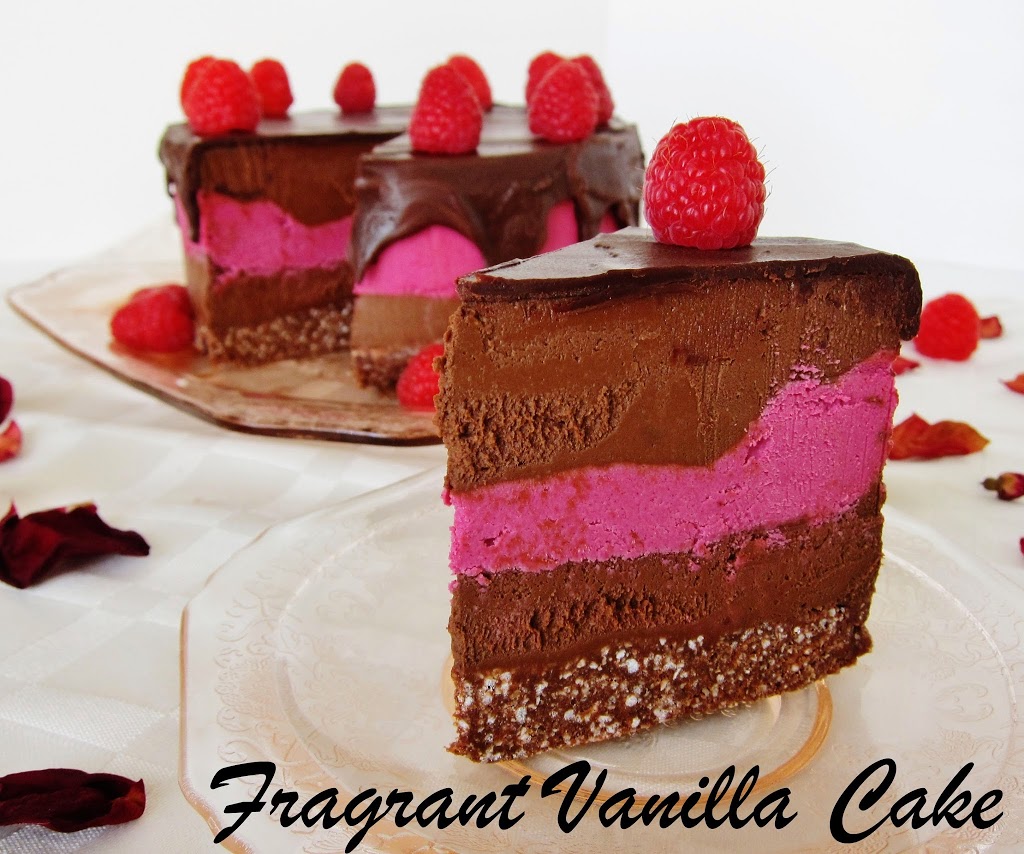 What I ended up with was a decadent raw truffle cake with a layer of creamy chocolate, then sweet raspberry, then more chocolate topped off with even more melted raw chocolate.  Like a giant truffle!  A small piece of this will satisfy your rich chocolate craving, so it is perfect to share with those you love.  Who wouldn't love a cake like this shared with them on Valentine's day!  I shared it with my chocolate loving boyfriend, who of course was the real reason I made the cake, because to me desserts are a form of love and so is chocolate!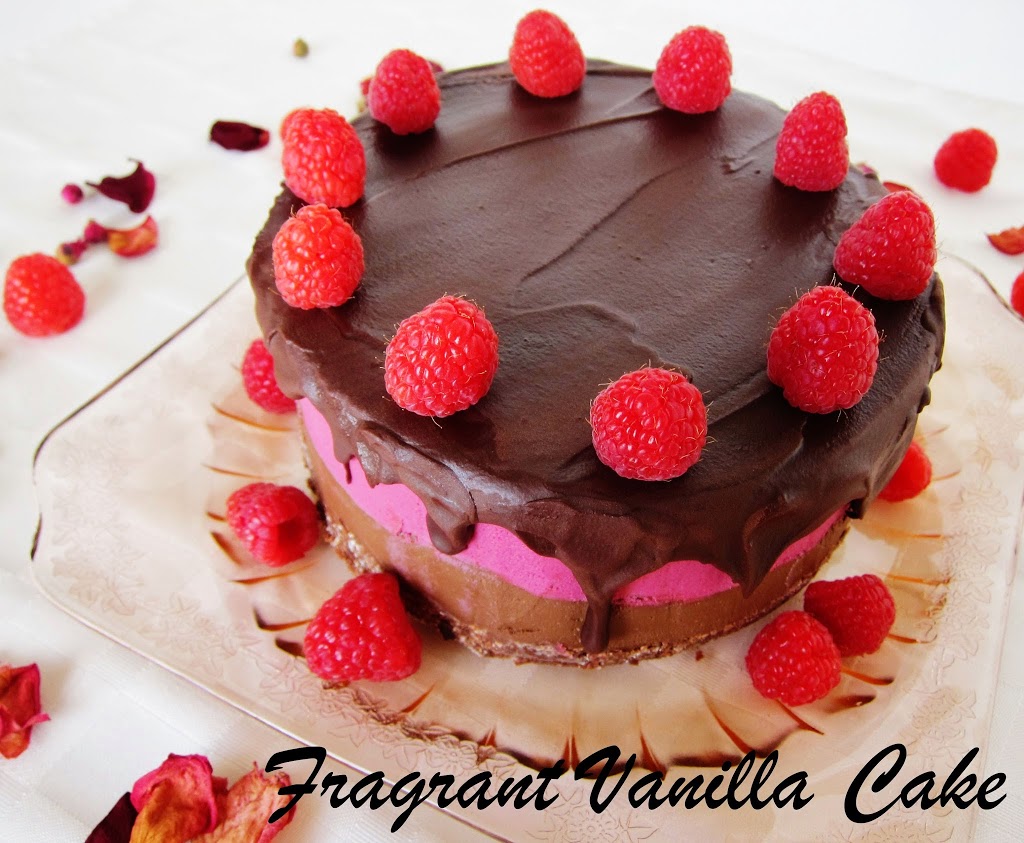 Raw Dark Chocolate Raspberry Truffle Cake
Makes one 6 inch cake
3/4 cup dried finely shredded coconut
1/8 teaspoon sea salt
10-12 soft medjool dates, pitted and chopped (if they are not soft, soak them in water until they are and drain them well)
3 Tbsp raw cacao powder
Chocolate Filling:
2 cups diced ripe avocados (about 3 medium)
1/4 cup plus 1 Tbsp raw coconut nectar
1/4 tsp sea salt
1/2 Tbsp pure vanilla extract
1/2 cup  plus 2 Tbsp raw cacao powder
3 Tbsp raw coconut butter, liquefied
Raspberry Filling:
1 cups young coconut meat*
1/4 cup coconut water
1 cup chopped raw red beet
2 cups fresh organic raspberries
1/3 cup raw coconut nectar
1/4  teaspoon sea salt
1 Tbsp pure vanilla extract and seeds from half a vanilla bean
1/2 cup chopped raw chocolate
Fresh organic raspberries for garnish
Lightly coat a 6 inch spring form removable bottom pans with coconut oil. To prepare the crust, process flax, coconut, buckwheat and sea salt in a food processor until fine crumbs, then add the dates and cacao powder and process until the mixture holds together when squeezed between your fingers (if not holding together, add more dates). Firmly press crust into the bottom of the prepared pan, and set aside.
To make the chocolate filling, combine all ingredients in the food processor and process until smooth.  Set aside.
To make the raspberry filling, in a food processor, combine coconut meat, beets, raspberries, coconut nectar, sea salt, and vanilla in a food processor and blend until smooth and creamy. With the processor running, add the coconut butter, and process for a minute until blended.  Set aside.
To assemble cheesecake, pour half the chocolate filling over the crust, then scatter the fresh raspberries over that, then spread over the raspberry filling, then pour the rest of the chocolate filling over that. Place in the freezer for about 4 hours to firm up.
When the cake is ready, melt the chopped chocolate, and spread it over the top of the cake, allowing it to run down the sides.  Garnish the top with fresh berries before serving.
*If you do not have access to young coconut meat, you can substitute 1 cup raw cashews soaked for 4 hours and drained.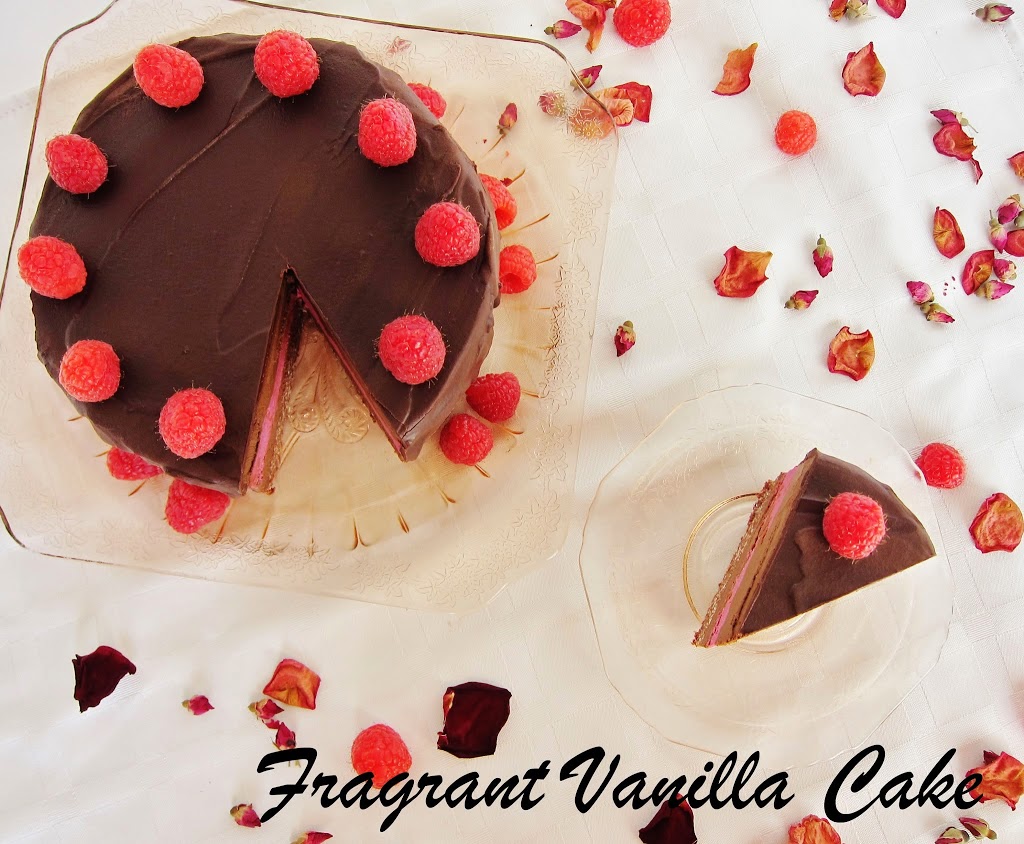 (Visited 155 times, 1 visits today)