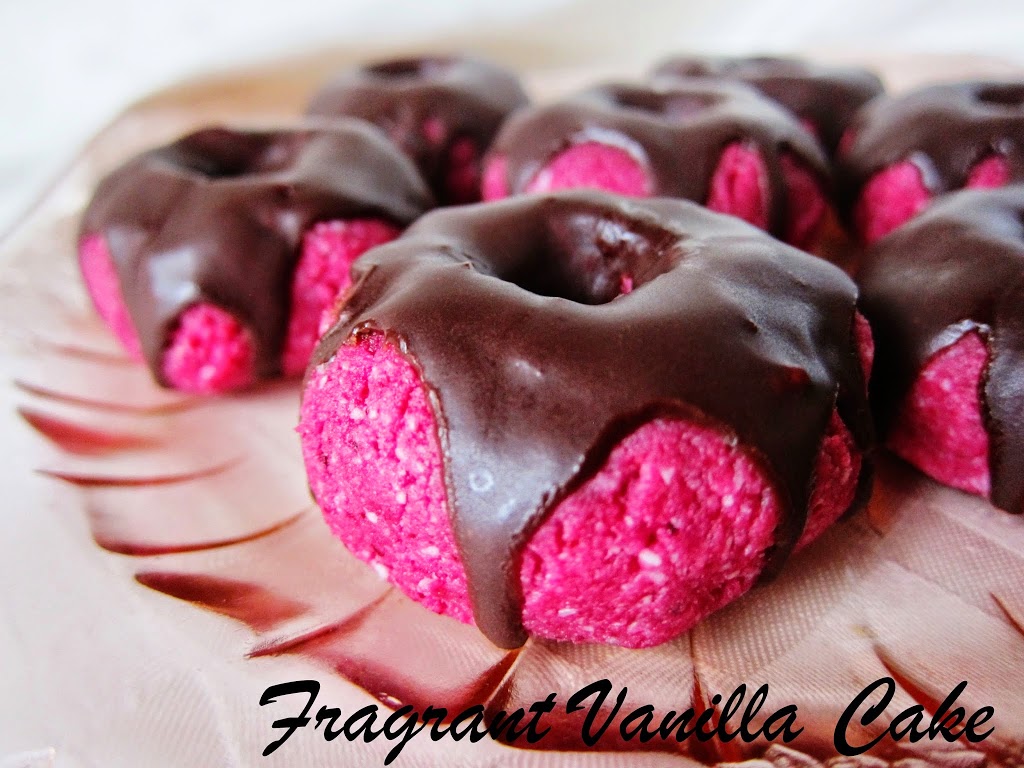 Raw Dark Chocolate Glazed Red Velvet Doughnuts
I was craving raw doughnuts this weekend.  But the problem was I didn't know which kind to make.  It was between Dark Chocolate with Salted Caramel, Apple Walnut Spice, and Red Velvet.  So I took a poll on Facebook and it was unanimous, Red Velvet won.
Although I will try making the other two soon, I liked the idea of red velvet.  So I was quite excited to make them!  If you read this blog often, you know that I love to use beets in my red velvet.  Before anyone goes hating on beets, you can't taste them at all, I promise.  They just add this amazing color!  I think it is even prettier than food coloring.
For the doughnut base besides the beets, I used a mixture of almonds and coconut because it makes a delicious light dough.  I could have just eaten the dough in fact, but that would defeat the purpose of doughnuts.  So would wait until they were dehydrated to enjoy.
But first they had to be glazed.  I admit, I was going to go traditional and make a raw coconut "cream cheese", but I went with raw chocolate glaze instead.  Chocolate glaze is just so much sexier anyhow.  Who can resist a doughnut with shiny dark chocolate dripping down it?  I was glad I did, because the combination was heavenly!  I admit I took down quite a few of these!
Raw Dark Chocolate Glazed Red Velvet Doughnuts
Makes 16
Ingredients:
Doughnuts:
3 cups almond meal
2 1/2 cups dried shredded unsweetened coconut
1/2 tsp sea salt
1/4 cup plus 2 Tbsp raw coconut nectar
2 tsp pure vanilla extract
1 small 2 inch chunk of organic raw red beet (or enough to color the cake red)
Raw Chocolate Glaze:
1/2 cup melted raw coconut oil
1/2 cup raw cacao powder
a pinch sea salt
1/4 cup raw coconut nectar
Instructions:
To make the doughnuts, combine all ingredients and process until smooth.  Shape into 16 balls, and then shape into doughnuts and place on a dehydrator sheet.  Dry for about 8 hours or until not sticky.  To make the glaze, whisk all ingredients until smooth.  Let sit a little while to thicken.  Place the doughnuts on a drying rack.  Drizzle the glaze over the doughnuts, then them on a foil lined sheet pan.  Place in the freezer to harden for a few minutes.  Remove from freezer, and serve!
(Visited 164 times, 1 visits today)