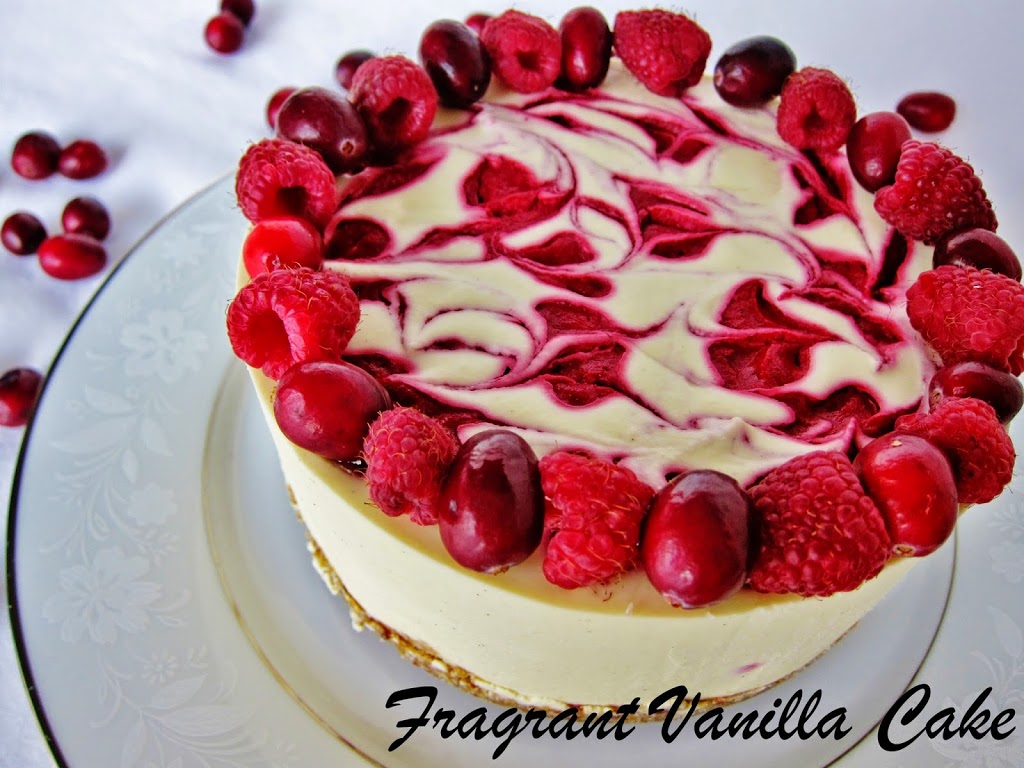 Raw Cranberry Raspberry White Chocolate Cake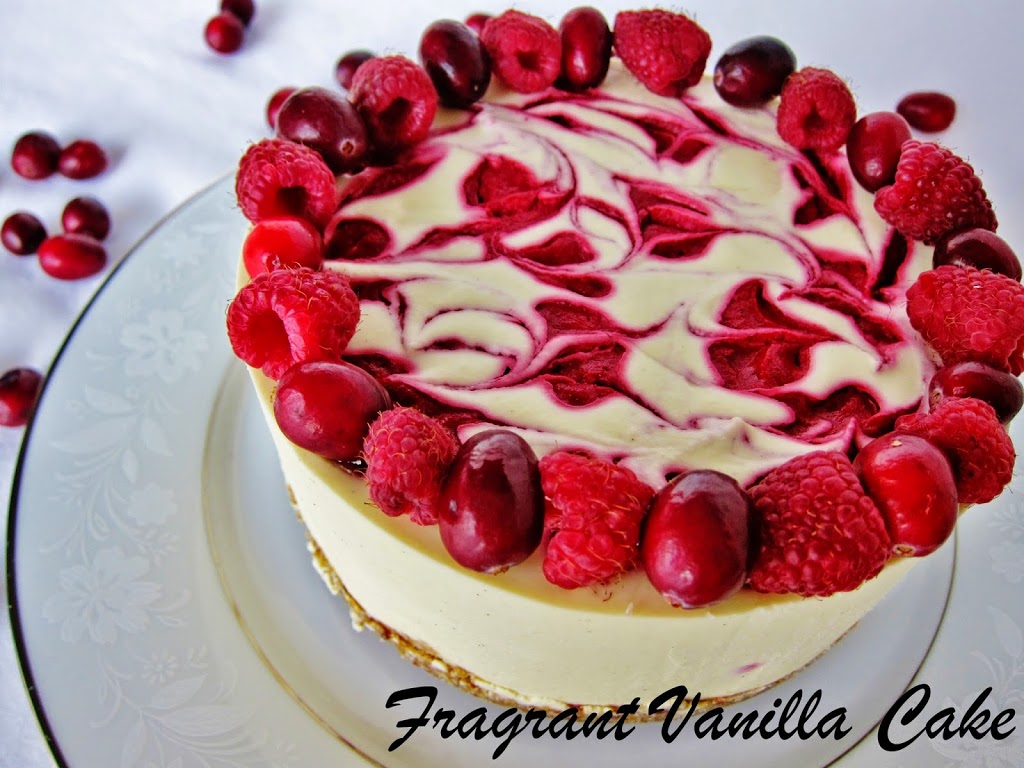 At the beginning of November when the first snow hit, and the temperatures plummeted from 60F degrees down to the teens I thought to myself, winter is here.  Because it felt like winter was here.  Never mind the date on the calendar, walking in a winter wonderland to me is winter.  Oddly enough too, it felt like it should be a few weeks from Christmas, not Thanksgiving.  So, I was thrown off a bit, feeling like I should be making Christmas cookies instead of pumpkin pie.  But now that Thanksgiving is over, I am in the groove of things and excited to start the Christmas stuff.
I thought I would start off by making a festive raw cheesecake.  White chocolate reminds me of Christmas in desserts for some reason.  I think it is because my Mom used to sometimes make a white chocolate peppermint bark when I was a kid.  So, I decided that I wanted white chocolate in this cake.  No, not the melted fake sugary stuff...I used cacao butter.  Which to me is just a little special and something I use for a treat.  I thought ribbons of red berries throughout this white chocolate cake would be festive, so I used a combination of raspberries and strawberries.  Raspberries for sweet, cranberries for tart for a perfect balance.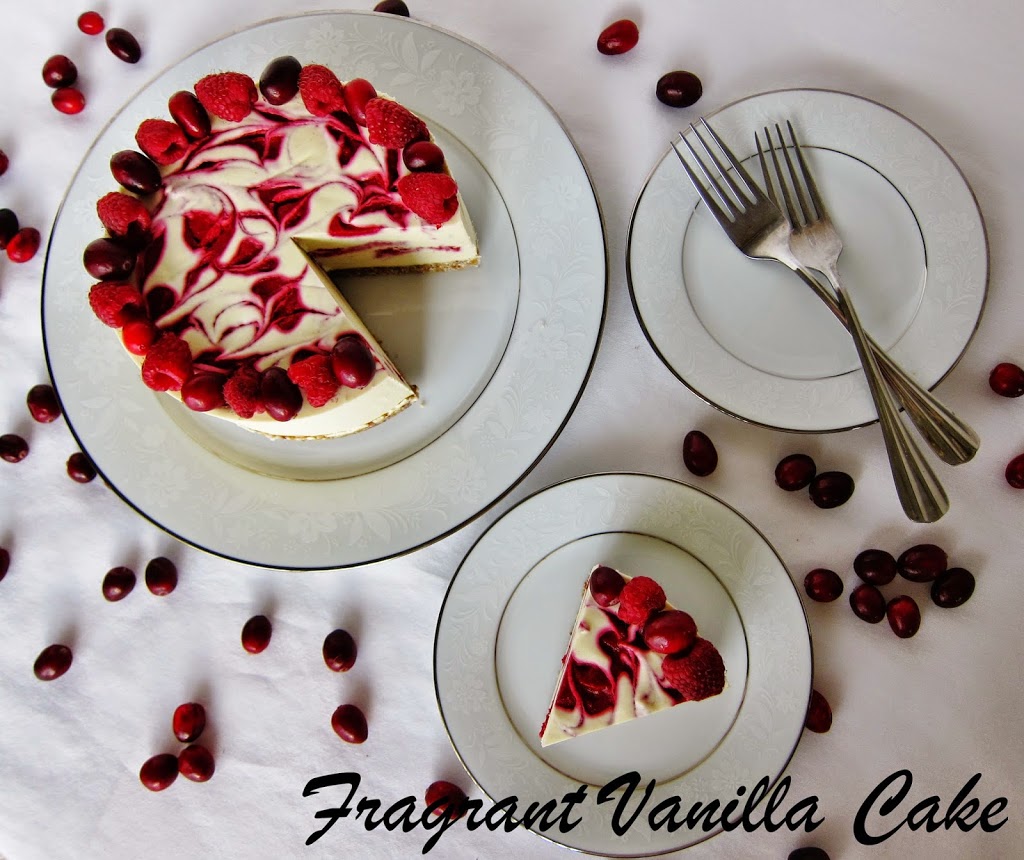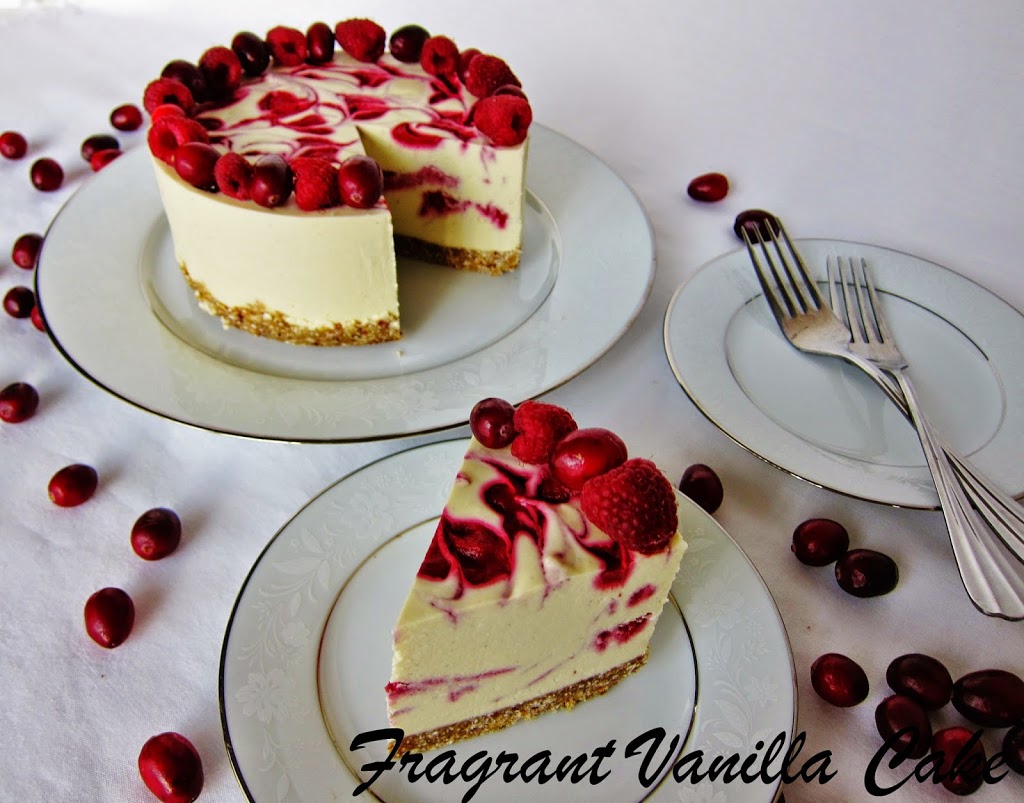 Let me tell you, this cake was heavenly.  Silky smooth, melt in your mouth white chocolate vanilla base ribboned with jammy berries. I imagine this as part of a Holiday dessert table.  Christmas is coming, and I am ready!  What are your favorite Holiday flavors?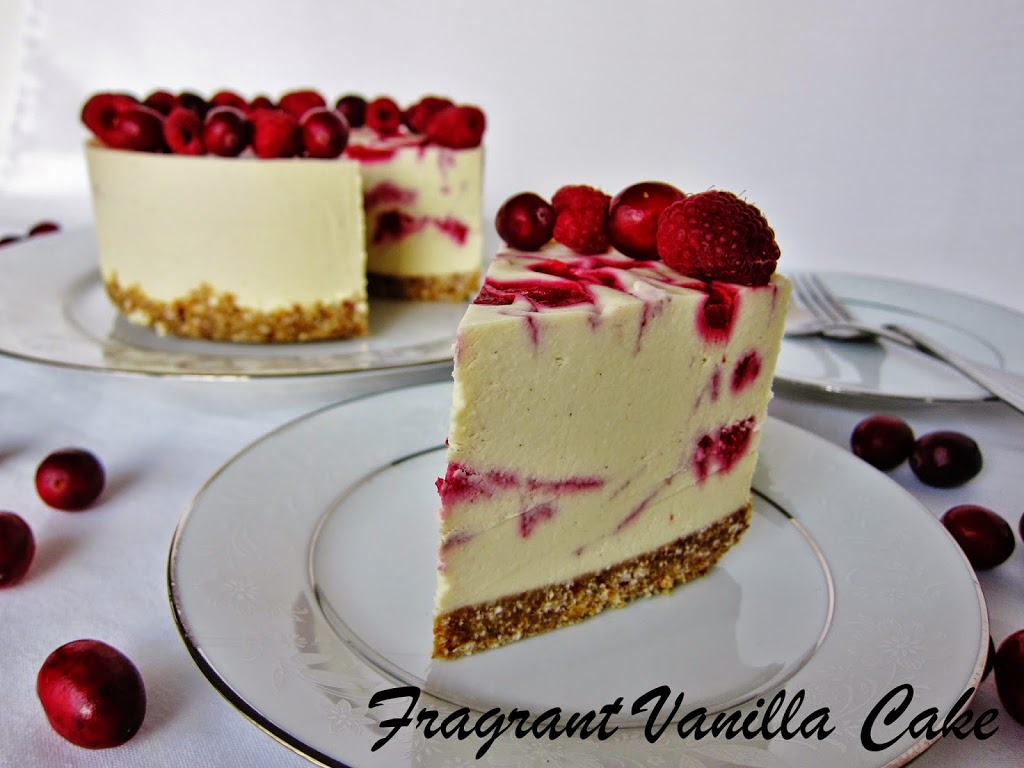 Raw Cranberry Raspberry White Chocolate Cheesecake
Makes one 6 inch cake
3/4 cup dried finely shredded coconut
1/8 teaspoon sea salt
10-12 soft medjool dates, pitted and chopped (if they are not soft, soak them in water until they are and drain them well)
Berry Puree:
3/4 cup fresh organic raspberries
3/4 cup fresh organic cranberries
2 Tbsp raw coconut nectar (or your choice liquid raw sweetener)
a pinch sea salt
1 Tbsp orange juice plus 1 Tbsp zest
Filling:
4 cups young coconut meat*
1/2 cup coconut water
2/3 cup raw coconut nectar, or maple syrup
1/2  teaspoon sea salt
1 Tbsp pure vanilla extract and seeds from half a vanilla bean
1/3 cup 
raw coconut butter
 (warmed to liquid)
1/3 cup raw cacao butter (warmed to liquid)
Fresh cranberries and raspberries for garnish
Lightly coat a 6 inch spring form removable bottom pans with coconut oil. To prepare the crust, process flax, coconut, buckwheat and sea salt in a food processor until fine crumbs, then add the dates and process until the mixture holds together when squeezed between your fingers (if not holding together, add more dates). Firmly press crust into the bottom of the prepared pan, and set aside.
For the berry puree, combine all ingredients in a food processor and process until smooth.  Set aside.
To make the filling, in a high speed blender or food processor, combine coconut meat, water, coconut nectar, sea salt, and vanilla in a food processor and blend until smooth and creamy. With the processor running, add the coconut butter and cacao butter and process for a minute until blended.
To assemble cheesecake, 1/3 of the filling over the crust, then drop some of the puree over it by the tsp and swirl with a knife to create marbling. Pour half the remaining filling over that, and drop more of the puree by the tsp over that. Then pour the remaining filling over and more of the puree, then swirl with a knife to create marbling. Place in the freezer for about 4 hours to firm up. Garnish the top with fresh berries before serving.
*If you do not have access to young coconut meat, you can substitute 4 cups raw cashews soaked for 4 hours and drained.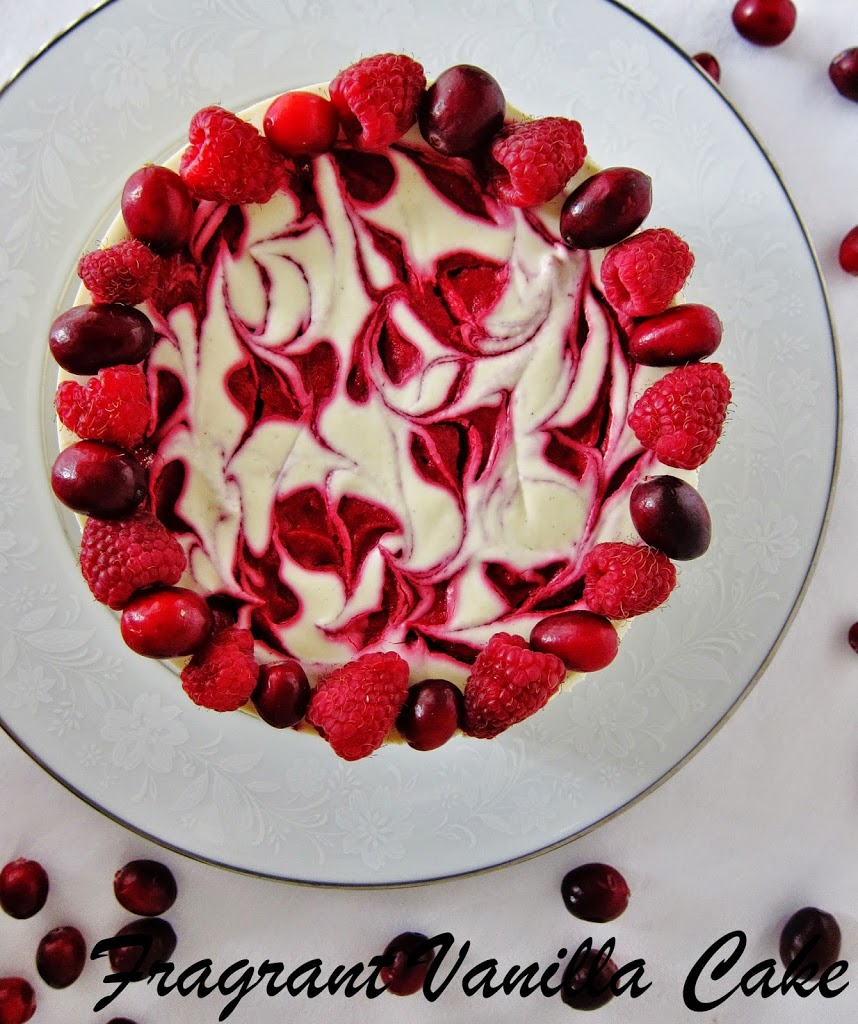 (Visited 850 times, 1 visits today)