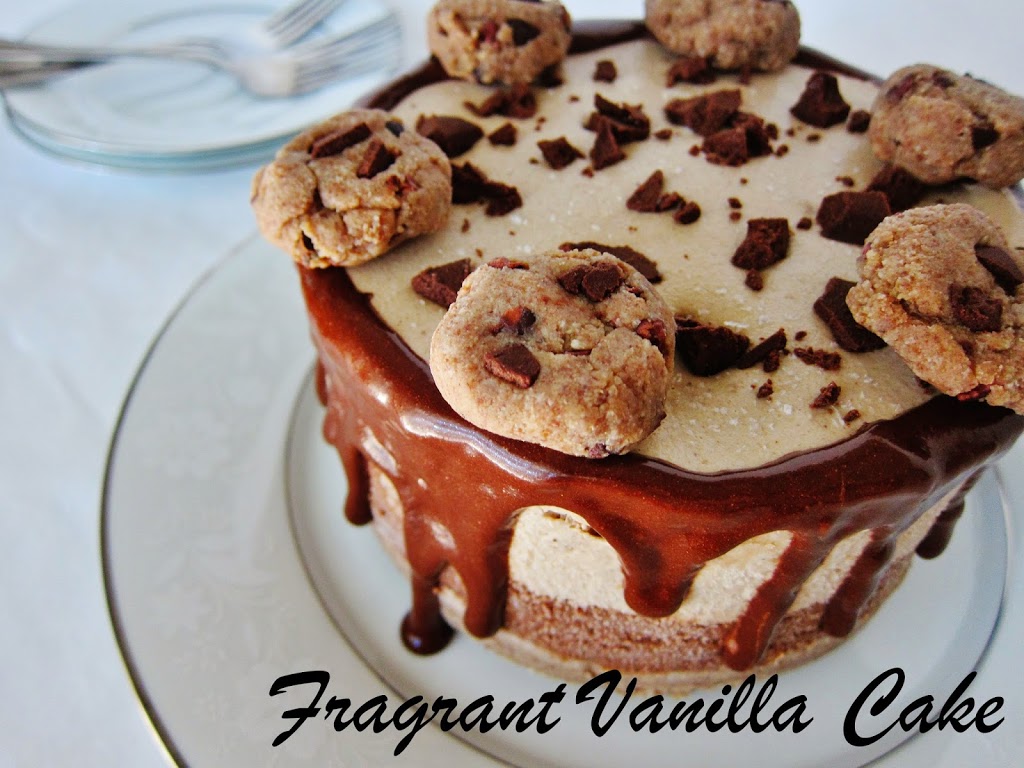 Raw Cookie Dough Ice Cream Cake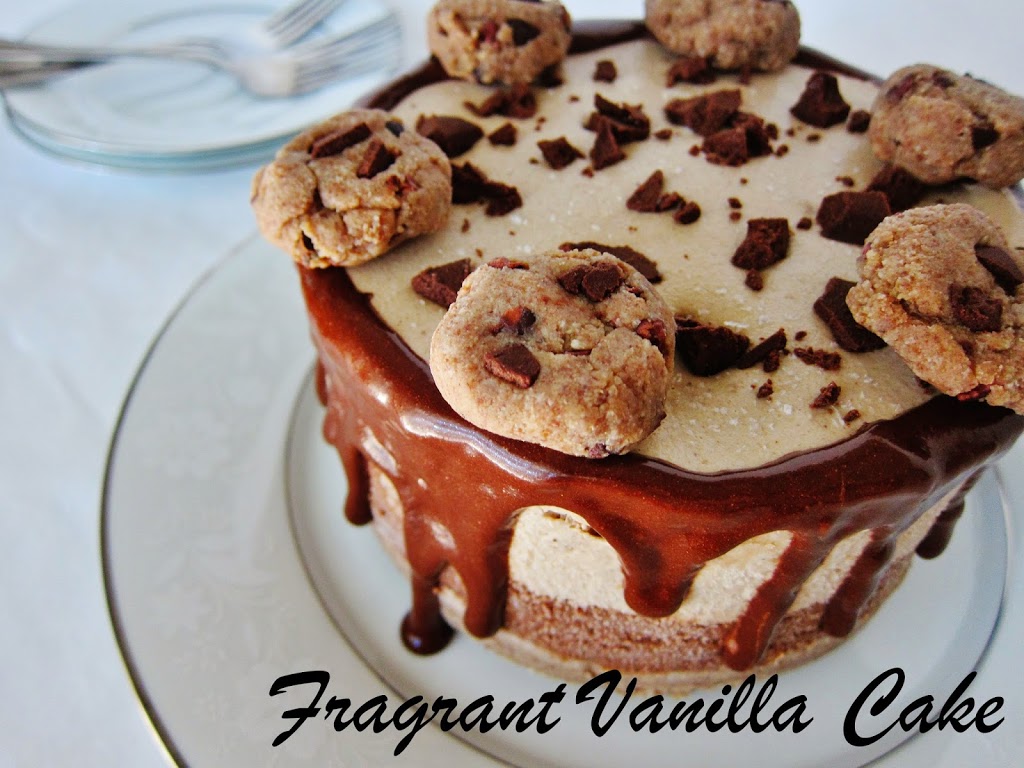 I wanted ice cream last week.  But just making ice cream and scooping it out into a bowl didn't seem like enough excitement.  So, I decided that an ice cream cake was in order!  But what kind to make?  I was browsing some of my past ice cream recipes, and cookie dough caught my eye.  I was kind of wanting something with both chocolate and vanilla, so it was perfect!  One of my favorite flavors of ice cream as a child was cookie dough, and that hasn't changed as an adult. I prefer cookie dough to actual baked cookies, and ice cream filled with goodies is one of the best things in the world in my mind.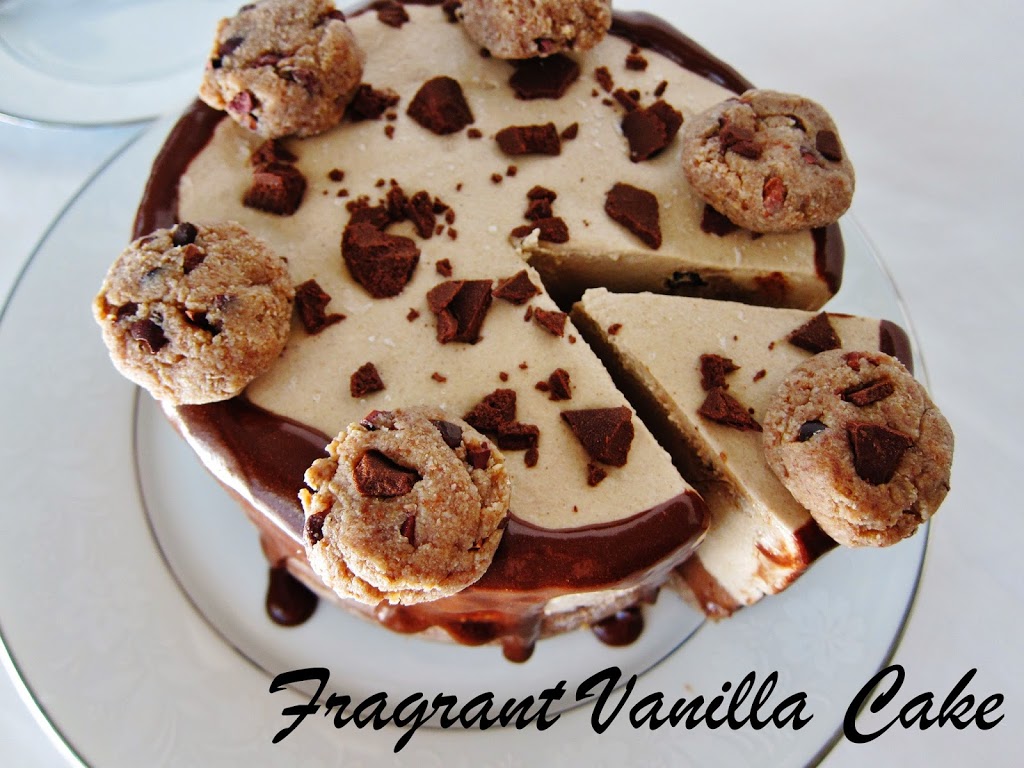 So, I made a raw cookie dough and used it as both the crust, and the chunks for the filling.  It was so good I could have just eaten the whole bowl right there...but then there would be no ice cream cake. The cake was well worth waiting for though.  I made a layer of chocolate ice cream, and a layer of caramelly tasting vanilla maca ice cream.  The vanilla maca kind of echoed the flavor of the cookie dough, it was simply heavenly.  In addition to the cookie dough, I stirred in chocolate chunks, and topped the cake off with a bit of gooey fudge.
It was freaking delicious once all combined together. Like cookie dough heaven!  And I thought those chocolate chip cookie dough Dairy Queen blizzards were good as a child...those taste rather bland and boring in comparison to this cake!  I think this would be perfect as a Birthday cake for a cookie dough lover, but you need no excuse to make it, and trust me you should give it a go!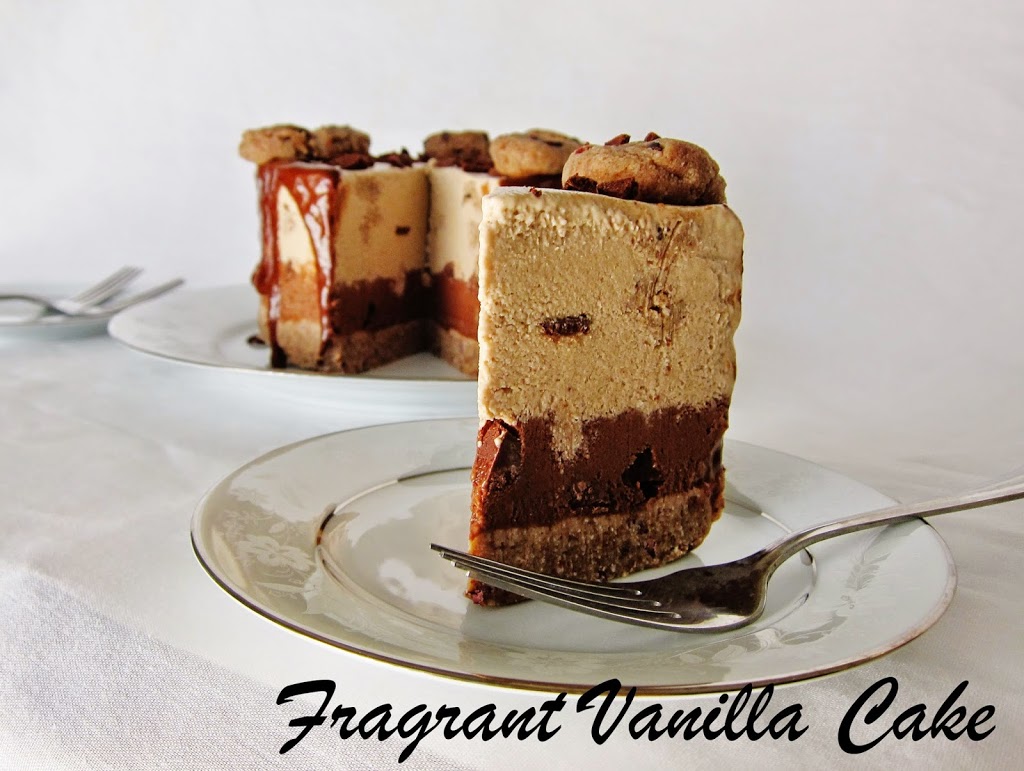 Raw Cookie Dough Ice Cream Cake
Makes one 6 inch cake
1 1/2 cups soft medjool dates, pitted
1 1/2 cups ground flaxseed
2 cups finely shredded dried coconut
1/4 tsp sea salt
1 tsp pure vanilla extract
1 large banana, mashed
1/2 cup raw cacao nibs
1/2 cup raw chocolate chunks
Ice Cream:
1 1/2 cups coconut water
3 cups young coconut meat*
3 cups ripe bananas, mashed
3/4  cup raw date paste or another raw liquid sweetener if you prefer
2 Tbsp maca powder (optional)
1 Tbsp lucuma powder (optional)
seeds of one vanilla bean
1 1/2 tsp maple extract
1/4 tsp Himalayan salt
1/4 cup plus 2 Tbsp raw coconut butter, warmed to liquid
3 Tbsp raw cacao powder
1/4 cup chopped raw chocolate or chocolate chunks
Fudge:
1/4 cup raw cacao powder
3 Tbsp raw coconut nectar
1 Tbsp raw coconut oil, warmed to liquid
a pinch sea salt
For the cookie dough crust and chunks, in a food processor, combine the dates, flaxseed, buckwheat groats, coconut, sea salt, and vanilla extract and process until fine crumbs.  Add the banana and process until smooth and starting to hold together.  Remove from the food processor and knead in cacao nibs and chocolate chunks (being careful not to handle them too much because they will start to melt).  place half into the bottom of a 6 inch round spring form pan lined with plastic wrap or parchment (for easy removal) and press out flat.  Shape some of it into 6 little cookies (to top the cake with later), then roll the rest into little balls and place in the freezer while you make the ice cream.
For the ice cream, add coconut water to a food processor, along with young coconut, bananas,   nectar, maca, maple, vanilla, and sea salt. Process until smooth, then with the processor running, add the coconut butter slowly and process until well incorporated, about a minute. Pour the mixture into an ice cream maker and process according to directions. Remove from ice cream maker, and remove 1/3 of the ice cream.  Whisk in 3 Tbsp raw cacao powder (to the 1/3 of the ice cream), then pour over the crust.  Scatter about 1/3 of the cookie dough chunks and a little of the chopped chocolate over it.  Stir the remaining cookie dough chunks and most of the remaining chopped chocolate into the vanilla ice cream then pour over the chocolate ice cream. Scatter the remaining chocolate chunks over that and place in the freezer for about 6 hours or overnight until firm.
For the fudge, whisk together all ingredients until smooth (if too thick, add a little water, if too thin, add a little more cacao powder).  Spoon around the edges of the cake so that it drips down.  Garnish the top with the cookies and serve!
*If young coconut meat is unavailable, you can substitute the 3 cups fresh coconut with 3 cups finely shredded, dried coconut and 1 1/2 cups coconut water.  But, you MUST have a high speed blender to do this or it will never become smooth.  Blend the coconut first until it becomes butter, using the tamper to press it into the blades until it is liquidy, then add the coconut water and blend until combined. Add this to the ice cream base in place of the young coconut meat.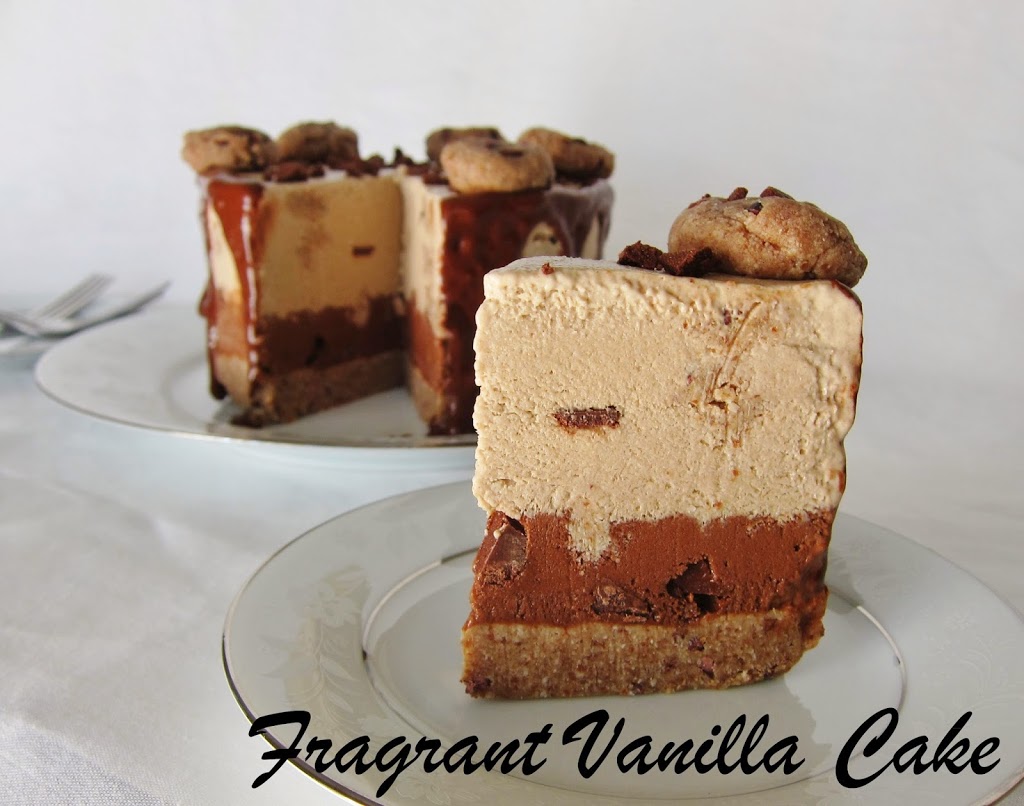 (Visited 339 times, 1 visits today)