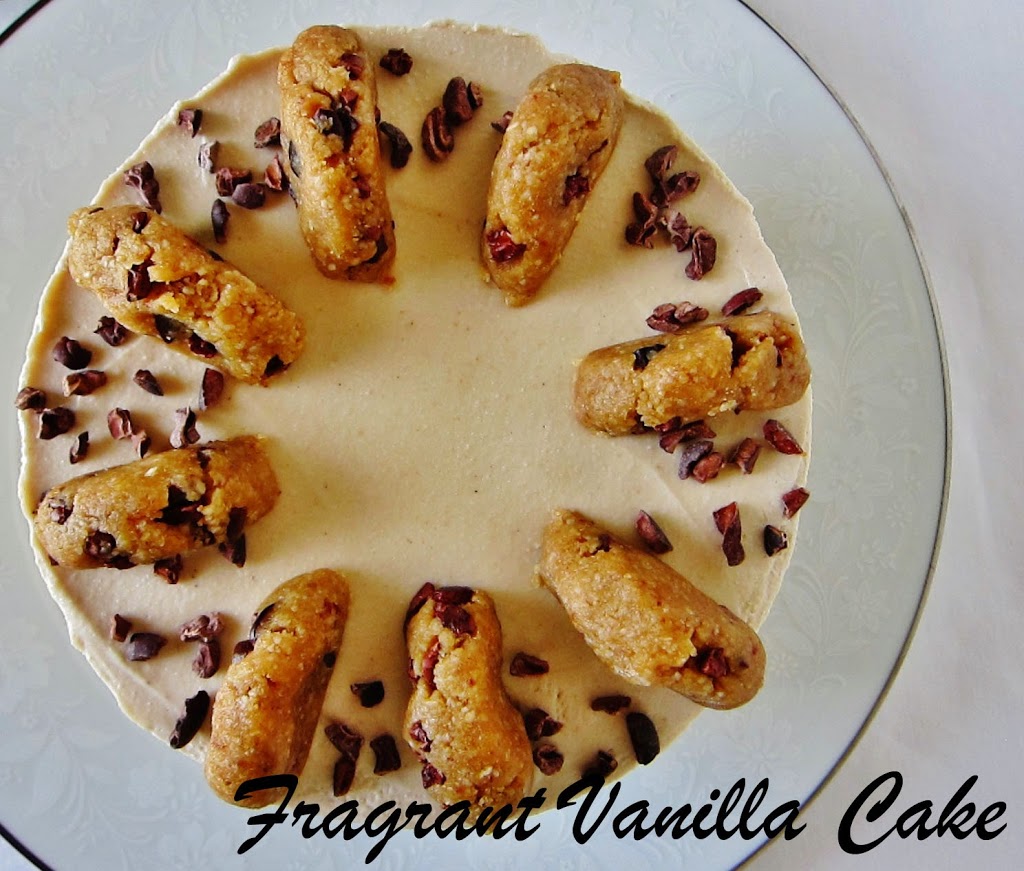 Raw Cookie Dough Cheesecake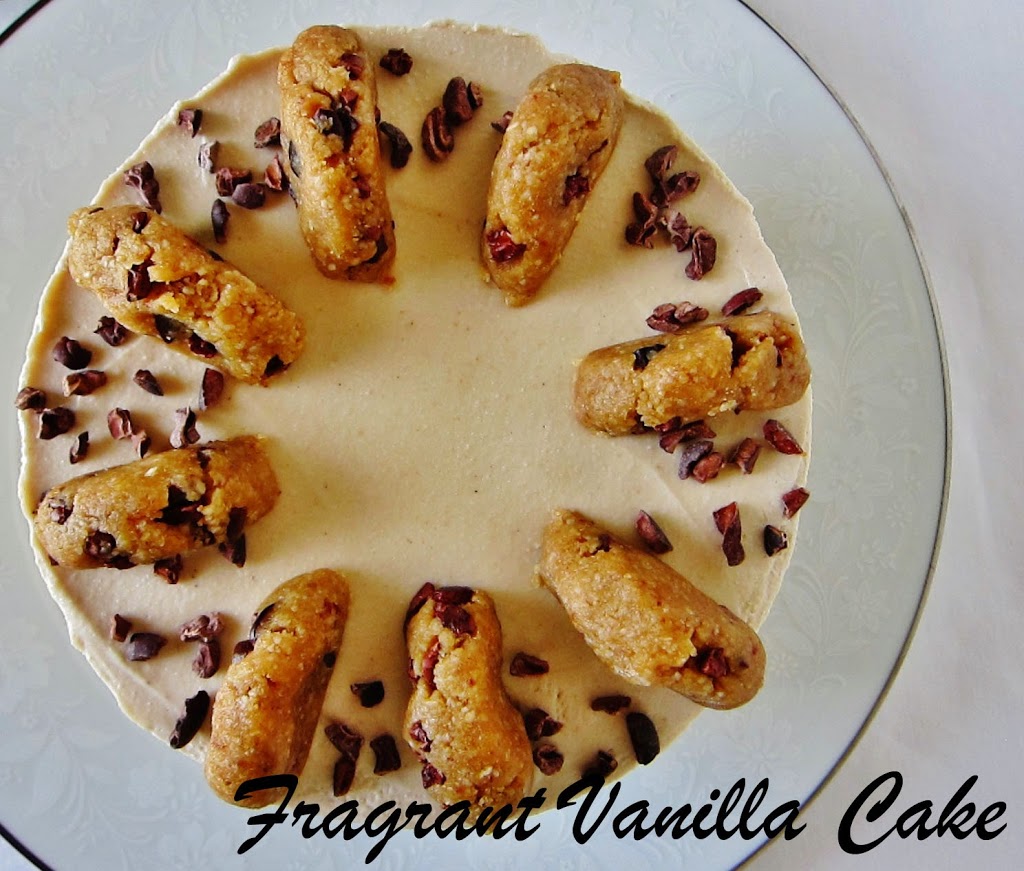 I am a big fan of cookie dough.  Oddly enough, I like it even better than baked cookies.  Probably because of the the soft chewy consistency.  I remember making cookies with my Grandma and stealing the dough.  It was so good.  I didn't care if it had raw eggs in it.  Luckilly now all of the cookie dough I make is vegan so no risk of contamination from eggs.  I was on a big cookie dough craving kick last weekend and I decided that I must make something including it.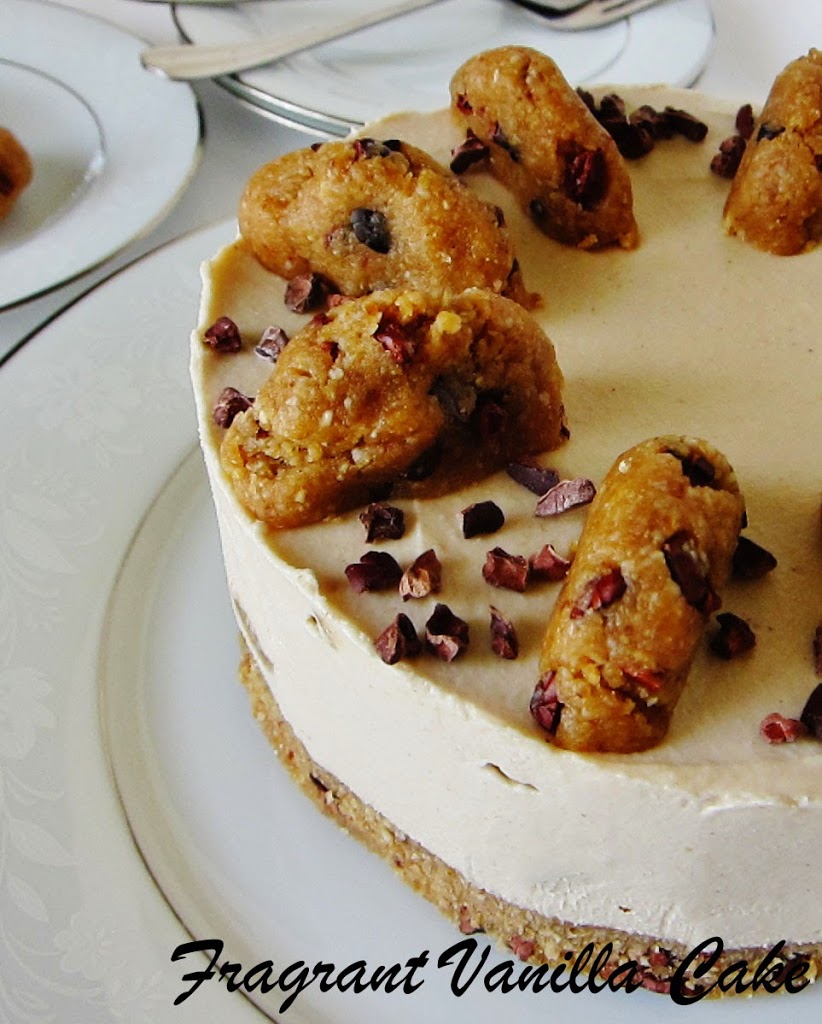 Cookie dough cheesecake was what I decided on.  Because although I love a good cookie dough blizzard, I wanted something a bit more grand.  The cookie dough I made this time was simply crave worthy deliciousness.  luckilly the recipe makes a good amount so I had enough to make the cake and eat some in the process too.  You could just make a big bowl of this and eat it...if you didn't feel like making the whole cake.  Just throwing that out there!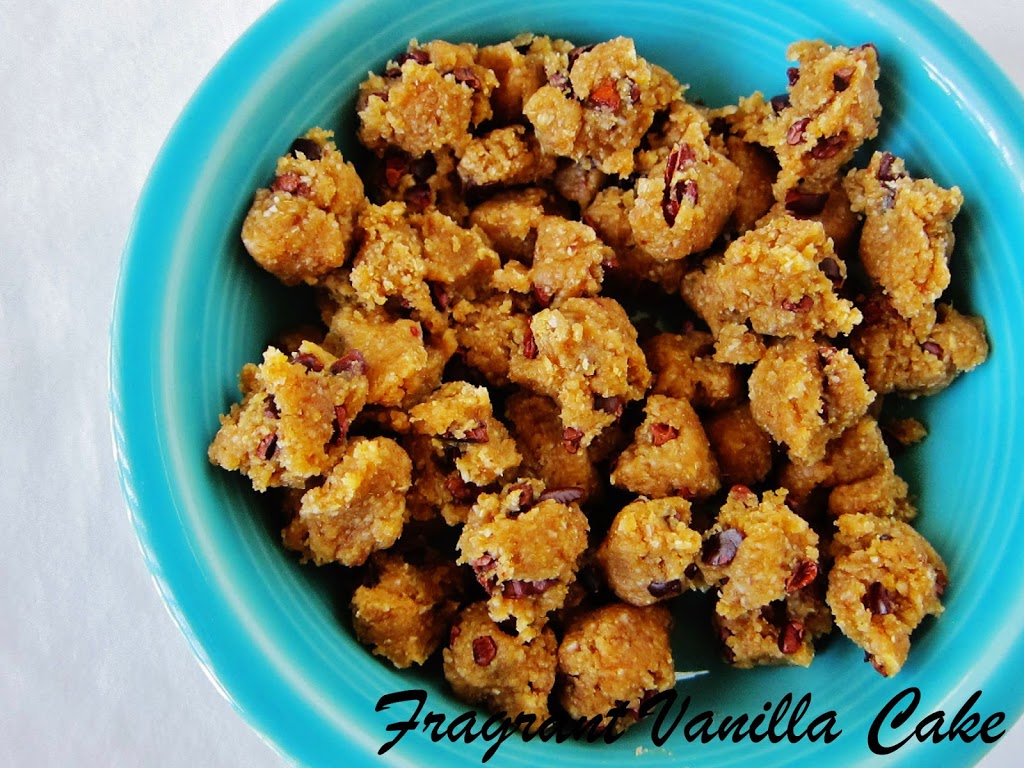 But the cake is worth it, trust me.  I made a sweet filling that tasted a bit caramelly thanks to the lucuma and maca, and it was wonderful with the chunks of cookie dough! I imagine this would be perfect as a Birthday cake for a cookie dough lover.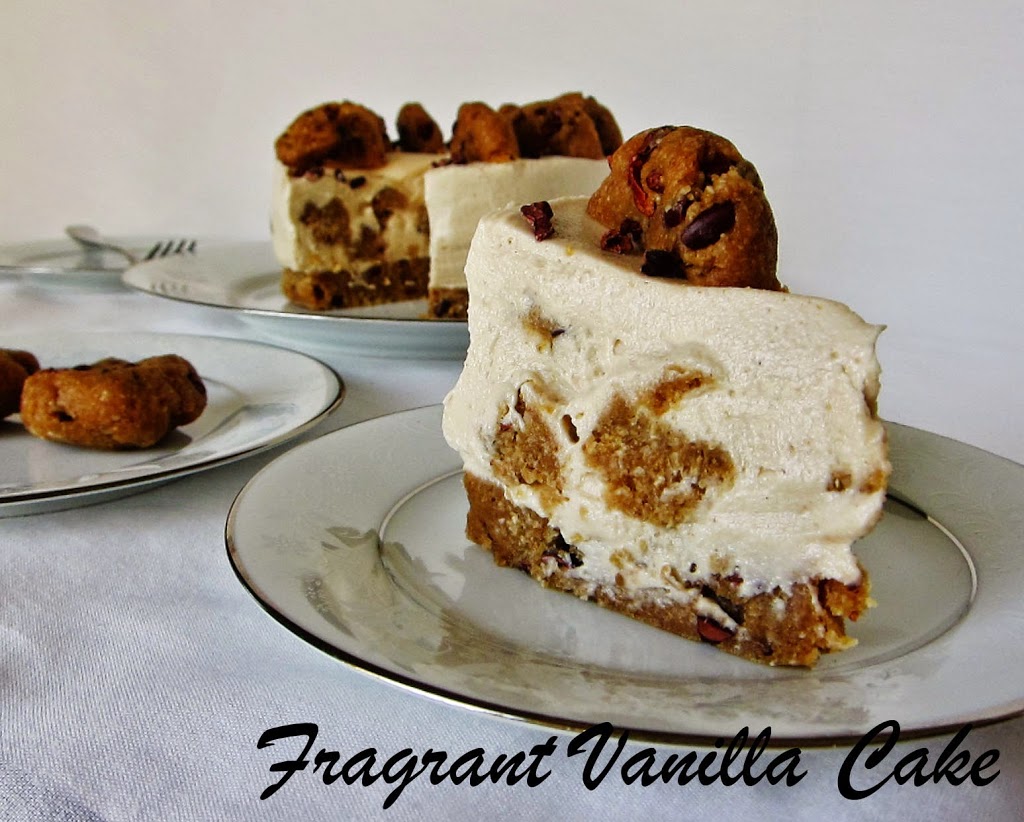 At least, I would have loved it as my Birthday cake when I was about 12 and I loved cookie dough blizzards.  Heck, I would love this as an adult!  Do yourself a favor and make this so you can enjoy it too!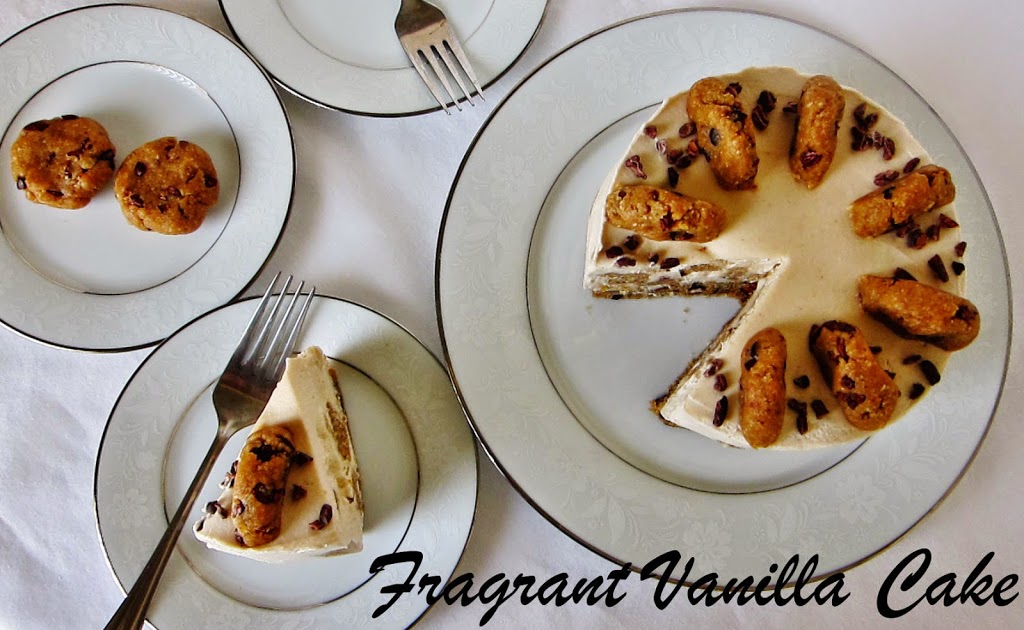 Raw Cookie Dough Cheesecake
Makes one 6 inch cake
1 1/2 cups soft medjool dates, pitted
1 1/2 cups ground flax seed
2 cups finely shredded dried coconut
1/4 tsp sea salt
1 tsp pure vanilla extract
1 large banana, mashed
1/2 cup raw cacao nibs
1/2 cup raw chocolate chunks
Filling:
4 cups young coconut meat*
1/2 cup coconut water
1/2 cup raw coconut nectar (or your choice of raw liquid sweetener)
2 Tbsp lucuma powder (optional)
1 Tbsp maca powder (optional)
1/2 teaspoon sea salt
1 Tbsp pure vanilla extract and seeds from half a vanilla bean
1/2 cup plus 2 Tbsp 
raw coconut butter
 (warmed to liquid)
1/4 cup raw cacao powder
1/4 cup chopped raw chocolate or chocolate chunks
For the cookie dough crust and chunks, in a food processor, combine the dates, flax seed, buckwheat groats, coconut, sea salt, and vanilla extract and process until fine crumbs.  Add the banana and process until smooth and starting to hold together.  Remove from the food processor and knead in cacao nibs and chocolate chunks (being careful not to handle them too much because they will start to melt).  Place half into the bottom of a 6 inch round spring form pan lined with plastic wrap or parchment (for easy removal) and press out flat.  Shape some of it into 6 little cookies (to top the cake with later), then roll the rest into little balls and place in the freezer while you make the filling.
To make the filling, in a food processor combine coconut, coconut water, coconut nectar, sea salt, lucuma, maca, vanilla, coconut nectar and blend until smooth and creamy. With the processor running, add the coconut butter, and process for a minute until blended. Remove the filling from the food processor and set aside.
Pour 1/3 of filling over the crust.  Scatter about 1/2 of the cookie dough chunks and a little of the chopped chocolate over it.  Pour half the remaining filling over that. Scatter the remaining chocolate chunks over that, then pour over the remaining filling and place in the freezer for about 4 hours until firm.
Garnish the top with the cookies and serve!
*If young coconut meat is unavailable, you can substitute the 4 cups raw cashews, soaked and drained for it, if you do not mind it not being nut free.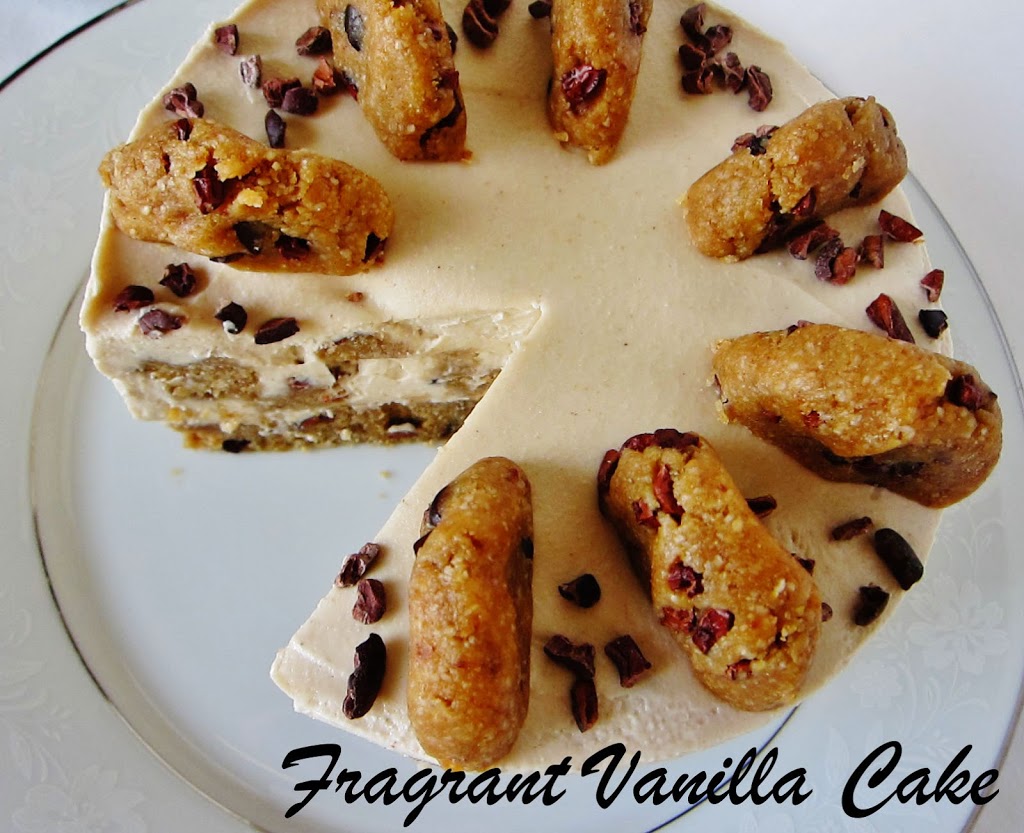 (Visited 95 times, 1 visits today)