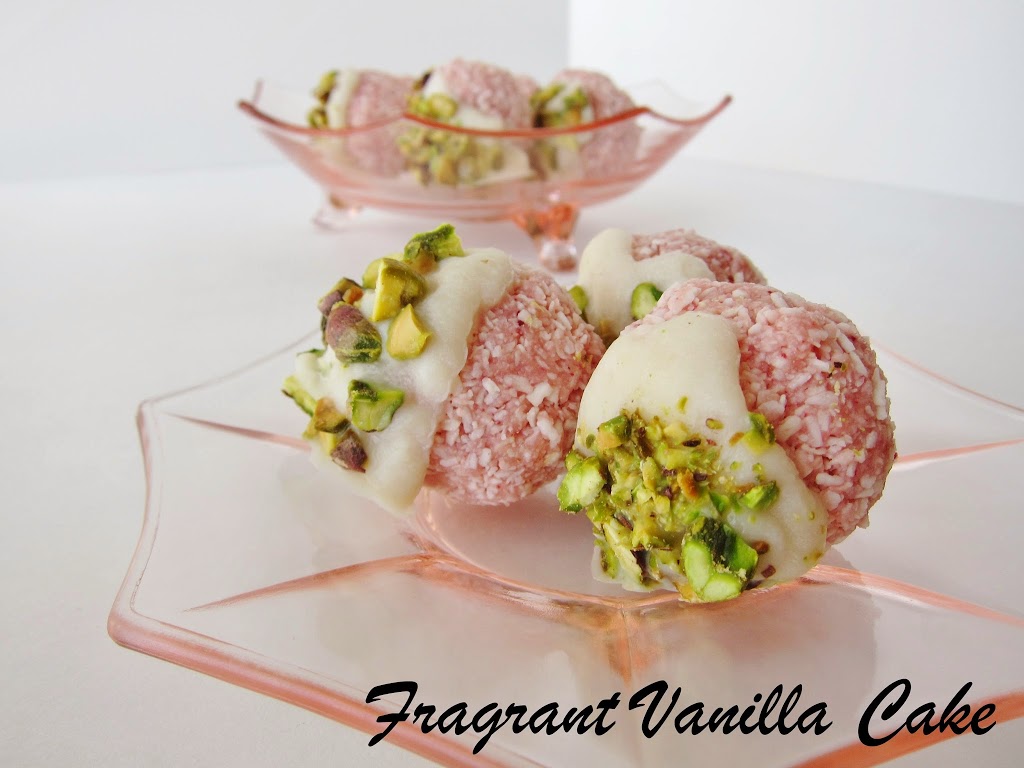 Raw Coconut Rose Pistachio Macaroons
I love coconut macaroons.  It is no secret, I have been making them quite frequently since I discovered how delicious the raw ones were a couple months back.  I decided that I needed to make more last weekend and I wanted them to be festive for spring.
I thought about many different possible flavors and colors they could be (like green for mint, purple for lavender etc.), but what I landed on was rose.  Lovely pink little macaroons  with a beautiful scent. My favorite flavor of French macarons was always rose, so I thought it would be wonderful with the coconut.
They were delicious on their own, sweet with the aroma of rose, but I thought I would make them even better by dipping them in a sweet coconut glaze (that actually tasted like white chocolate) and then dip them in pistachios.  They were amazing...the sweet coconut, crunchy salty pistachios and aroma of rose.  My Mom absolutely loved them!  I think they would be perfect for easter as a bite sized dessert.
Raw Coconut Rose Pistachio Macaroons
Makes 12
Macaroons:
3/4 cup raw almond meal*
a pinch of sea salt
1/4 cup coconut nectar
1 small 1/2 inch chunk beet
1 tsp rosewater
1 tsp pure vanilla extract
2 cups finely shredded unsweetened coconut
Glaze:
1/4 cup coconut butter warmed to liquid
3 Tbsp coconut oil, warmed to liquid
1 Tbsp coconut nectar
1/2 cup chopped raw pistachios
Place almond meal, sea salt nectar, beet, rosewater and vanilla in the food processor and process until well combined. Add coconut and pulse until the mixture holds together. Form the mixture into 12 balls, and place on a dehydrator sheet. Dehydrate for about 12 hours, or until they are dried, but not so much so that they are not a little chewy in the middle.
To make the glaze, whisk together all ingredients until smooth. Dip a macaroon into the glaze, then dip it into the pistachios.  Place on a foil lined baking sheet or plate.  Repeat with remaining macaroons and once they are all dipped, place them in the freezer to set for about 5 minutes before serving.
*I used soaked, skinned and dried almonds to make the meal.
(Visited 108 times, 1 visits today)