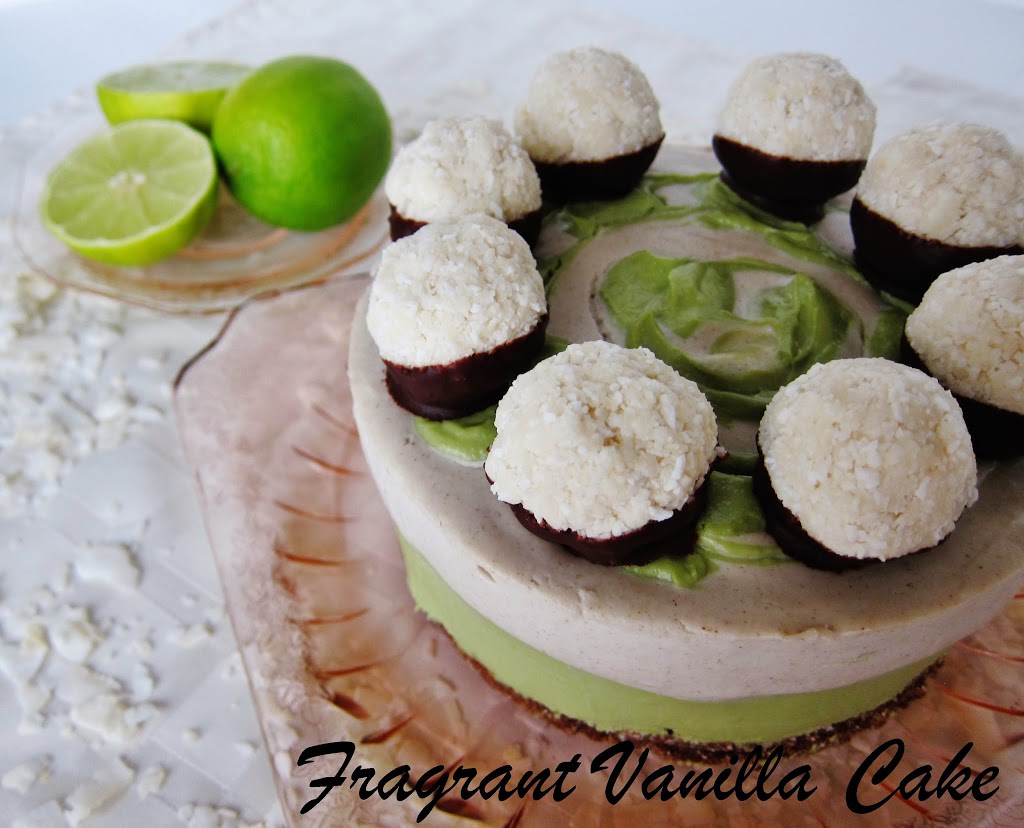 Raw Coconut Lime Macaroon Dream Cake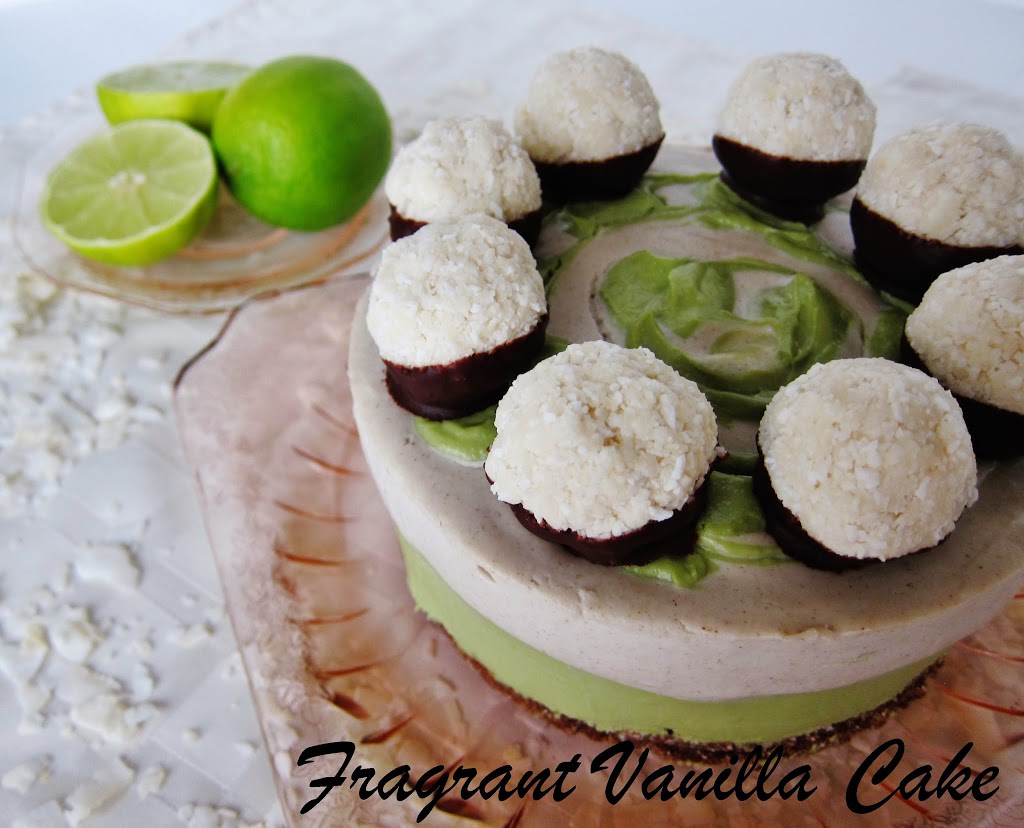 Although I took a vote on Facebook for this cake, and it won...I admit is has been in my mind for a while.  It is about time I finally made it!  You see, I made a raw
Lime in the Coconut Ice Cream 
(coconut ice cream with lime swirl, and macaroons) about a month back and it was so good I decided that it needed to be made in cake form.  That is how this cake came about.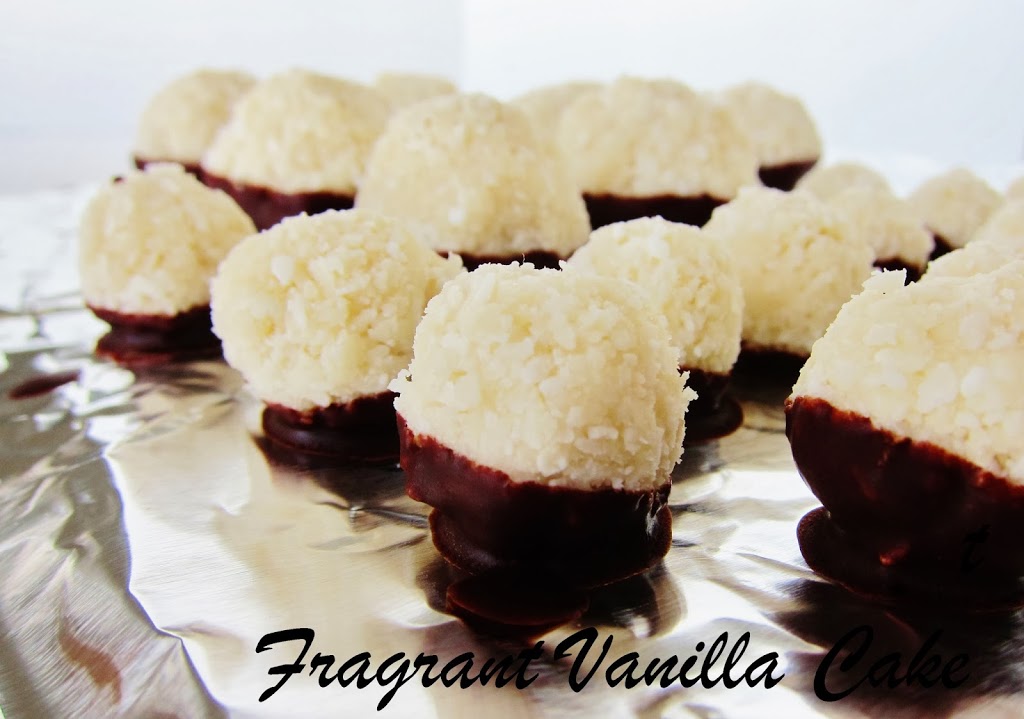 And I am very happy it finally did.  I make coconut macaroons quite a lot because my Mother loves them, and I know they make great ice cream mix ins (you should try this if you haven't...think how good cookie dough ice cream is, it is a coconut lover's form of that) but I thought they would be awesome as a cake mix in too. I am all about different textures in my desserts I knew this would be a good contrast to the soft cake.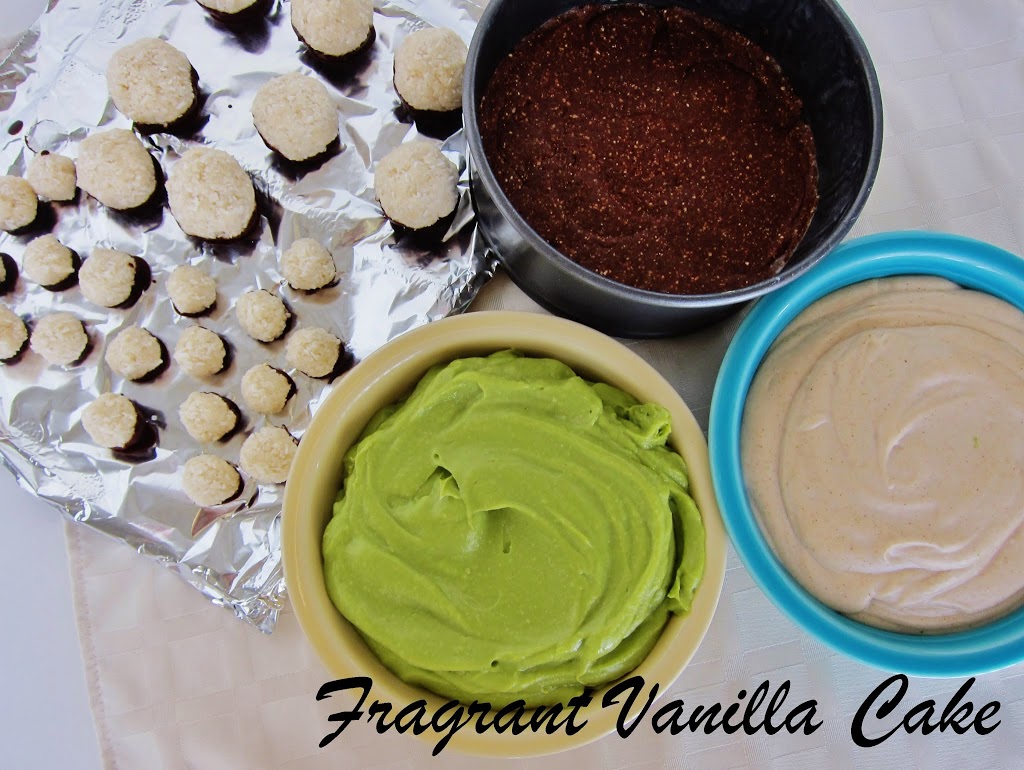 I used half a creamy avocado base for the lime part of the filling and it was simply heavenly.  The coconut base I topped that off with was just as much so, and between the two, I could not stop eating them.  Luckilly there was still enough for the cake.  The inside was studded with little coconut macaroons, and the filling stood on a crunchy chocolate base.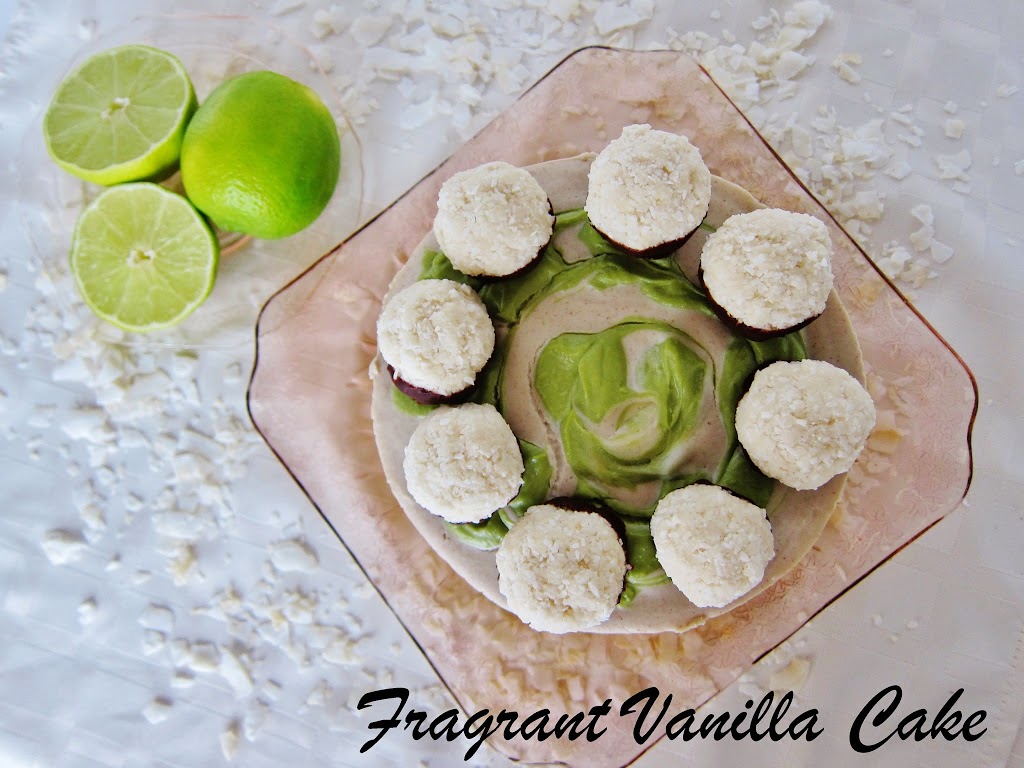 I topped the cake off with some larger macaroons (which were really tough not to eat, but I convinced myself the cake needed them to look pretty).  This cake was divine.  Like a burst of summer flavor when I am totally sick of winter right now.  The filling luscious and smooth, the macaroons chewy and decadent with chocolate.  The perfect pairing!  Putting the lime in the coconut is always a good idea!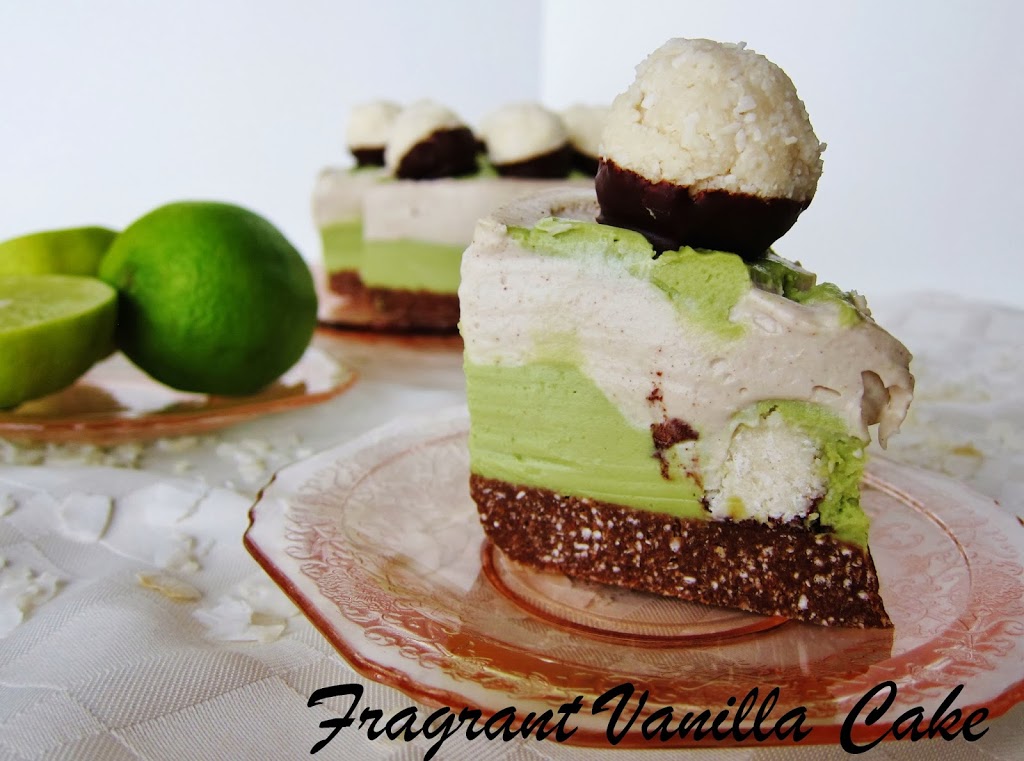 Raw Coconut Lime Macaroon Dream Cake
Makes one 6 inch cake
Macaroons:
(note, this macaroon recipe makes twice the amount you need so you will have extra to enjoy)
3/4 cup finely shredded unsweetened coconut
a pinch of sea salt
1/4 cup raw coconut nectar
1 tsp pure vanilla extract
2 cups finely shredded unsweetened coconut
1/2 cup chopped raw dark chocolate
3/4 cup dried finely shredded coconut
1/8 teaspoon sea salt
10-12 soft medjool dates, pitted and chopped (if they are not soft, soak them in water until they are and drain them well)
3 Tbsp raw cacao powder
Lime Filling:
2 cups diced ripe avocados (about 3 medium)
1/4 cup plus 1 Tbsp raw coconut nectar
1/3 cup lime juice
2 Tbsp lime zest
1/4 tsp sea salt
1/2 Tbsp pure vanilla extract
1/2 cup raw coconut butter, liquefied
Coconut Filling:
1 cup young coconut meat*
1/4 cup coconut water
1 Tbsp lime zest
1/3 cup raw coconut nectar
1/4  teaspoon sea salt
1 Tbsp pure vanilla extract and seeds from half a vanilla bean
For the macaroons, place 3/4 cup coconut, and sea salt in the food processor and process until fine as flour and well combined. Add the nectar and vanilla and process until the mixture holds together. Add coconut and pulse until the mixture holds together. Form some of the mixture into 8 1 inch balls (for the top of the cake), then form the rest into small balls (for inside the cake), and place in the freezer until very firm. Meanwhile, melt the raw chocolate.  When the coconut macaroons are hard, dip them into the chocolate and place on a foil lined sheet.  Place back in the freezer.
To make the crust, lightly coat a 6 inch spring form removable bottom pan with coconut oil. To prepare the crust, process flax, coconut, buckwheat and sea salt in a food processor until fine crumbs, then add the dates and cacao powder and process until the mixture holds together when squeezed between your fingers (if not holding together, add more dates). Firmly press crust into the bottom of the prepared pan, and set aside.
To make the lime filling, combine all ingredients in the food processor and process until smooth.  Set aside.
To make the coconut filling, in a food processor, combine coconut meat, coconut water, and zest, coconut nectar, sea salt, and vanilla in a food processor and blend until smooth and creamy. With the processor running, add the coconut butter, and process for a minute until blended.  Set aside.
To assemble cheesecake, drop half the smaller macaroons over the crust, then pour the lime filling over that (reserving about 3 good Tbsp of it for the top of the cake) and smooth out.  Drop the remaining small macaroons over that, then spread over the coconut filling. Drop the reserved lime filling by the tsp over the coconut filling.  Tap on the counter to level, then swirl with a knife to create marbling.  Place in the freezer for about 4 hours to firm up. Once the cake is firm, top with the large macaroons and serve.  Store the cake in the fridge.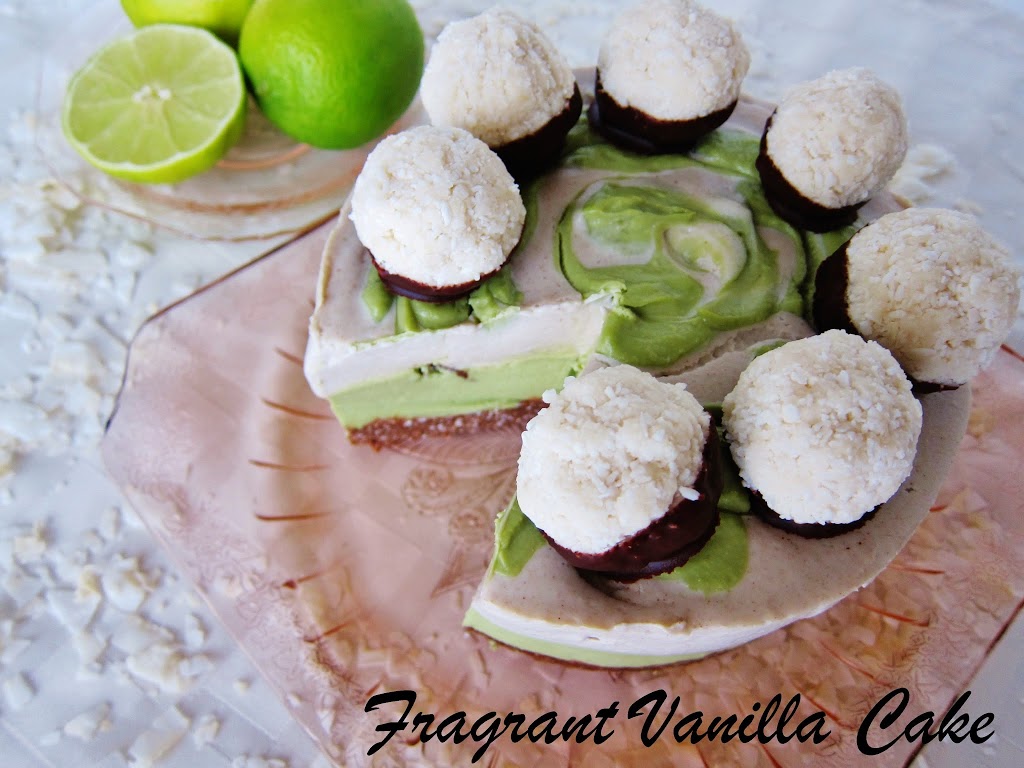 (Visited 40 times, 1 visits today)