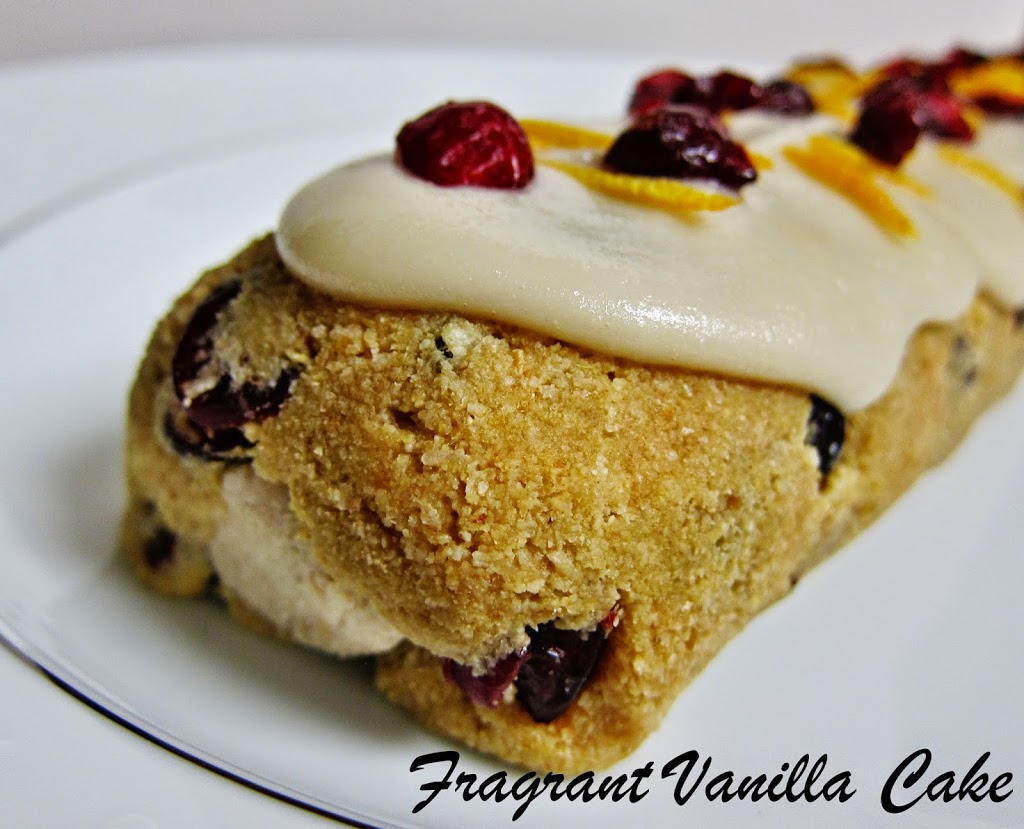 Raw Christmas Stollen
One of my readers asked me if this year I could create a raw stollen.  I was up for a challenge, so I thought what the heck, why not?  If you do not know what stollen is, it is a traditional German Christmas sweet bread with orange peel, dried fruit and nuts as well as a marzipan center.  I have never made one, even though I am half German sadly.  We always had Julekake, the Scandinavian Christmas bread with fruit that my Grandma on the other side of the family would make.  But, I figured it was about time I made some stollen and honored my German roots even if my Grandmother who was German never made any.
I made a sweet dough laced with orange peel, crasins, rasins, pistachios and walnuts.  It tasted amazing before I even "baked" it in the dehydrator, and I had plenty of samples to "make sure it was just right" wink, wink.  That means it was really good.  I made a marzipan filling for it from a recipe I usually use for candy and it worked out perfect.  Once I rolled it all together into a loaf, it was looking pretty good!  Nothing to be intimidated about here!
Well dehydrating, it smelled amazing.  The aroma of sweet orange, vanilla and almond filling my home, the perfect thing to wake up to.  I decided to glaze it instead of the traditional powdered sugar because I thought it would be prettier.  I suppose this is kind of mixing the Julekake with the stollen, since my Grandma always glazed her Julekake...but what can I say, this is MY version of stollen (that said, if you want to be traditional, grind up finely shredded coconut with a little raw coconut sugar in a high speed blender for about 30 seconds and dust the cake with the "powdered sugar"). It was yummalicious!  Sweet, soft, filled with goodies and multiple servings worthy.  I think both of my Grandmas would be proud of my effort here.
Raw Mini Christmas Stollen
Batter:
1 1/4 cups raw sprouted buckwheat flour or sprouted oat flour
3/4 cup ground flax seed
2 cups raw coconut flour (do NOT use store-bought!)*
1/4 tsp sea salt
1 Tbsp orange zest
1/4 cup orange juice
2 tsp pure vanilla extract
1 1/2 cups diced sweet apples
3/4 cup medjool dates, pitted (soaked in filtered water for 30 minutes if not soft, then drained)
1/3 cup raw coconut nectar (or maple syrup or your choice liquid sweetener)
3/4 cup dried cranberries or cherries
3/4 cup golden raisins
1/2 cup chopped pistachios
1/2 cup chopped walnuts
Filling:
2 cups finely shredded coconut
1/4 cup raw almond butter
1/2 cup coconut butter, warmed to liquid
2 Tbsp raw coconut nectar or maple syrup
a pinch sea salt
1 tsp pure almond exctact
1 tsp pure vanilla extract
1 Tbsp filtered water
 Icing:
1/4 cup coconut butter
1/4 cup filtered water (or as needed)
1 Tbsp raw coconut nectar or maple syrup
1 tsp pure vanilla extract
Garnish:
dried cranberries
orange peel strips
Combine buckwheat flour, coconut flour, flax, sea salt in a bowl and whisk together until and set aside. To a food processor, add the orange juice and zest, dates, vanilla, apple, coconut nectar to the processor and process until pretty smooth. Add the dry ingredients back and process until smooth and well incorporated. Mix in the dried cranberries, golden raisins, pistachios, and walnuts by hand in a bowl.
Put down a sheet of parchment paper, then place the dough on it.  Oil your hands and a rolling pin with coconut oil, and roll out into a rectangle about 8 x 12 inches.  Cover with plastic wrap while you make the filling.
For the filling, in a high speed blender or food processor, buzz the shredded coconut to fine flour (only about 15-30 seconds in a high speed blender, do not do it too long or you will get butter).  Set aside in a bowl.  To a food processor, add the almond butter, coconut butter, coconut nectar, sea salt, extracts, and water and blend until smooth.  Add the reserved coconut and process until smooth like dough. Shape into a log as long as the other dough, and place in the center of it the long way.  Using the parchment to assist you, roll the dough around the marzipan filling, and seal the edges, tucking the ends in and making sure the seam is on the bottom.  Place in the dehydrator and dry for about 14 to 16 hours at 115F (until they are cake consistency but still a little moist in the centers).
To make the icing, whisk all ingredients together until smooth (adding a little more water by the tsp if too thick), and spoon over the stollen. Sprinkle with cranberries and orange zest and allow to set before serving.
*I say not to use store bought coconut flour because it will affect the flavor and quality of the finished product. I find it too dry (it soaks up all the moisture in the dough), and most of it has an off flavor to me (it tastes toasted) that I do not care for.  You can make your own coconut flour in about 30 seconds or less in a high speed blender.  See how here:
https://www.fragrantvanilla.com/p/helpful-things-for-recipes-on-this-blog.html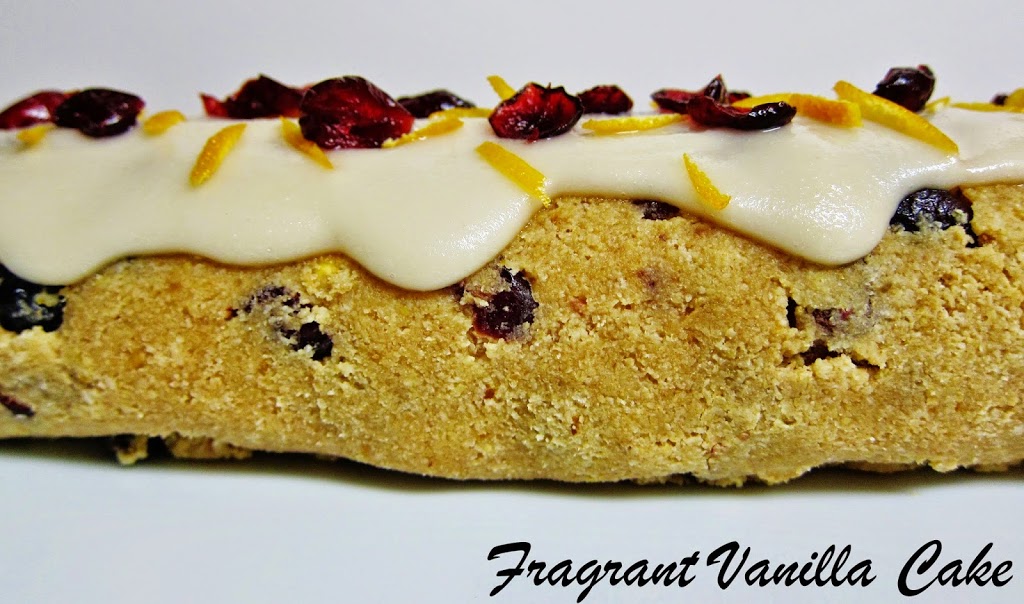 (Visited 374 times, 1 visits today)