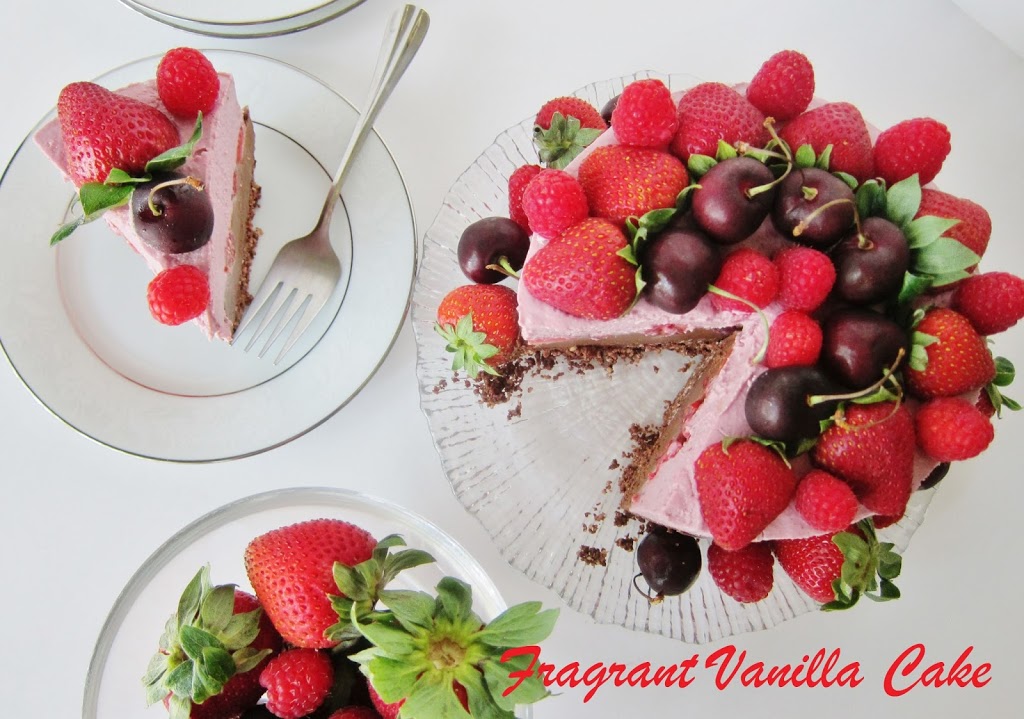 Raw Chocolate Ruby Cheesecake
My favorite summer fruits happen to be red.  Raspberries especially (I would eat them by the large bowlful every day if I had raspberry bushes in my yard), strawberries and sweet cherries.  So as you can imagine I was thrilled when raspberries were on sale this week, and my boyfriend gave me a large amount of both strawberries and cherries.
So many possibilities for things to make, and although I always have about 10 ideas bouncing around in my head at any given time, cheesecake won.  As you know it is my favorite dessert if you read this blog...as I have quite a few recipes for them.  I decided to pair the fruits with chocolate this time, in a decadent cookie crust, then a layer of rich chocolate cheesecake topped off with the fresh berries and cherries, then a creamy berry cherry vanilla layer then of course...more beautiful fruit.  It had to be showcased on the top because God did a wonderful job creating lovely berries and they are far more beautiful than any decorating I could pipe or swirl on top.
Let me tell you, this cake was delicious.  Maybe I should have saved it for my Birthday, because it was a beautiful centerpiece and it tasted even better than it looked!
Raw Chocolate Ruby Cheesecake
Makes one 6 inch cake
Crust:
1/2 cup raw walnuts
1/2 cup sprouted buckwheat, dried in the dehydrator (or additional coconut)
1/2 cup dried finely shredded coconut
1/8 teaspoon sea salt
10-12 soft medjool dates, pitted and chopped
3 Tbsp raw cacao powder
Chocolate Filling:
2 cups diced ripe avocados (about 3 medium)
1/4 cup plus 1 Tbsp raw coconut nectar, or your choice of raw liquid sweetener
1/4 tsp sea salt
1/2 Tbsp pure vanilla extract
1/2 cup  plus 2 Tbsp raw cacao powder
3 Tbsp coconut butter, liquefied
Berry Filling:
1 cups raw cashews (preferably soaked overnight and drained)
1 cups young coconut meat (or additional 1 cup soaked cashews if coconut unavailable)
1/4 cup coconut water
1/4 cup raw coconut nectar or maple syrup
1/4  teaspoon sea salt
1 Tbsp pure vanilla extract and seeds from half a vanilla bean
1/4 cup plus 1 Tbsp raw coconut oil (warmed to liquid)
1/3 cup fresh organic cherries, pitted
1/3 cup fresh organic raspberries
1/3 cup fresh organic strawberries
1 small chunk red beet
Middle layer:
About a cup combined cherries, strawberries and raspberries (the cherries and strawberries halved)
Topping:
Fresh Cherries, strawberries (halved) and raspberries for topping
Lightly coat a 6 inch spring form removable bottom pans with coconut oil. To prepare the crust, process walnuts, coconut, buckwheat and sea salt in a food processor until the nuts are fine crumbs, then add the dates and cacao powder and process until the mixture holds together when squeezed between your fingers (if not holding together, add more dates). Firmly press crust into the bottom of the prepared pan, and set aside.
To make the chocolate filling, combine all ingredients in the food processor and process until smooth.  Set aside.  Rinse out the food processor, and to make the berry filling, drain the cashews and combine them with coconut meat, coconut water, coconut nectar, sea salt and vanilla in a food processor and blend until smooth and creamy. With the processor running, add the coconut oil, and process for a minute until blended.  Add 1/3 cup each, cherries, raspberries and strawberries and the chunk of beet. Process until smooth and uniform in color and place back in the bowl.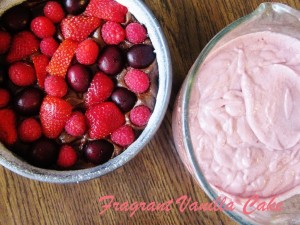 To assemble cheesecake, pour the chocolate filling over the crust, then top with the cup of cherries, strawberries and raspberries then pour over the layer of fruit filling.  Place in the freezer for about 4 hours to firm up.
Once set, top the cake with fresh cherries, and berries and serve!
(Visited 213 times, 1 visits today)