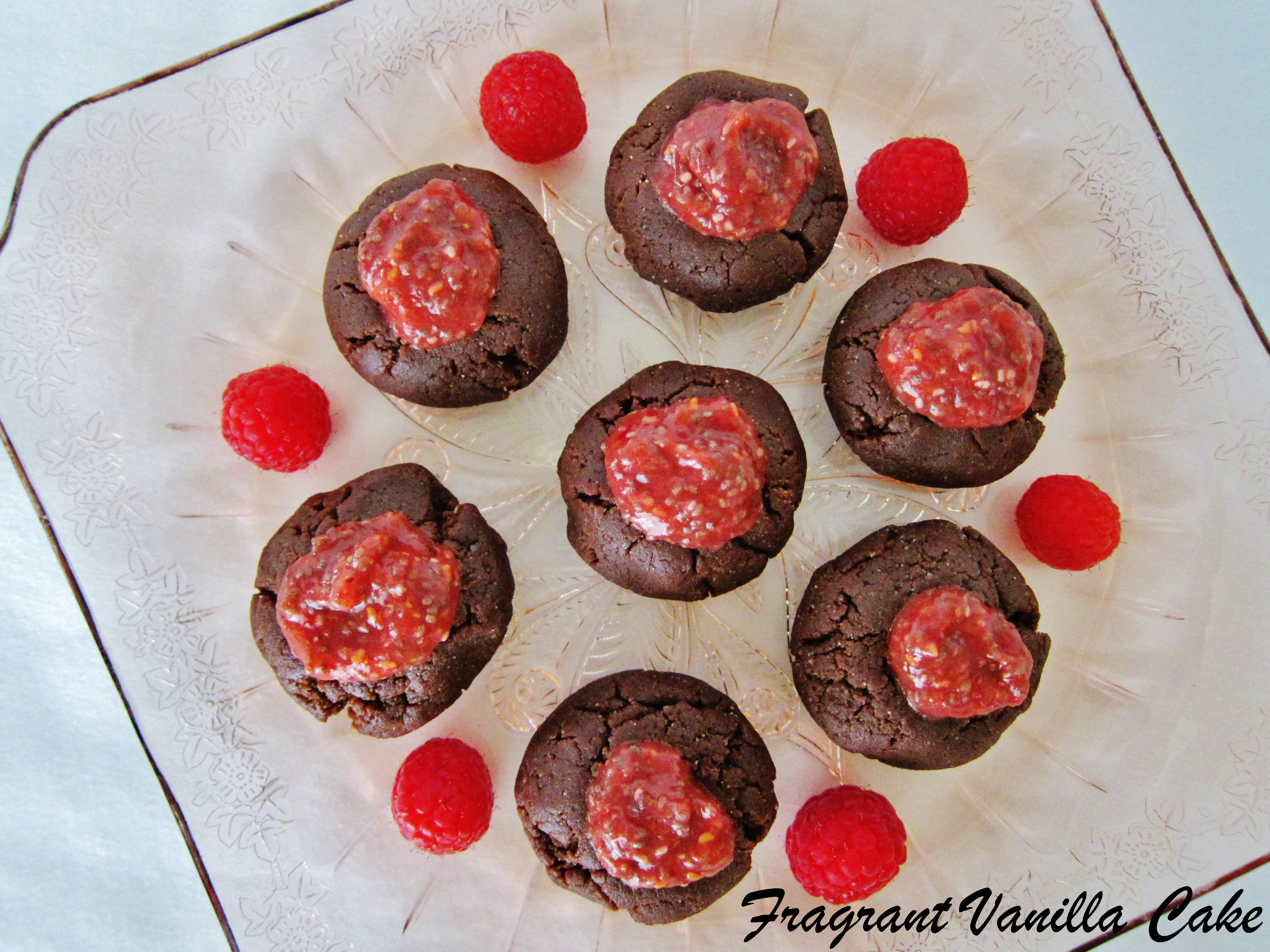 Raw Chocolate Raspberry Thumb Print Cookies
I really enjoyed dress up when I was a little kid.  I was always putting on weird combinations of clothes that I thought would look pretty, even though most of the time I looked ridiculous.  My own clothes were fun, but the most interesting clothes were at Grandma's house.  I would dig through her boxes of fabric and make "dresses" for myself draping them decoratively and securing them with a belt.  Her scarves also made great accessories.  They were colorful and beautiful and my Grandma was always a good sport never getting mad at me for trying on her things.  Even letting me wear her lipstick and clip on earrings sometimes.  I remember one time I didn't want to take them off and I wore them to a pre-school program we were doing.  I was up in front of everyone wearing those ridiculous dangly earrings.  But it was awesome to my 4 year old self.  Sometimes I would pretend to have a tea party with some of my dolls once I was all dressed up and of course I was the princess.  Because queens were too old (at least that was my reasoning).  I would have pretend food, but if I had real food I imagine thumb print cookies would be on the menu.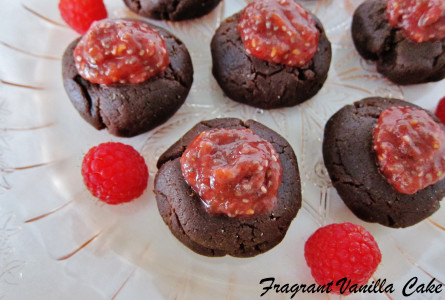 To me thumb prints make me think of tea parties. Not sure why.  Maybe because they seem little and delicate.  I decided that I needed to make some last week because I remembered how cute they were.  Yes that is a valid reason for making cookies. But I didn't want to make the same ones I used to make.  It was a really hot day and I did not want to bake, so I made raw ones.  But not just raw ones. Chocolate with raspberry chia jam.  I am absolutely in love with chia jam lately.  I love the texture, since I am a fan of jam with seeds, and it is simple and easy to make.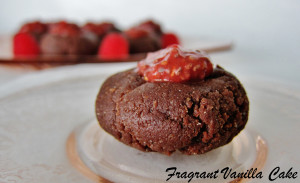 These cookies were really simple altogether to make, and I made them in less than half an hour which is always a plus.  They were delicious as well.  Fudgy and rich cookies the perfect contrast to the sweet light jam.  These are definitely tea party material or just devour material...if you are not feeling lady like which I wasn't really when I made them.  If you are looking for a simple raw cookie recipe, this is it! No hard to find ingredients or tough techniques here!
Raw Chocolate Raspberry Thumb Print Cookies
Makes 10
Cookies:
3/4 cup soft dates, pitted (if not soft, soak them in filtered water 30 minutes and drain well first)
1/2 cup raw pecan butter or raw almond butter
1/4 tsp sea salt
1 tsp pure vanilla extract
4 Tbsp filtered water
1/3 cup raw cacao powder
3/4 cup raw coconut flour*
Jam:
1 1/4 cups organic raspberries
4 soft dates, pitted (if not soft, soak them in filtered water 30 minutes and drain well first)
pinch sea salt
2 Tbsp chia seeds
In a food processor, combine the dates, pecan butter, sea salt, vanilla extract and water and blend until smooth.
Next, add the cacao powder and coconut flour and blend until well combined and smooth dough (if it is a little dry (since dates can vary in moisture) add another Tbsp water).
Shape the dough into 10 round balls, press them down, and put an indentation into the center with your finger.
To make the jam, combine the raspberries and dates in the food processor and process until dates are very fine.  Add the chia seeds and pulse a few times to mix in.  Let sit for 10 minutes.
Spoon the jam into the centers of the cookies (you will have extra for another use).
Store the cookies in an airtight container in the refrigerator.
*I prefer to make my own coconut flour since I find that storebought tends to be too dry. To do so, simply buzz finely shredded dried coconut in a blender until fine flour (but not too long you don't want butter). Raw oat flour may also be used for this recipe if you do not want to use coconut.
(Visited 43 times, 1 visits today)