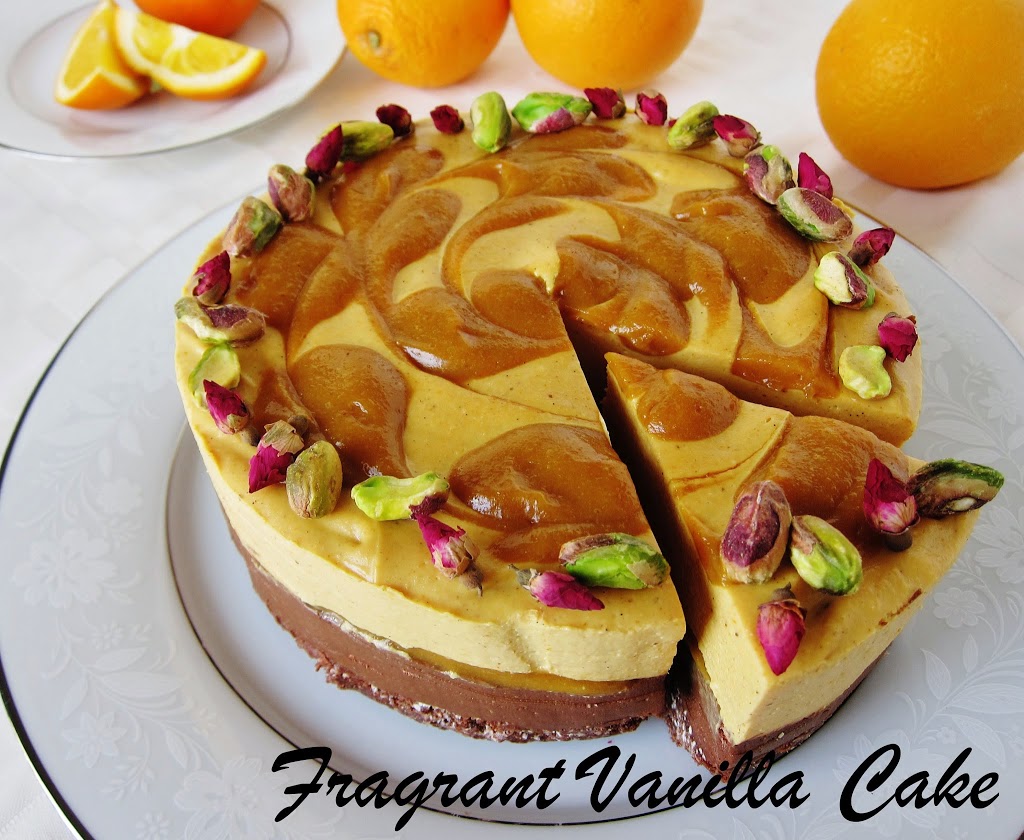 Raw Chocolate Orange Blossom Mousse Cake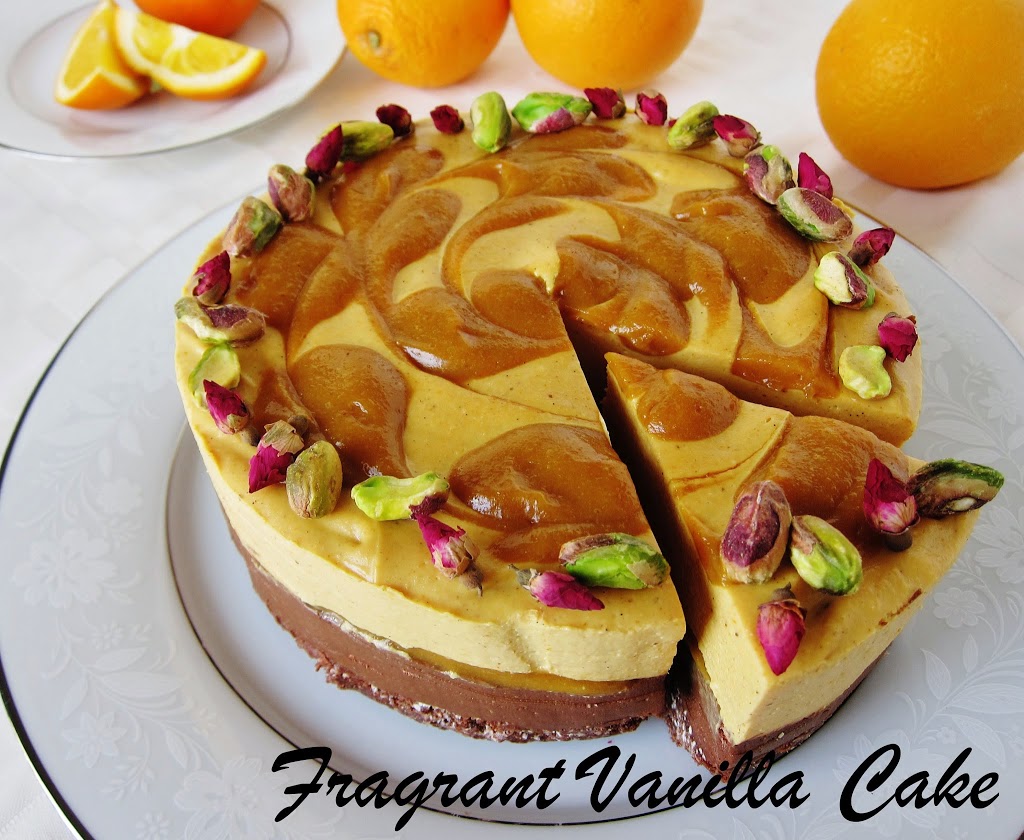 Eric came home from work with a huge box of oranges (like 50 lbs).  He said he was craving orange juice, and it was cheaper to buy a big box from his work than a few bags at the store.  I see where he is coming from...I am the same in some respects since I buy 2 cases of young Thai coconuts at a time, and other bulk items that I go through a lot of.  After all, my mother says I eat enough lettuce in a day for a family of four.  Anyways, Eric shared a large amount of the oranges with me, and so I decided to forego making the desserts I had planned for the weekend and have an orange dessert themed weekend instead. The first of which was a Raw Chocolate Orange Blossom Mousse Cheesecake.
I admit, I was going to make it sans the chocolate mousse layer and just do orange blossom but I had some avocados (perfect chocolate mousse material) just begging to be used and I was after all going to be sharing this with the biggest chocoholic I know (Eric), so I decided to please us both and do 2 mousse layers. First, I whipped up a decadent luscious avocado mousse layer, and poured it a top a crunchy chocolate cookie crust.  Then I made an aromatic orange mousse scented with orange flower water and vanilla as well as some raw orange jam to swirl into both layers. This was going to be heavenly...I could tell even before it was assembled.
Half the fun of making a cake like this is tasting the components and making sure they are perfect before you assemble the cake...and these were all amazing alone before I even combined them!  The hardest part was waiting for the cake to set before I cut into it.  Making raw desserts teaches a girl patience sometimes while you wait for it to set and dehydrate but it is so worth it in the end!
Once the cake was ready, I topped it off with pistachios and dried flowers to make it pretty, and it was time to enjoy!  Let me tell you, this was a little slice of heaven.  Well...maybe a few big slices of heaven since I always go back for seconds when cakes like this are for dessert at my house.  If you love chocolate and orange you should put this on your to make list!
Raw Chocolate Orange Blossom Mousse Cake
Makes one 6 inch cake
Ingredients:
Crust:
2/3 cup sprouted buckwheat, dried in the dehydrator (or additional coconut)
1/3 cup ground flax seed
3/4 cup dried finely shredded coconut
1/8 teaspoon sea salt
10-12 soft medjool dates, pitted and chopped
3 Tbsp raw cacao powder
Chocolate Mousse Filling:
2 cups diced ripe avocados (about 3 medium)
1/4 cup plus 1 Tbsp raw coconut nectar
1/4 tsp sea salt
1/2 Tbsp pure vanilla extract
1/2 cup  plus 2 Tbsp raw cacao powder
3 Tbsp coconut butter, liquefied
Orange Blossom Mousse Filling:
2 cups young coconut meat*
1/4 cup fresh orange juice
1 Tbsp orange zest
1/4 cup raw coconut nectar
1/4  teaspoon sea salt
1 tsp orange flower water
1 Tbsp pure vanilla extract and seeds from half a vanilla bean
1/4 cup plus 1 Tbsp raw coconut butter (warmed to liquid)
natural orange food coloring (I used a small chunk of red beet and 1/2 tsp turmeric) optional
Orange Jam Swirl:
3/4 cup dried apricots, soaked
1/4 cup pitted medjool dates, soaked
3/4 cup orange juice
3/4 cup lemon juice
1 tsp pure vanilla extract
a pinch sea salt
Instructions:
Lightly coat a 6 inch spring form removable bottom pans with coconut oil, and line with parchment on the bottom.
To prepare the crust, process flax, coconut, buckwheat and sea salt in a food processor until fine crumbs, then add the dates and cacao powder and process until the mixture holds together when squeezed between your fingers (if not holding together, add more dates). Firmly press crust into the bottom of the prepared pan, and set aside.
To make the chocolate filling, combine all ingredients in the food processor and process until smooth.  Set aside.
To make the orange filling, in a food processor, combine coconut meat, orange juice, coconut nectar, sea salt, orange flower water, and vanilla in a food processor and blend until smooth and creamy. With the processor running, add the coconut butter, and food coloring and process for a minute until blended.  Set aside.
To make the swirl, in a high speed blender, combine all ingredients and blend until smooth.  Set aside (you will have extra for another use as well.  If you do not want extra you can cut the recipe in half).
To assemble cheesecake, pour the chocolate filling over the crust, then drop some of the swirl by the tsp over it, and swirl with a knife. Then pour over the orange cream layer, then drop more of the swirl by the tsp over that and swirl with a knife.
Place in the freezer for about 4 hours to firm up.
When the cake is ready, garnish the top with dried flowers and pistachios before serving.
*If you do not have access to young coconut meat, you can substitute 2 cups raw cashews soaked for 4 hours and drained.
(Visited 184 times, 1 visits today)