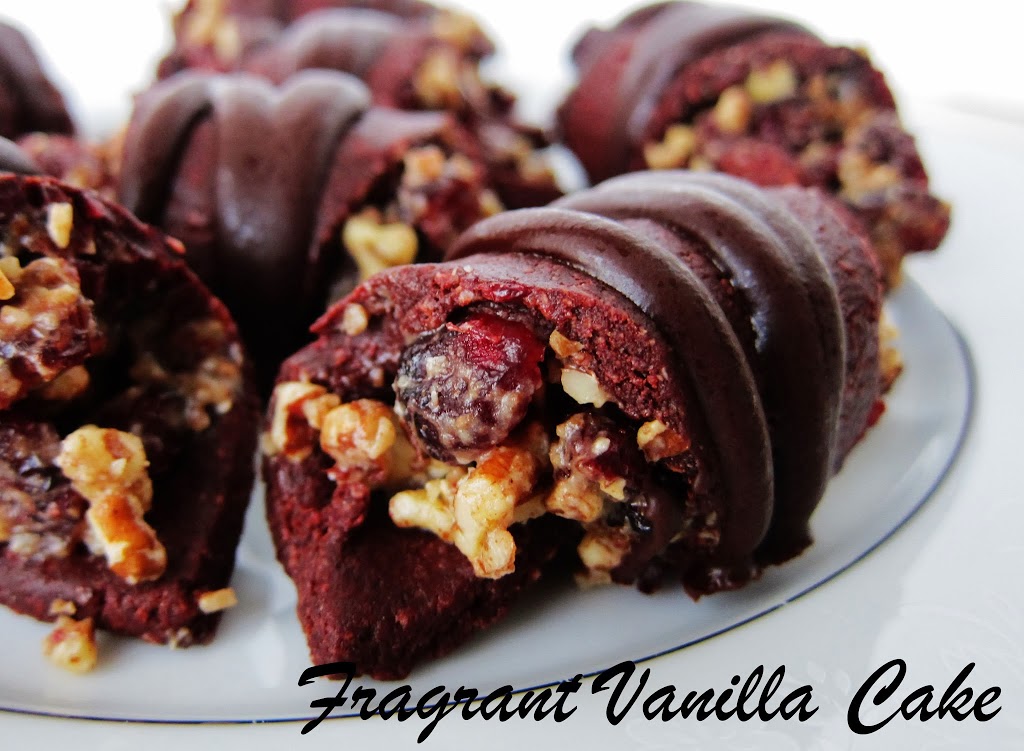 Raw Chocolate Cranberry Pecan Rugelach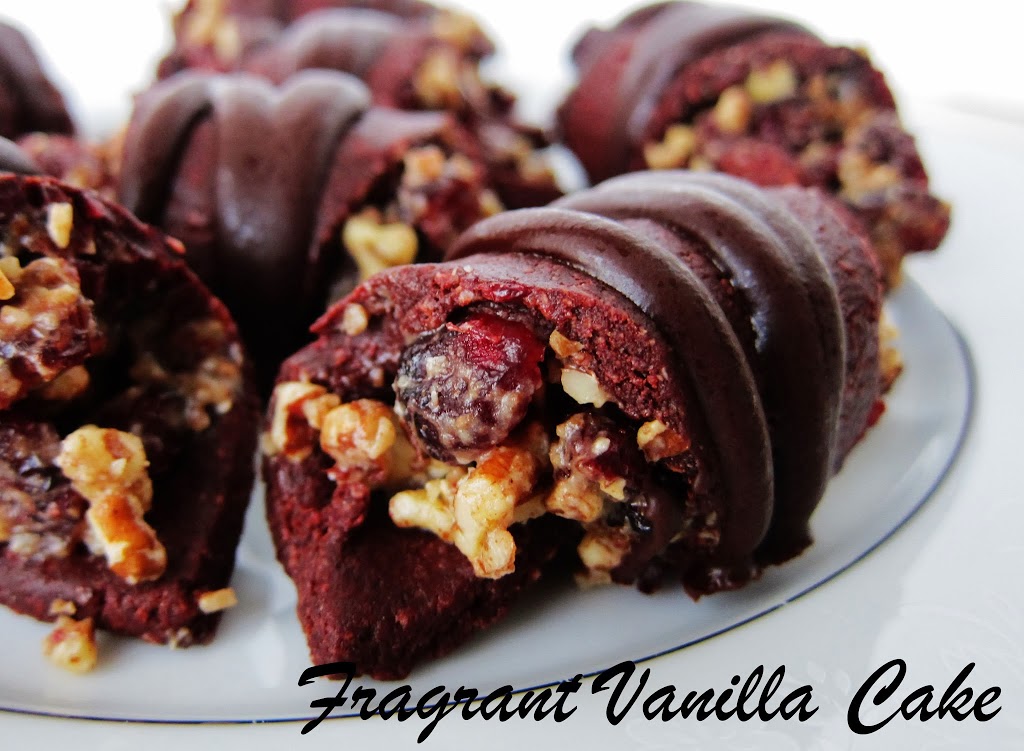 I am finally getting into a Christmasy sort of mood.  I was putting off the listening to Christmas music, making cookies and getting festive but this week I have started to embrace it.  About time...Christmas is less than 10 days away after all!  So I cranked up the Christmas music one day after work last week and some Raw Chocolate Cranberry Pecan Rugelach happened.  Yes, I know it is a little non-traditional making a rugelach with a chocolate dough, but I like to tweak things and make them even more delicious!  Who doesn't enjoy more chocolate?!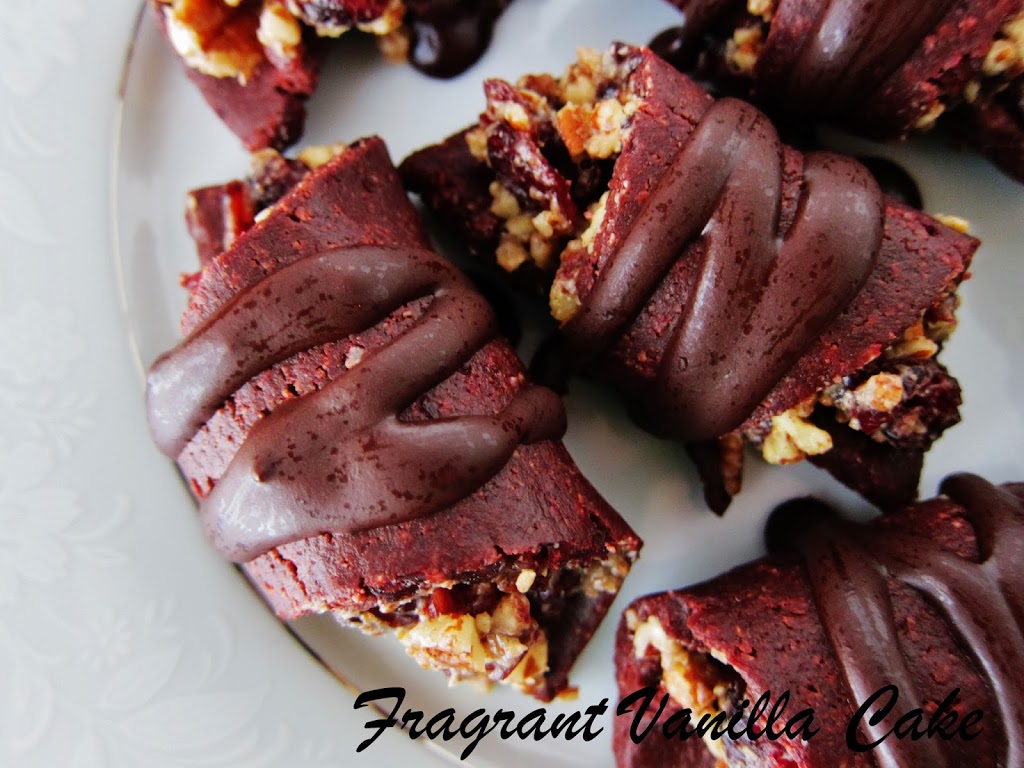 I made a soft and delicious dough that tasted good just as it was before I even formed it into the cookies or dehydrated it.  Like fudgy chocolate brownie goodness in cookie dough form.  I admit that when I made the dough I was not even quite sure what I wanted to use for filling, but upon opening my fridge and seeing what I had as far as possible filling ingredients went I decided that cranberries and pecans would be wonderful with the chocolate. These needed a little dehydrating, and it was hard to wait to indulge, but the upside was the dehydration time was a lot shorter than most things I make.  When they were finished I decided that they needed to be drizzled with dark chocolate. They were delicious! Making and eating Christmas cookies is definitely one of my favorite things this time of the year!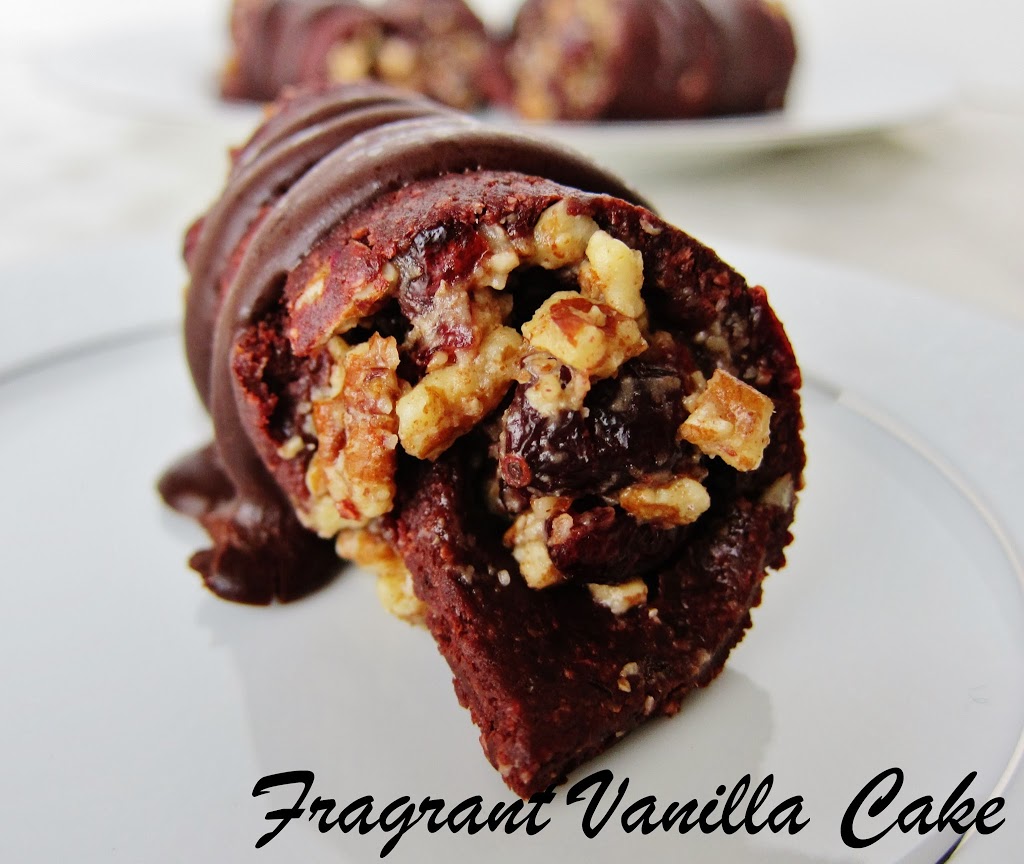 Raw Chocolate Cranberry Pecan Rugelach
Makes 12
Dough:
1 cup finely shredded dried coconut
1/3 cup ground flaxseed
1/3 cup raw sprouted buckwheat flour or sprouted oat flour
1/2 cup soft medjool dates, pitted (if not soft, soak them for 30 minutes in filtered water and drain well)
1/4 tsp sea salt
1 tsp pure vanilla extract
1/4 cup chopped raw red beet
1/3 cup raw cacao powder
Filling:
1/2 cup raw pecans
1/2 cup dried cranberries
1 Tbsp raw coconut nectar or maple syrup
1/2 tsp cinnamon
a pinch sea salt
Chocolate drizzle:
2 Tbsp raw coconut oil, warmed to liquid
3 Tbsp raw cacao powder
1 Tbsp raw coconut nectar or maple syrup
a pinch sea salt
For the cookies, coconut, and flaxseed and buckwheat flour in the food processor and process until well blended and the consistency of flour.  Add the dates, sea salt, vanilla, beet and cacao powder and process until smooth and starting to hold together like dough. Form into a ball, then roll out into an 1/8 inch thick circle on parchment paper.  Place in the freezer if too soft while you make the filling.
To make the filling, pulse all ingredients in the food processor until the nuts are chopped and they are just combined. Spread over the dough, then cut the dough into 12 triangles pizza style.
Roll up each triangle starting at the tip, and place on a lined dehydrator sheet.  Dehydrate them for about 4-6 hours until a little more firm but still soft.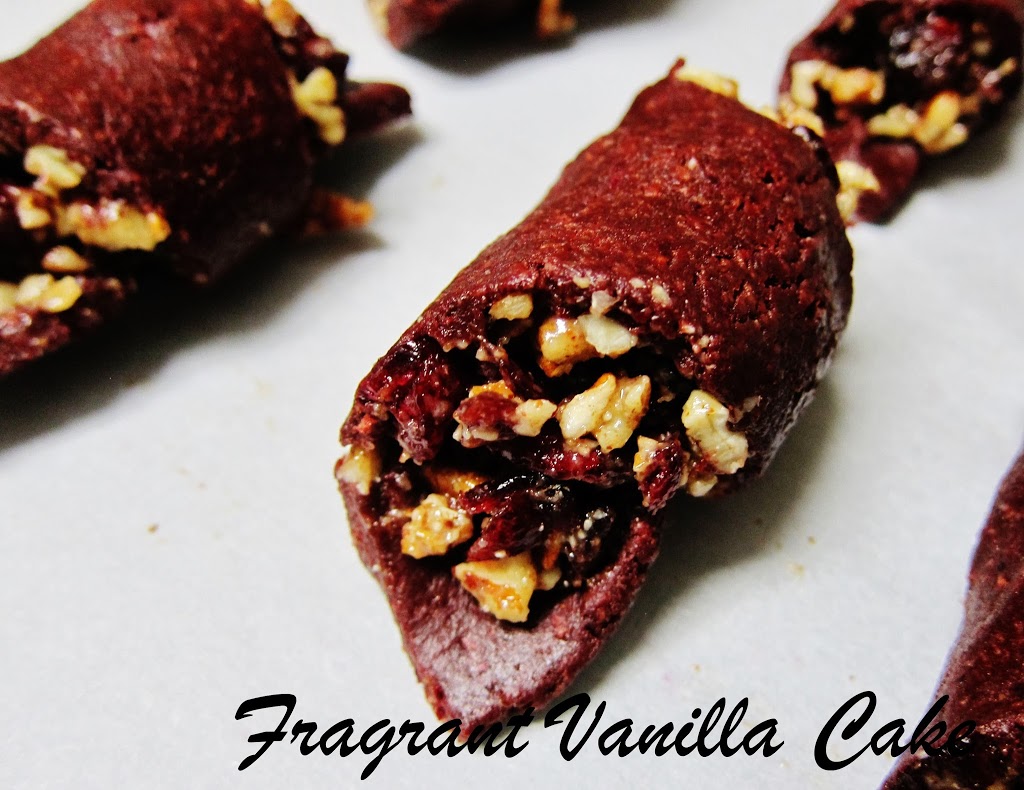 Meanwhile to make the chocolate drizzle, whisk together all ingredients until smooth and well combined.  Drizzle over the cookies (to make it easier I place the chocolate in a plastic bag, cut the tip off and drizzle over the cookies).  Set in the freezer for about 5 minutes to set the chocolate and enjoy!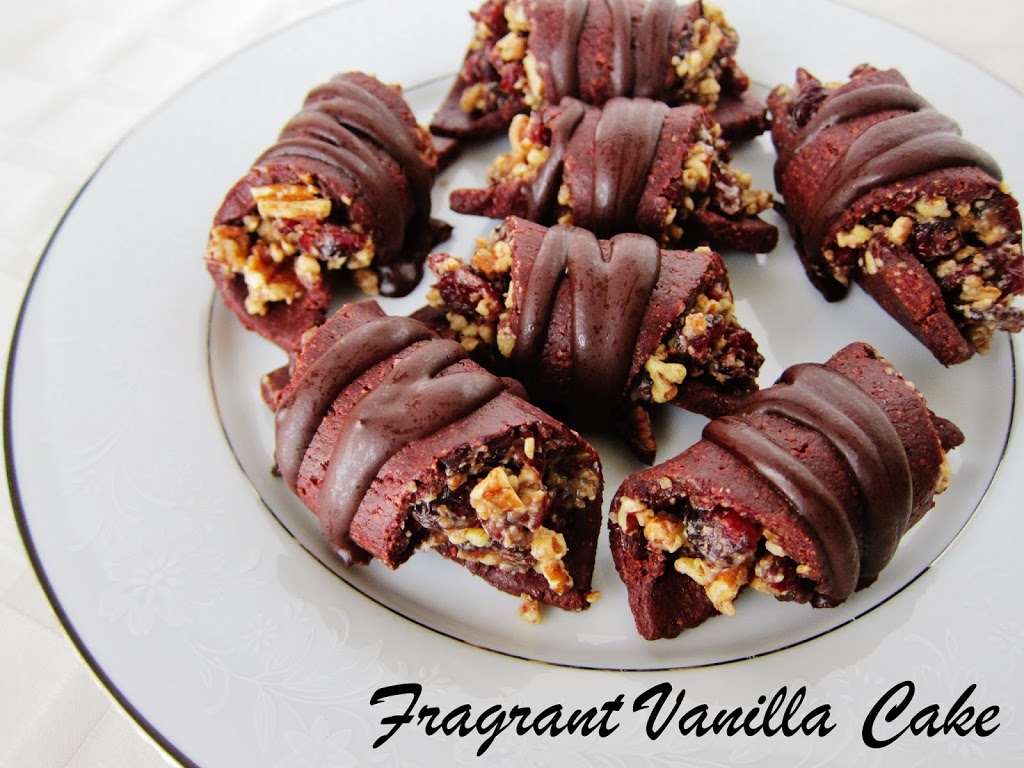 (Visited 71 times, 1 visits today)