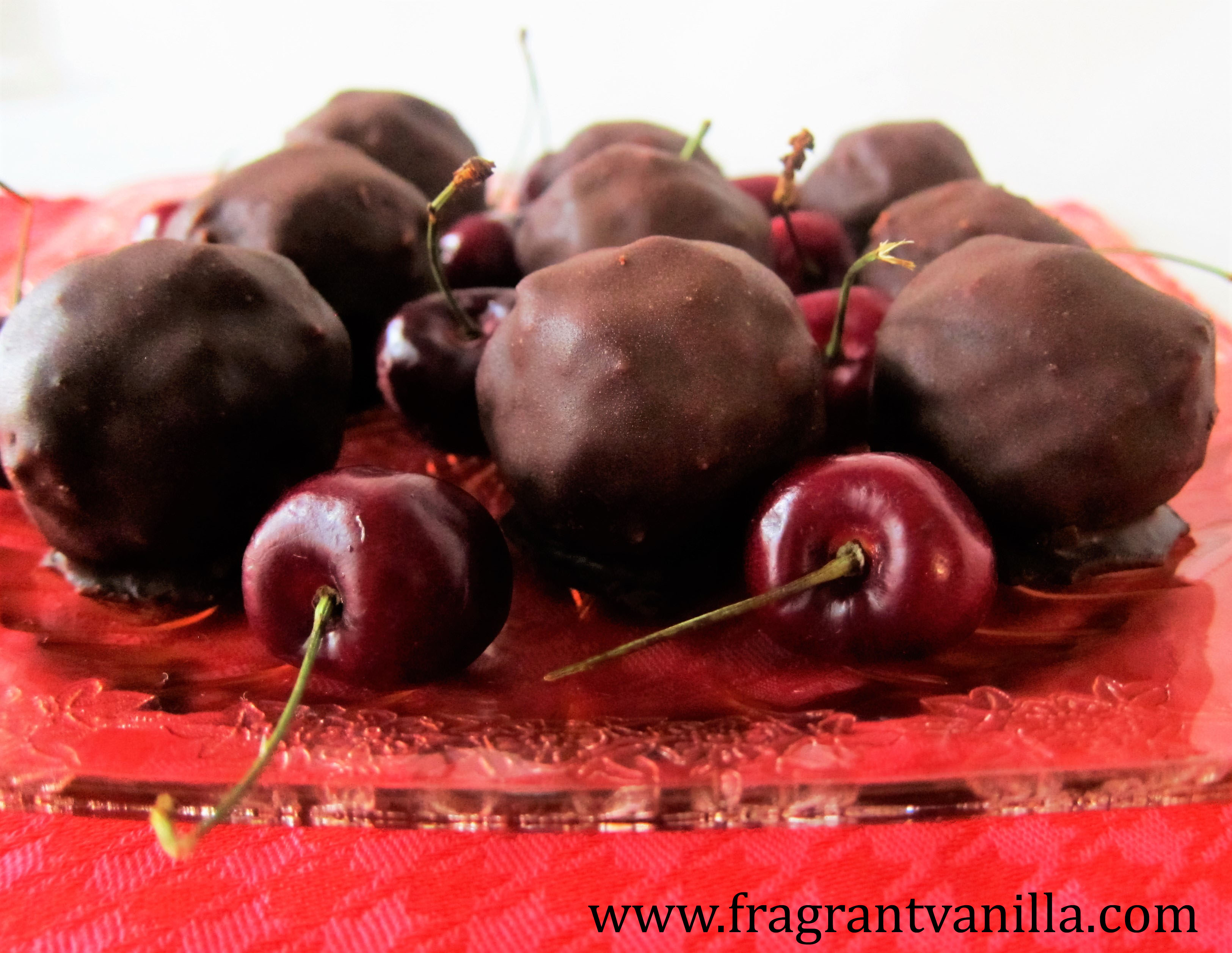 Raw Chocolate Covered Cherry Macaroons
My Mom brought me some dried cherries and shredded coconut and asked me if I could make her some cherry coconut bon bons.  The cherries were so amazing and fresh and flavorful, and the coconut so sweet and delicious that I was up for trying to make some!  After all, she has good taste in food and good ideas for possible things to try making, so I knew these would be good.  When I was little, we would page through cookbooks we got at the library together and find recipes we wanted to try making.  Often times we would change up the ingredients to make them our own, and to our own tastes.  Now she sometimes just asks me if I can create something, which I am always happy to do because in a way it is still trying something out together.  I wasn't sure by what she meant by coconut bon bons at first, because my Grandma used to make some that were smooth on the inside, but what she meant this time was ones with a macaroon like texture.  We both love macaroons so I was excited to make these.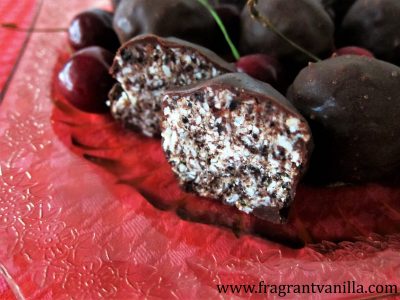 They are really pretty easy to make if you have a food processor, just throw all the macaroon ingredients into a food processor, blend and roll into balls and dip into dark chocolate.  I am finding my body is happy when I sweeten things with fruit lately, so I kept the macaroon part of these completely fruit sweetened.  The cherries and coconut added plenty of sweet, and the chocolate of course!  I added a little almond butter and coconut butter to bind them and they were just right.  I made my own raw chocolate for these, but if you have a favorite raw chocolate brand, by all means go ahead and use it.  These are fabulous!  Chewy and coconutty with the flavor of cherries and rich dark chocolate...a match made in heaven!  I never used to like things like chocolate covered cherries (or Queen Anne cherries) with the white gooey syrupy stuff around the cherries and milk chocolate when I was a kid.  Funny how they were even too sweet then, but I loved this chocolate cherry combo!  Real food does taste better though!  My Mom loved these, and she was very happy with them, which made me happy.  If you are a cherry fan, give these a try!
Raw Chocolate Covered Cherry Macaroons
Makes 12
Macaroons:
1 1/2 cups finely shredded unsweetened coconut
3/4 cup soft unsweetened dried cherries
1 tsp pure vanilla extract
1/4 tsp sea salt
1//3 cup raw almond butter
1/3 cup raw coconut butter
3/4 cup finely shredded unsweetened coconut
Raw Chocolate:
1/2 cup raw cacao powder
3/4 cup raw cacao butter warmed to liquid (or coconut oil may be used instead)
3 Tbsp raw coconut nectar or maple syrup
pinch sea salt
Place 1 1/2 cups coconut, cherries, vanilla, sea salt, almond butter, and coconut butter in the food processor and process until smooth and well combined. Add remaining 3/4 cup coconut and pulse until the mixture holds together when squeezed. Form mixture into 1 1/2 inch balls, and place in the freezer to harden for about 30 minutes.
To make the chocolate, whisk together all ingredients until smooth, in a small bowl.  Lay out a piece of parchment, and dip the macaroons one by one into the chocolate and set them back on the tray.  Allow the chocolate to set (which will happen faster if you place them in the freezer for about 15 minutes).  Store extra macaroons in the fridge.
(Visited 9 times, 1 visits today)