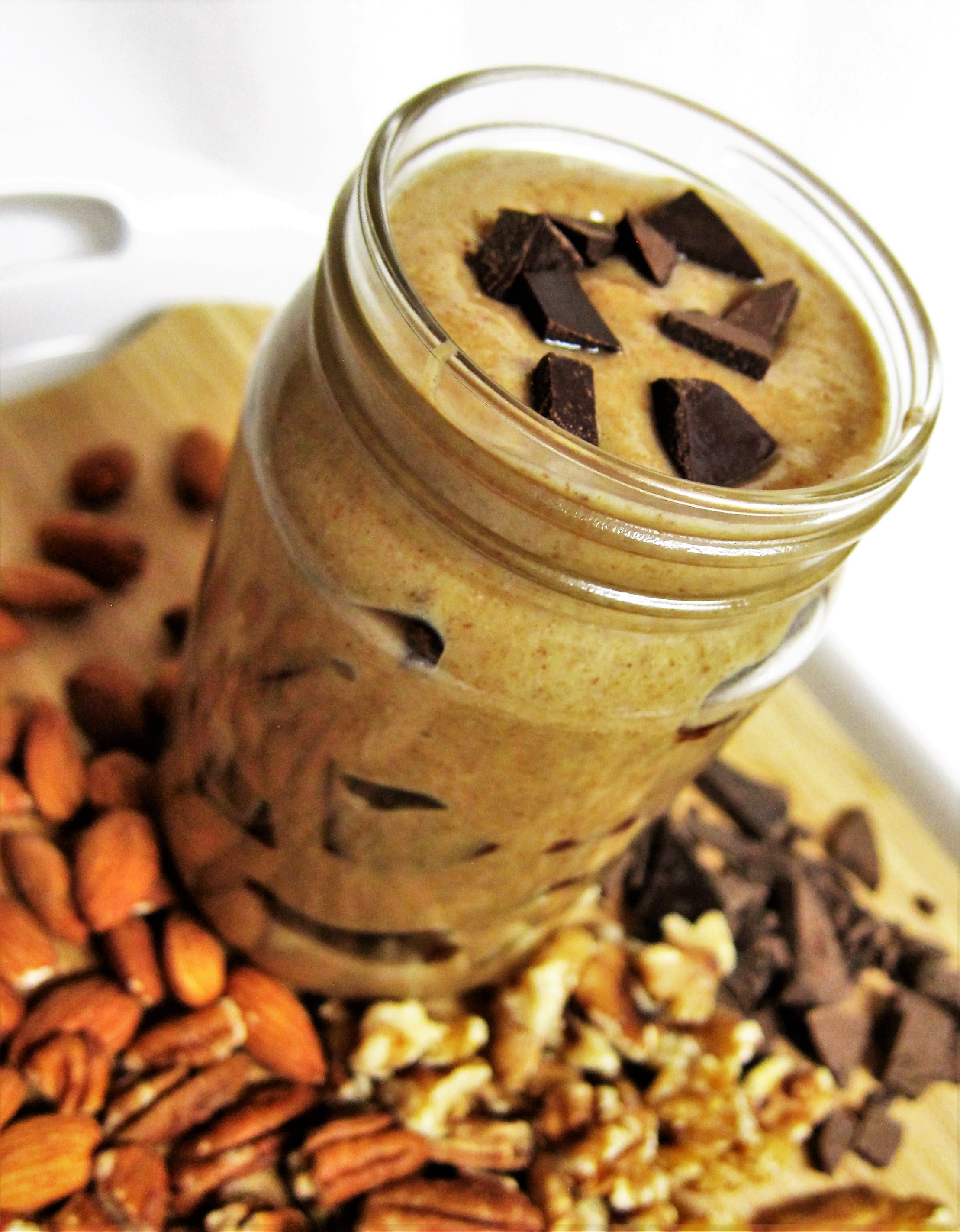 Raw Chocolate Chunk Cookie Dough Nut Butter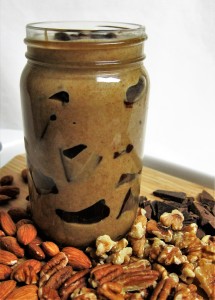 You know what always makes me happy?  Nut butter. Not that other things don't make me happy too, but as far as foods go...pure happiness in a jar.  But it has to be the good stuff.  Nothing artificial, not sugary or filled with oils that don't belong in there, preferably home made.  I mean, if Eric gave me jars of nut butter for Christmas, I would really feel loved...mostly because he paid attention enough to know how much I love it! I am one of those people that liked gifts that are well thought out, not necessarily expensive.  When someone thinks about what I would use or appreciate or that would make me happy.  I made some really awesome nut butter this week that would be a wonderful food gift for the Holidays (but don't limit it to that, cause this is year round goodness).  Chocolate chunk cookie dough nut butter.
I used a mixture of nuts for this one to get the flavor and texture right. Almonds for sweetness, walnuts for richness and thickness, and pecans for a caramel like flavor.  It turned out to be just the right combination, because it tasted amazing, and cookie dough like once I added some coconut sugar and vanilla.  With the chocolate chunks, even better!  This stuff is damn addictive let me tell you. I like mine straight up out of the jar, but you could be a little more civilized and eat it spread on toast, or stirred into oatmeal or with apple slices.  So good.  If you give this as a gift, not only will the recipient be impressed that you made something so good, but they will feel loved. That is if you can bear to give it away after tasting it. You might have to make 2 jars.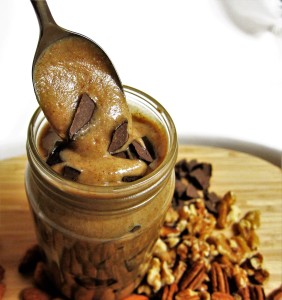 Raw Chocolate Chunk Cookie Dough Nut Butter
Makes about 3 cups
1 1/2 cups raw walnuts
1 cup raw almonds
1 cup raw pecans
1/4 tsp sea salt
1/4 cup raw coconut sugar
seeds of one vanilla bean
3/4 cup home made raw dark chocolate chunks, or vegan dark chocolate chunks (if they are larger, chop them a bit)
In a high speed blender, combine the nuts and sea salt and blend until smooth, using the tamper to push the mixture down into the blades. Add the coconut sugar and vanilla beans to the blender and blend until well incorporated, then stir in the chocolate chunks.  Pour into a jar.
(Visited 102 times, 1 visits today)