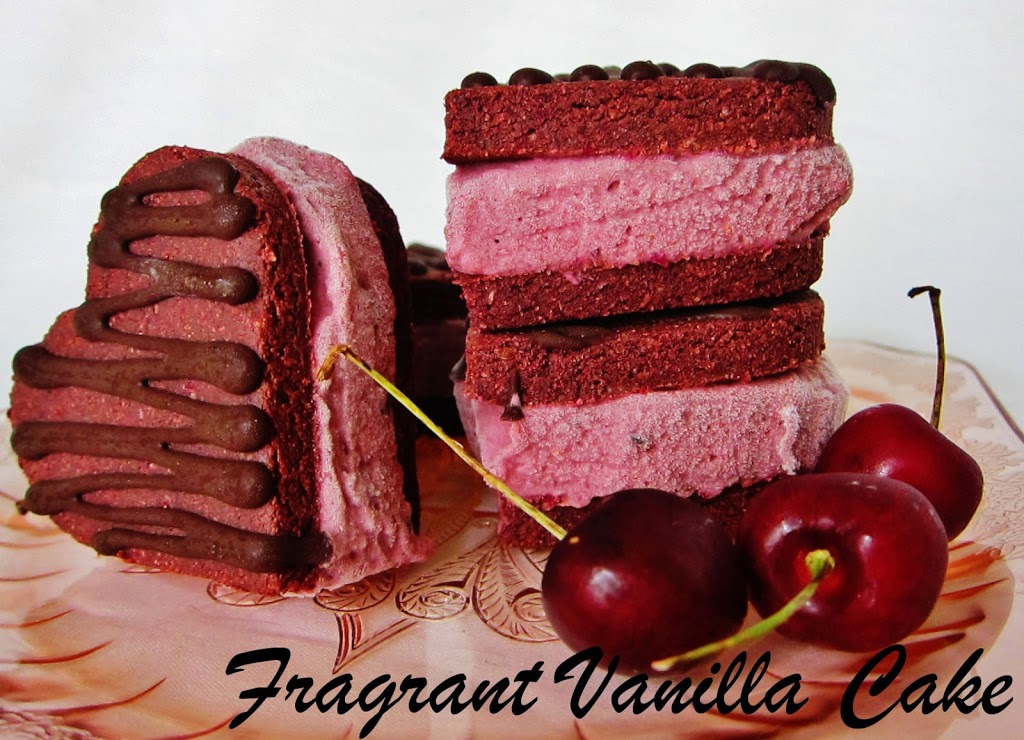 Raw Chocolate Cherry Ice Cream Sandwiches
I got my hands on some amazingly flavorful fresh cherries, and all I could imagine making with them was ice cream. It just sounded so good! It might have had something to do with the hot weather we have been having. Cherry ice cream, with a bit of chocolate. Now that sounded even better. But I didn't stop there, my mind was wandering and I loved the direction it was going in. You see, I was out on a long run, and sweating like crazy while this was going on in my mind and the ice cream was sounding better and better. I finally decided to make ice cream sandwiches. Flavorful cherry cacao nib ice cream sandwiched together with chocolaty cookies.
There was no turning back, these ice cream sandwiches were happening. I made the most a simple banana based cherry ice cream, laced with cacao nibs and it was good just as was, but I knew it would be freaking delicious paired with the fudgy dark chocolate cookies drizzled with dark chocolate I had made. Cherries and chocolate are a match made in heaven, especially when put together as ice cream sandwiches!
Raw Chocolate Cherry Ice Cream Sandwiches
Makes 10
Raw Chocolate Cookies:
2 cups ground flaxseed
4 cups finely shredded dried coconut
2 cups soft medjool dates, pitted
1/2 tsp sea salt
3/4 cup raw cacao powder
1 cup chopped raw red beet
Cherry Ice Cream:
3 large frozen bananas, cut into pieces
2 cups frozen cherries
6 medjool dates
2 Tbsp raw coconut butter
pinch of sea salt
1 tsp pure vanilla extract
1 cup raw cacao nibs
1/2 cup raw dark chocolate chunks or chopped raw dark chocolate

In a food processor, combine the ground flaxseed, shredded coconut, dates, and sea salt and process until finely ground. Add the cacao powder and beet and process until smooth. Place on a sheet of parchment and roll out 1/4 inch thick. Cut into 12 rectangles and place in the freezer to harden.
To make the ice cream, combine all ingredients except the cacao nibs in a high speed blender and blend until smooth using the tamper to push down the mixture into the blades (but not too long or it will be too liquid). Alternatively you can use a food processor but keep in mind it will take longer and you will need to stop and scrape down the sides of the processor a few times. Mix in the cacao nibs. Put the ice cream in a bowl in the freezer until the cookies are hard.
Once the cookies are hard, spread the ice cream over half the cookies about an inch thick, then top with another cookie. Place back in the freezer and let freeze until firm.
When ready, melt the chocolate (I put mine in a bowl in the dehydrator for about 15 minutes). Drizzle over the tops of the sandwiches, then place in the freezer for a few minutes to set the chocolate. Enjoy!
(Visited 69 times, 1 visits today)