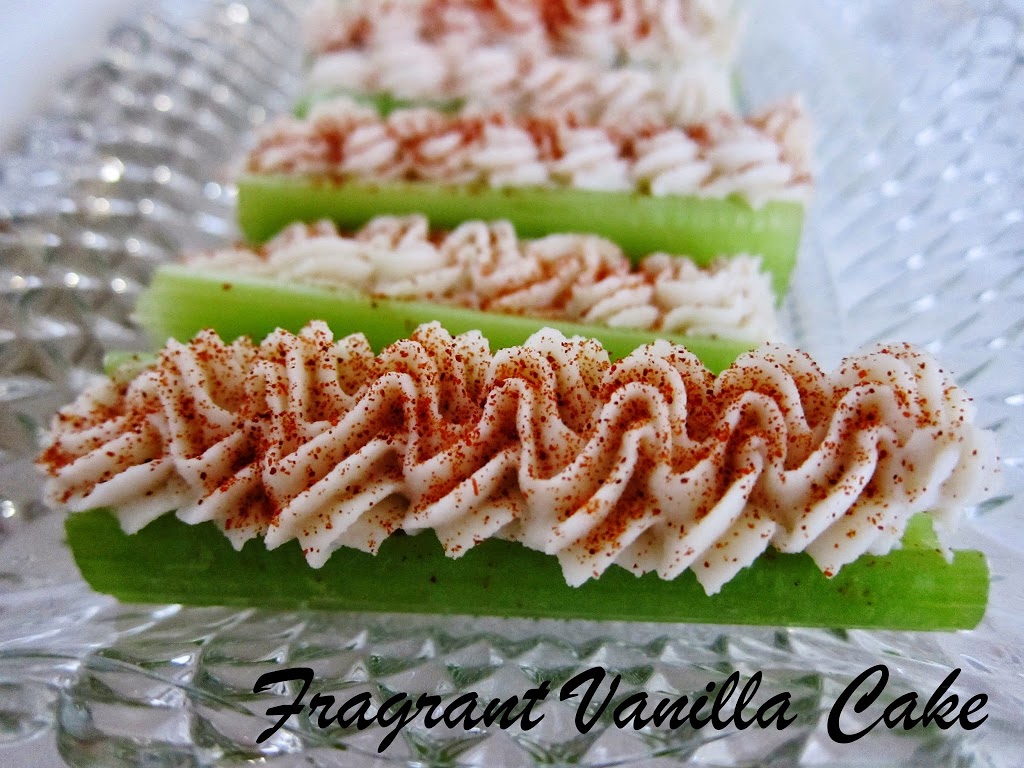 Raw Cheese Stuffed Celery
At every holiday, my Grandmother would make something that was so delicious us kids (and some adults) would argue over the last piece. No, it wasn't a dessert...it was stuffed celery. Crunchy salty celery goodness stuffed with an allium scented cream cheese mixture topped off with paprika. Funny that something so simple would be so crave worthy. I think it was my love of cheese that had me hooked. My Grandmother has since passed away and no one makes this stuffed celery anymore, but that does not mean I do not think about it on holidays. I made a vegan version a few years back, but with ingredients that I would not currently eat such as store bought faux vegan cream cheese (which did not have the healthiest ingredients since cane sugar and things I could not pronounce were included) and it was pretty good. I have not made it since then though, until this week that is. My Mother suggested I make some with my macadamia nut cheese and I just had to. Because I knew it would be amazing and way better than Grandma's version ever was (sorry Grandma, you know I am still inspired by your cooking).
The macadamia cheese is a simple mixture that I love to use for chevre on salads because it can be crumbled once chilled. This time I added some garlic to it in place of the powered garlic Grandma used to use. It was sooo tasty! I piped it into the celery sticks and topped it off with some smokey paprika (you can use sweet if you want, which is what my Grandma used, but I prefer the smokey). These were the best stuffed celery sticks I have ever eaten. And let me tell you I ate a lot in my younger life. I think these would be perfect for any holiday as an appetizer!
Raw "Cheese" Stuffed Celery
Makes about 24
Cheese:
2 cups raw macadamia nuts, soaked in filtered water for 8 hours and drained
juice of one lemon
1 tsp cider vinegar
1 garlic clove
1/2 tsp sea salt or himalayan salt
2-3 Tbsp filtered water
about 8 large organic stalks celery cut into 4 inch sticks
smoked spanish paprika
In a high speed blender combine all the cheese ingredients and blend until smooth and creamy. Place in a pastry bag and pipe into the hollow of each celery stick. Sprinkle them all with the paprika and serve.
(Visited 91 times, 1 visits today)