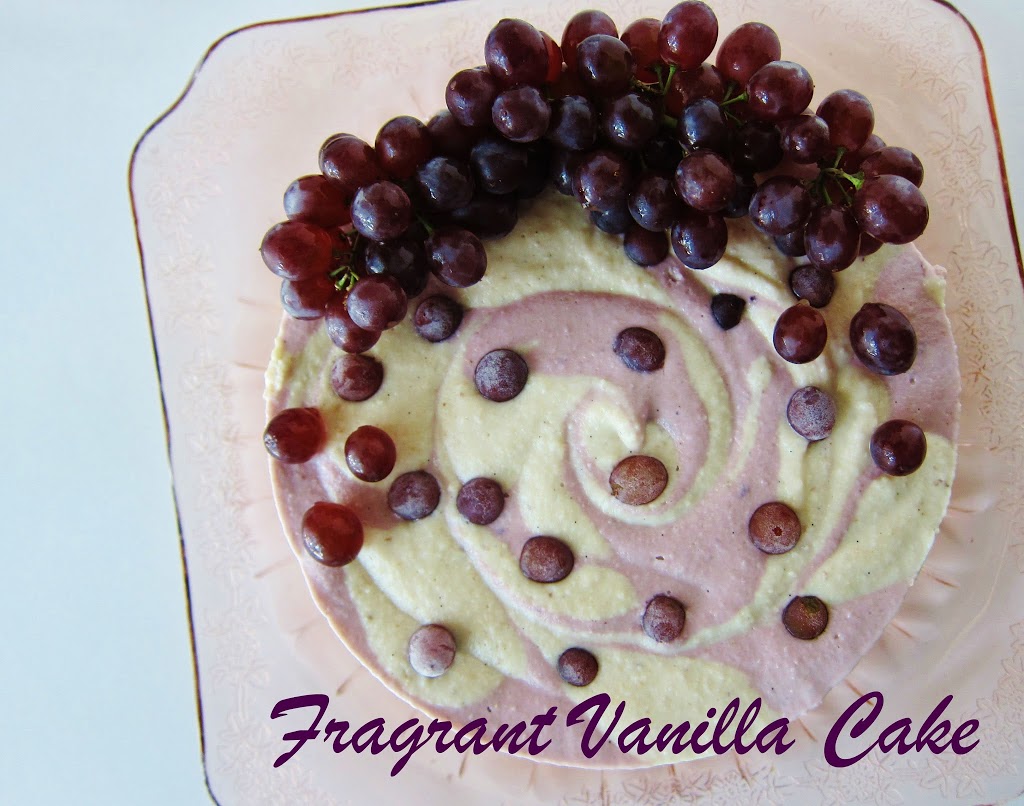 Raw Champagne Grape and Almond Dream Cake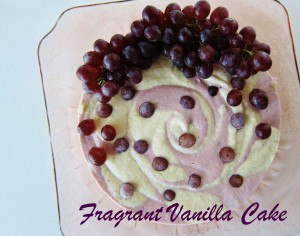 When I was younger I could have cared less about grapes. I was not very fond of them and much preferred berries or cherries. But in recent years I have come to appreciate them.  My favorite by far are champagne grapes.  They are tiny little sweet grapes, and they are irresistible!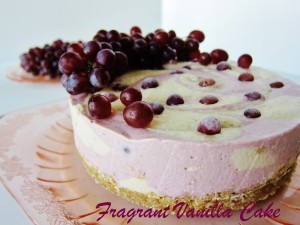 I got my hands on some last week and I decided that they were perfect for some sort of cake.  I decided to pair them with almond in a dream cake (creamy raw cheese cake) since they are both delicate flavors and I did not want the grapes to be overpowered.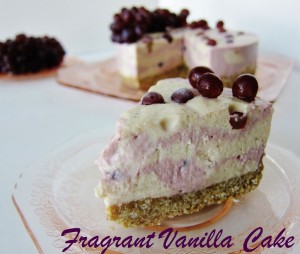 I went with a sweet crunchy almond crust and a creamy coconut base for the cake, blended with some of the grapes.  I knew it was going to be good when I could not stop tasting the filling.  I mixed some grapes in as well for little bursts of flavor and it was so deliciously dreamy!  If I had enjoyed this as a child I think I would have had a different opinion about grapes.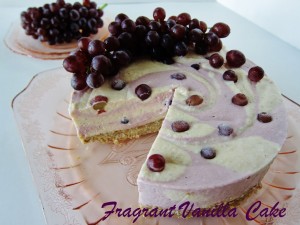 Raw Champagne Grape Almond Dream Cake
Makes one 6 inch cake
Crust:
1/2 cup raw almonds
1/2 cup sprouted buckwheat, dried in the dehydrator (or additional coconut or pistachios)
1/2 cup dried finely shredded coconut
1/8 teaspoon sea salt
10-12 soft medjool dates, pitted and chopped
Filling:
4 cups young coconut meat
1/2 cup coconut water
1/2 cup raw coconut nectar
1/2 teaspoon sea salt
1 Tbsp pure vanilla extract and seeds from half a vanilla bean
1/4 cup raw coconut oil (warmed to liquid)
1 tsp almond extract
1/2 cup champagne grapes
1 cup champagne grapes for middle of the cake
For the top of the cake:
Champagne grapes
Lightly coat a 6 inch spring form removable bottom pans with coconut oil. To prepare the crust, process almonds, buckwheat, coconut and sea salt in a food processor until the nuts are fine crumbs, then add the dates and process until the mixture holds together when squeezed between your fingers (if not holding together, add more dates). Firmly press crust into the bottom of the prepared pan, and set aside.
To make the filling, combine coconut, coconut water, coconut nectar, sea salt and vanilla in a food processor and blend until smooth and creamy. With the processor running, add the coconut butter and oil, and process for a minute until blended. Remove the filling from the food processor and divide into 2 bowls. Whisk the almond extract into one and set aside.  Place the other one back into the food processor and add the 1/2 cup grapes.  Process until smooth.  Remove from the processor and set aside.
To assemble cheesecake, drop the two fillings over the crust by the Tbspful as well dropping the 1/2 cup of grapes randomly throughout to fill the pan. When the filling is all used up tap the bottom of the pan on the counter to level.
Swirl with a knife starting at the outside of the circle and working your way in in a spiral fashion. Place the cheesecake in the freezer to firm up for about 4 hours until set before unmolding.
Garnish the cake with fresh grapes and serve! Store leftover cake in the fridge.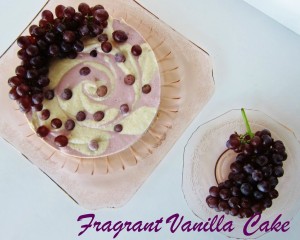 (Visited 55 times, 1 visits today)