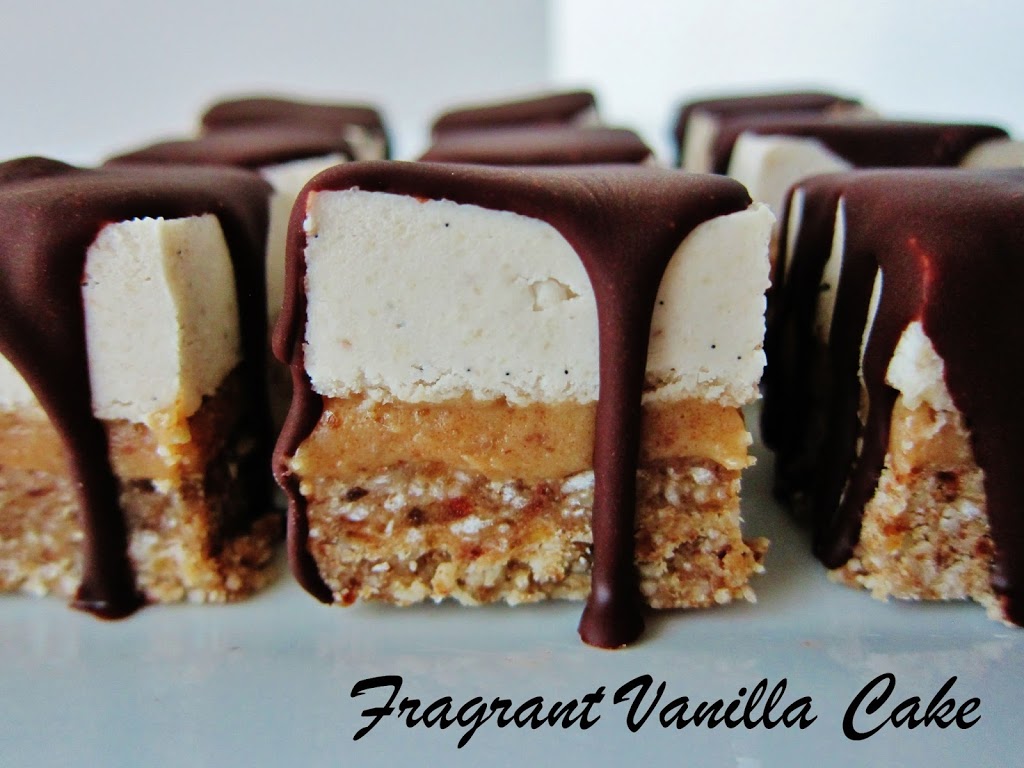 Raw Caramel S'mores Bites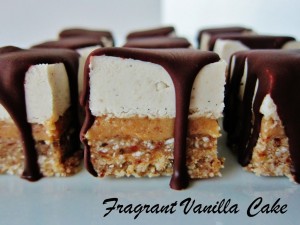 Last week my boyfriend Eric told me I should make something involving s'mores for dessert. I thought it sounded like a good idea. I decided to give it a go. He had an idea of how it should look, and it was sort of an inside out s'more, not exactly traditional in that involved caramel as well, and chocolate on the outside instead of in and only one graham cracker but I loved that!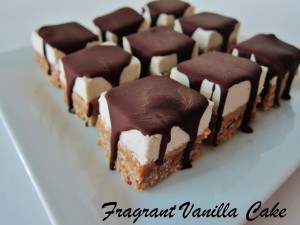 I made a graham cracker base from walnuts, coconut and a bit of buckwheat for crunch, sweetened with dates and a bit of cinnamon so it tasted graham cracker like. Then topped it off with my raw caramel...which would have been delicious as was as a combination, but I was going for a s'more here not caramel slice. Then it was time for the marshmallow layer. I knew I could not exactly make a raw marshmallow, but I could make my rendition of a raw "marshmallow" using a delicious vanilla cream base so good nobody misses the real marshmallows. I cut them into small squares that looked s'more like, and thought about simply dipping them in chocolate, but then decided that they would look much prettier exposing the inside caramel and marshmallows with the chocolate drizzled atop.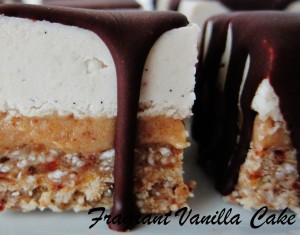 They were delicious! Since they were small, I admit it was hard to eat just one, and I admit to eating all the trimmings from the edges as well as the finished product. Eric approved as well, scooping four onto his plate when I presented them to him. I think I may like these better than real s'mores.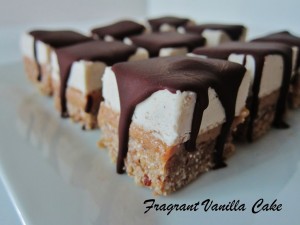 Raw Caramel S'mores Bites
Makes 16 bars

Crust:
1 cup raw walnuts
1 cup finely shredded dried coconut
3/4 cup buckwheat, sprouted and dehydrated (or additional coconut)
1/4 tsp sea salt
1/4 tsp cinnnamon
12 soft medjool dates, pitted (if not soft, soak them until they are and drain them)

Caramel:
10 soft medjool dates
3 Tbsp raw coconut nectar or maple syrup
2 Tbsp raw pecan butter or raw coconut butter (warmed to liquid id using coconut)
1 Tbsp raw coconut oil, warmed to liquid
1/4 tsp sea salt
1 tsp pure vanilla extract
2-3 Tbsp filtered water as needed

"Marshmallow" layer:
1 cup raw cashews, soaked 4 hours and drained
1 cup young coconut meat (or 1 cup soaked cashews if unavailable)
1/4 cup coconut water
3 Tbsp raw coconut nectar or agave nectar
1/4 tsp sea salt
seeds of one vanilla bean, or 1 Tbsp pure vanilla extract
2 Tbsp coconut butter
1/4 cup raw coconut oil, warmed to liquid

Chocolate glaze:
1/2 cup raw cacao powder
1/2 cup raw coconut oil
1/4 cup raw coconut nectar or raw agave nectar
a pinch of sea salt

For the crust, combine walnuts, coconut, buckwheat, sea salt, and dates in the food processor and process until fine crumbs and starting to hold together when squeezed. Press the mixture into a square on a foil lined sheet pan 1/4 inch thick, and set aside in the fridge.
To make the caramel, process all ingredients except for water in the food processor until smooth and well blended. Add a few Tbsp water as needed to create a caramel consistency. Spread over the crust and set aside in the fridge while you make the cream.
To make the marshmallow cream, combine all ingredients but the coconut butter and oil in a food processor and process until smooth. With the motor running, add the coconut butter and oil and process a minute more. Pour the cream over the caramel on the crust and place in the freezer until firmed up, about an hour. Trim the edges so that they are even, then cut into small 2x2 inch squares once chilled and set back in the freezer while you make the chocolate.
Meanwhile, to make the chocolate glaze, whisk together all ingredients until smooth. To put the chocolate on the s'mores squares, one at a time take a square and set on a fork holding with one hand over a bowl. Using your other hand, take some of the chocolate in a spoonful and drizzle over the square, then place the square back on the foil (the fork helps drain excess chocolate off). Repeat with remaining squares and then place in the freezer just until set, about 5 minutes, then enjoy! Store in the fridge.
(Visited 129 times, 1 visits today)