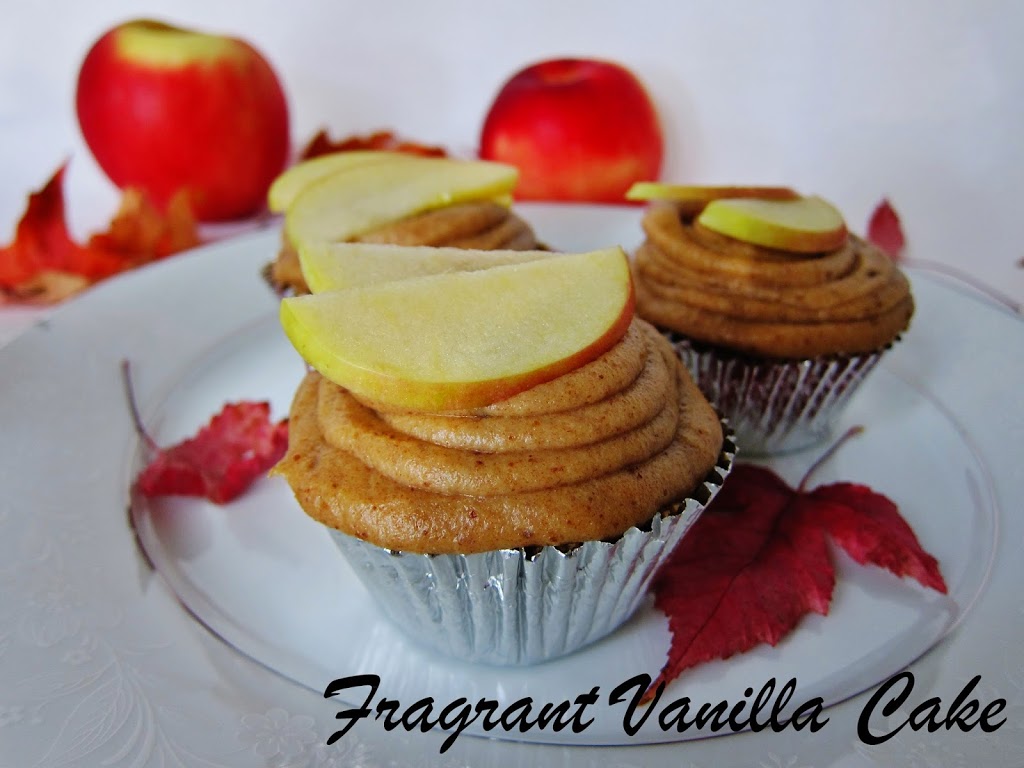 Raw Caramel Apple Cupcakes
I am surprised I have never made caramel apple cupcakes.  Until now that is!  I have a lot of apples on hand, and I had a craving for something combining them with caramel.  I want to make a pie soon, but I was in more of a cake type mood, and I didn't want to make and decorate a big cake...hence the cupcakes.  Besides, I love having my own little serving of cake.  Whoever invented cupcakes was genius!
I made a soft and fluffy batter, filled with sweet apples, and scented with cinnamon and nutmeg plus a bit of dates and lucuma to make it taste a bit caramelly.  If you haven't tried lucuma, it is one of those things that you should if you find it.  So delicious, caramel tasting and low glycemic as well so good for sweetening things too! I added some psyllium husk to the batter as well to keep it light, and yes that is a whole cup in the recipe.  Trust me, it makes the dehydrated cupcakes a lot less dense.  You know me, I am always trying to perfect my cake recipes and make them lighter.
I topped the cupcakes off with fresh apples and a little maple syrup before popping them into the dehydrator for extra goodness.  When they emerged, the aroma was wonderful.  Sweet apples and spice.  I was drooling.  But I had to frost them with raw caramel frosting before I dove in!  I was happy I waited, the finished product was yummalicious! I am a little biased because I have always loved caramel...but nothing wrong with that!
Raw Caramel Apple Cupcakes
Makes 8
Batter:
2 1/2 cups raw sprouted buckwheat flour or sprouted oat flour
2/3 cup ground flaxseed meal
1 cup ground psyllium husk
1 cup raw coconut flour (do NOT use store-bought!)*
2 Tbsp lucuma powder
1/4 tsp sea salt
1 1/2 Tbsp cinnamon
1/2 tsp nutmeg
2 tsp pure vanilla extract
4 1/2 cups diced sweet apple (such as honeycrisp or pink lady)
1 cup medjool dates, pitted (soaked in filtered water for 30 minutes if not soft, then drained)
1/4 cup plus 2 Tbsp raw coconut nectar (or maple syrup or your choice liquid sweetener)
1 Tbsp raw apple cider vinegar
1 large apple, diced
maple syrup
Caramel:
1 cup large soft medjool dates, pitted, if not soft, soak them in filtered water until soft and drain
3 Tbsp raw pecan butter or other raw nut butter
1/4 cup raw coconut nectar
1/4 cup filtered water plus more as needed
1 tsp pure vanilla extract
1/8 tsp Himalayan salt
1 small sweet apple, sliced
Combine buckwheat flour, coconut flour, flax, psyllium, sea salt, cinnamon, nutmeg in a bowl and whisk together until and set aside. To a food processor, add the dates, vanilla, apple, coconut nectar, and cider vinegar to the processor and process until pretty smooth. Add the dry ingredients back and process until smooth and well incorporated.
Spoon into 8 foil muffin tins, and smooth the tops. Press some of the diced apple into each muffin top, and drizzle with a little maple syrup.  Place on a dehydrator sheet.  Dry for about 14 to 16 hours at 115F (until they are cake consistency but still a little moist in the centers).
Meanwhile, for the caramel, combine all ingredients in a high speed blender and blend until smooth (adding filtered water as needed until it is a desired consistency, you want it soft and pipeable (or spreadable) but nut runny).  Set aside.
Place the caramel in a pastry bag with a large tip and pipe over the cupcakes, or spread it on.  Garnish with apple slices
*I say not to use store bought coconut flour because it will affect the flavor and quality of the finished product. I find it too dry (it soaks up all the moisture in the cupcakes), and most of it has an off flavor to me (it tastes toasted) that I do not care for.  You can make your own coconut flour in about 30 seconds or less in a high speed blender.  See how here:  https://www.fragrantvanilla.com/helpful-tips-tools-and-basics/
(Visited 88 times, 1 visits today)