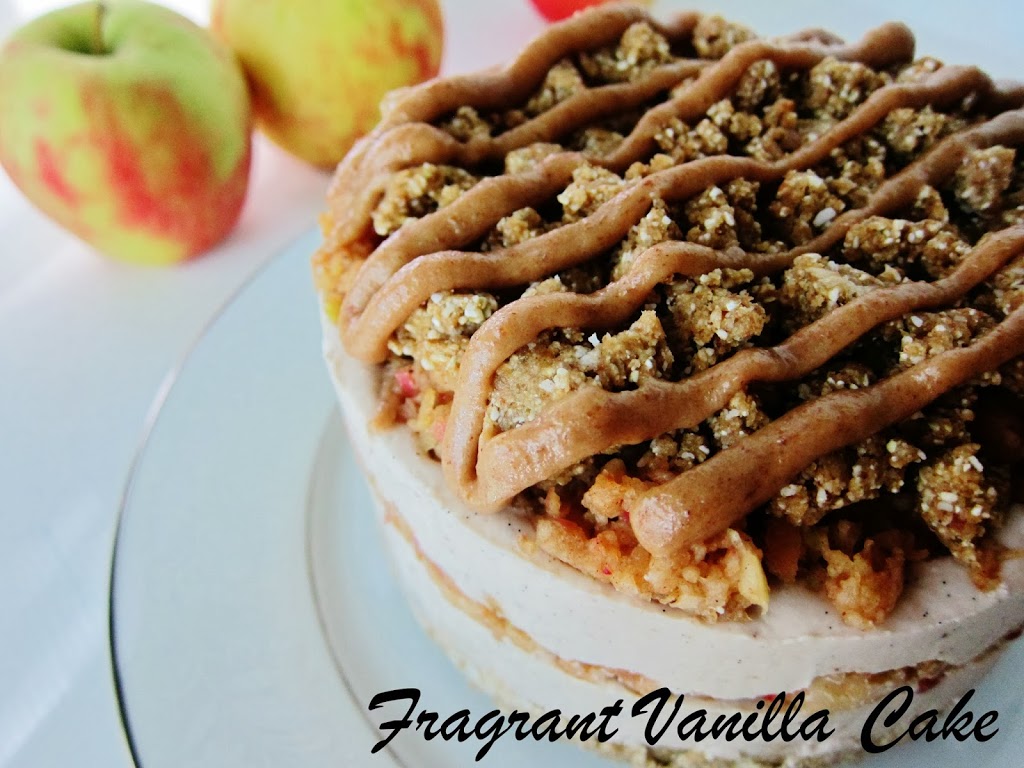 Raw Caramel Apple Cheesecake
I have been waiting to make raw caramel apple cheesecake since last year.  I do not know why I did not get around to it then, but I decided that it needed to happen this weekend.  I thought about a few different ways I could have made it, one involved no streusel and just apples and caramel, but the streusel loving girl that I am I went for the one with the streusel.  You see, to me a dessert needs to be balanced. This one needed to have all the elements, creamy, gooey and crunchy.
I decided that the cheesecake needed to be layered as well with caramel, apples, and streusel in the middle as well as on top.  I even used flavorful local honeycrisp apples to make the cake extra delicious.
Biting into this cheesecake was like a taste of autumn on a cloud.  So delicious and so balanced sweet and a little tart, gooey, smooth and crunchy.  It was like cheesecake had a baby with my favorite type of apple pie (caramel with streusel).
Raw Caramel Apple Cheesecake
Makes one 6 inch cake
Crust
1/2 cup sprouted buckwheat, dried in the dehydrator
1 cup dried finely shredded coconut
1/2 cup ground flaxseed
1/8 teaspoon sea salt
1 tsp cinnamon
3/4 cup soft medjool dates, pitted (soaked in water 30 minutes and drained well if not soft)
Raw Caramel:
1 cup soft medjool dates, pitted (soaked in water for 30 minutes if not soft and drained well)
2 Tbsp raw coconut butter
3 Tbsp maple syrup or raw coconut nectar
1/4 tsp sea salt
1 tsp vanilla extract
1 tsp maple extract
1-2 Tbsp filtered water
Cheesecake filling:
4 cups young coconut meat*
1/2 cup coconut water
1/2 cup raw coconut nectar or your choice of raw liquid sweetener
1/2 teaspoon sea salt
1 Tbsp pure vanilla extract and seeds from half a vanilla bean
1 tsp maple extract
1/2 cup plus 2 Tbsp
raw coconut butter
(warmed to liquid)
Apple Filling:
2 apples, sliced
2 cups dried apple, soaked in water until soft and drained well
1 Tbsp raw coconut nectar or maple syrup
1 tsp pure vanilla extract plus the seeds of one vanilla bean (bean optional)
2 tsp cinnamon
1/4 tsp nutmeg
a pinch of sea salt
Lightly coat a 6 inch spring form removable bottom pan with coconut oil. To prepare the crust, process buckwheat, coconut, flax, and sea salt in a food processor until it is are crumbs, then add the dates and process until the mixture holds together when squeezed between your fingers (if not holding together, add more dates). Remove 1/3 of the mixture and set aside (for the topping) Firmly press the rest into a crust in the bottom of the prepared pan, and set aside.
To make the caramel, combine all ingredients in a food processor and process until smooth.
To make the filling, in a food processor combine coconut, coconut water, coconut nectar, sea salt vanilla and maple extract and blend until smooth and creamy. With the processor running, add the coconut oil, and process for a minute until blended. Remove the filling from the food processor.
To make the apple filling combine all ingredients in the food processor and pulse until chopped but still chunky.  Remove from the food processor, place in a colander to drain liquids (pressing slightly) and set aside.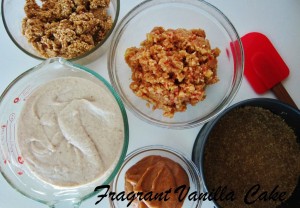 To assemble cheesecake, pour half the vanilla maple filling into the prepared crust, then drop a few tsp of the caramel over it and swirl with a knife.  Then top with half the apple mixture, then half the crumble you had set aside.  Top with the remaining vanilla maple filling, then a few tbsp of caramel (swirling again), then the remaining apples, then the crumble.  Place the remaining caramel in a ziplock bag, cut off the tip, and drizzle over the top of the crumble on the cake.  Place the cheesecake in the freezer to firm up for about 4 hours until set before unmolding.  Store leftover cake in the fridge.
*If young coconut meat is unavailable, and if you do not mind the cake not being nut free, you can substitute 4 cups raw cashews, soaked in water for 4 hours and drained.
(Visited 201 times, 1 visits today)