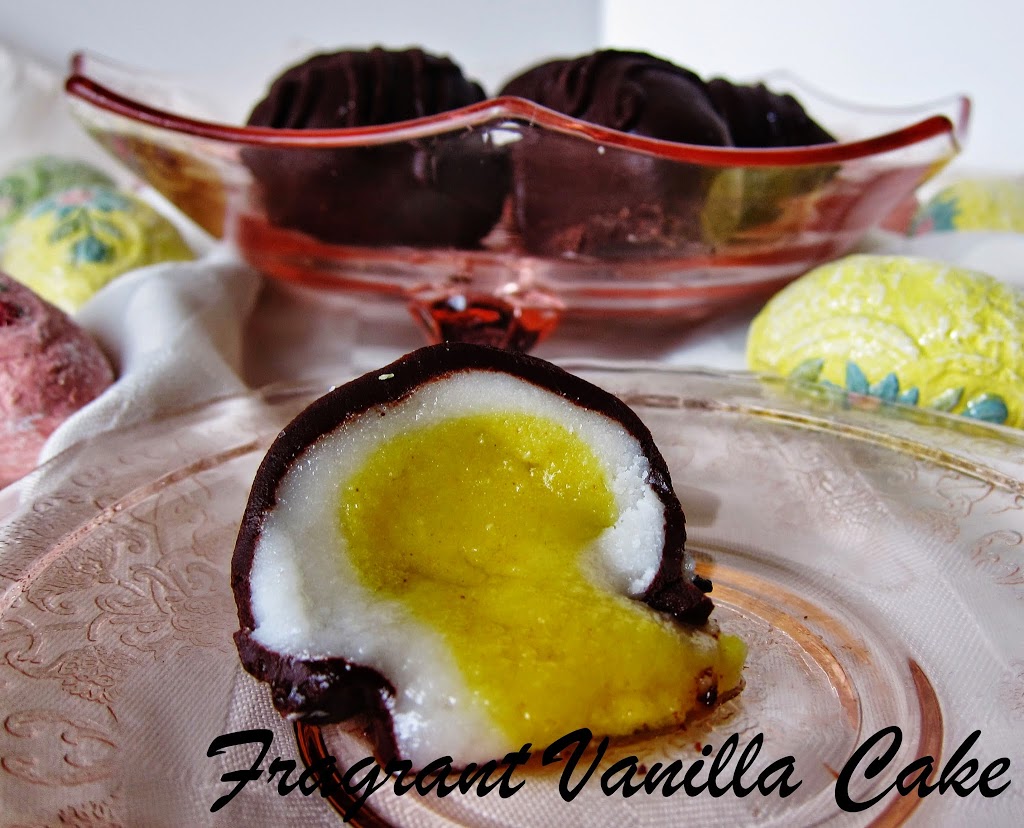 Raw Cadbury Eggs
Cadbury eggs are an Easter candy classic, and they were always just something I ate when I was little.  I have to admit, they weren't my favorite. I preferred the peanut butter and raspberry cream filled eggs to the overly sweet Cadbury.  Funny that even as a child that loved sugary things I thought that.  But I got to thinking, if I made a raw version I might like them better.
So that was my project on Friday.  Kind of a random decision, I was thinking about them while I was out running for some reason then decided that I needed to make them.  I was determined to make them later that day after work.  I find making raw food relaxing and there is nothing I would rather be doing most evenings.
I free styled these since I don't own any Easter egg molds (but that's ok, I am sure most of you don't either and I want you to be able to make them easily too) but I think they turned out pretty cute despite not looking like the originals.  I used a simple coconut butter base because I did not want to mess with complicated ingredients or young coconut meat, so they are not as runny as the original.  But if you let them sit out at room temperature for a quite a while at a warmer temperature they become pretty soft (but even if you don't and they are firm in the middle they are still delicious and less messy).  I have to say, these are the most delicious Cadbury Eggs I have ever eaten!  Even if they are a knock off.  My Mother who hates Cadbury Eggs was willing to try one and loved it and my boyfriend Eric loved them as well (big surprise since he is obsessed with anything involving chocolate).  If you enjoy play dough at all you will enjoy my method of making them.  Don't worry, they don't have to be perfect, what matters is the delicious end product!
Raw Cadbury Eggs 
Makes 12
Filling:
1 1/2 cups raw coconut butter (not oil) warmed to liquid
1/3 cup raw coconut nectar, or maple syrup
2 tsp pure vanilla extract
2/3 cup plus 2 Tbsp filtered water
a pinch sea salt
1/2 tsp turmeric
1 1/2 cups raw dark chocolate chunks, or chopped raw dark chocolate
Note: all ingredients in this recipe must be at room temperature or warmer or when you mix them together they will clump up.  Whisk together all ingredients until well combined, then remove 2/3 cup of it and whisk in 1/2 tsp turmeric.  Pipe into mounded tsp (so about 2 tsp total) onto a foil lined tray.  Place in the freezer for about 2-3 minutes to allow to firm up enough to shape with your hands.  Gently shape into balls.
Spoon some of the white mixture by the Tbsp onto the same tray so that you have enough for the yolks you made.  Place the shaped yolks on top of the white mixtures you placed on the tray and place in the freezer for a few minutes.
Remove and spoon enough of the white mixture over each yolk to cover it (about 1 mounded Tbsp).
Use an offset spatula to spread it over the yolk to cover it completely.  Place back in the freezer a few minutes, then carefully use your hands to shape into eggs (if they are too sticky they are not ready to shape and they need a few more minutes).
Place in the freezer for 30 minutes at least to harden.  Meanwhile, melt the dark chocolate in a bowl (I like to place mine in the dehydrator until it melts).  Set the bowl next to the tray of eggs.  Dip each one into the chocolate and place back on the tray (I use a fork and set the chocolate on it before dipping).  Place the tray of chocolates back in the freezer once they are all dipped for a few minutes to set the chocolate. Place the remaining melted chocolate in a ziplock bag with the tip cut off and drizzle over the eggs.  Once the chocolate has set they are ready to serve!  These are best at room temperature if allowed to set out an hour before serving (so the filling is soft). Store extra in the fridge.


(Visited 65 times, 1 visits today)