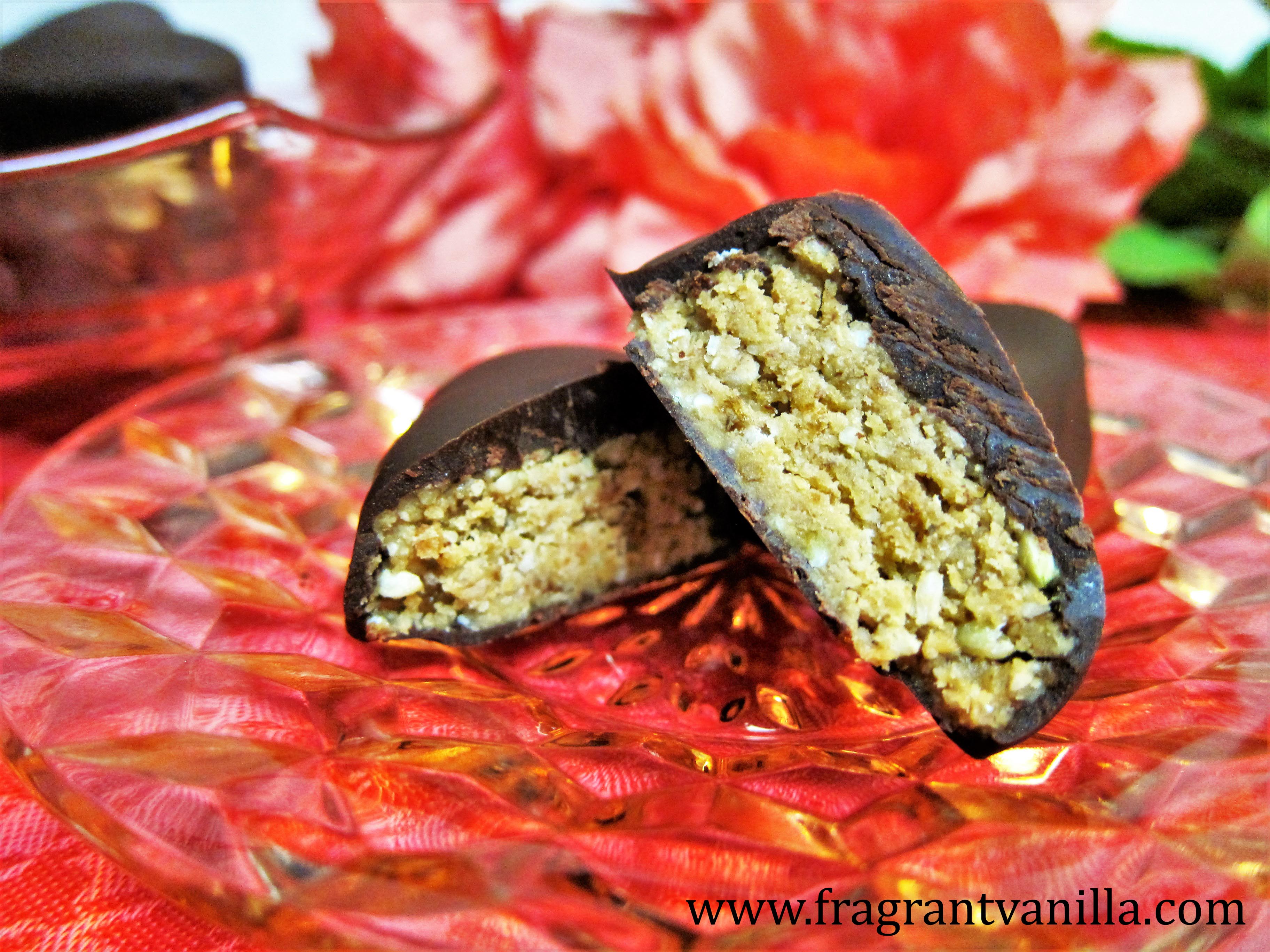 Raw Butterfinger Hearts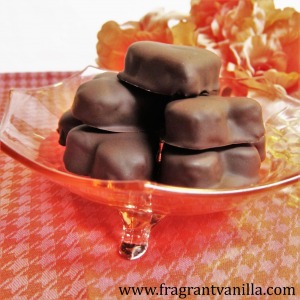 Vivapura recently sent me some goodies to use in recipes, and one of them was white mulberries.  I love white mulberries, to me they are a special treat because you can not just find them anywhere.  So I was quite excited about them.  The ones from Vivapura are really fresh and flavorful too.  Perfect for snacking.  The first time I tried white mulberries, I expected something tart, you know, like a raspberry.  But they taste like caramel.  Which is kind of awesome as far as I am concerned.  I have made raw butterfinger bars with them in the past, and I thought it was time to again.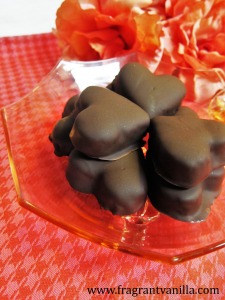 I am in chocolate making mode, because it is Valentine's week, and who doesn't want chocolate for Valentine's Day?  I know I want some.  Home made vegan chocolate that is.  And I better share some with Eric, he loves it even more than I do.  So I thought some Raw Butterfinger hearts were in order.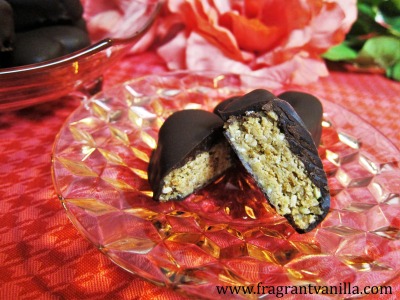 The white mulberries make the perfect caramel flavor that tastes like butterfinger when combined with peanut butter and dates.  The mulberries are a little crunchy, but I add in dried sprouted buckwheat for more crunch.  Let me tell you, it is a delicious combination.  Even before you dip it in chocolate.  Then it becomes irresistible. Trust me, if you have white mulberries, you need to make some of these babies for yourself.  If not for Valentine's day, then just for the heck of it.  If you need some white mulberries, you can find them HERE at Vivapura.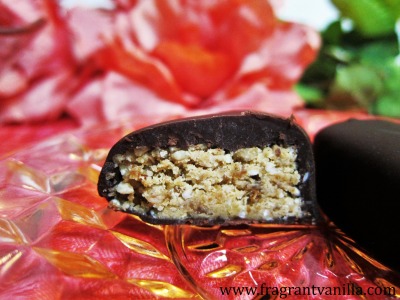 Raw Butterfinger Hearts
Makes 20
Filling:
1 1/2 cups raw jungle peanut butter or regular peanut butter (not raw)
1/2 cup soft medjool dates, pitted
2 tsp pure vanilla extract
1/2 tsp sea salt
1 cup dried white mulberries
1 cup sprouted, dehydrated buckwheat groats
1 1/2 cups chopped raw dark chocolate
In a food processor, combine the peanut butter, dates, vanilla and se salt, and blend until smooth.  Add the mulberries and buckwheat groats and pulse until chopped and it is all combined and holds together when squeezed (if it doesn't add a little more peanut butter). Press into a rectangle about 3/4 inch thick, and use small heart cookie cutters to cut out little heart shapes (it is ok to reshape the scraps). Place on a parchment lined tray, then place in the freezer to chill, about an hour.
When hearts are ready, melt the chocolate in a bowl (I like to set mine in a bowl in the dehydrator until it is melted).  Then set the chocolate next to the tray and dip each chocolate into it letting the excess drain off before setting it back onto the tray (I use a fork, setting the chocolate on top of it, to let the excess drain off).  Once the chocolates are all dipped, place in the freezer to set the chocolate, about 5 minutes.  Place some of the remaining melted dark chocolate in a pastry bag (or a ziplock bag with the corner cut off), and drizzle over the hearts for decoration.  Place in the freezer to set again, then they will be ready to serve.  Store in the fridge.
(Visited 141 times, 1 visits today)