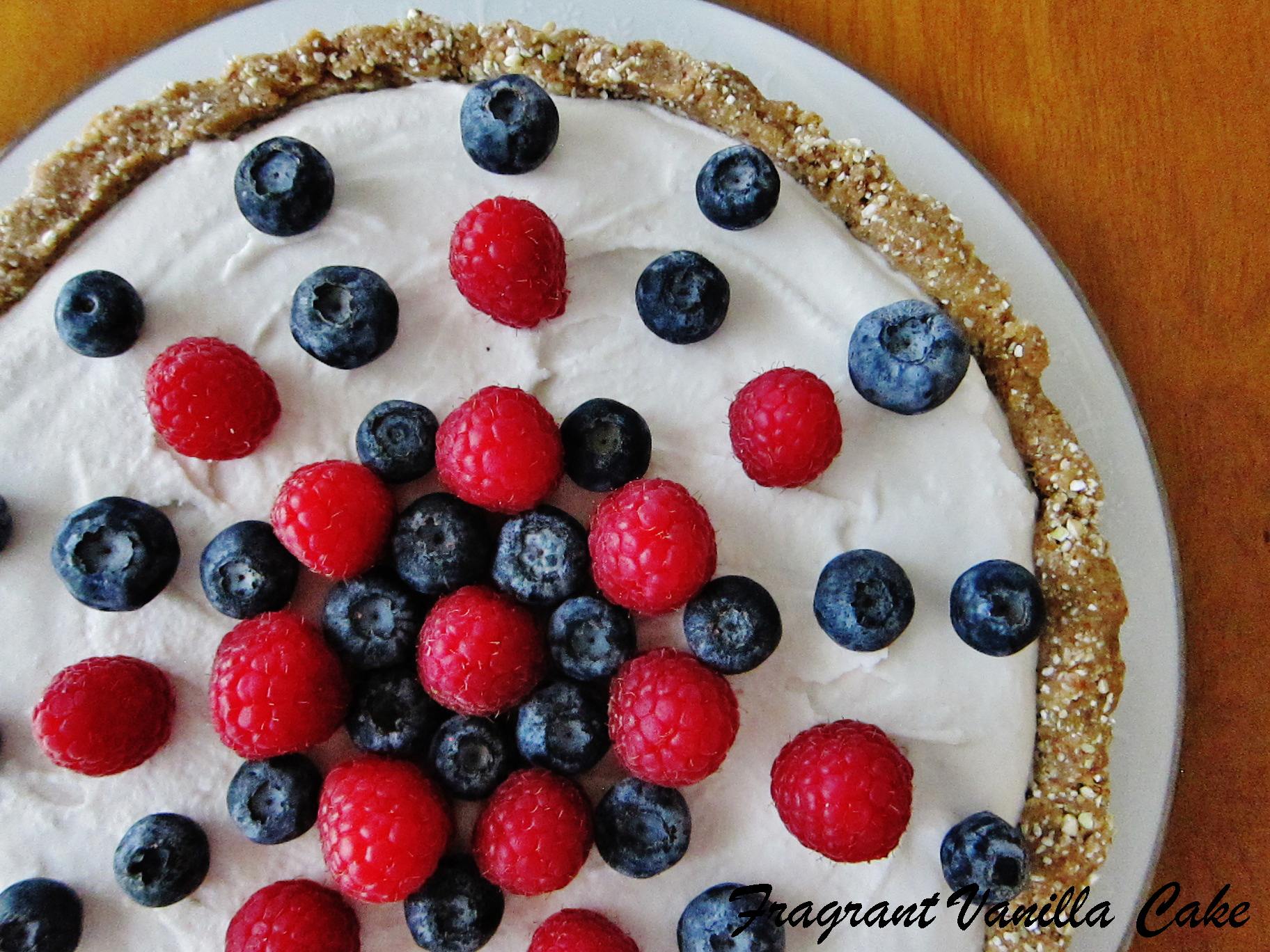 Raw Berry Almond Tart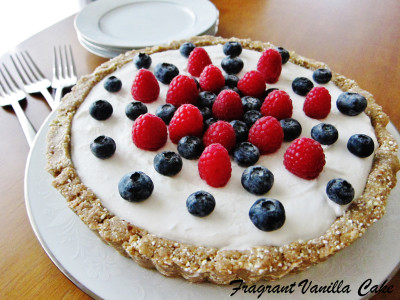 My Mom liked to make berry desserts on to celebrate the 4th of July.  She made a frozen cake topped off with berries that looked like a flag, and a tart with cream and berries which was my favorite.  I decided this year that I needed to make a version of a berry tart with cream.  Raspberries and blueberries are so festive on their own there is no artificial color needed here!  If I had made a cake, I wouldn't need to use any either not that I ever do.  I love that nature provides us with such beauty and color naturally.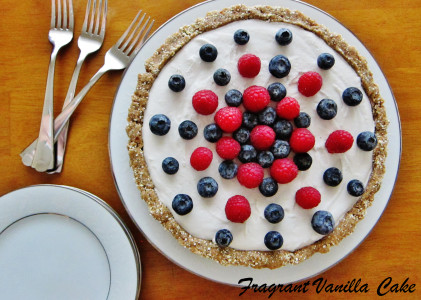 Back to the tart, I could have made just a vanilla cream, but I went for a vanilla almond cream since this was kind of my version of a tart my Mom used to make and in her desserts that would typically be vanilla she liked to add a touch of almond extract.  I have come to love that flavor combination as well. It almost makes it sweeter.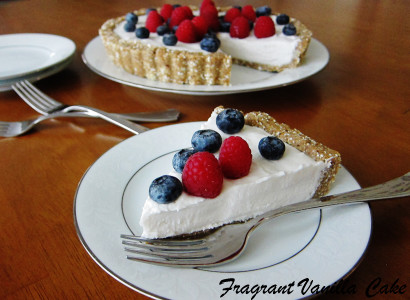 The tart turned out yummalicious!  A crunchy crust with a hint of almond, a silky fluffy vanilla almond filling that melted in your mouth, and topped off with sweet and tart berries.  It was super festive!  The berries kind of reminded me of a firework on top of the tart which wasn't planned but it was awesome.  This is simple to make, and if you serve it on the 4th your guests will love it!  I have included 2 versions of the cream, one raw, and one with canned coconut milk so that you all can make this no matter what you have access to and you can pick the one that suits you best.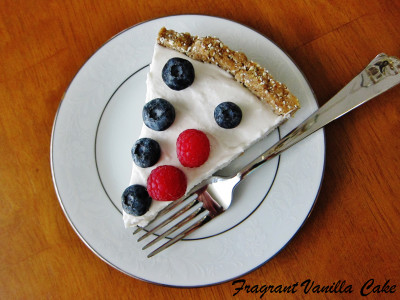 Raw  Almond Cream Tart with Berries
Makes one 8 inch tart
8 inch tart pan
crust:
1/2 cup sprouted, dehydrated buckwheat groats (or raw almonds)
1/2 cup finely shredded, dried coconut
1/4 cup ground flax seed
3/4 cup soft, medjool dates, pitted (if they are not soft, soak them in water for 30 minutes and drain well first)
1/8 tsp sea salt
2 Tbsp raw almond butter
Filling:
2 cups young coconut meat*
1/2  cup coconut water
3 Tbsp raw coconut nectar or agave nectar
1/4  tsp sea salt
seeds of one vanilla bean, or 1 Tbsp pure vanilla extract
1/2 tsp pure almond extract
1/4 cup plus 2 Tbsp raw coconut butter, warmed to liquid**
Organic raspberries and blueberries for topping
To make the crust, combine all ingredients in a food processor and process until finely chopped and holds together when squeezed (if it doesn't add a few tsp water and pulse until it does).  Press into an 8 inch round tart pan with a removable bottom (I like to oil mine with coconut oil first). Set aside.
Meanwhile, to make the filling, combine all ingredients but the coconut butter in a food processor and process until smooth.  With the motor running, add the coconut butter and process a minute more.  Pour into the prepared crust, and let sit in the freezer for about 1 1/2 hours until firm.
When ready to serve, garnish the top of the tart with fresh berries. Store cake in the refrigerator.
* 1 cup raw cashews, soaked for 4 hours and drained can be substituted for the coconut meat if unavailable.
**If your young coconut meat is especially soft and watery, you will need to add at least a few Tbsp more coconut butter.
***If you like, you can also make this with coconut milk for a non-raw version. The rest of the recipe is the same, but here it the filling:
For the non-raw filling:
2 cans full fat organic coconut milk, chilled
1/4 cup plus 2 Tbsp maple syrup or raw coconut nectar
pinch sea salt
2 tsp pure vanilla extract
1/2 tsp pure almond extract
2/3 cup plus 3 Tbsp raw coconut butter, warmed to liquid
For the cream, combine all ingredients but the coconut butter in a food processor and process until smooth. Add the coconut butter slowly with the motor running until incorporated. Spoon into the tart and smooth the top. Place in the refrigerator to set for a few hours before serving. Top with berries before serving.
(Visited 77 times, 1 visits today)