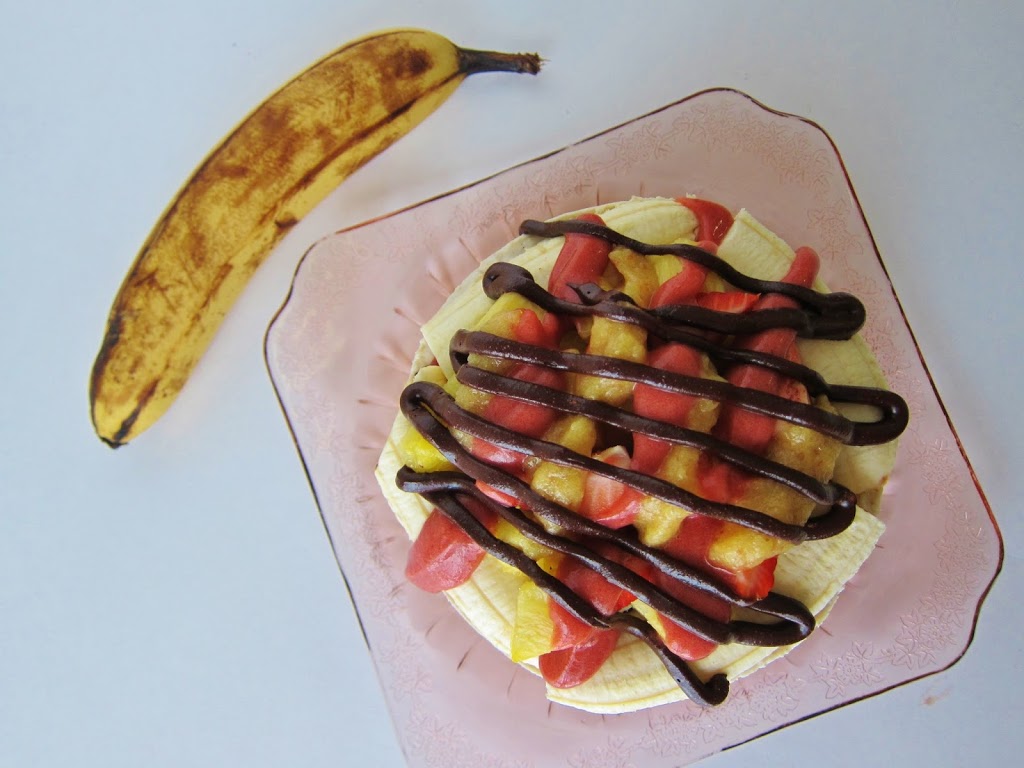 Raw Banana Split Cake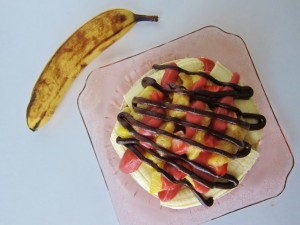 I have been daydreaming about making a banana split for a few weeks now, and I decided that I needed to make something this weekend....but it turned out to be a cake, not the ice cream sundae.  The ice cream sundae can wait.  I had in mind a magnificent cake with layers of strawberry, vanilla and chocolate with pineapple, fresh berries and a chocolate sauce.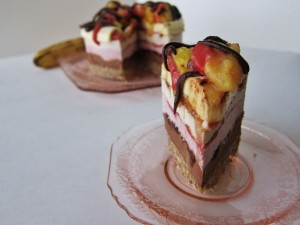 I got to work making the luscious layers, piling them into a sweet crunchy crust.  I even swirled chocolate sauce, pineapple sauce, and strawberry sauce into the layers for extra goodness.  I topped it off with some perfect bananas, more toppings and voila!  Banana split cake.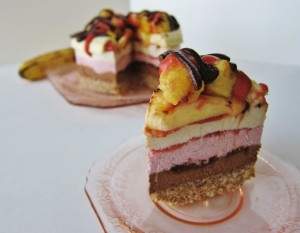 It was so much tastier than banana split.  If you are an ice cream fan, do not worry, I will be making a raw banana split eventually, but this cake blows banana split out of the water for now.  Gooey fillings, luscious creamy raw cheesecake and a crunchy crust along with sweet bananas.  It was heaven.  It made me think of summer in the midst of the never ending winter we seem to be having here in Minnesota, which was totally what I needed.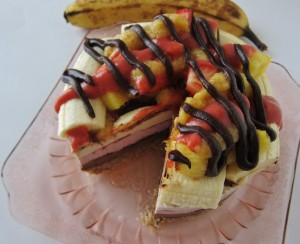 Raw Banana Split Cake
Makes one 6 inch cake
Crust:
1/2 cup raw walnuts
1/2 cup sprouted buckwheat, dried in the dehydrator (or additional coconut)
1/2 cup dried finely shredded coconut
1/8 teaspoon sea salt
10-12 soft medjool dates, pitted and chopped
Filling
2 cups raw cashews (preferably soaked overnight and drained
2 cups young coconut meat (or 1 1/2 cups soaked cashews if coconut is unavailable
1/2 cup coconut water
1/3 cup raw coconut nectar
1/2 cup plus 2 Tbsp raw coconut oil (warmed to liquid
1/2 teaspoon sea salt
1 Tbsp pure vanilla extract and seeds from half a vanilla bean
4 organic strawberries
3 Tbsp cacao powder
Sauce/Swirls:
1/4 cup orgainc pineapple
2 medjool dates
1/2 cup organic strawberries
2 medjool dates
1/4 cup raw cacao
1/4 cup raw coconut nectar
2 tsp coconut oil
a pinch of sea salt
3 organic bananas, 2 halved lengthwise, then the halves cut in half and one sliced
1/4 cup diced pineapple
1/4 cup halved strawberries
Lightly coat a 6 inch spring form removable bottom pans with coconut oil. To prepare the crust, process walnuts, buckwheat and sea salt in a food processor until the nuts are fine crumbs, then add the dates and process until the mixture holds together when squeezed between your fingers (if not holding together, add more dates). Firmly press crust into the bottom of the prepared pan, and set aside.
To make the filling, drain the cashews and combine them with coconut, coconut water, coconut nectar, sea salt and vanilla in a food processor and blend until smooth and creamy. With the processor running, add the coconut oil, and process for a minute until blended.  Divide into 3 bowls.  Add one back to the food processor and add the strawberries.  Blend until well combined, then scrape back into the bowl.  Add the second bowl to the food processor and add the 3 Tbsp cacao powder.  Process until well blended, then scrape back into the bowl. Set the fillings aside in the fridge.
For the swirls and sauces, first, combine the pineapple in the food processor with 2 dates adn process until smooth.  Scrape into a small bowl and set aside.  Next, combine the strawberries in a food processor with2 dates, and process until smooth.  Scrape into a bowl and set aside.  In another small bowl, whisk together the cacao powder, coconut nectar, coconut oil and sea salt until the consistency of fudge sauce (if too thick, add a little more coconut oil, if too thin, add a little more cacao powder).
To assemble the cake, pour the chocolate filling over the prepared crust, then drop some of the chocolate sauce over it by the tspful (reserving the rest for the topping) and swirl it with a knife. Next, top with a layer of sliced bananas.  Then, pour the strawberry filling over, and drop some strawberry sauce over it by the tspful (reserving the rest for the topping) and swirl it with a knife.  Next, pour over the plain filling and drop some of the pineapple over it by the tspful (reserving the rest of it for the topping) and swirl with a knife.  Place the cake in the freezer to set for 4-6 hours until firm throughout.
Once the cake has set, unmold, put on a serving plate and top with the halved bananas, cut side down.  Then, top with the diced pineapple, strawberries and drizzle with some of each of the sauces.  Serve!
(Visited 98 times, 1 visits today)