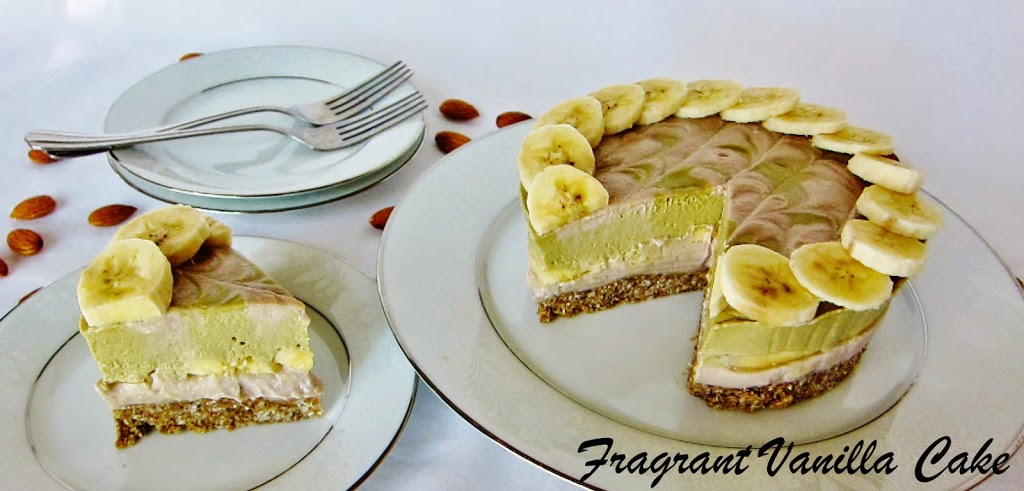 Raw Banana Matcha Almond Cheesecake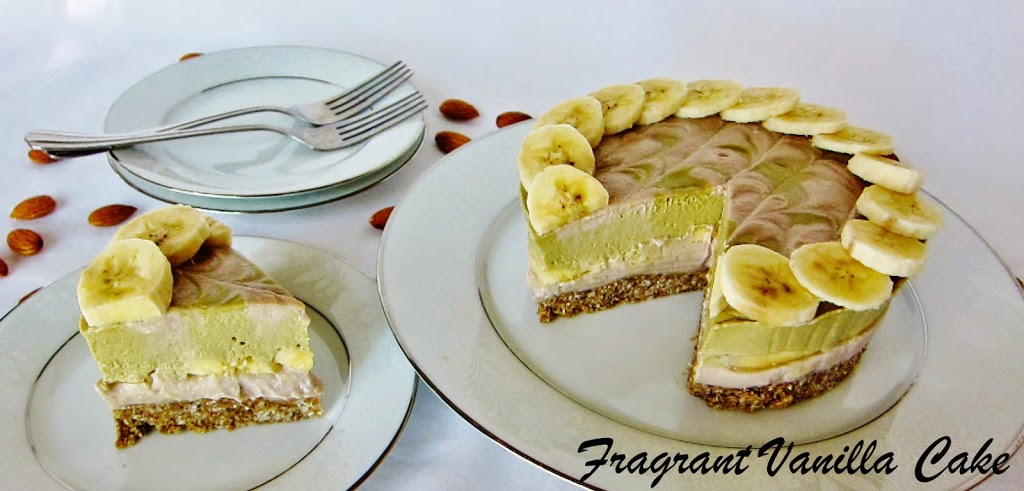 I always have bananas covering a large portion of my kitchen counter.  I use them for part of my breakfasts, smoothies, desserts...you name it.  I love bananas.  But I had an extra large amount last week, and I figured I might as well make something beautiful with some of them.  I wanted a cake, but what I didn't want was a usual suspect as far as the flavor profile went.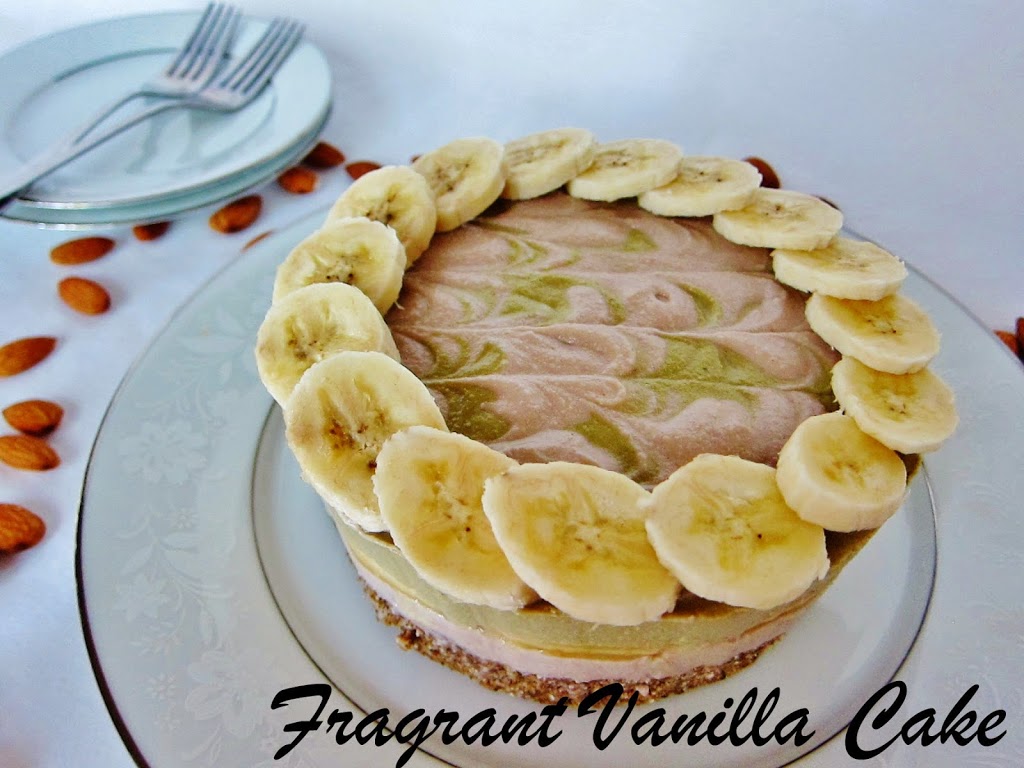 Don't get me wrong, I love a good banana peanut butter, banana chocolate, or banana caramel combo, but I wanted something more exciting!  I decided on banana matcha almond.  I know I like banana and almond together, and matcha and almond together, so I thought banana with the other two flavors would be a win. I like the earthiness of the matcha paired with sweet things.  It just works!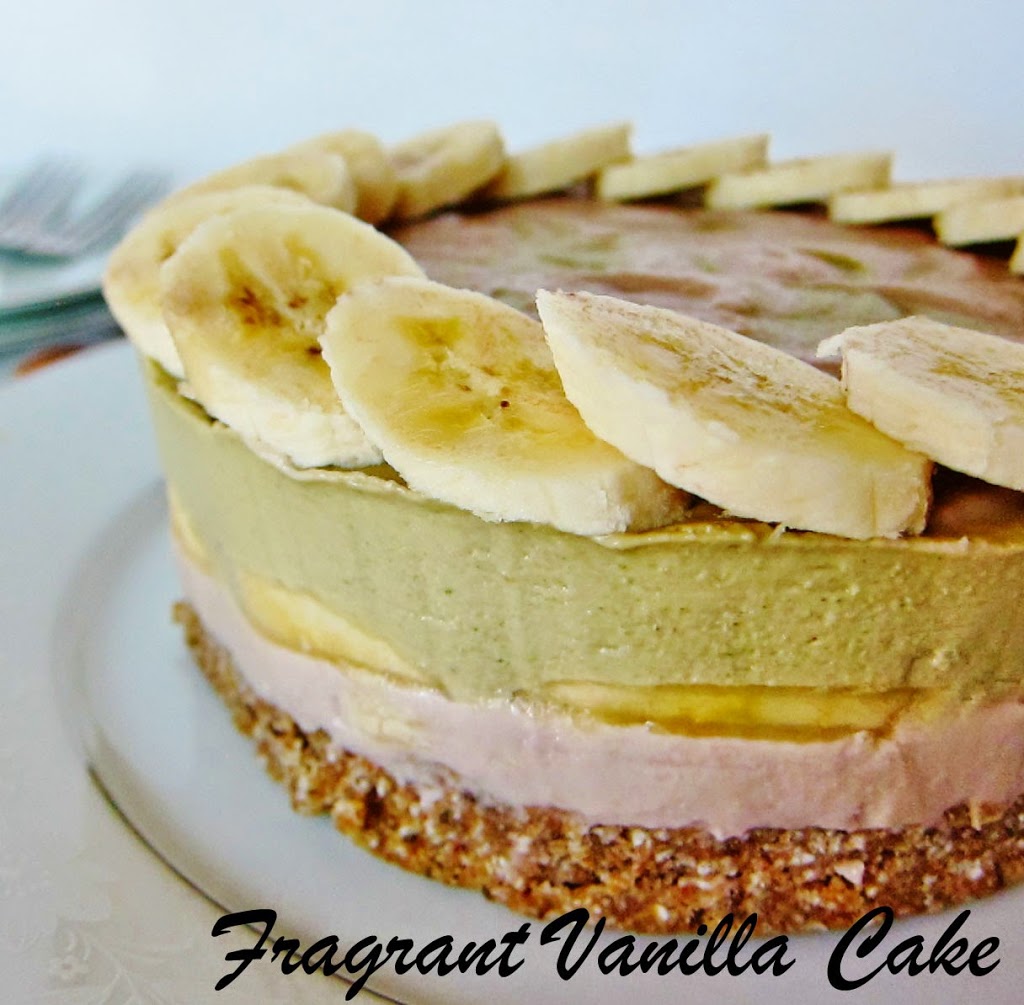 Usually I go for all coconut based fillings that are nut free, but since this cake had almonds as part of the flavor profile, I thought why not use them in the filling too along with the coconut.  I knew this cake was going to be good as soon as I sampled the fillings.  Eh...who am I kidding, I was snacking with the amount of spoonfuls I had, they were delightful!  As I had guessed, the matcha was amazing with the banana and almond!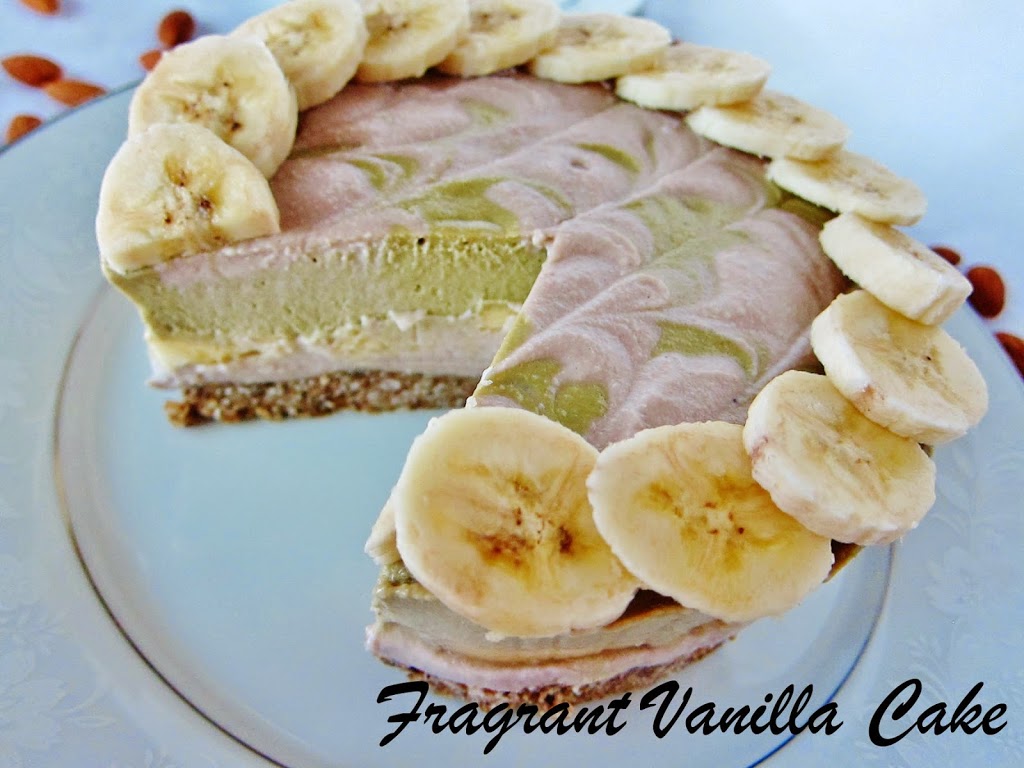 Sometimes it pays to think outside the box and take a chance with these things.  Especially with desserts.  The best thing about this cake is I think it can be served any time of the year, since bananas are always around.  At least at my house!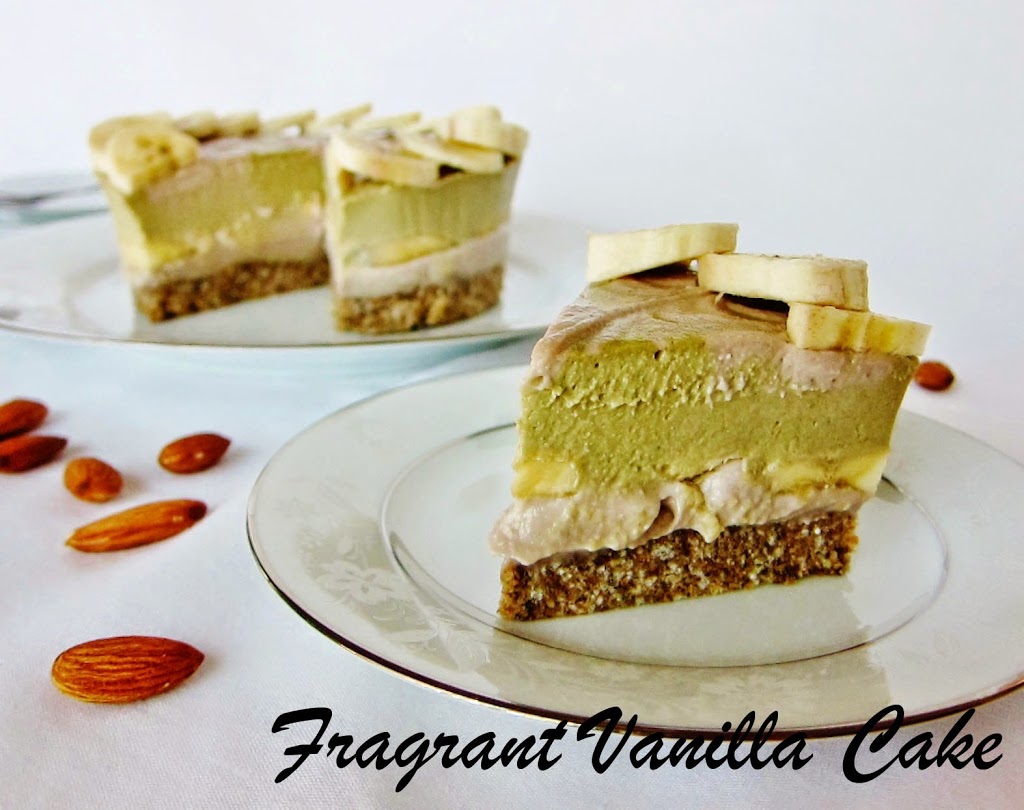 Raw Banana Matcha Almond Cheesecake
Makes one 6 inch cake
3/4 cup dried finely shredded coconut
1/8 teaspoon sea salt
10-12 soft medjool dates, pitted and chopped (if they are not soft, soak them in water until they are and drain them well)
1/2 tsp ground cinnamon
Filling:
2 1/2 cups young coconut meat*
1 cup raw almonds, soaked 8 hours or overnight**
1 cup bananas
1/4 cup coconut water
1/2 cup raw coconut nectar, or maple syrup
1/2  teaspoon sea salt
1 Tbsp pure vanilla extract and seeds from half a vanilla bean
1 tsp almond extract
3/4 cup plus 
raw coconut butter
 (warmed to liquid)***
2 Tbsp matcha powder
2 large bananas, sliced, divided
Lightly coat a 6 inch spring form removable bottom pans with coconut oil. To prepare the crust, process flax, coconut, buckwheat and sea salt in a food processor until fine crumbs, then add the dates and cinnamon and process until the mixture holds together when squeezed between your fingers (if not holding together, add more dates). Firmly press crust into the bottom of the prepared pan, and set aside.
To make the filling, in a high speed blender or food processor, combine coconut, coconut water, banana, coconut nectar, sea salt, vanilla, and almond extract, in a food processor and blend until smooth and creamy. With the processor running, add the coconut butter and and process for a minute until blended. Remove half the mixture (I like to divide it between two bowls and add one back to the processor).  Add matcha powder to the half in the food processor and process until well blended.
To assemble cheesecake, pour banana almond filling over the crust, reserving about 3 Tbsp for the top of the cake.  lay a layer of sliced bananas over that, then pour over the matcha layer.  Drop some of the remaining banana almond filling by the 1/2 tsp over the matcha layer and swirl with a knife.  Place in the freezer for 4 hours or until set.  When ready to serve, garnish the top with banana slices.
*If you are unable to get young coconut meat, you may substitute 2 1/2 cups raw cashews, soaked 4 hours and drained and filtered water instead of the coconut water.
**You can pop the skins off of the almonds after they have been soaked if you want a whiter cake.
(Visited 112 times, 1 visits today)