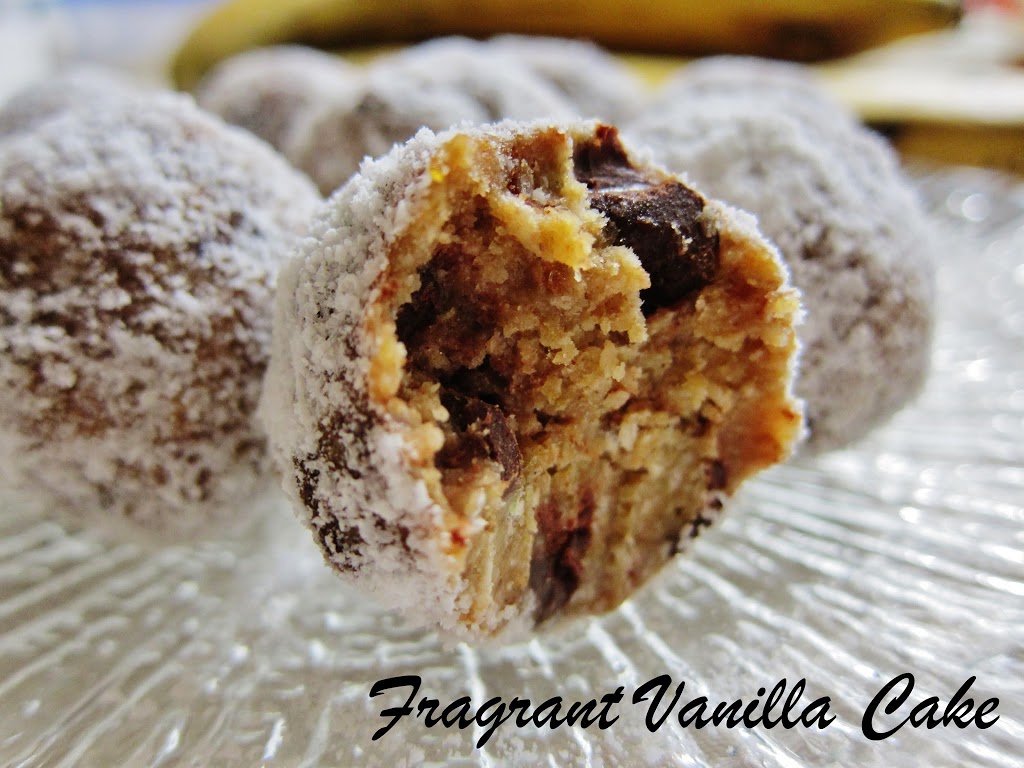 Raw Banana Chocolate Chunk Doughnut Holes
When I was in high school, I can remember being on the cross country bus on the way back from a meet and the guys team getting a little rowdy. They ended up throwing doughnut holes out the bus window at a car, getting it inside it and hitting the driver. Needless to say, they got in a lot of trouble and so did everyone else on the bus unfortunately. The next day at practice the whole team did killer hills and we all paid. So, that is my doughnut hole story, and what I think of when I hear about doughnut holes. That, and remembering how delicious doughnut holes used to be when I was younger.
I was thinking about them the other day when I saw a recipe for some, and It had probably been 10 years since I had eaten a doughnut hole. I decided I needed to make a raw vegan version. Cinnamon sugar was always my favorite or just the plain vanilla with the powdered sugar that got all over my lips when I ate it. I wanted these to contain both cinnamon and powdered sugar but also some other things I consider delicious. Bananas and chocolate and chunks.
So after work one night last week, I enjoyed myself and had fun creating them. They turned out sooo good! They tasted like banana bread with chocolate chunks, and I dipped them in coconut "powdered sugar" to finish them off. Sooo addictive and wonderful. I would never even think to throw these at anyone because it would be a waste of deliciousness. The best part about these is they are quick to make and no need to dehydrate!
Raw Banana Chocolate Chunk Doughnut Holes
Makes 12

doughnut holes:
1 1/3 cups finely shredded dried coconut
1 cup ground flaxseed
1/3 cup raw sprouted buckwheat flour or sprouted oat flour
1/2 cup soft medjool dates, pitted (if not soft, soak them for 30 minutes in filtered water and drain well)
1/4 tsp sea salt
1 tsp pure vanilla extract
2 tsp cinnamon
1 large ripe banana
1/2 cup coursely chopped raw dark chocolate
coconut "powdered sugar"*
Combine coconut, and flaxseed and buckwheat flour in the food processor and process until well blended and the consistency of flour. Add the dates, banana, sea salt, and extract and cinnamon and process until smooth and starting to hold together when squeezed (if it doesn't add a little more dates). Stir in chocolate chunks, and roll into 12 balls. Roll in the coconut powdered sugar, and enjoy! Store extra in the fridge.
*To make coconut powdered sugar, add 1 cup finely shredded, dried unsweetened coconut to a high speed blender and blend until it is powder (but not too long or you will get butter)
(Visited 109 times, 1 visits today)