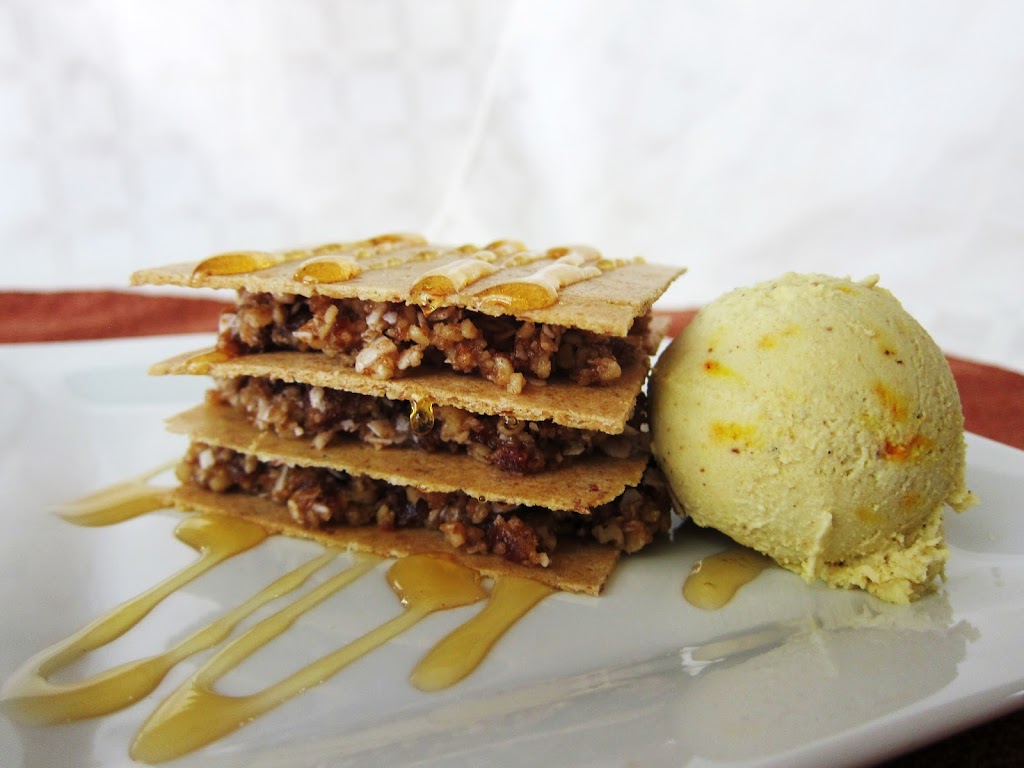 Raw Baklava with Saffron Ice Cream
I can remember the first time I had baklava.  I was at a Middle Eastern restaurant and I decided to try some.    After all, walnuts in crispy paper thin pastry with sweet honey sounded awfully delicious!  The mad behind the counter dished out a large piece just oozing with honey.  I sat down at a table and was salivating.  I couldn't wait to dive in.  It was amazing...the sweet honey, the crunchy nuts, the crispy filo and scent of rosewater.  How had I never tried this heavenly creation before?
That was back in high school, and since then I have always thought that baklava was delicious.  Well, most of it.  I have had some at times that has so much honey that it is far too gooey and the filo gets weighed down.  But a good Middle Eastern restaurant will serve perfect balanced baklava.
I hadn't had any baklava in a while, because I am trying to stay away from refined sugars and flours and I know the traditional version has plenty of sugar...which is what makes it so sweet.  Although I have made a few versions at home in the past using only maple syrup or coconut nectar and they were wonderful, I decided that I wanted to create a raw vegan version last weekend.
I made crispy "filo" layers that were more like tuiles or abstract versions of the filo, but still delicious out of apples and almonds laced with cinnamon. They went perfectly with the sweet walnut filling I created, adding in some coconut and dates for extra deliciousness.
The baklava had it all, crunchy, sweet and nutty...well, almost all.  It needed to be served with a creamy element I decided, and what better than ice cream?  So I made a raw saffron ice cream to accompany it.  As a whole, it was wonderful and I couldn't help but be in my happy place while enjoying it.  It was so good I didn't even share this time.
Raw Baklava with Saffron Ice Cream
Serves 2
"Filo" sheets:
1 large organic apple
1/2 cup almond meal
a pinch of sea salt
1 tsp raw coconut nectar or maple syrup
1/4 tsp ground cinnamon
Filling:
1 cup walnuts
6 dates
1 cup large flake coconut
1/4 tsp cinnamon
1/4 tsp rosewater
2 Tbsp raw coconut nectar or maple syrup plus additional for serving
For the "filo sheets", combine the apple, almond meal, sea salt, nectar, and cinnamon in a food processor and process until smooth.  Spread out thinly onto a teflex lined dehydrator sheet in a large square.  Dry for a few hours, or until not tacky anymore, then score into 9 squares.  Place back in the dehydrator for about another 6-8 hours or until very crispy.  Remove squares (you will have one extra to snack on).
For the filling, combine walnuts, dates, coconut, and cinnamon and rosewater in a food processor and pulse until well combined but not pureed.  You want to have chunks still.  Add 2 Tbsp nectar and pulse a few more times.  Remove from the food processor.
To assemble, set out 2 plates.  Drizzle each with a bit of the nectar.  Place one filo square on each, and top with 1/3 of the walnut mixture (deviding evenly between the two).  Top each with another square, then half the remaining filling (deviding evenly between the two).  Then another square, then the rest of the filling then another square.  Drizzle each baklava with a bit more nectar, and scoop some saffron ice cream beside each (recipe follows).  Enjoy!
Raw Saffron Ice Cream:
a large pinch safforn
1/2 cup coconut water
1 cup raw cashews, soaked overnight and drained
1 cup young coconut meat, chopped
1/4 cup raw coconut nectar
1 tsp rosewater
seeds of one vanilla bean
a pinch of sea salt
1/4 cup coconut oil, warmed to liquid
Warm the coconut water to 100 degrees or so, and place the saffron in it to steep.  Let sit until cooled.  Add to a food processor, along with cashews, coconut meat, nectar, rosewater, vanilla, and sea salt.  Process until smooth, then with the processor running, add the coconut oil slowly and process until well incorporated, about a minute. Pour the mixture into an ice cream maker and process according to directions.  Remove from ice cream maker, and pour into a freezer safe container.  Let chill in the freezer for a few hours until a little more firm before scooping.
(Visited 176 times, 1 visits today)