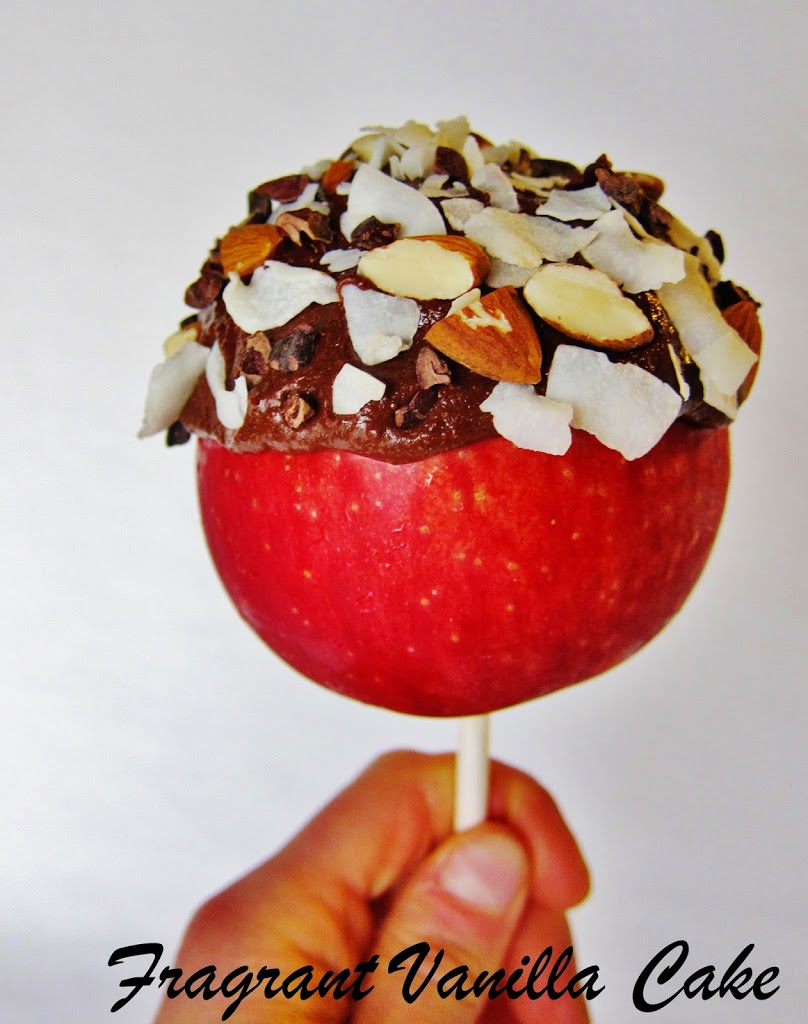 Raw Almond Joy Caramel Apples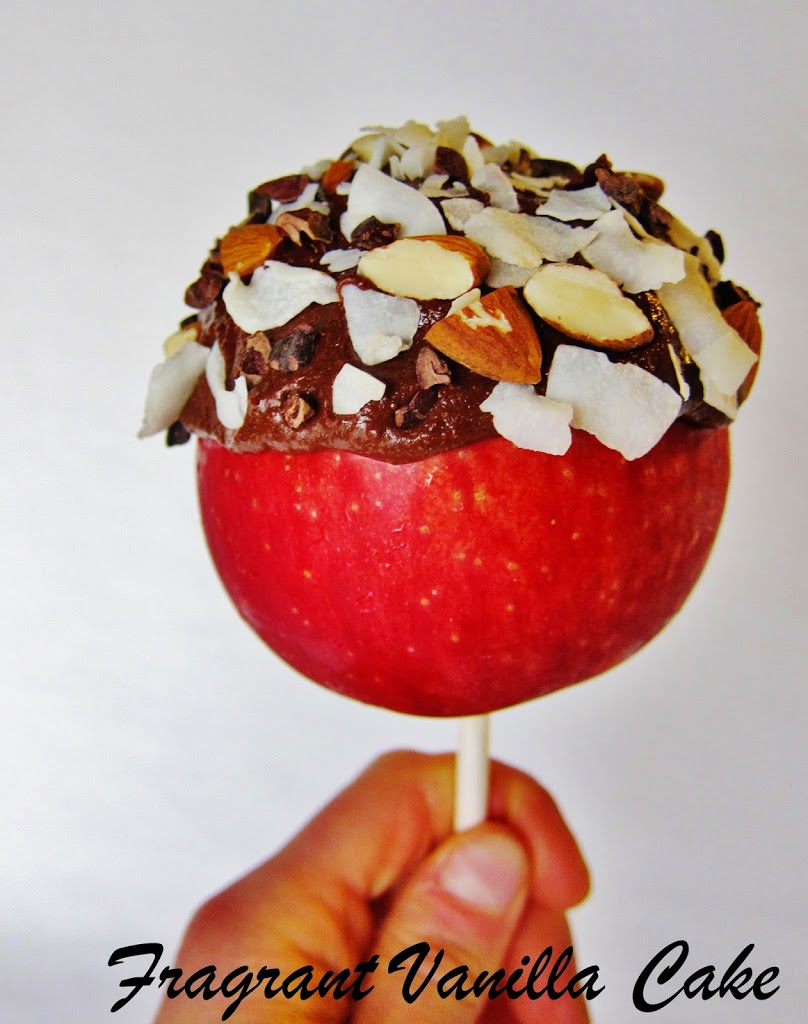 It is caramel apple season, so I decided that I simply must make some.  It is just something I do, which I enjoy this time of the year.  I wanted to be a little different this year though.  Don't get me wrong, I love the simple classic caramel apple, just with nuts or unadorned, but I had an idea...combine a favorite Halloween candy with a caramel apple.  I decided on Almond Joy.  Now, I could have just dipped it in chocolate, then coated it with coconut and almonds, but I decided to make a chocolate caramel instead.  Because I love both chocolate AND caramel.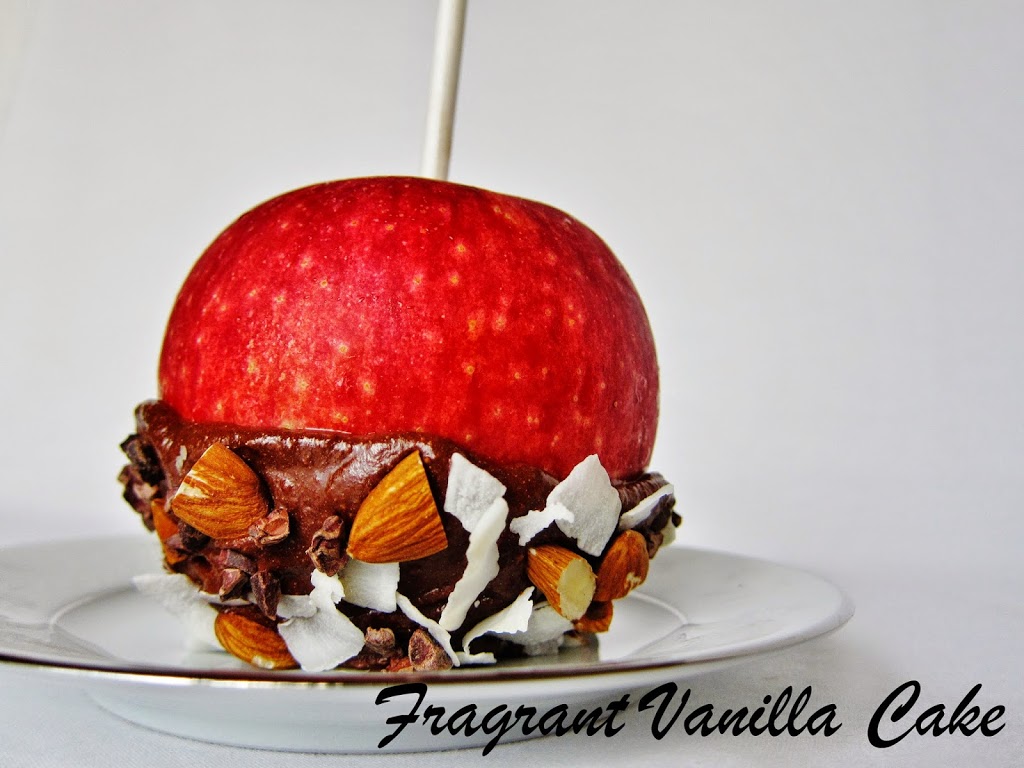 So, I made my classic gooey date caramel that is melt in your mouth heavenly, with a bit of raw cacao powder to make a decadent chocolate caramel.  I sprinkled it with raw coconut, crunchy almonds and cacao nibs and it was fabulous!  All of the flavors of Almond Joy in a caramel apple.  And the perfect treat for Halloween!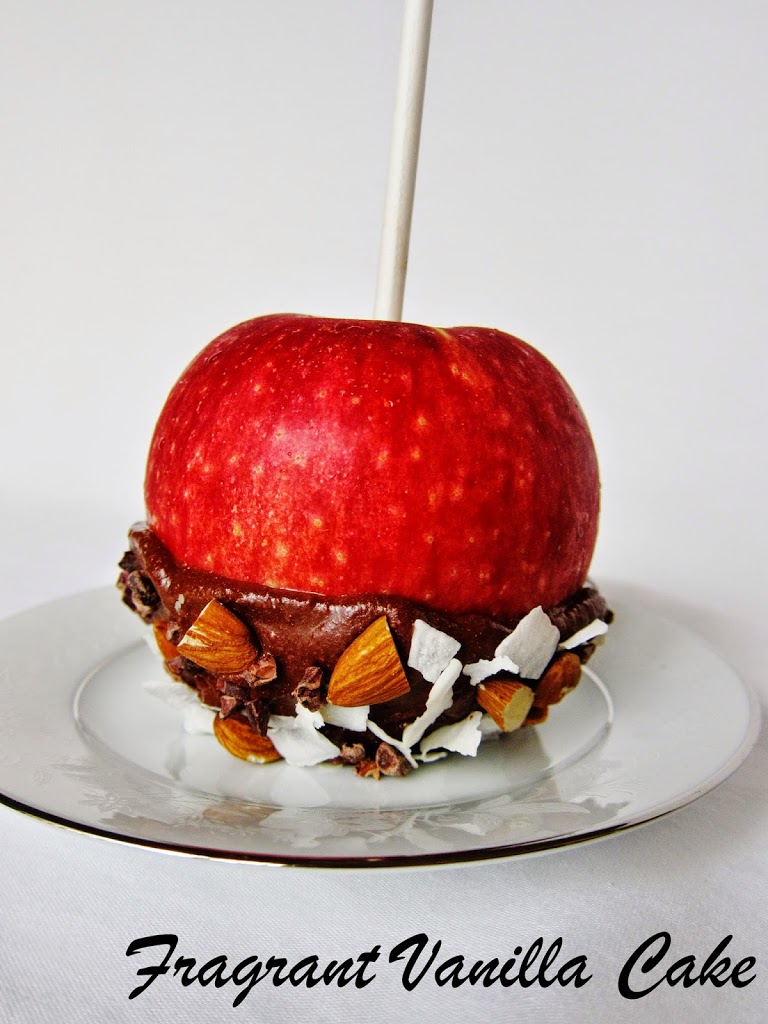 Raw Almond Joy Caramel Apples
Makes 2
Caramel:
1 cup soft medjool dates, pitted (if they are not soft, soak them in water for 30 minutes and drain well)
2 Tbsp raw pecan butter or other raw nut butter
1 Tbsp coconut oil
3 Tbsp raw cacao powder
1 tsp pure vanilla extract
1/8 tsp Himalayan salt
3 Tbsp filtered water as needed
2 large sweet apples, such as honeycrisps
2 sticks (I used cake pop sticks, but if you have wooden ones, those work too)
1/4 cup large flake dried coconut
1/4 cup raw cacao nibs
1/4 cup raw almonds, coarsely chopped
For the caramel, combine all ingredients in a high speed blender or food processor and process until smooth.  Add a little more water at a time if it seems too thick.  Set aside in a bowl.
Stick the sticks into the apples, then turn them upside down, and spread the chocolate caramel over the bottom half.  Sprinkle with the coconut, cacao nibs, and almonds, and press in to adhere.  Enjoy!
(Visited 33 times, 1 visits today)