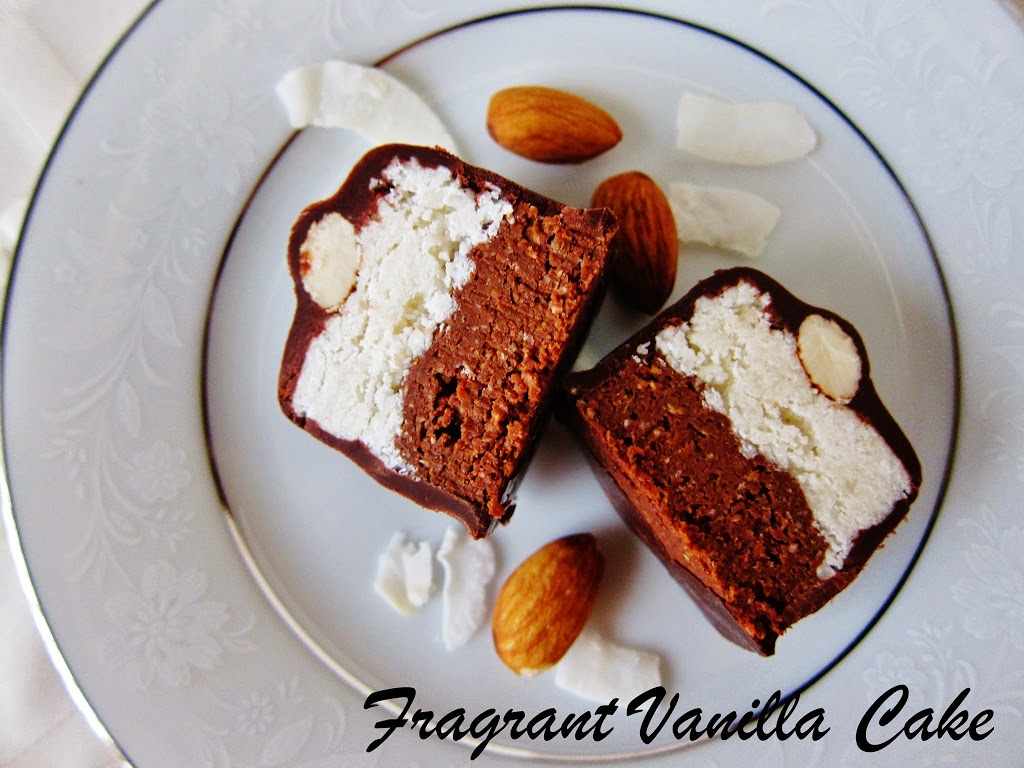 Raw Almond Joy Brownie Bites
In addition to the caramelized nut tarts I made for my Mom's Birthday, I made these little bites of deliciousness. You see, about a month ago, my Mom asked me if I could make something with coconut, chocolate and almonds for her Birthday.  Sounded like an Almond Joy candy bar to me...which I know she would have loved, but I wanted to be a little more creative than that with the combination.  Of course I agreed to make something for her with those ingredients!  I love them as well after all.  I came across some Almond Joy Brownie Bites on Pinterest.  Non-raw of course but I decided that I had to make a rawified version for Mom. She loves my other raw brownie bite recipes, and my macaroons and since this would sort of be a marriage of the two, this was perfect!
I made a fudgy raw brownie base, covered it in my classic sweet vanilla macaroon dough, added raw almonds, and then chilled them.  These needed no dehydration, which I know some of you will appreciate!  I know I did, since we could enjoy them faster that way.  Once they were chilled I dipped them in raw dark chocolate, and they looked like little almond joys!  But the thing is...they tasted SOOO much better! My Mom loved them!  Which was the important part.  I know you will love them too if you choose to make them.  If you are more of a fan of Mounds Bars, simply omit the almonds!
Raw Almond Joy Brownie Bites
Makes 20
Brownie layer:
1/2 cup sprouted, dehydrated buckwheat groats
3/4 cup finely shredded, dried coconut
1/2 cup ground flaxseed
1/4 tsp sea salt
1/3 cup raw cacao powder
3/4 cup pitted soft medjool dates
1 cup chopped raw beet or carrot
Coconut layer:
3/4 cup finely shredded unsweetened coconut
a pinch of sea salt
1/2 cup raw coconut nectar, or maple syrup
1 Tbsp raw coconut butter (not oil) warmed to liquid
1 tsp pure vanilla extract
1 3/4 cups finely shredded unsweetened coconut
20 raw almonds
Chocolate:
1/2 cup raw coconut oil, warmed to liquid
3/4 cup raw cacao powder
1/4 cup raw coconut nectar or maple syrup
a pinch sea salt
For the crust, combine the buckwheat, coconut, flaxseed, sea salt, and cacao powder in a food processor and process until fine crumbs.  Add the dates and process until finely chopped.  Add the beets and process until starting to come together like dough.  Roll out on a piece of parchment paper 1 inch thick in a square.  Set aside.
To make the coconut layer, place 3/4 cup coconut, and sea salt in the food processor and process until fine as flour. Add the nectar, butter, and vanilla and process until the mixture is smooth. Add the 1 3/4 cups coconut and pulse until the mixture holds together when squeezed. Spread out over the brownie layer (actually more like shape it over with your hands, pressing it into place evenly) and smooth out (it helps if you wet your hands a little or oil them with coconut oil so they do not stick).  Score into 20 squares with a sharp knife and press a whole almond into the center of each.  Place the parchment with the brownies in the the freezer to chill for about 30 minutes.  When the brownies have chilled, whisk together the ingredients for the chocolate in a bowl.  Cut the brownies into squares where you have scored them.  To cover them in chocolate, set one on a fork over the bowl of chocolate, and using your other hand, spoon the chocolate over it letting it drain off.  Place the brownie on back on the parchment while you continue with the others. Place in the freezer for a few minutes to set the chocolate once they are all done. Store in the fridge.
(Visited 18 times, 1 visits today)