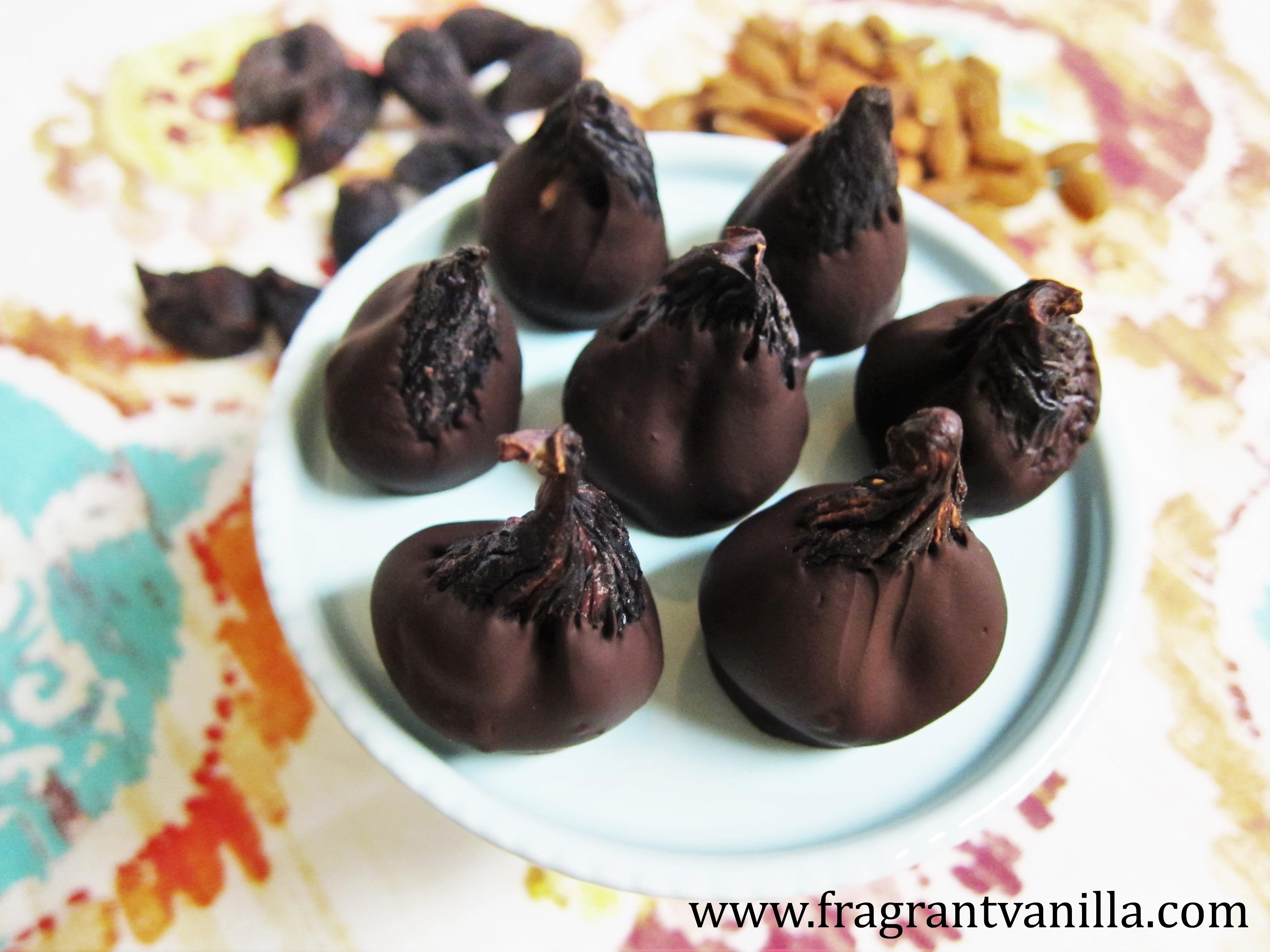 Raw Almond Butter Stuffed Chocolate Figs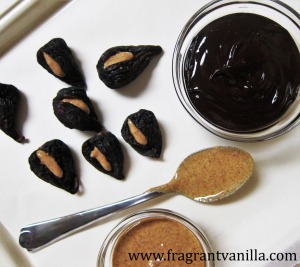 I picked up a large bag of figs recently on a whim, because they sounded so good to me.  I wasn't sure what I would make with them, but I knew they would be great for snacking.  There is something I just love about them, I think it is the crunchy little seeds along with the sweetness that makes them so good.  They are a great replacement for dates in a raw pie or cheesecake crust, and they contain a lot of fiber.  I thought about making fig newtons with some of the figs I picked up first, because I always liked those as a kid, and I think a vegan home made version would be even better, but I decided to make something a little simpler instead, since I did not have a lot of time that night.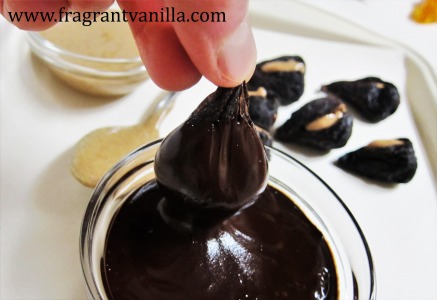 Figs, chocolate and nuts together is a delicious combination, so I decided to make almond butter stuffed figs dipped in chocolate.  If you have raw chocolate on hand, this recipe is only 3 ingredients!  So, no excuses not to make it because it is simple, and easy. No special equipment required either. If you don't have a double boiler to melt the chocolate, you can either use your dehydrator or a heat proof bowl set over a pot with water in it.
The whole thing took me about 15 minutes to make, and then I was enjoying pure deliciousness.  The sweet nutty almond butter is a perfect pairing with the rich dark chocolate and sweet figs.  Valentine's day is coming up, and these sexy, sweet little figs would be a perfect thing to surprise your hunny with.  I know a box of these would make me quite happy, and home made thoughtful gifts are always the best.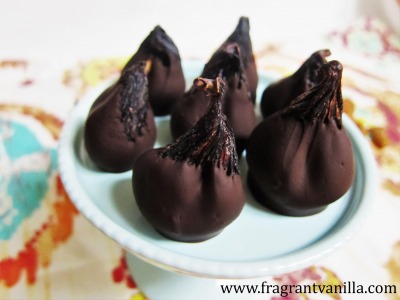 Raw Almond Butter Stuffed Chocolate Figs
makes 1 dozen
12 dried figs
about 3 Tbsp raw almond butter or roasted if not raw
1/2 cup chopped raw dark chocolate* or vegan dark chocolate if not raw
Cut a slit into the side of each of the figs. Place the almond butter in a ziplock bag with the corner cut off, and pipe into each of the figs (but not too much or it will ooze out too much). Melt the dark chocolate in the top of a double boiler.  Line a sheet pan with parchment.  Dip each fig into the dark chocolate than place it onto the parchment lined pan. When they are all done, place them in the freezer for about 10-15 minutes until the chocolate has set.  Store in the refrigerator in a sealed container.
*If you wish to make your own, like I do, here is the recipe:
Raw Dark Chocolate
1/2 cup melted raw cacao butter (when melting, keep below 115F degrees, I use a double boiler)
1/2 cup raw cacao powder butter
1/4 cup raw coconut nectar or maple syrup
pinch sea salt
Whisk together all ingredients until smooth, and pour into a mold. Place in the freezer until hardened.  You will have extra if you are making the recipe above.
(Visited 185 times, 1 visits today)