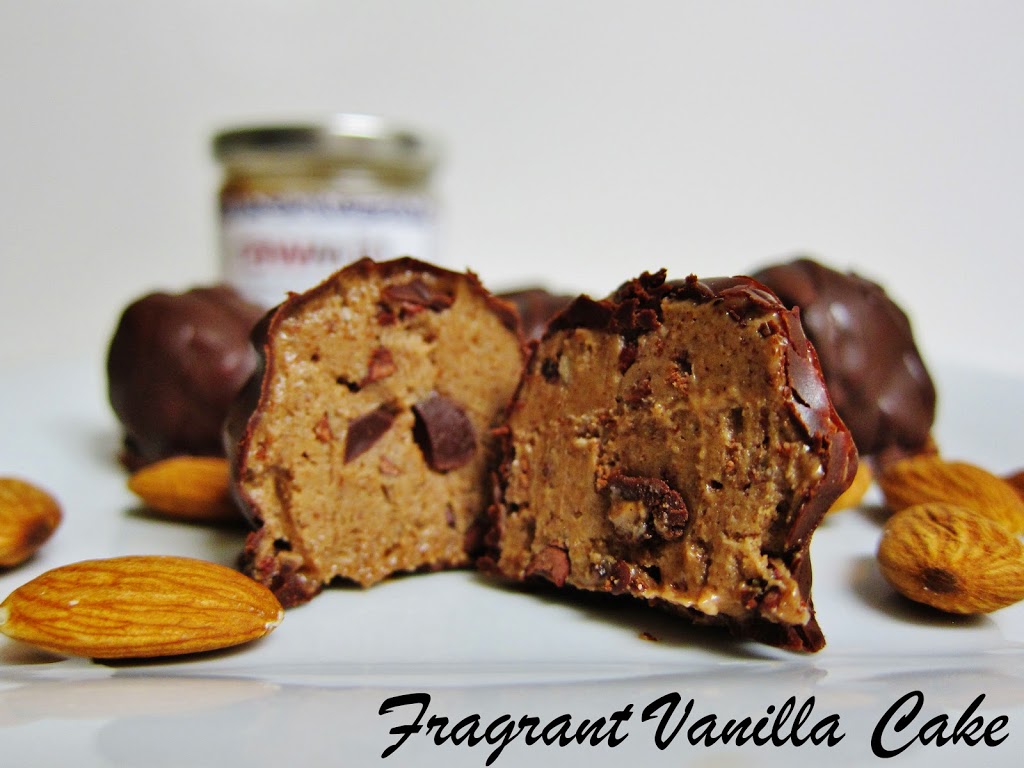 Raw Almond Butter Chocolate Chip Truffles
Raw Guru was kind enough to send me some of the new Rawmio spreads that they have just started carrying, and they were all amazing, but I have to say the Raw Almond Butter Chocolate Chip Cookie Dough was my favorite. I had eaten half the container before I realized what was going on because I was in my own little world of cookie dough bliss. Almond butter is so delicious anyhow, but this tasted as if the almond butter and cookie dough got married and had a child together. The best part is, it is made from quality ingredients like raw chocolate chips, maca and coconut sugar. So you need not feel guilty about indulging in a jar. I obviously like it straight up with a spoon all to myself...but I did make a recipe from it as well. Some raw truffles to showcase the nut butter's wonderful flavor.
Raw Almond Butter Chocolate Chip Truffles
Makes 12
Filling:
2/3 cup Rawmio Almond Chocolate Chip Cookie Dough spread
1/4 cup raw cacao nibs
3 Tbsp raw coconut butter, warmed to liquid
Chocolate:
1/2 cup raw coconut oil warmed to liquid
1/3 cup raw cacao powder
1/4 cup maple syrup or raw coconut nectar (or your choice liquid raw sweetener)
a pinch sea salt
Mix the filling ingredients together until well blended in a bowl and place in the freezer to firm up to scoopable consistency (about 20 minutes, and stir after about 10).
Once more firm, scoop out by the mounded Tbsp, and roll into balls and place on a foil lined tray (it may get a little sticky if your hands are warm, so work quick).
Place the tray into the freezer and freeze until firm, about 20 minutes more.
Meanwhile, whisk together the chocolate ingredients in a bowl.
Once the filling has firmed up, dip each one into the chocolate, then place back onto the foil lined tray (I like to set the filling on a fork and dip it to let the excess drain off). Once they are all dipped, allow them to harden, and place them in the freezer for a few minutes if necessary. Store in the refrigerator.
(Visited 31 times, 1 visits today)