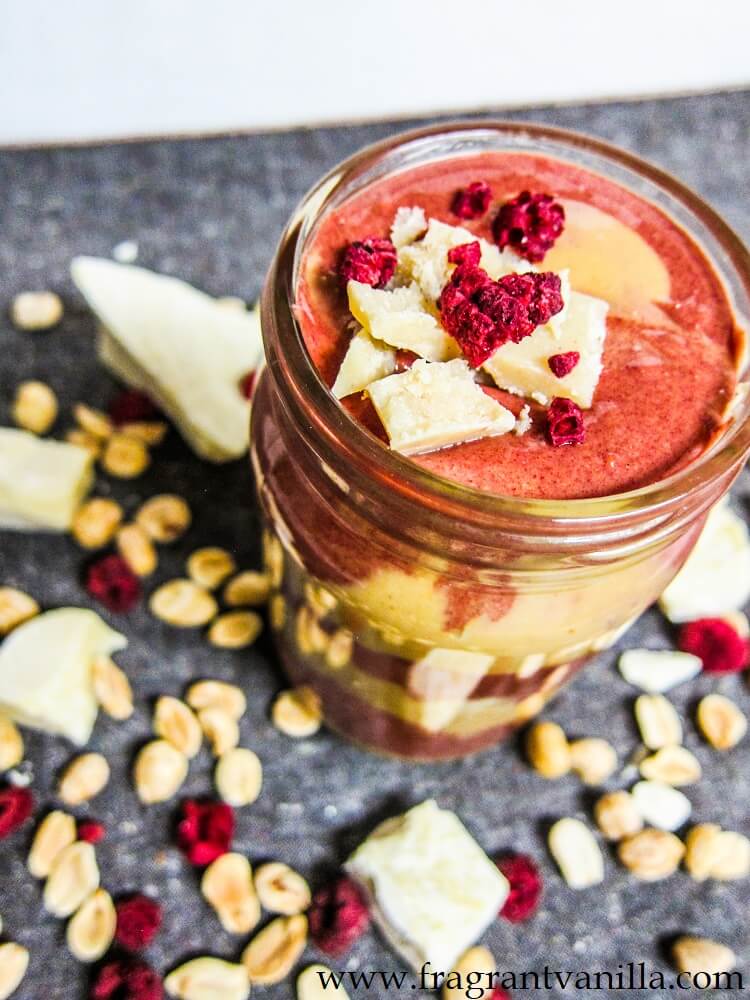 Raspberry White Chocolate Chunk Peanut Butter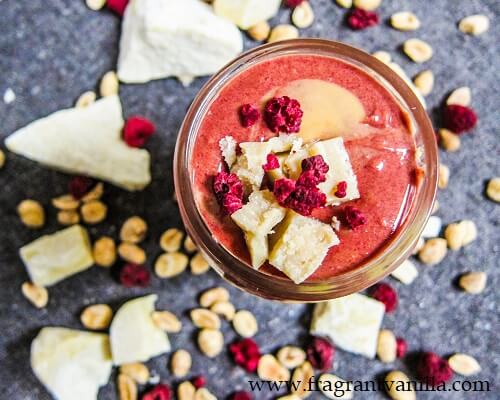 When I was in high school shopping with my Mom at the store, I came across a jar of the most amazing sounding peanut butter ever.  It was raspberry white chocolate.  I begged my Mom to buy it, and it was pretty amazing.  Up until that point, I hadn't seen anything but the standard peanut butter and almond butter and we didn't shop in stores that had much of a variety at that point so it was kind of exciting for me.  Now of course, there are hundreds of different varieties of brands and nut butters out there to choose from.  I never usually buy nut butter, because I prefer to make my own, but I am always keeping my eyes open for inspiration for things to make.  I think it would be awesome to have a nut butter company and come up with interesting flavors and I am sure they would sell well!  I mean, who doesn't like things like chocolate chunk peanut butter, or sugar cookie dough butter.  I am fortunate enough to be able to create my own flavors and make them in the Vitamix even if they never leave my house.  If you read my blog often, you know I am obsessed with all things nut butter, and not only do I use it in a lot of recipes, I eat it with a spoon too.  So yesterday I decided to recreate that raspberry white chocolate chunk peanut butter but make it even better.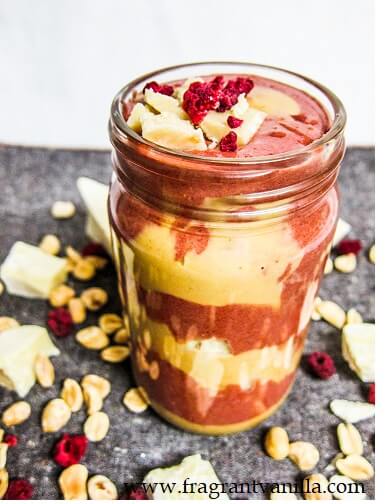 I will find any excuse to make another flavor of nut butter, even if it is just that it sounds good. It was actually quite simple to make!  I blended up my organic peanuts, and then blended freeze dried raspberries into half to give it an intense raspberry flavor. I thought about just stirring the raspberries into the peanut butter, but then the texture gets a little odd so I decided that the blending was better.  Plus, it gave it even more delicious raspberry flavor.  I stirred my home made chocolate chunks into it and it was simply heavenly.  Yes, this is something that is meant to be eaten with a spoon and enjoyed.  But of course you could stir it into oatmeal, or make some super delicious toast with it too.  If you are a peanut butter lover, definitely give this recipe a try!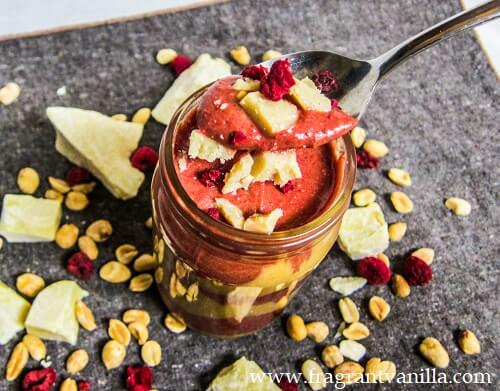 I get asked a lot of questions about making my own nut butter, so I figured I would give you a few general tips for making nut butter too.  First, if you are using a Vitamix, about 4 or 5 cups is the max amount you should add to the blender, or it will not blend well and tax the blender.  Second, always use the tamper to press the nuts down into the blades, but not too hard if it is struggling at all.  If it is, ease up a little before pressing more down.  Some nut varieties need a little oil to blend well because they don't have as high of a fat content.  I find that with cashews and hazelnuts I usually need to add a little neutral oil (like a few Tbsp to 1/4 cup depending on how much I am blending) like avocado oil because it doesn't harden once cooled. If you are using a food processor to make nut butter, it will take 2-3 times as long, and you will need to scrape the sides down every few minutes.  Be patient, it will blend if your food processor is good quality, it just won't get as smooth.  Peanuts are one of the easiest things to blend thanks to their fat content, so this recipe should come together faster for you!  Happy nut butter making!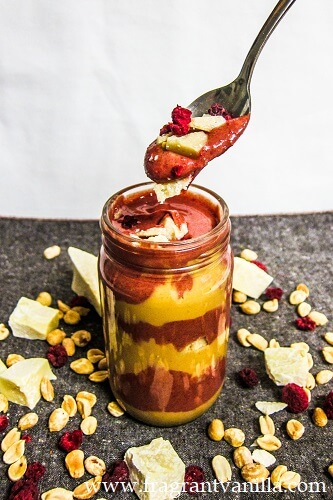 Raspberry White Chocolate Chunk Peanut Butter
Makes about 2 1/2 cups
Ingredients:
4 cups roasted organic peanuts
1/4 tsp sea salt
1 cup organic freeze dried raspberries*
3 Tbsp raw coconut sugar
1/3 cup vegan white chocolate, cut into chunks*
Instructions:
In a high speed blender, blend the peanuts and sea salt at high speed, using the tamper to press them into the blades until they are smooth.  Remove half of the peanut butter to a glass measuring cup.
Add the raspberries and coconut sugar to the remaining peanut butter in the blender, and blend until smooth. Stir the white chocolate chips into the raspberry peanut butter.
pour the 2 peanut butters into a jar, alternating between the two.
Enjoy! Store in the refrigerator.
*You can use store bought white chocolate, your own recipe, or make my recipe below.
Vegan White Chocolate Chunks
Makes about 2 cups
Ingredients:
1/4 cup cacao butter (2 oz)
2 Tbsp raw cashew butter
1/4 cup coconut butter
1 tsp pure vanilla extract
2 Tbsp maple syrup (or to taste)
1/8 tsp sea salt
Instructions:
Combine cacao butter, cashew butter, vanilla, maple syrup,  and sea salt over a double boiler, and whisk until smooth.  Pour into a chocolate mold, then place them in the freezer to set, about 30 minutes.
Chop into chunks, and store in the refrigerator.
(Visited 228 times, 1 visits today)