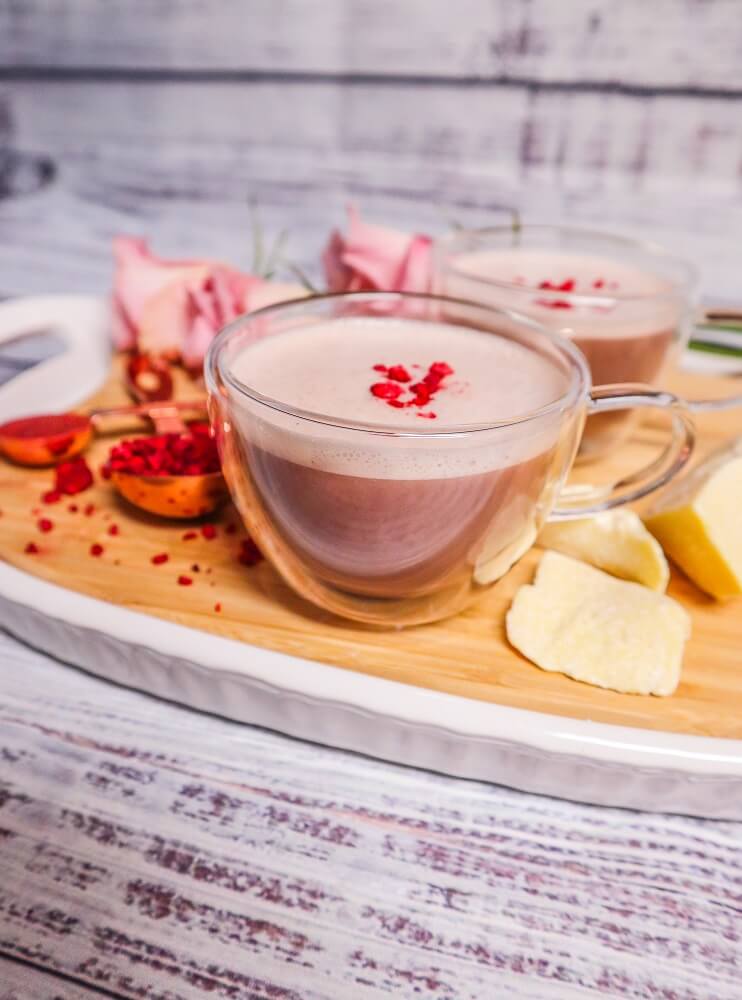 Raspberry Rose White Chocolate Latte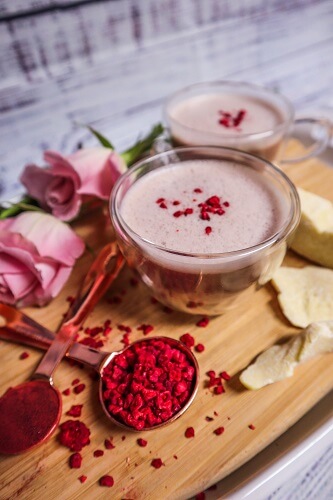 Everyone has those little thing in life that make them happy. For me, one of those things lately is lattes.  Every weekend Eric and I stop and get a latte of some sort at a local coffee shop.  Sometimes it is just a plain oatmilk latte, other times a little something added like a hint of lavender and vanilla.  Or, maybe I am in the mood for a peppermint matcha latte or a pumpkin spice latte (when it was fall).  It is always something I look forward to, a treat for the weekend!  If we don't have time to go though, I do enjoy making my own.  Sometimes they are even as good as the ones we order at the coffee shop. I saw an ad online for a white chocolate berry rose latte mix and said to myself, I need to make that. It was just a little spendy, and not something I could buy locally.  So I whipped up a latte with those same flavors last week.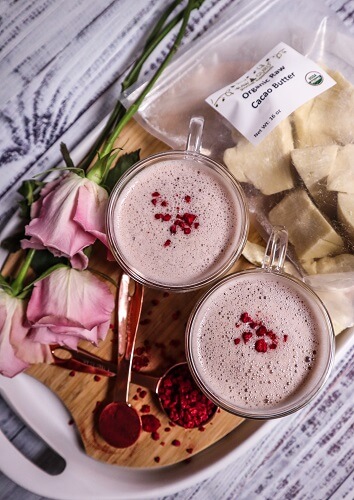 I had all of the ingredients on hand to do so, even the cacao butter from Raw Guru to make the white chocolate flavor in it. It didn't contain any caffeine, because there was no tea or coffee in this one, so it was suitable for me to make in the evening after work to relax with.  That is the only thing about tea and coffee lattes I don't like sometimes, I can't drink them later in the day or I won't be able to sleep.  So I always have them earlier in the day.  This one however would be perfect for before bedtime to wind down with.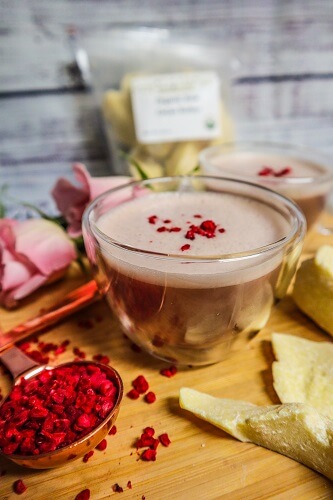 I used oatmilk for the base, and added a bit of Raw Guru cacao butter to give it a white chocolate flavor and make it a little more rich.  I wanted this to have plenty of raspberry flavor, so I infused it with dried raspberries.  I always keep them on hand anyway for decorating or coloring things, or just giving them a super delicious berry flavor.  I also added in some dried lavender, just a little, because I wanted this tea to be aromatic.  Also a good splash of rosewater since this is a raspberry rose latte. I am really loving rosewater lately it makes everything smell amazing.  A touch of maple syrup to sweeten the latte and it was perfect!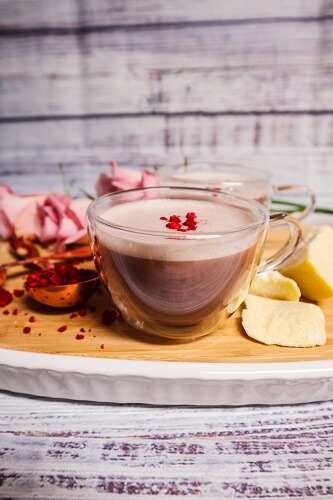 It smelled so good and I could not wait to try it!  I gave it a little froth on top and it was perfect!  Smooth, and rich tasting thanks to the cacao butter, aromatic with florals, and sweet with berries.  Simply heavenly!  The perfect thing to chill with in the evening, and even a bit comforting.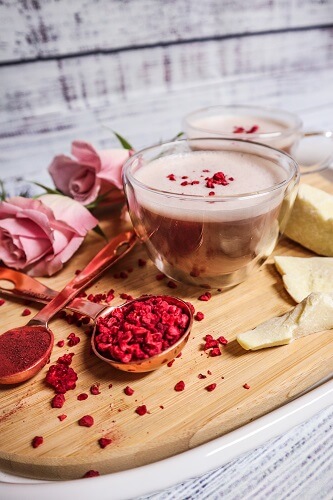 Raspberry Rose White Chocolate Latte
Makes 2
2 cups thick unsweetened oat milk (I used Planet Oat)
1 Tbsp Raw Guru Cacao Butter
1 tsp dried lavender
3 Tbsp dried raspberries
1/4 tsp beet powder (optional for color)
2 tsp maple syrup
2 tsp rosewater
Instructions:
Bring the oat milk to a boil in a saucepan with the cacao butter, until it just comes to a boil and the cacao butter is melted then remove from the heat.
Place the lavender and berries in a tea infuser and add to the pan, making sure it is submerged.  Add the beet powder as well, and stir in.
Let the tea steep for at least 5 minutes to allow the flavors to infuse the tea.
Remove the infuser, add the maple syrup and rosewater and froth with an immersion blender or frother. Pour into two cups and enjoy!
(Visited 732 times, 1 visits today)