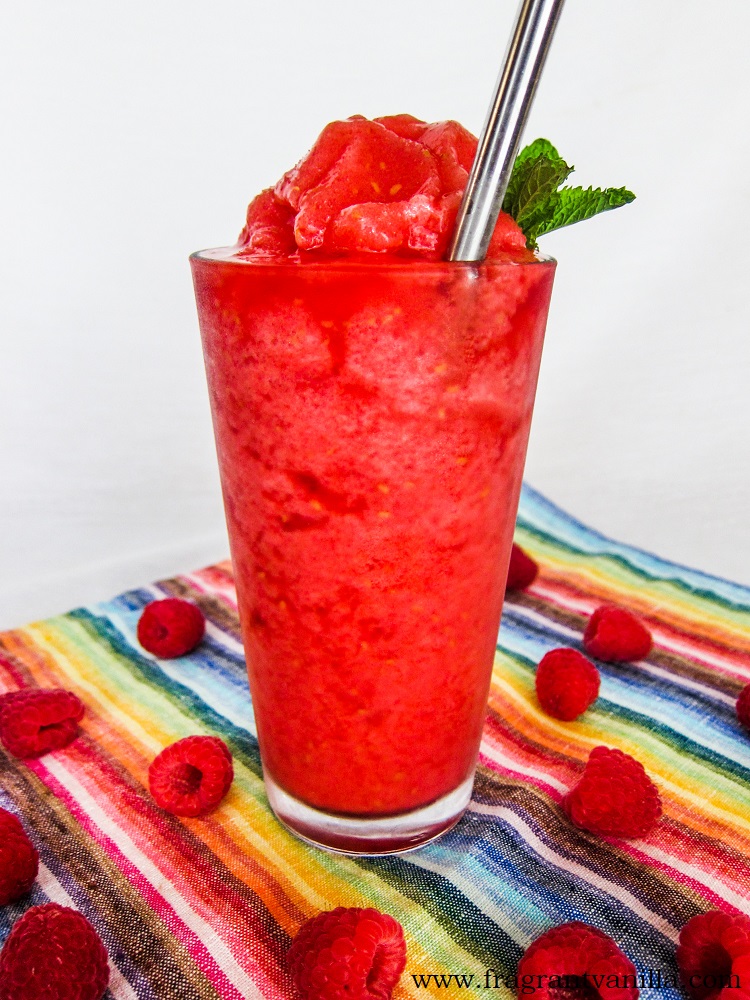 Raspberry Rosé Slushie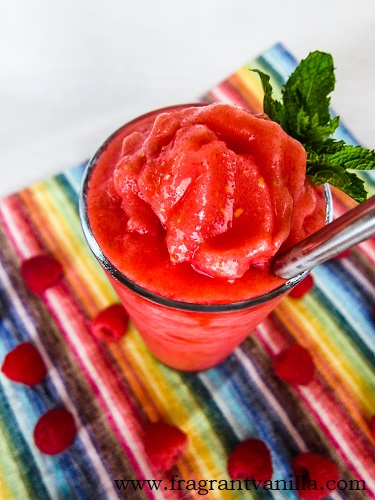 People think of Minnesota as being the land of snow and ice, but what they don't realize is that there is a part of the year when it gets pretty hot here.  It is not just hot either, it is the type of hot that also includes humid.  Like you walk outside and a few minutes later you start to sweat and pretty soon your clothes are clinging to you, your hair is a poofy frizzy mess, and your face starts dripping. It was like that earlier this week, and I work in a kitchen so I am hot at work, and hot when I get off work.  So with all of this heat and warmth, I decided that I needed to make something refreshing. A slushie seemed like the perfect solution.  I used to love them as a kid. I mean who didn't love those giant big gulp slushies that you could get at the gas station that came in all sorts of pretty colors?  Well, now I don't, because I know that they are made with fake ingredients and artificial colors, but back in the day I thought that they were bomb!  Also, I had a slushie maker when I was little that I thought was pretty cool, and we used to just use fruit juice with it, so it was healthier than the slushies at the store.  As an adult, I still occasionally make slushies, when the weather calls for it.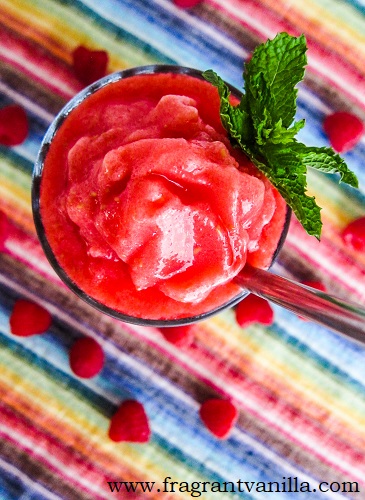 This time, I made a raspberry rosé slushie.  I had been dreaming about this one for a while.  Wine in a slushie?  Heck yes!  I actually make my own wine so I have plenty of it stashed away, and I thought why not add it to a slushie along with some fruit? Of course, if you are making this, you can use whatever your favorite rosé wine is.  Just make sure it is a sweeter one so that the slushie will be balanced.  I had gotten some organic raspberries from my work, and I thought that they would be perfect for pairing with the rosé.  I also decided to add in some fresh mint, because I love it with berries.  If you are not a mint fan you can leave it out, but I like the freshness it adds.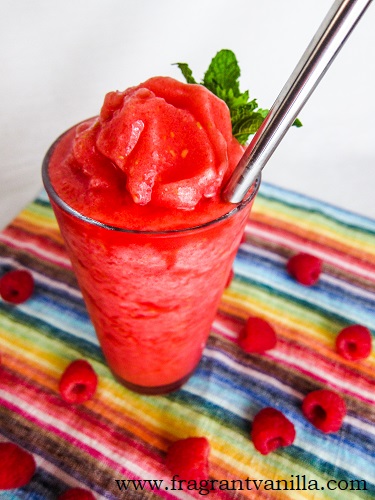 These are super easy to make if you have a blender, it only takes about 30 seconds or less!  So no excuses not to make these the next time you are in a slushie sort of mood. I kind of felt like a little kid again drinking it but of course these have an adult twist with the rosé.  I think it would be fun to make them for a party in the Summer!  I hope you are all staying cool where you live!
Raspberry Rosé Slushie
Serves 1
Ingredients:
1 1/2 cups fresh organic raspberries
1 cup sweet rosé wine (make sure it is vegan on Barnivore)
2 Tbsp fresh mint leaves
3 cups ice cubes
Directions:
Combine all ingredients in a blender with the raspberries at the bottom, and blend (but not too long or it will be all liquid) until the ice is finely crushed.  Pour into a nice tall glass, and enjoy!
(Visited 58 times, 1 visits today)