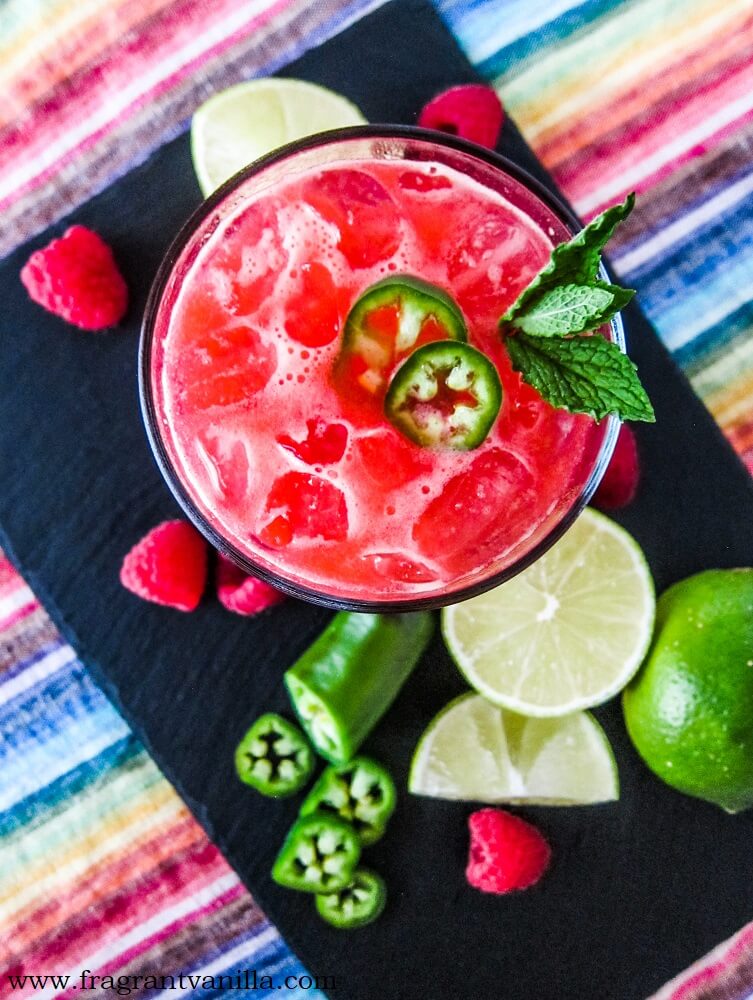 Raspberry Jalapeno Margarita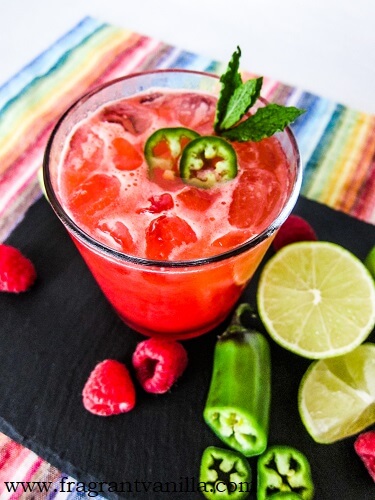 The first food item that I had made that I shared with my boyfriend Eric wasn't a dessert, it was my habanero hot sauce.  One of the first things that we discovered about each other was our love for spicy food.  He is from Arizona, so that is understandable, but I am not the typical Minnesota mild black pepper is spicy type of person.  I love habaneros, and pretty much all hot peppers, and so does he. We both used to make hot sauces and see who's could be the hottest and share them with each other.  I don't always have time to make hot sauce now, but I still buy hot peppers and use them in recipes all the time.  They aren't just for chili and tacos though, I found a recipe for a jalapeno infused tequila and decided to make some.  Why not?!  I knew it would be put to good use.  There used to be a drink at a restaurant I went to back in the day that is now closed that had a drink with a 7 pepper infused vodka that was amazing and spicy, so I thought this would be similar.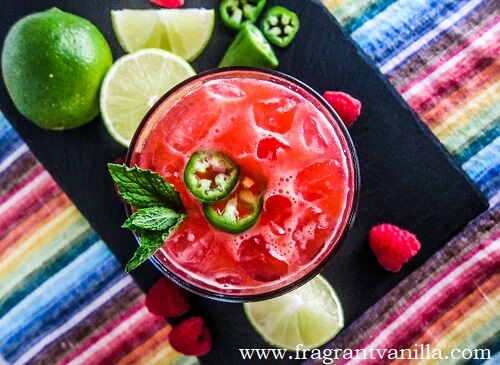 When I go to restaurants now, I really do appreciate seeing specialty cocktails on the menu that are artfully crafted with flavors you wouldn't expect together. Also, I get ideas for things to make at home.  I decided to use my jalapeno tequila to make a raspberry jalapeno margarita.  The sweetness with the spicy peppers sounded perfect!  I do love hot peppers with fruit!  This had a few more ingredients though than just the raspberries and jalapeno vodka. I decided to add some fresh mint that I had on hand, plenty of lime juice and a sweet vanilla syrup.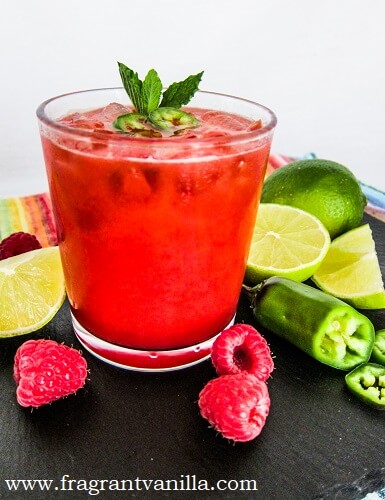 It turned out so incredibly good!  Perfectly balanced tart and sweet with a slight kick and the fresh aroma of mint.  This is the perfect way to end a work week, which is why I made it.  Making your own fancy cocktails at home is so worth it!  If you are a fan of things with a little spice, give this recipe a try!  It would be perfect to serve with tacos!
Raspberry Jalapeno Margarita
Makes 1
Ingredients:
6 large ice cubes
4 fresh mint leaves
4 oz jalapeno infused tequila (recipe here)
2 oz raspberry puree
1 oz fresh lime juice
1 1/2 oz vanilla syrup*
ice for serving
Directions:
To make drink, in a martini shaker add the ice and the mint and muddle the mint with the ice until fragrant and crushed up a bit.
Next, add the tequila, berries, lime juice, vanilla syrup, and place top on shaker.
Shake until well blended.
Pour the drink through a strainer into the prepared glass (with some ice in it if you prefer your drink on the rocks), and serve!
*Vanilla syrup
1/4 cup maple syrup
1/4 cup filtered water
1 vanilla bean pod, split lengthwise
Combine all ingredients in a jar, put the lid on and shake to dissolve syrup. Let sit at least a day to infuse, then strain to vanilla bean pod. Store in the fridge for up to a month.
(Visited 951 times, 1 visits today)