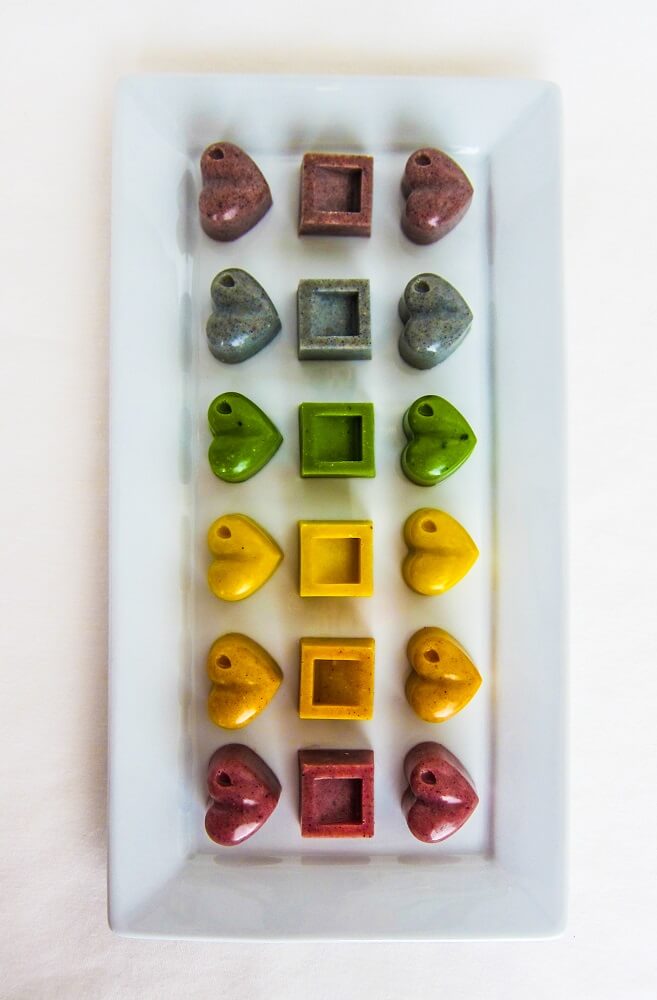 Rainbow Vegan White Chocolates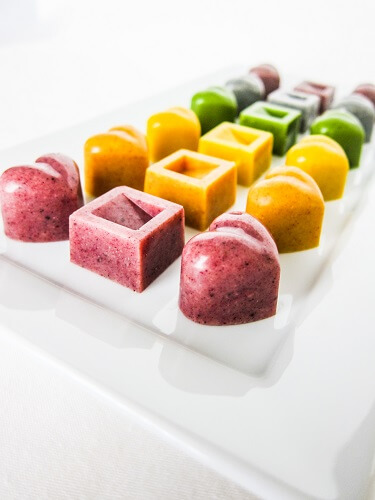 It is finally looking and feeling like Spring here. It isn't very green yet, the grass is still waking up. But the trees are starting to bud and sprout pussy willows. It feels so nice to be outside after such a snowy cold character building Winter. I am making sure I get out at least once every day for a walk or run. Since it is not quite colorful outside yet and the Spring flowers aren't quite blooming I figured I would create some color of my own in the form of white chocolate.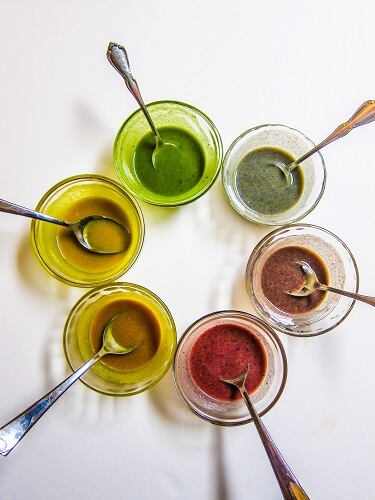 White chocolate is something that I always loved growing up, the vanilla lover that I am, but I thought I would not be able to enjoy it once I went vegan since most of the stuff you can buy contains milk. I was wrong though, there is some out there AND I can make my own, which I was super excited about when I found out I could about a year after becoming vegan. Although I love plain white chocolate I really love making it with fun colors and flavors and I enjoyed playing around with the ones I am sharing with you today.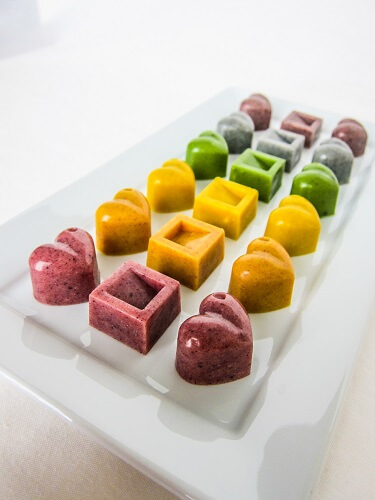 I make a creamy white chocolate base from cacao butter, cashew butter and coconut butter to make it extra silky and a little maple syrup, vanilla and a pinch of sea salt. It is heavenly and you can't even tell it is vegan once it is all set up. I ended up making 6 different colors so I would have the full color spectrum. Because I love that sort of thing having a degree in studio art. I like to play around. These are the flavors I made: Pink Berry, Orange Orange, Yellow Turmeric Ginger, Green Matcha Mint, Blue Blueberry, and Purple Lavender.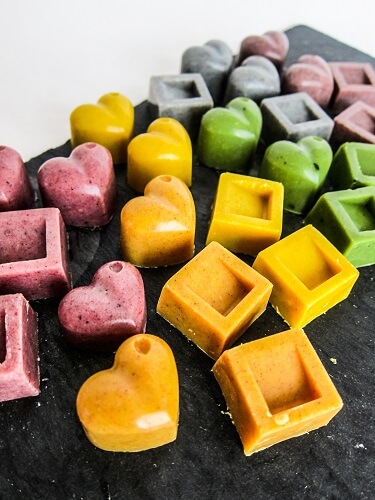 The whole process was fun, and I was very pleased with the result. All of these are heavenly! They are smooth and rich and the flavors are so good! You can make one of the flavors if you prefer one, or make them all. Just note that the recipe below has the ingredients for one full batch of each flavor. I hope you are all having a wonderful Spring!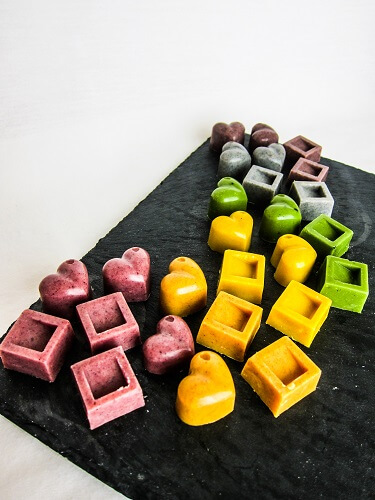 Rainbow Vegan White Chocolates
Makes 24
Ingredients:
White Chocolate:
1/3 cup cacao butter (2 oz)
3 Tbsp raw cashew butter
1/3 cup coconut butter
1 tsp pure vanilla extract
3 Tbsp maple syrup (or to taste)
1/8 tsp sea salt
Colors/Flavors: (Note: these are all to color one full batch not if you want separate colors per batch)
Pink (Berry): 1 Tbsp freeze dried berry powder (grind freeze dried strawberries and raspberries to a powder with a mortar and pestle or spice grinder)
Orange (Orange): 1/2 tsp turmeric plus 1/4 tsp beet powder plus 1/2 tsp orange extract
Yellow (Turmeric Ginger): 1/2 tsp turmeric plus 1/4 tsp ground ginger
Green (Matcha Mint): 1 tsp matcha powder plus 1/2 tsp peppermint extract
Blue (Blueberry): 1 Tbsp freeze dried blueberry powder (grind freeze dried blueberries to a powder with a mortar and pestle or spice grinder)
Purple (lavender): 1 tsp beet powder plus 1 tsp butterfly pea powder plus 1/4 tsp finely ground lavender flowers (grind with a mortar and pestle or spice grinder)
Instructions:
Combine cacao butter, cashew butter, vanilla, maple syrup,  and sea salt over a double boiler, and whisk until smooth.
Whisk the flavor and color choice combination you choose from the ones above into the white chocolate.
Pour into chocolate molds, and place in the freezer until heard, which can take 30 minutes to 1 hour depending on how warm it is.
Pop chocolate out of molds and enjoy!
Store in the refrigerator for a month or an airtight container in the freezer for up to three months.
*I get my cacao butter from Amazon HERE.
(Visited 539 times, 1 visits today)