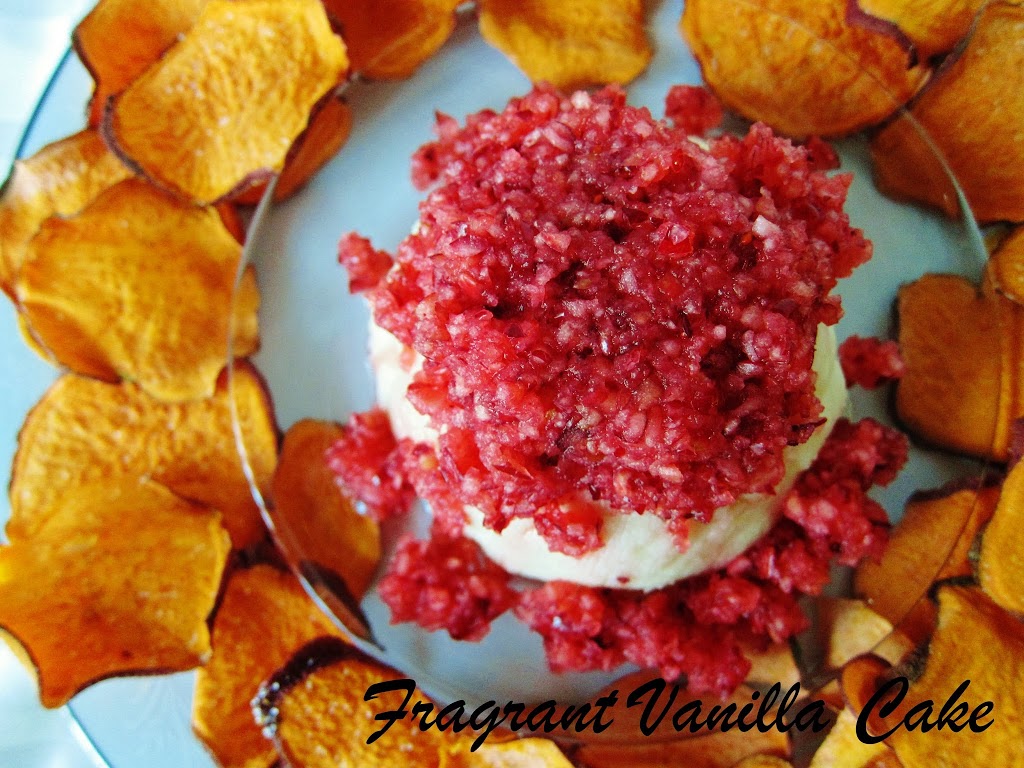 Pine Nut Chevre with Cranberry Pear Relish
I made something quite delicious and addictive last week for Thanksgiving and I decided I needed to share it with you all.  Pine nut chevre with cranberry pear relish served with crunchy sweet potato chips.  I discovered this combination because I had made some relish a few weeks back (this is about the 3rd time in the last few weeks I have made it, we enjoy it so much) and I had given some left overs to my Mother who told me it is wonderful with mild cheese such as chevre.  Which got me to thinking I could make some nut cheese (which is even better than dairy cheese in my opinion) and serve them together!  It was seriously one of the best appetizers I have had since I ate dairy.  Sort of sweet but savory, and balanced with the chip for crunchy and the creamy cheese on top.
I know pine nuts are a bit spendy, but this is the holidays, and I figure that a little splurge is ok when it comes to food.  So worth it too with the wonderful texture and flavor the pine nuts give.  I have a feeling macadamia's or cashews would be just as delicious too though if you are on a budget.  You can serve this with any type of raw cracker but I love the sweet potatoes for their flavor and the pretty color they give to the platter against the red of the relish.  I hope you all are having a wonderful December so far!
Pine Nut Chevre with Cranberry Pear Relish
Makes about 2 cups of cheese, and 1 1/2 cups relish
Pine nut chevre:
2 cups pine nuts, soaked for 2 hours and drained
1/4 cup lemon juice
1 tsp cider vinegar
1 tsp sea salt (or to taste)
2-3 Tbsp filtered water as needed
Relish:
2 cups fresh organic cranberries
1 large organic sweet pear, such as dánjou
zest of one organic lemon, plus 2 Tbsp juice
3 Tbsp raw coconut nectar or maple syrup
a pinch sea salt
1 tsp cinnamon
To make the chevre, combine all ingredients in the food processor and process until smooth, adding a Tbsp or two of water as needed to create a goat cheese like consistency (do not add too much or it will be too thin.).  Place the cheese in 2 layers of cheesecloth, fold it around the cheese and let sit in the fridge overnight.
In a food processor, combine all ingredients and pulse until chopped and combined but still chunky. Serve the relish with the chevre.
Sweet Potato Chips
Makes about 8 cups
2 large yams, sliced paper thin
coconut oil, melted to liquid
sea salt
Dehydrate the yam slices for about 12 hours until crispy, then toss with a thin layer of coconut oil, and sprinkle with sea salt.
(Visited 134 times, 1 visits today)