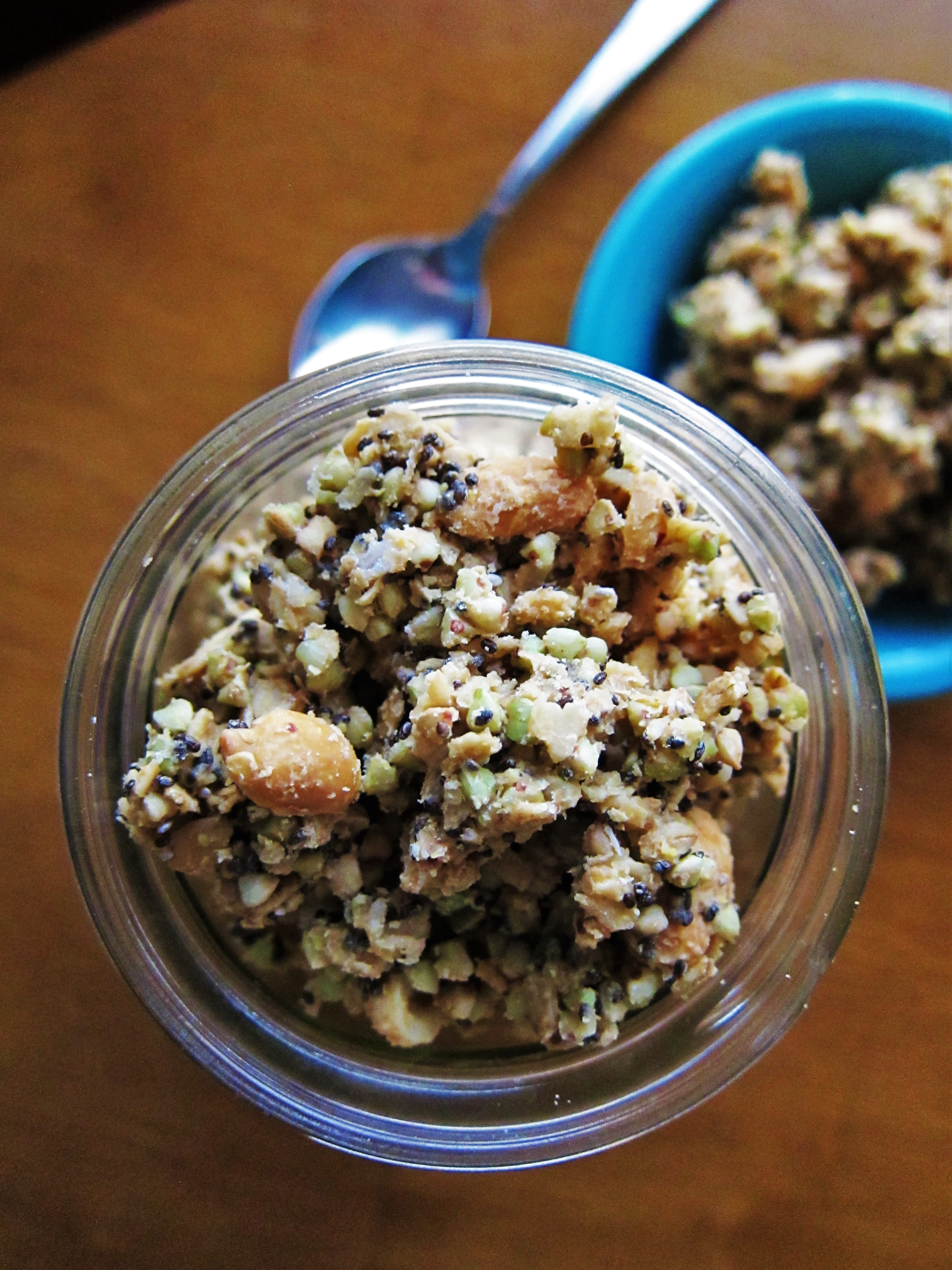 Peanut Maple Crunch Granola
I asked Eric what type of granola I should make last week.  He said something maple.  I wanted to make something new not something I had made before because I like to always try something new when it comes to making food, so o decided maple with peanut butter.  Because peanuts with a little salt and something sweet are pretty crave worthy.  Think PB cookies.  One of the most delicious things in the world.  At least to me because I am a crazy peanut butter lover.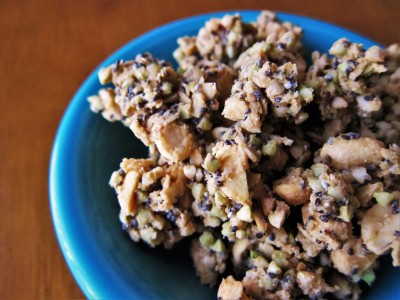 So, peanut butter and sweet maple it was.  Kind of simple I know, and maybe not the prettiest stuff but it tasted damn good.  Like crave worthy good.  I don't eat my granola for breakfast, I eat it for a crunchy snack, but I still like it to have some healthy things in it.  In this one I included chia seeds and flax seeds along with the oats, peanuts, and buckwheat for crunch.  You may wonder why I dehydrated this granola instead of baking it since it is not a completely raw recipe because I used roasted peanuts and peanut butter.  Well, I like the texture and flavor of dehydrated granola.  I did not want it to brown, and all of the ingredients were raw except the peanuts, peanut butter and maple syrup. I like to combine raw and cooked food because even partial raw foods in your daily meals is beneficial. If you wanted this completely raw, you may use raw jungle peanuts and peanut butter. Either way, if you are a PB fan, this granola should be on your to make list!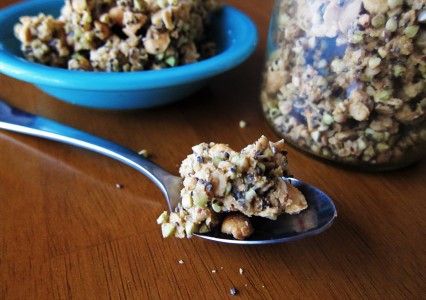 Peanut Maple Crunch Granola
Makes about 8-10 cups of delicious granola
3 cups gluten free raw rolled oats
3 cups activated buckwheat* or just 3 more cups oats
2 cups organic peanuts
1/2 cup ground flax seeds
1/2 cup chia seeds
1 cup organic peanut butter
1/2 cup filtered water
1/2 cup maple syrup or raw coconut nectar
1 1/2 tsp sea salt
1 Tbsp pure vanilla extract
1 tsp maple extract
In a large bowl, combine oats, peanuts, flax seed, chia seeds, and set aside. In another bowl, whisk together peanut butter, water, maple syrup, sea salt and vanilla and maple extracts until well combined, then pour over oat mixture and toss to coat until completely blended. Pour out onto 2 lined dehydrator trays, and dehydrate at 115F for 24 hours or until crispy. Alternatively you may make the granola in an oven at low temperature, 150F degrees, and it will take less time to dry.
*To activate the buckwheat, soak raw buckwheat groats for 30 minutes in filtered water, then rinse and drain well.
(Visited 136 times, 1 visits today)