PB & Chocolate Dessert Popcorn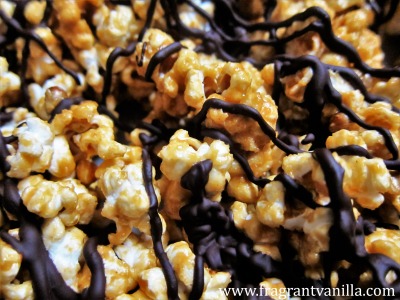 Eric and I were shopping the other day when I saw the popcorn in the bulk section, and decided that it sounded really good and I wanted to buy some.  My idea of the perfect popcorn is really simple.  Just popped on the stove with a little coconut oil and sea salt.  So good.  And so easy.  But I promised Eric I would make him something special with it besides just my basic snack.  He is the biggest popcorn lover I know.  I can't say I know anyone else that walks through the chip aisle and picks a bag of popcorn, or gets some at a gas station because he is hungry.  Mind you, these are not very healthy popcorns usually, so I am more than happy to share some of mine when I have some.  So I figured I would make something that would blow his mind.  And mine too of course.  I feel kind of bad because I have been on such a savory kick and haven't shared many sweet goodies with him lately.  So, I made a sweet dessert popcorn.
I wanted it to have chocolate of some sort, preferably dark chocolate drizzled over it.  But plain salted popcorn with chocolate drizzled over it wasn't enough.  I had to add in peanut butter as well, so it was really salty sweet.  We are both big PB cup lovers so it was perfect!  It was really pretty simple to make, compared to any caramel corn type thing I have made in the past, so that was awesome.  Plus, it tasted amazing. It was simply crave worthy.  Lets just say we were both really happy.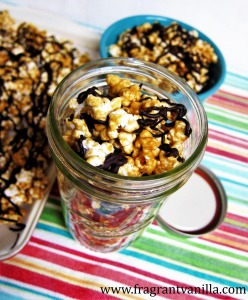 PB & Chocolate Dessert Popcorn
Makes 8 cups
1/3 cup maple syrup
1/3 cup coconut sugar
1/2 tsp sea salt
1 tsp pure vanilla extract
1/2 cup smooth peanut butter
8 cups plain organic popped corn
3/4 cup chopped vegan dark chocolate
In a saucepan, combine the maple syrup, coconut sugar, and sea salt, and heat over medium until the mixture comes to a boil.  Add the peanut butter, and stir until incorporated.  Remove from heat, and add the vanilla, stirring until well mixed.  Pour over the popcorn in a large bowl, and mix well.  Spread out onto a lined sheet pan, and allow to cool.
Meanwhile melt the chocolate in the top of a double boiler, and pour into a pastry bag with a small tip, or a ziplock bag (with the tip cut off after you have filled it so it does not spill). Drizzle the chocolate over the popcorn, and allow to harden and cool.  You can place in the freezer to make it go faster.
(Visited 58 times, 1 visits today)