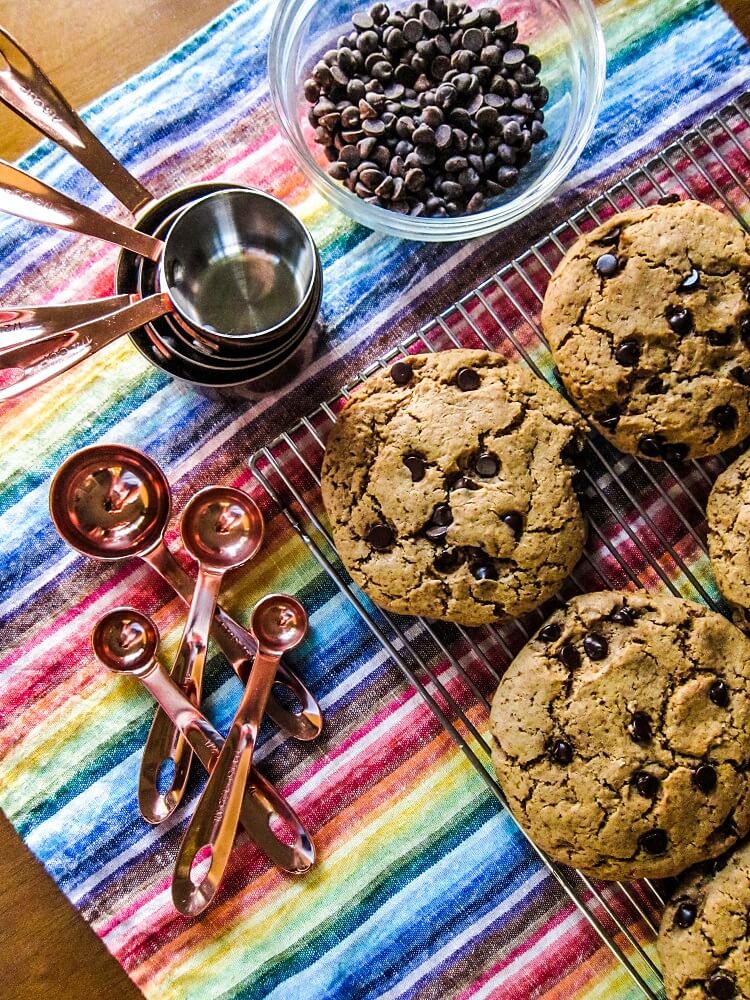 Oil Free Vegan Chocolate Chip Cookies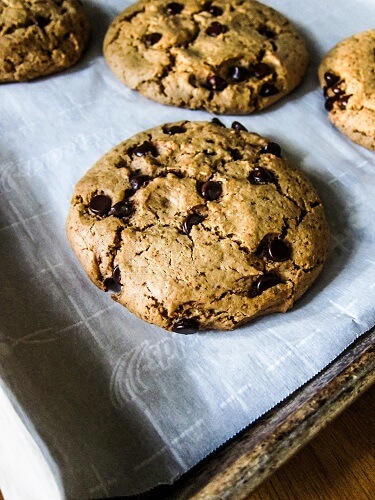 I am often asked to create oil free recipes so I have been working on some lately, and one of the first things that I chose to make was chocolate chip cookies. I mean, chocolate chip cookies are pretty standard when it comes to classic recipes. I know they were certainly one of my favorites growing up. I remember being in my Grandma's kitchen helping her make them as a child many times being super excited about them. She knew the recipe by heart she made it so often. I was always trying to steal the dough and she would pretend like she didn't see me grabbing some. They were always so amazing while still warm and gooey from the oven too!
The whole chocolate chip cookie baking process is just a really happy experience for me. Well, baking in general is my happy place so long as the recipe I am making turns out and this time it did so I was thrilled! I wanted a chocolate chip cookie that still tasted rich while being oil free, so what I used for the fat in the recipe was a combination of coconut butter and Dastony sprouted almond butter from Raw Guru. I figured the coconut butter would give it richness and the almond butter the chewiness that I like in my chocolate chip cookies.
I used organic whole wheat pastry flour for the base, but of course if you are gluten free, you could use Bob's Red Mill AP gluten free baking flour (I prefer that brand because it always works in 1:1 swaps). I used coconut sugar for the sweetener because I like the caramel like flavor it gives cookies and my Grandma had always used brown sugar in her cookies which kind of has the same affect.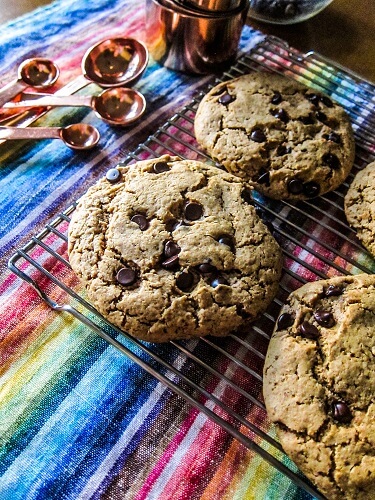 They turned out super delicious! Soft and chewy just how I like my chocolate chip cookies, with a light caramel like flavor and gooey chocolate chips as I enjoyed one while still warm! Next time you are in the mood for a good chocolate chip cookie, give these a try!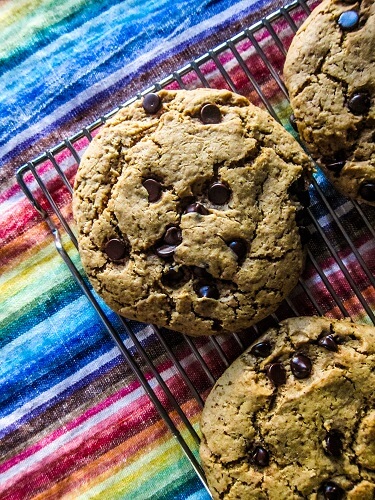 Oil Free Vegan Chocolate Chip Cookies
Makes 16 large cookies
Ingredients:
 2 Tbsp ground flax seed
1/2 cup filtered water
3/4 cup coconut butter (not oil)*, warmed to liquid
1/2 cup Dastony almond butter
1 1/2 cups coconut sugar
1 teaspoon vanilla extract
1 teaspoon baking soda
3/4 teaspoon sea salt
3 cups whole wheat pastry flour
3/4 cup vegan dark chocolate chips
Directions:
Preheat your oven to 350F degrees.
In a small bowl, whisk together the flax seed and filtered water.  Set aside in the refrigerator for 15 minutes.
Meanwhile, in a large bowl, coconut butter and almond butter with sugar and mix until well combined
Mix in the vanilla extract and flax mixture until well combined.  Add the baking soda and salt then the flour, a cup at a time, mixing between each addition, until well combined.  Mix in the chocolate chips.
Line 2 large baking sheets with parchment paper.
To Form the cookies take about a 1 1/2 inch chunk of dough, form into a ball and on prepared cookie sheets a couple inches apart, and press down just slightly. Bake for about 12-15 minutes, until puffed and just starting to brown slightly.
Remove from the oven, and press the chocolate chunks into the cookies (I do this instead of mixing them in because they look prettier and don't melt so much that way), and let cool on the pan a few minutes, then remove to a wire rack to cool.
Repeat with remaining cookies and let cool for at least 15 minutes before enjoying.
*For those unfamiliar with coconut butter it is the whole ground coconut flesh similar to nut butter, not the same thing as coconut oil. If you can not find any at the store or don't want to order online you can make your own by buzzing finely shredded unsweetened dried coconut in a high speed blender until smooth, using the tamper to press it down into the blades. It takes just a few minutes. Alternatively you can use a food processor, it just takes a lot longer to blend and you need to scrape it down.
(Visited 540 times, 1 visits today)