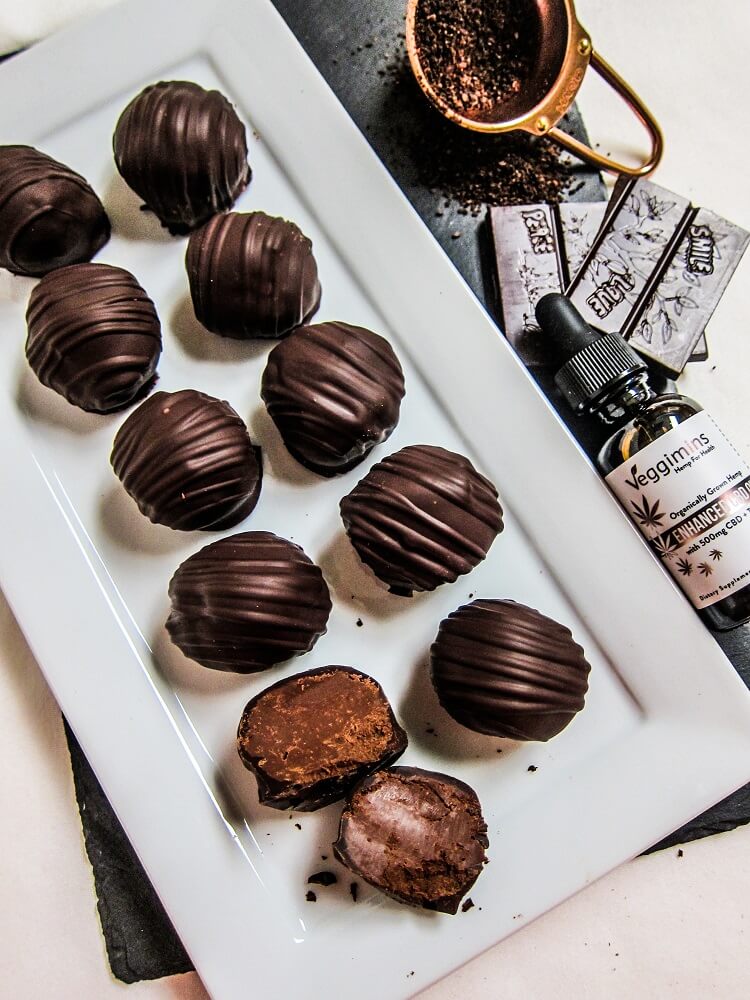 Mocha Dark Chocolate CBD Truffles
Back when I was in high school, my Mom and I would go to this tiny local coffee shop after church every week and get coffee. She would always get a white mocha, and for a while I would get a dark chocolate mocha before my tastes changed and I went to the less sweet coffees in college. Those dark chocolate mochas were bomb. Like drinking a dark chocolate coffee truffle! Even though I don't drink coffee now, I still have that memory of how delicious they were and I do like coffee in my desserts, like the Mocha Dark Chocolate CBD truffles I made last weekend.
I was thinking about those mochas I used to drink recently and imagining them as delicious truffles. That is how it all started. Well, that and receiving some Veggimins 500 mg Coffee CBD Oil from Raw Guru and being inspired to use it in something delicious. Because why not get your daily dose of CBD while enjoying yummy chocolate! If you have not heard of or tried CBD, it is great for managing inflammation in the body, helping with anxiety and energy levels, and general well being. I take it every day anyhow, so I am all for getting some with my chocolates!
These are super easy to make, you just melt down vegan dark chocolate, I used some chopped Veggimins CBD Dark Chocolate and Rawmio Dark Chocolate (but you could use whatever you have on hand of course). And combine it with full fat coconut cream, and the CBD oil for a really rich chocolate ganache perfect for rolling into truffles.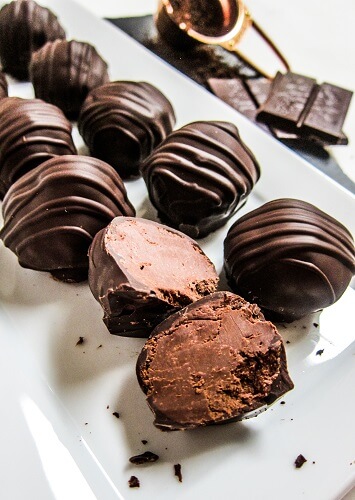 Then you melt some more dark chocolate, dip them and you have something super delicious (and more impressive looking than the time they actually take to make). If you are a lover of chocolate and coffee you will love these babies! I love them and I am not even a coffee drinker anymore. I hope you are all having a wonderful week!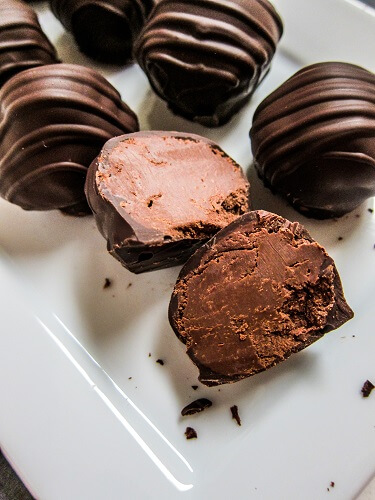 Mocha Dark Chocolate CBD Truffles
Makes 12 truffles
Instructions:
Combine the chopped chocolate and coconut cream in the top of a double boiler and whisk every so often until it is all melted together smoothly. Add the CBD oil and whisk until well incorporated.
Pour into a bowl, and place in the freezer until firm enough to scoop and roll, about 30 minutes or so.
Roll the filling mixture into balls, and place on a parchment lined tray. Place in the freezer until they are firm, about 30 minutes.
Meanwhile, melt the other cup of dark chocolate in the top of a double boiler until smooth.
Dip each of the chocolate filling balls into the melted chocolate one by one letting the excess drain off (I like to use a fork to set them on to dip them). Set on the parchment lined tray.
When the chocolates are all dipped, place the tray in the freezer until the coating has firmed up.
Store chocolates in the refrigerator in an airtight container.
*If you don't want to use CBD, just use 1 tsp coffee extract instead.
(Visited 401 times, 1 visits today)