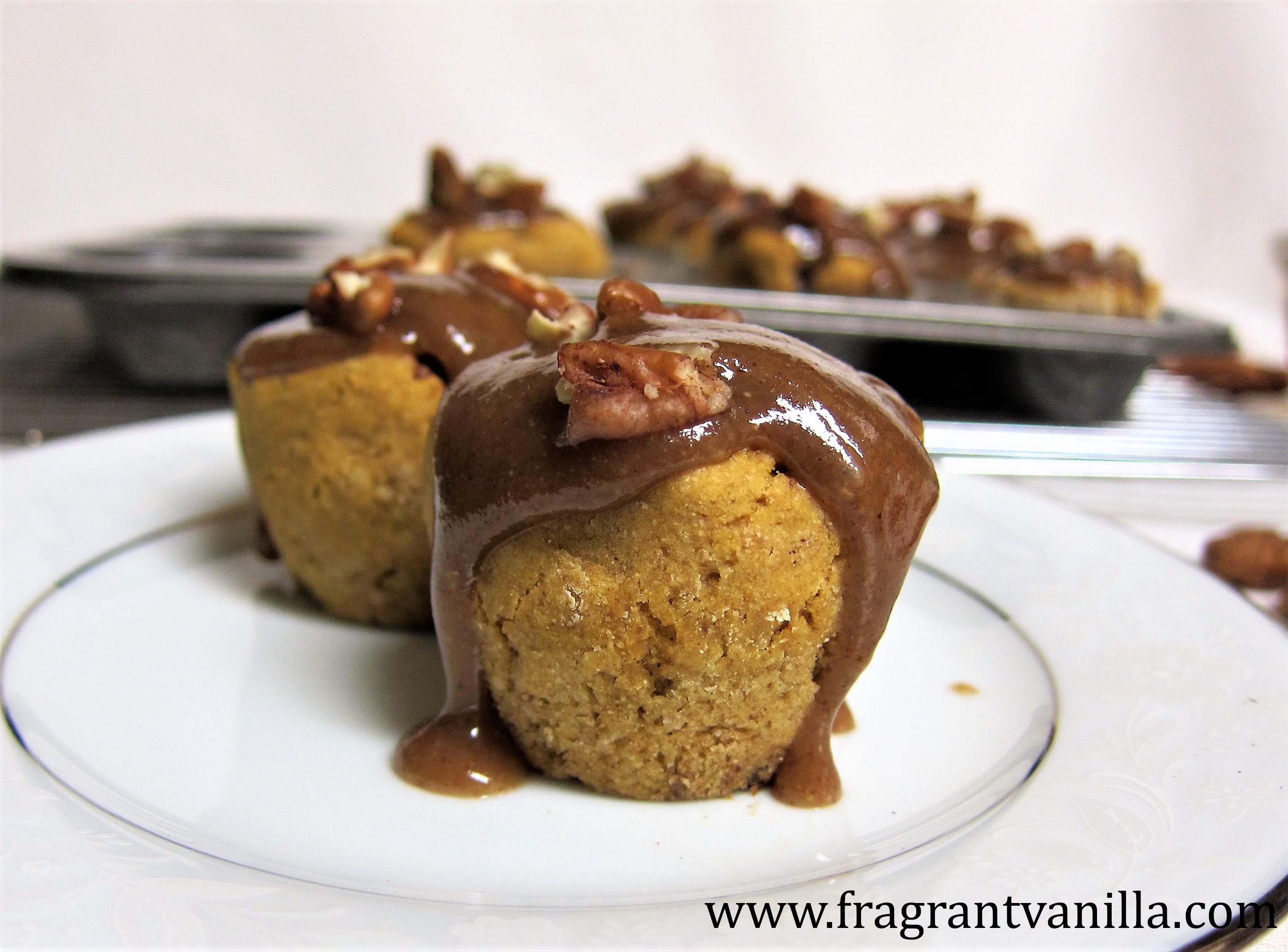 Mini Vegan Sweet Potato Pecan Sweet Rolls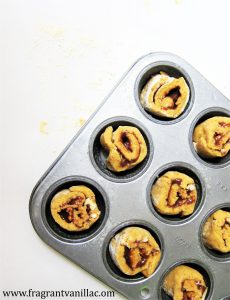 This is the time of the year when I like to spend more time baking delicious things in the kitchen!  I still venture outside even though it may be snowy to go for my runs, and it is kind of exhilarating to exercise in the cold air, but coming home to a warm kitchen is awesome and so comforting!  Something that I always used to love to bake, but haven't made as much of lately is sweet rolls.  I used to make them a lot, back in the days when I had many bags of flour, and used cream cheese for icing, or real butter in my caramel.  I have veganized them before, but I guess I don't always want to deal with yeast, and letting dough rise, so it went by the wayside.  But guess what?  I created a no yeast version based off an old recipe that tastes so good you won't notice it does not have it.  And, it uses leftover Thanksgiving sweet potatoes (if you have mashed ones).  Sweet rolls just sounded good to me, and I love sweet potatoes, so why not combine them?!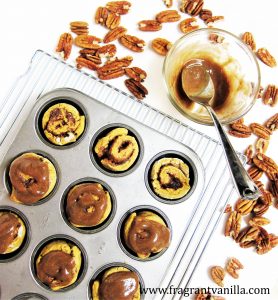 Sweet potato pecan sweet rolls, because sweet potatoes and pecans are a match made in heaven!  I ended up making these mini as well, because who doesn't love bite sized little sweets?!  I do, you can have more than one because they are small!  These are actually really quick to make, mine were ready to eat in less than an hour.  I made these oil free, using pecan butter in place of the oil in my old recipe and they turned out soft and delicious!    I made a cinnamon sort of caramel filling out of pecan butter, cinnamon and maple syrup and I knew these were going to be delicious!  Combining maple syrup and pecan butter is my go-to quick caramel recipe by the way.  Because I don't always have time to blend up dates and I always have the two on hand.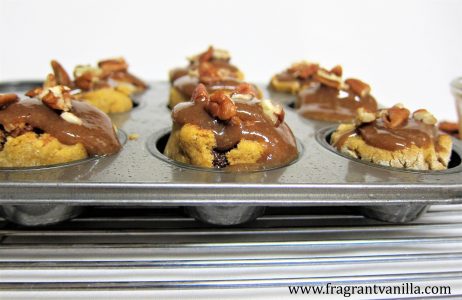 These smelled amazing while baking, and I could not wait to try them!  Once they were cooled enough, I topped them off with more quick caramel and pecans and they were sooo delicious!  This would be the perfect lazy weekend recipe because baking on weekends is the best, but don't count out weeknights if your heart desires sweet rolls, because they are fast to make!  I say skip Black Friday shopping in stores, stay home and make these!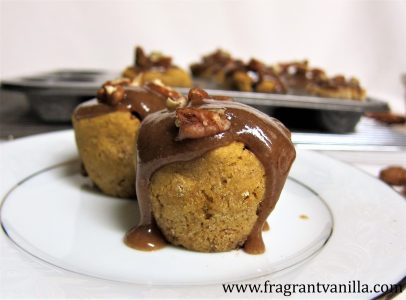 Mini Vegan Sweet Potato Pecan Sweet Rolls
Makes 9
Dough:
1/2 tsp guar gum
1/2 tsp baking powder
1/4 tsp baking soda
1/8 tsp sea salt
1/4 cup sweet potato puree
1 Tbsp maple syrup
1 tsp cider vinegar
2 Tbsp raw pecan butter
Filling:
2 Tbsp raw pecan butter
2 Tbsp maple syrup
1 tsp cinnamon
1/4 cup chopped pecans
Quick Caramel:
3 Tbsp pecan butter
3 Tbsp maple syrup
pinch sea salt
Chopped pecans for topping
Directions:
Preheat the oven to 375F degrees.
To make the dough, combine the flour, guar gum, baking powder, baking soda and salt in a bowl, and mix together. Mix in the water, vinegar, and pecan butter until blended, then knead the dough lightly and place it on a sheet of parchment (dust it lightly with flour). Roll out 1/4 inch thick in a rectangle on the parchment in a rectangle 6 inches wide top to bottom.
Mix together the filling ingredients, and spread over the dough (leaving a 1/2 inch boarder at the top and bottom). Roll up from the top down jelly roll style. Cut into 9 pieces, and place cut side up in a non-stick mini muffin tin.
Place in the oven and bake for 10 minutes until puffed up and starting to brown a little (but do not overbake). Remove from the oven and let cool until warm.
Whisk together caramel ingredients, and spread over the tops of the rolls, sprinkle with pecans. Enjoy!
*Note: If you do not have raw pecan butter, another nut butter may be used such as almond. Keep in mind though, nut butters vary in consistency, so you may need to thin it out a little with water if too thick for the caramel and filling.
(Visited 64 times, 1 visits today)