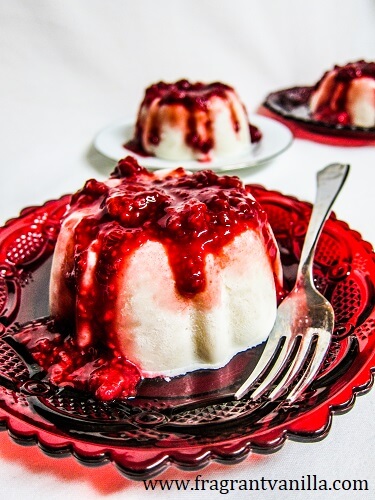 Mini Vegan Swedish Rice Rings with Raspberry Sauce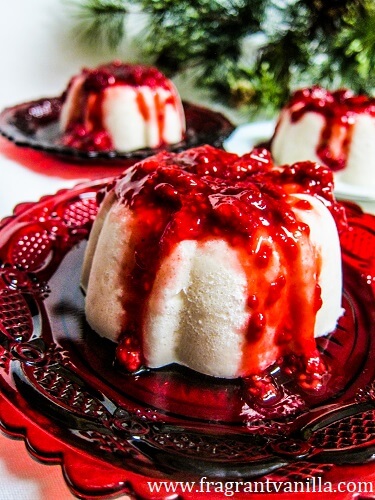 When I was little, my Mom used to make one of the most delicious desserts for the Holidays, a Swedish rice ring. No, we are not Swedish, my Mom's side of the family is German in fact, but she got the recipe from a coworker back in the day and it was a keeper. It was like the most delicious rice pudding, scented with vanilla and almond, shaped into a beautiful ring with a bundt pan. It was topped off with sweet raspberry sauce, which made it even better.  Both me and my Mom's favorite fruit is raspberries.  So, I would beg her to make it every year.  She made it from the time I was little, until at least high school.  I never actually watched her make it, I just enjoyed the results.  It kind of went by the wayside, being replaced with other things, like cookies I wanted to make and whatnot, but last week I thought about it, and how good a vegan version of it might be.  Funny I haven't thought to veganize it until now, because it was fairly easy to do so.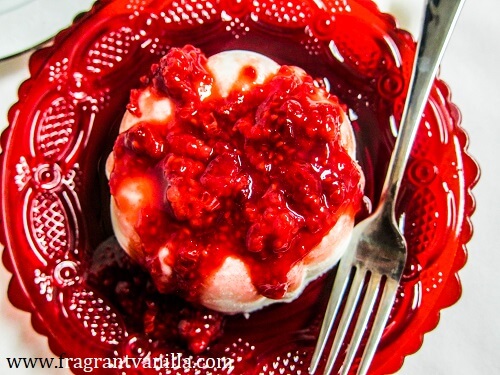 I am not sure what kind of rice my Mom used, but I went for the jasmine rice I had in the cupboard.  It has a sweet aromatic aroma and it was perfect for the rice pudding.  Bonus, it cooks up way faster than brown rice, and this had to have a white rice in it as was tradition.  I combined it with a coconut cream mixture I usually use for "whipped cream", thickened it with coconut butter, and it was perfect!  It was so delicious with the almond extract and vanilla, and it smelled amazing!  I could have eaten it just like that, all fluid and whatnot like a bowl of sweet risotto, but I poured it into mini molds.  Mini molds because I don't have a lot of people to feed it to, so they were perfect for sharing.  The longest part of this recipe is simply waiting for it to firm up in the refrigerator. But it is so worth the wait!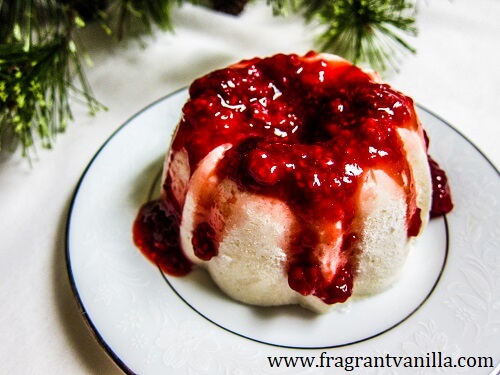 I made a simple raspberry sauce to top it off with and it was lovely once drizzled with it! It was sweet and delicious just like my Mom's rice ring but without all of the animal products.  The original one had milk, butter, gelatin and whipping cream. But I did not even miss it, the vegan version was so good!  I had to share it with my Mom of course, and she loved it as well.  If you are looking for a Holiday dessert that is a little different, give these a try!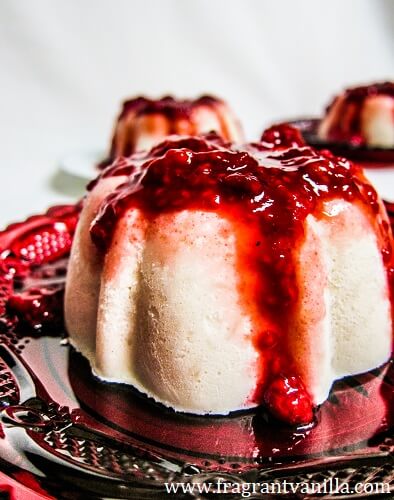 Mini Vegan Swedish Rice Rings with Raspberry Sauce
Makes 6
Ingredients:
Rice ring:
1 1/4 cups jasmine rice
1 3/4 cup filtered water
1 15 oz can full fat organic coconut milk
3 Tbsp maple syrup
pinch sea salt
1 tsp pure vanilla extract
1 tsp almond extract
3/4 cup plus 2 Tbsp coconut butter, warmed to liquid
Raspberry Sauce:
1 1/2 cups fresh or frozen (and thawed) organic raspberries
2 Tbsp maple syrup
Instructions:
To cook the rice, combine it with the water in a pot, and bring to a simmer.  Cover, and cook until all of the water is absorbed and the rice is really soft, about 15-20 minutes or so.
Stir in the coconut milk, maple syrup, sea salt, vanilla and almond extracts, and coconut butter, and stir until very well blended.  Remove from heat.
Grease 6 mini bundt pans (mine are silicone, and I recommend it), and pour the rice mixture into it.  Place in the freezer for a few hours until they are set up completely.
Meanwhile, to make the raspberry sauce, mash the berries with the maple syrup in a bowl until the consistency of jam.
Unmold the rice rings from the pans, and arrange them on plates, flat side down.
Pour the raspberry sauce over them, and enjoy!
Store any extras in the refrigerator, covered.
(Visited 773 times, 1 visits today)