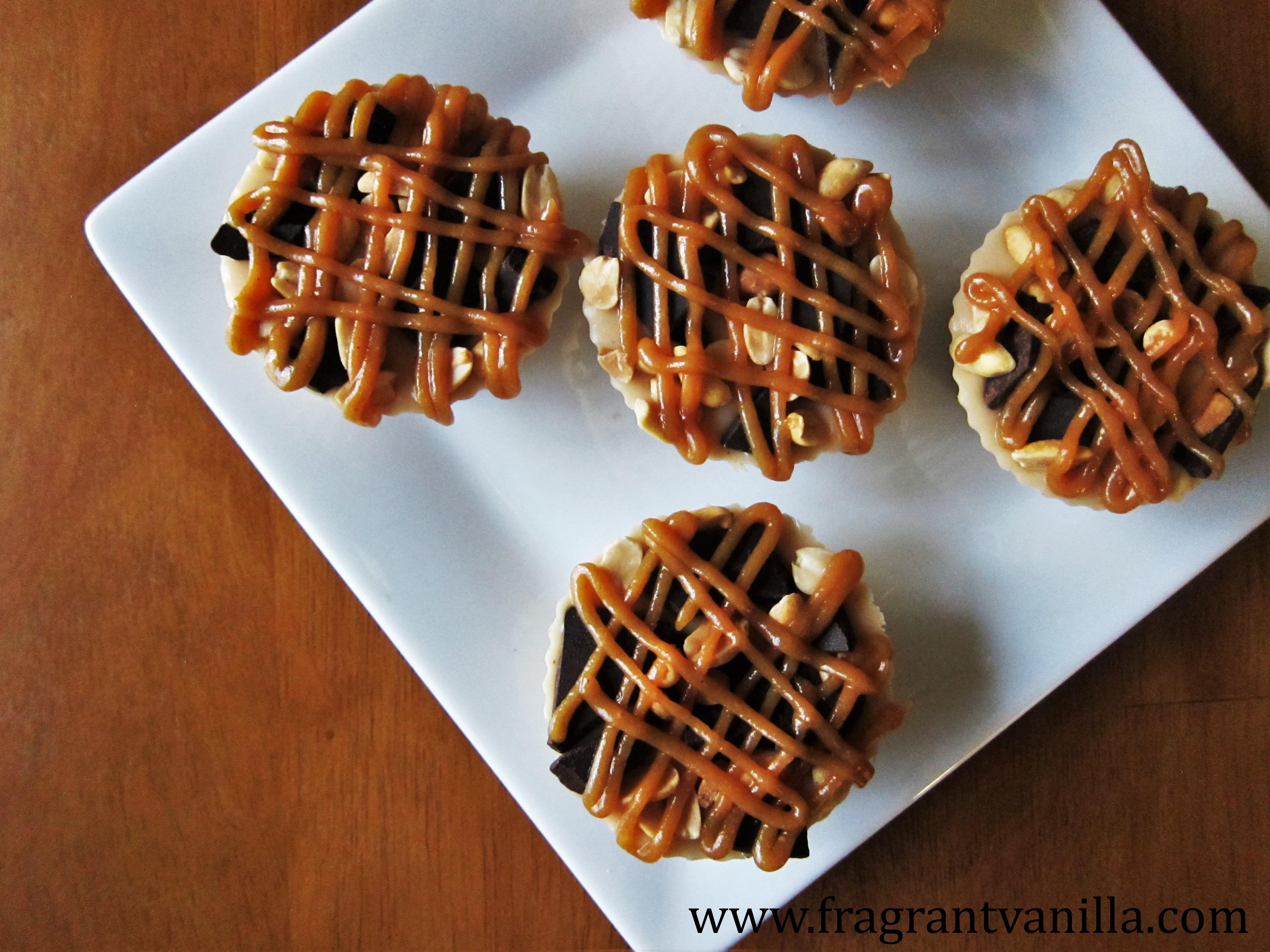 Mini Vegan Snickers Cheesecakes
When I was little and dressed up and went out for Halloween, to be honest, the dressing up part was my favorite of everything, even over the candy. It was fun to be able to pretend to be someone or something else for a night.  My favorite costume was not all that exciting, a black cat. I have always had a love for cats, and it was fun to pretend to be one for my 5 year old self, and run around with a tail and ears.  I remember my friend's Dad had a brilliant idea for her costume one year when I was just a black cat.  She was a basket of dirty laundry.  They cut a hole in the bottom of a laundry basket, held it on with suspenders, and filled it with clothes and a (empty) box of detergent.  It was pretty cute and a good idea but she was so embarrassed.  We will never forget that though!  After trick or treating when it was time to take stock of candy and dump it out on the living room floor, there was always a lot of trading going on.  I don't know about you, but I only wanted the chocolate.  I gave away most of the other stuff, because I have never been a fan of fruity candy made with fake (well, I didn't know it at the time, but it tasted different than fruit to me even then) flavors.  Snickers, Reese's PB cups and Milky Ways were at the top of my list.
As an adult, I make my own candy now!  It is made from good stuff, not all of the preservatives and fake things they put in a lot of commercial candy now-a-days.  This time of the year though, I also like to make Halloween candy themed desserts.  Which is exactly what I did on my day off last weekend.  I wanted cheesecake but didn't want to make a big one, so I made some Mini Vegan Snickers Cheesecakes.  They came together pretty quick, and they were wonderful!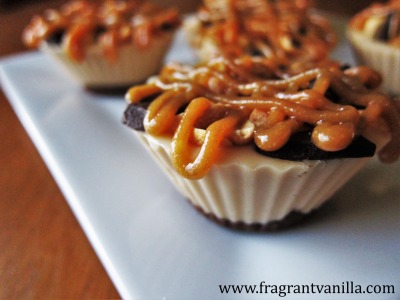 I made a chocolate crust, then for the filling a creamy, dreamy mixture with a coconut milk base and a hint of peanut butter which ended up tasting like the nougat portion of a Snickers.  I stirred chopped dark chocolate and peanuts into it and topped the cakes off with them as well to give them texture and include the classic Snickers ingredients.  It was all topped off with a delicious peanut butter caramel.  These were simply crave worthy, and not a lot of work.  If you are having a Halloween party and are serving dessert other than candy, these would be perfect!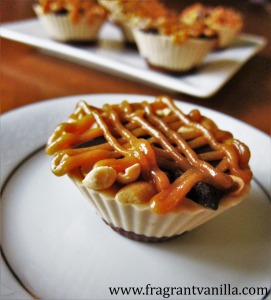 Mini  Vegan Snickers Cheesecakes
Makes 8
Crust:
1/4 cup gluten free organic oat flour
1 Tbsp cacao powder
2 Tbsp organic peanut butter
1 Tbsp coconut butter, warmed to liquid
1 Tbsp maple syrup
1/16 tsp sea salt
Cheesecake Filling:
1/2 cup full fat organic coconut milk at room temperature
1/4 cup organic peanut butter
1/8 tsp sea salt
2 Tbsp maple syrup
1 tsp pure vanilla extract 1/4 cup plus 2 Tbsp coconut butter, warmed to liquid
Topping and mix ins:
½  cup organic roasted peanuts (divided)
½  cup chopped vegan dark chocolate (divided)
Quick Caramel:
1 Tbsp organic peanut butter
1 Tbsp maple syrup
Pinch sea salt filtered water as needed
Instructions:
To make the crust, stir together all ingredients in a bowl, and then press into the bottoms of 8 silicone muffin tins.  Place in the freezer while you make the filling.
To make the filling, combine all ingredients in a blender and blend until smooth.
Stir ¼ cup of the peanuts, and ¼ cup of the chopped chocolate into the filling. Pour the filling over the crust, sprinkle the peanuts and chocolate chunks over it, and place in the freezer to firm up for about 45 minutes or up to an hour.
Once they have firmed up, unmold them and place them on a tray.
To make the caramel, whisk together the peanut butter, maple syrup, and just enough water to make it pourable.
Once the cheesecakes have set, drizzle the caramel over the cheesecakes and serve! Store any left over cheesecakes in the refrigerator.
(Visited 108 times, 1 visits today)