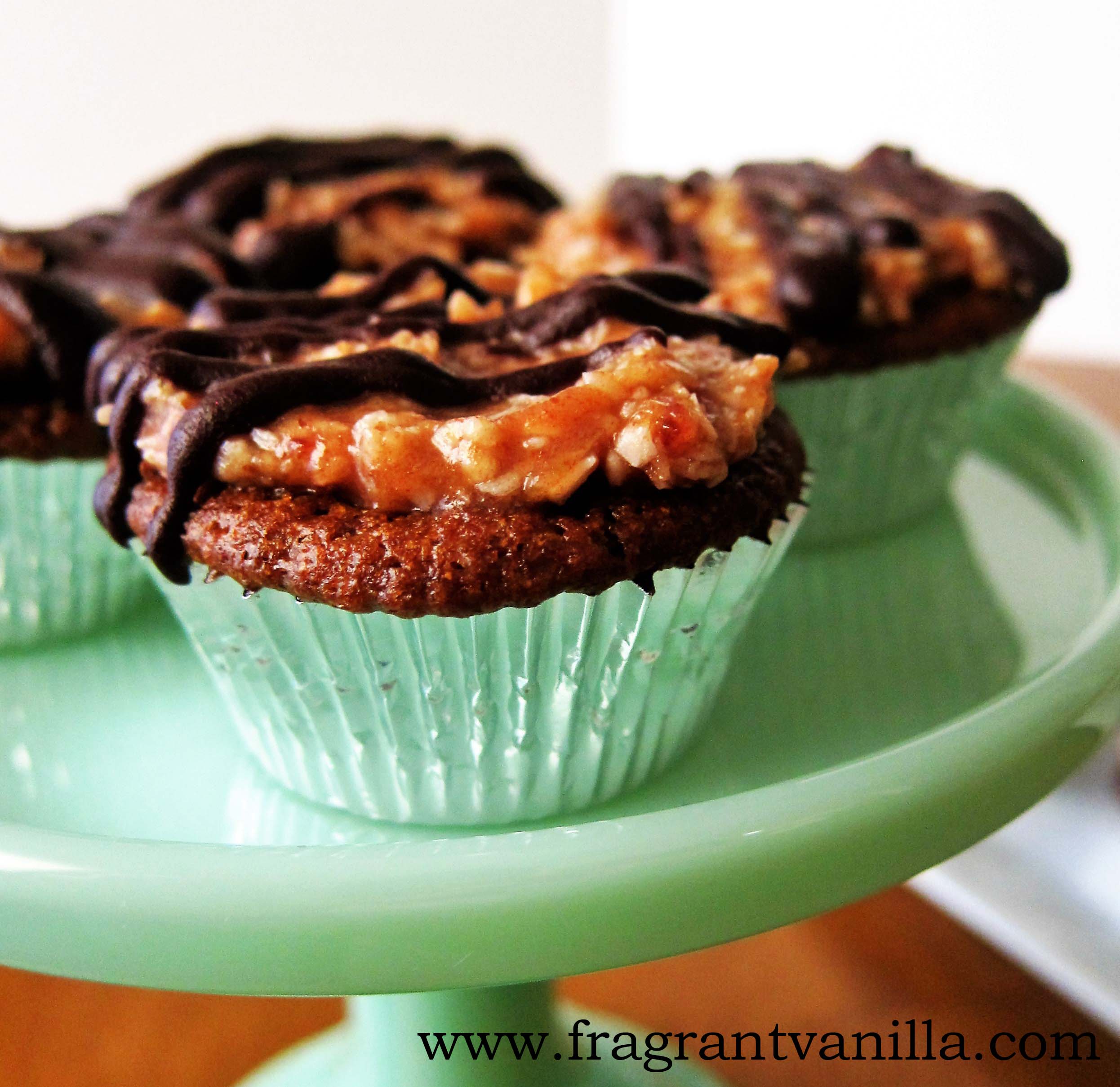 Mini Vegan Samoa Cupcakes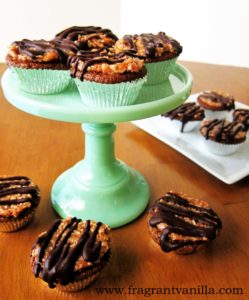 I was having a day last Friday.  By "a day" I mean one of those days.  I felt like I could not focus, my brain was not functioning properly and I felt like I was really kind of stressed, and in hyper mode like  I had drank too much coffee when I did not have any.  I know it is perfectly normal to have those days, thank goodness they don't happen often, but when I got home I just wanted to chill and make cupcakes.  I did get out for a walk to burn off some of that energy first (I had already ran that morning, so there was no need to work out too hard). It kind of worked, but what really relaxed me was the baking.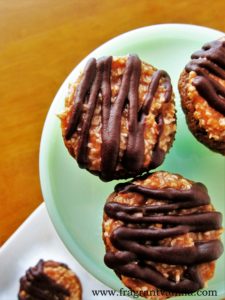 While I was on my walk, I brainstormed what kind of cupcakes I wanted, and I decided on Samoa cupcakes.  You know, Samoa, like what used to be my favorite Girl Scout cookie.  I was thinking a cupcake with a chocolate layer, then a caramel vanilla layer, then of course the caramel coconut frosting, and chocolate drizzle.  That is exactly what I made!  They smelled amazing while baking, and I could not wait to finish them.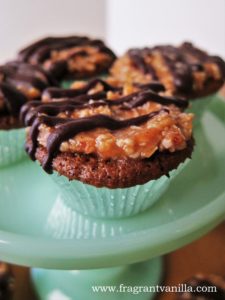 They were all baked and frosted and chocolate drizzled, then I went to carry them to the refrigerator and two of them jumped ship off of my cooling rack as I moved them to the refrigerator.  I shouldn't have expected anything less from that day.  Luckilly I had just washed the floor, and I had to laugh. 3 second rule...those two were mine to enjoy.  I still had all of the other pretty cupcakes left that didn't jump ship left to share.  When you have a tough day, baking cupcakes is good therapy.  Just sayin'.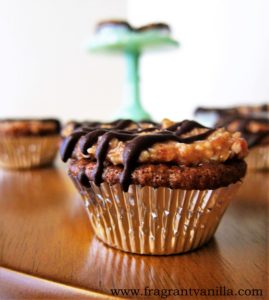 Mini Vegan Samoa Cupcakes
Makes 16 mini cupcakes
Cake:
3/4 cup all purpose gluten free flour
1/2 cup coconut sugar
3/4 tsp baking soda
1/2 tsp baking powder
1/4 tsp sea salt
1/2 cup applesauce
2 Tbsp pecan butter
1 tsp pure vanilla extract
1/4 cup plus 2 Tbsp filtered water
2 Tbsp cacao powder
1 Tbsp apple cider vinegar
Frosting:
1 cup chopped, pitted medjool dates
2 Tbsp pecan butter
1 tsp pure vanilla extract
1/4 cup filtered water or as needed
3/4 cup finely shredded, dried coconut
Preheat the oven to 375F degrees and position rack in center of oven. Line 12 mini muffin tins with liners. Whisk flour, sugar, baking powder, baking soda, sea salt, in a large bowl to blend well. Whisk wet ingredients (except the cider vinegar) into the flour mixture until well blended but do not overmix. divide between two bowls, and whisk the cacao powder into one.  Then whisk 1 1/2 tsp cider vinegar into each bowl, and transfer the chocolate batter to prepared tins filling 1/3 full then the vanilla the other 1/3 full (they should be 2/3-3/4 full).  Place in the oven and bake and until tester inserted into center comes out clean, about 12-15 minutes. Cool cakes completely on cooling rack, about 1 hour.
To make the frosting, combine all ingredients except the coconut in a high speed blender and blend until smooth (if it is too thick, add more water). Stir in the coconut, and spread over the tops of the cupcakes.
Melt the chocolate in the top of a double boiler, and drizzle over the cupcakes.  Place in the refrigerator for about 20 minutes to allow the chocolate to set before serving.
(Visited 120 times, 1 visits today)