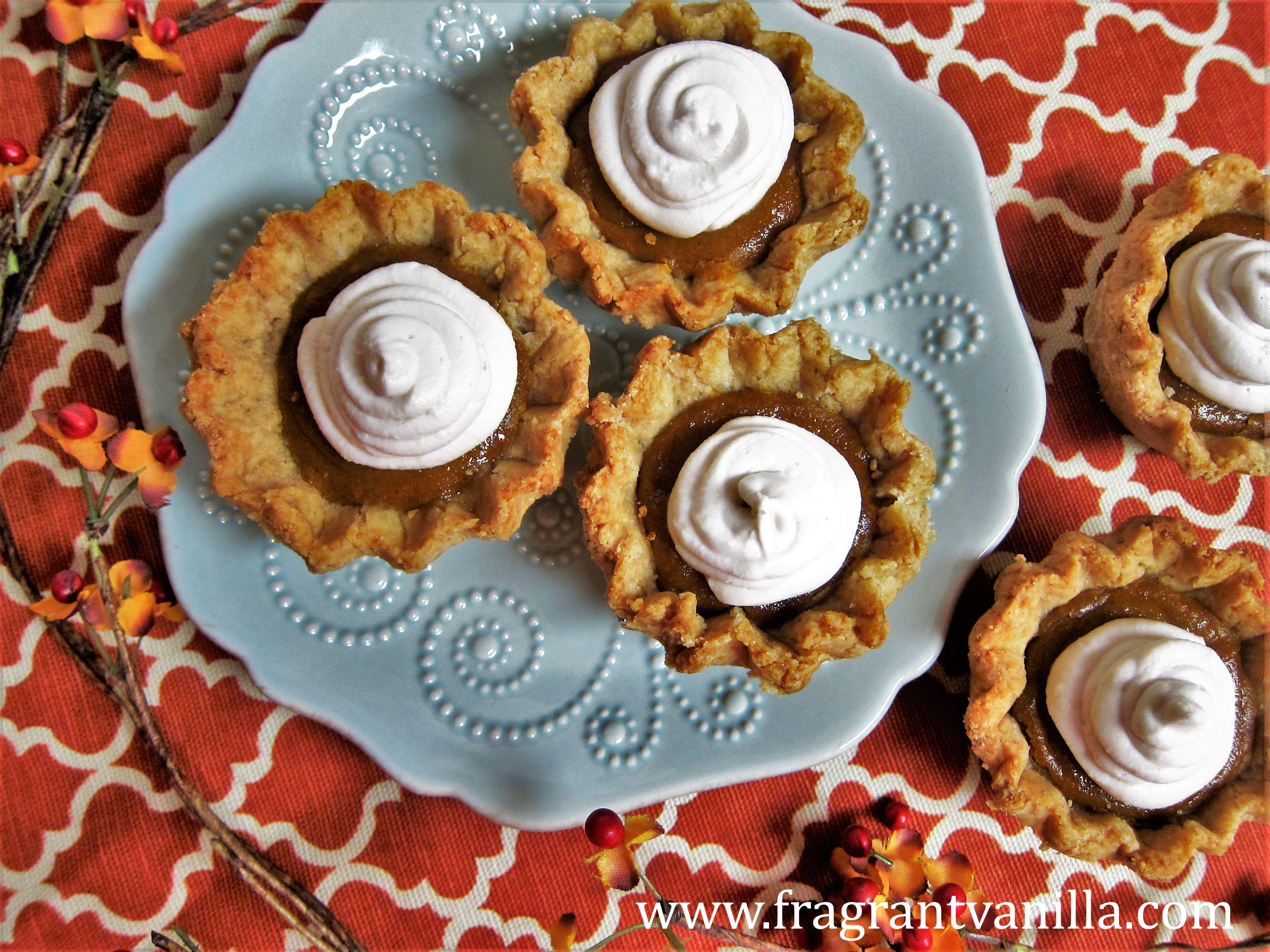 Mini Vegan Pumpkin Pies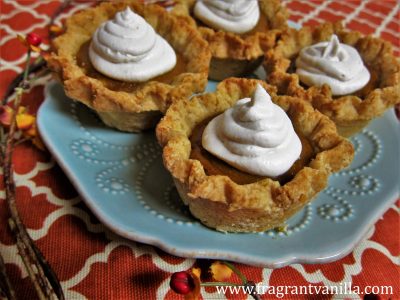 Monday I went for a 24 mile bike ride in the morning to enjoy the scenery and give my legs a rest from running.  It is just gorgeous here this time of the year!  The trees are all sorts of different colors, and when the wind blows they flutter to the ground like confetti.  Not only did I enjoy the beautiful scenery on my bike ride, I had time to think about what sort of recipe I felt like making.  I love baking on my day off when I have more time to relax and enjoy.  I had just made some pumpkin muffins, so I wanted something different than muffins or cake, but I had an open can of pumpkin puree in my refrigerator just waiting to be used.  So I decided to make some pumpkin pie.  Not a large one though, cute little mini ones.  Because it is fun to have your own little pie.  No cutting involved for serving so perfect for guests or sharing.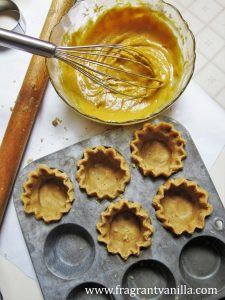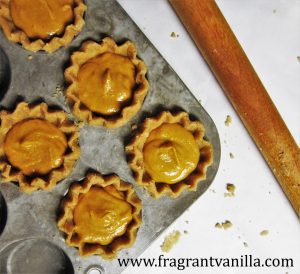 These were a little different than my usual pumpkin pie recipe though, they contained a special ingredient.  Tahini!  I had gotten a big container of tahini from my work for free that was a little damaged, so I wanted to try using it in something sweet.  I love using nuts in my recipes, which becomes apparent if you page through them, but I know some people are allergic, so I thought I would try using the tahini in these pies in place of where I usually use other types of nut butter.  In my crusts I like to use pecan butter so I swapped it in for that there, and in the filling I like to use cashews so I swapped it in for them there.  It worked out awesome!  You can't taste it (don't worry, these don't taste like hummus or something), it just gives it a richness.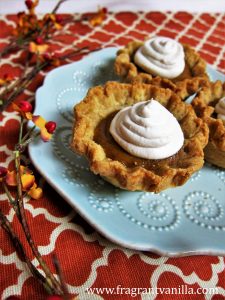 These smelled amazing while baking!  The aromas of cinnamon, ginger and maple plus buttery crust filling the air. I couldn't wait to try them!  Once cooled, I topped them off with some coconut whipped cream, and they were just perfect! Classic pumpkin pie, in cute little servings.   I think these would be perfect for a Fall gathering or even Thanksgiving when that rolls around, because they are quick to serve!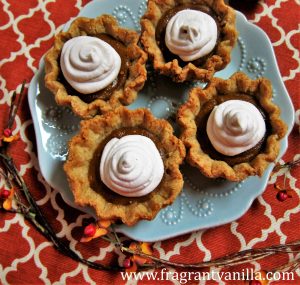 Mini Vegan Pumpkin Pies
Makes 12
Crust:
2 1/2 cups all purpose gluten free flour
1/4 cup coconut sugar or maple sugar
1/2 tsp sea salt
1/2 cup raw tahini
1/4 cup coconut oil in its solid state
about 6-7 Tbsp cold water
Filling:
1 1/4 cups pumpkin puree
1/2 cup raw tahini
1/4 cup plus 2 Tbsp maple syrup
pinch sea salt
2 tsp cinnamon
1 1/2 tsp ginger
1/8 tsp nutmeg
1/8 tsp cloves
2 Tbsp arrowroot starch
Coconut whipped cream for serving
Directions:
Preheat oven to 375 degrees.
Oil 12 holes of a muffin pan.
To make the crust, in a large bowl, mix together flour, sugar, and sea salt. Cut in tahini and coconut oil with a pastry blender or 2 knives until it is in pea sized pieces. Mix in  just enough water to create a smooth dough that holds together but isn't too sticky. Add more water if needed, and knead slightly until a smooth dough is created.
Roll out into a large rectangle 1/8 inch thick using parchment underneath and floured rolling pin, and cut into circles that are slightly larger than your muffin tins.  Place each round into a muffin tin hole, and shape it to fit (it is ok if it tears, just patch it right back up).  Shape the edges of the crust if desired (I used my fingers to flute in this fashion but of course on a smaller scale).  Set aside.
To make filling, whisk together all ingredients until smooth, and pour into the prepared crusts.
Place in the oven and bake for about 20 minutes until the crusts are starting to brown lightly. Remove from oven and let cool completely.
Top with coconut whipped cream and serve!
(Visited 121 times, 1 visits today)