Mini Vegan Nutella Mousse Tarts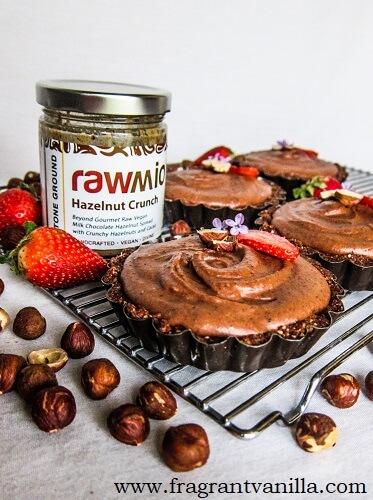 When I was little, I loved Nutella.  I loved having Nutella toast, it was like having dessert for breakfast.  After all, the real Nutella has sugar as the main ingredient and is super sweet.  My 10 year old self loved that.  When I visited Europe in high school, I ate Nutella on baguettes almost every day for breakfast the two weeks we were there.  I know, super healthy, but when I was 16 I didn't really care if I ate healthy or not.  As an adult, I prefer real nutella, not the commercial stuff, the small batch stuff I either make at home, or get from somewhere like Raw Guru. They have some amazing raw hazelnut spreads, like their Raw Hazelnut Crunch Spread.  They recently sent me a jar, and that stuff is pure deliciousness.  So much better than the Nutella I had as a kid. I decided to make it into some delicious nutella tarts last weekend.  I wanted a simple dessert involving chocolate and they fit the bill.  Plus, I was daydreaming about how good something nutella would be.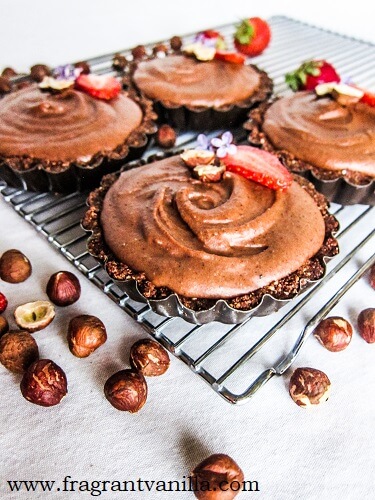 They are super simple to make.  For the crust, I kept it gluten free by buzzing up a mixture of quinoa flakes, hazelnuts, Raw Guru cacao powder, dates, and sea salt in the food processor. If you have never heard of quinoa flakes, they are a great gluten free substitute for oats in most recipes, and they work awesome!  Anyways, the crust tasted wonderful like chocolate cookies, and I knew it would be perfect with the topping.  The topping is simple to make as well, and it gets its richness from coconut milk and butter and of course the delicious hazelnut spread.  It was heavenly!  I kept "sampling" it because it was so good.  Not because it needed anything but I wanted to keep eating it.  I had to control myself so that there would be enough for the tarts.   A little chill time in the freezer and voila!  Delicious dessert goodness.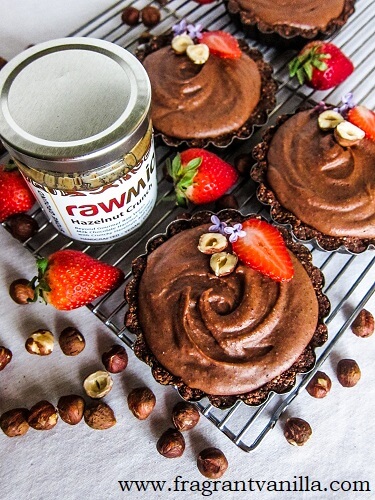 They taste like real home made nutella, so heavenly.  Rich smooth creamy mousse filling that melts in your mouth.  If you are in a chocolate mood, do yourself a favor and whip up a batch.  These babies are sooo good!  If you happen to wander over to the Raw Guru Website to check out their delicious Rawmio products I mentioned in the post, bring my coupon code with you in case you decide to order some.  Just type in the code FRAGRANTVANILLA to get 10% off your order!  I hope you are all having a wonderful week so far!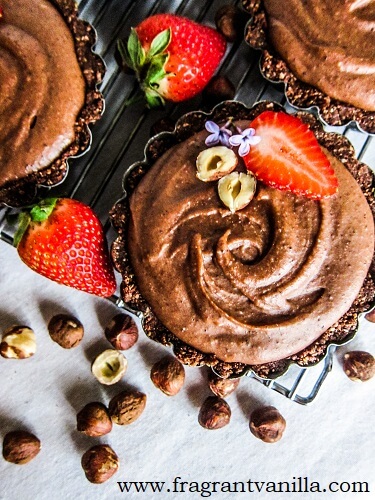 Mini Vegan Nutella Mousse Tarts
Makes 4 mini tarts
Ingredients:
Four 4 inch removable bottom tart pans
Crust:
1/2 cup quinoa flakes
1/2 cup raw hazelnuts
1/4 cup soft, pitted medjool dates (if they are not soft, soak them first in filtered water 30 minutes and drain well before using)
2 Tbsp Raw Guru raw cacao powder
1/4 tsp sea salt
2 tsp filtered water (or as needed, see note in recipe)
Filling:
Instructions:
To make the crust, combine all ingredients but the water in a food processor, and process until fine. Add the water (but only if you did not soak your dates in water) and process until it is starting to hold together but not too sticky.
Oil four mini tart pans (4 inch wide), and press the crust into the bottoms and up the sides of the tart pans. Set aside in the refrigerator.
To make the filling, combine all ingredients but the coconut butter in a high speed blender or food processor, and process until smooth.  Add the coconut butter, and process until just blended.
Pour the filling into the tart shells, and place in the freezer for about 1 hour or until set.
Remove from the freezer and enjoy!  Store any leftover tarts in the refrigerator.
*If you are using regular hazelnut butter, add an additional 1-2 Tbsp maple syrup to the recipe.
(Visited 185 times, 1 visits today)