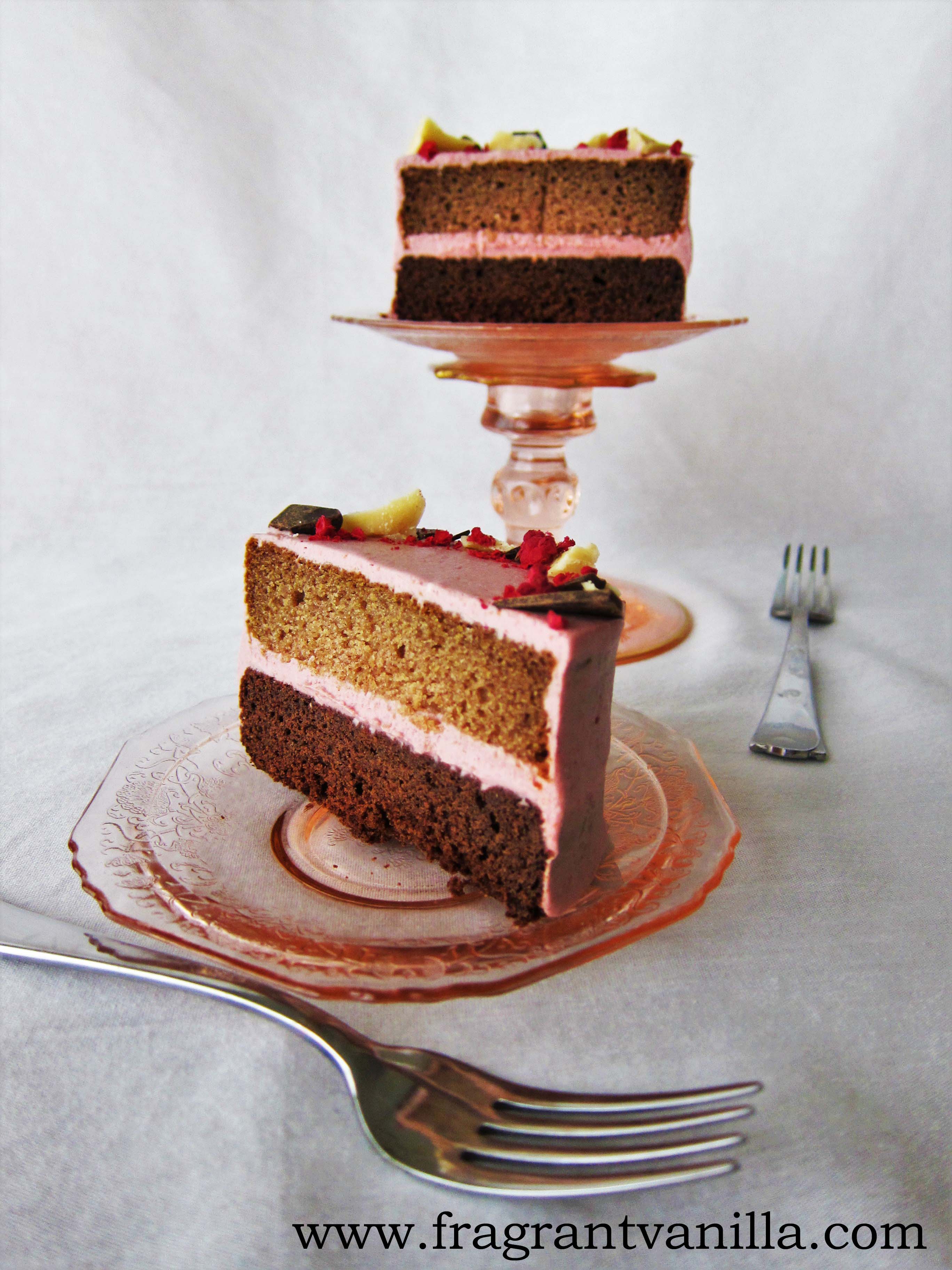 Mini Vegan Neapolitan Cakes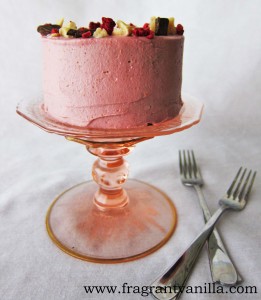 Last weekend I decided I wanted to make a pink cake.  But I didn't have any fresh or frozen berries to make some sort of beautiful berry layer cake, or cheesecake, and I am trying to use what I have at home in my recipes to save money, so I had to think of something else.  After looking in the refrigerator, I did have dried berries, to make a beautiful pink frosting.  So I could have some berries in my cake after all. I ended up deciding on neapolitan layer cake.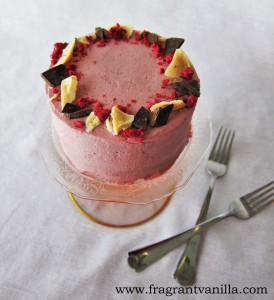 I have run across them on Pinterest a few times, you know on those odd days where I have free time and I get lost there looking at ideas, and I have always wanted to make one.  This was the perfect opportunity to do so.  My second requirement for this cake other than it being pink and cake was that it be small.  Like for two people to enjoy small.  I had enjoyed a bit too many sweets over the rest of the weekend and I wanted something that I could enjoy in one serving and share the other half with a family member.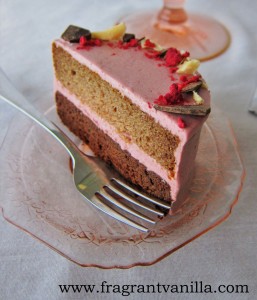 So, I made a mini Neapolitan cake. It had a layer of chocolate cake, a layer of vanilla cake, and berry frosting encasing them. Now, I know the classic combination is strawberry with the vanilla and chocolate but I used raspberry here because it was what I had.  Now before anyone goes yelling at me telling me I can't call it Neapolitan, too bad, I already have and I am using creative license here haha.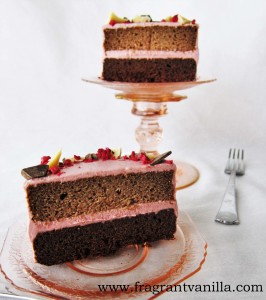 Funny thing happened while making this cake too. I thought it was going all perfect, then I realized I forgot to include the leavening agents and they were already half way through baking so I had to start over.  So much for a quick baking project.  I am just telling you this, so you know I am human and I mess up too sometimes, and have to start over or try again.  So I made them again and they came out perfect.  I frosted them with the raspberry cream frosting that tasted heavenly (those dried raspberries are even more flavorful in frosting than fresh and they don't make it so watery...something to remember in the future).  This cake turned out even more delicious than I imagined!  So if you are looking for a cute little cake to make for your small family, this is it!  It actually serves 4, but it served 2 in my family because we like cake.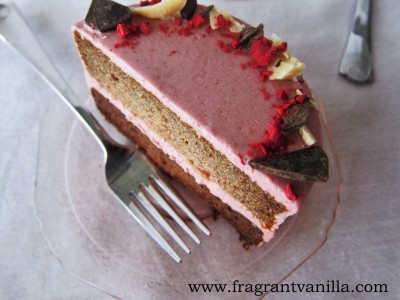 Mini Vegan Neapolitan Cakes
Makes 2 6 inch 2 layer cakes
2 4 inch cake pans
Cake:
3/4 cup quinoa flour (or all purpose gluten free flour)
3/4 tsp baking soda
1/2 tsp baking powder
1/4 tsp sea salt
1/2 cup packed soft medjool dates, pitted, soaked in water for 30 minutes and 1/4 cup of the water reserved
2 Tbsp avocado oil or olive oil
1 tsp pure vanilla extract
1/2 cup filtered water
1 1/2 Tbsp cacao powder or unsweetened cocoa powder
1 Tbsp apple cider vinegar
Frosting:
1 15 oz can organic full fat coconut milk
2 Tbsp maple syrup
1/2 cup organic freeze dried strawberries or raspberries
1 tsp pure vanilla extract
1/2 cup plus 2 Tbsp coconut butter, warmed to liquid
Preheat the oven to 375F degrees and position rack in center of oven. Line the bottoms of two 4-inch-diameter cake pans with 2-inch-high sides with parchment paper. Coat parchment paper and pan sides lightly with oil so that the cake doesn't stick. Whisk flour, baking powder, baking soda, sea salt, in a large bowl to blend well. Place dates, reserved water, oil, and vanilla extract into a blender, and blend until smooth, then whisk this blended mixture into the flour mixture until well blended. Divide the mixture evenly between 2 bowls, and whisk the cacao powder into one.
Whisk 1 1/2 tsp of cider vinegar into each bowl of batter until bubbles form. Transfer cake batter to prepared pans (pour the chocolate batter into one, and the vanilla batter into the other) and bake cakes until tester inserted into center comes out clean, about 20 minutes. Cool cakes completely in pan on rack, about 1 hour. Cut around sides of pan to loosen. Turn cakes out onto platter; peel off parchment paper. Let cool completely, then slice each in half horizontally so you have 2 layers out of each.
Meanwhile, to make the frosting, combine all ingredients in a high speed blender and blend until smooth.  Pour into a bowl, and set in the freezer for about 30-45 minutes (whisking every 15) until it reaches the thickness and consistency of thick whipped cream or buttercream frosting.
To assemble, place one chocolate cake layer on a plate, and spread frosting 1/2 inch thick over it. Place a vanilla cake layer over that, then spread the frosting on the top and down the sides of the cake. Repeat with the other cake.
(Visited 205 times, 1 visits today)